This Halloween season has been far different than any I have experienced in the past. If this were a normal year, I would be subjecting myself to fear-inducing situations practically every weekend. While this October has left me with little consensual fear, Electric Goldfish's KEEP THE CANDLE BURNING haunted me long after I turned off my phone.
Electric Goldfish has been the creative geniuses behind two interactive mystery-solving productions "Burying the Hatchet" and "The Nightlight Circus". Both productions were of an extremely high caliber and CANDLE met and exceeded the bar set by its predecessors.
CANDLE is an immersive, audio experience that is made up of 3 stories. The entire encounter lasts about 90 minutes, but the individual stories can be listened to separately and independent of each other. The storyteller manages to narrate the stories artfully, while creating an ominous atmosphere. Participants are encouraged to use props listed in the instructions to help immerse themselves into this new world. I was a bit doubtful about just how involved I could become in the experience, but despite my apprehension, I quickly settled into this makeshift environment and the fear that came with it.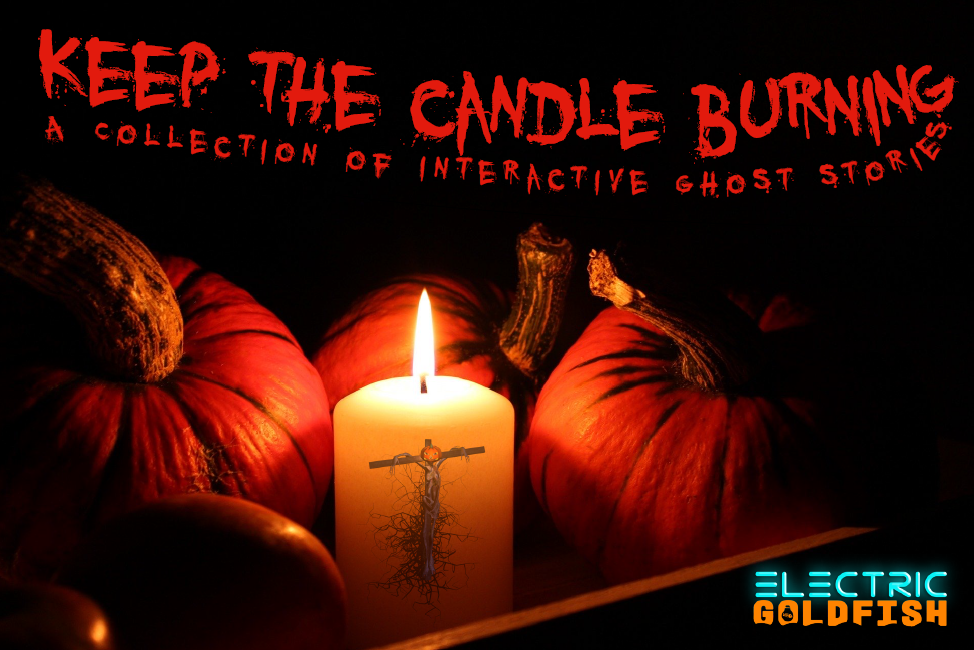 Prior to embarking on this audio journey, I made sure to collect the items and lit a candle in preparation. Once I felt the mood was adequately set, I put my earbuds in and pressed play. The narrator's voice coaxed me from the comfort of my room, my sanctuary, and into the dark realms that they painted with mere words and sound.
CANDLE used sound incredibly to their advantage. They managed to create terrifying moments with the tone and volume of the narrator's voice. I was invested in the entire experience in a matter of minutes. The narrator had me hanging on to their every word, which left me quite susceptible to various jump scares throughout the entire experience. The imagery from the stories left me envisioning the events quite easily in my head. Music was used occasionally to enhance the narratives and did not interfere with any aspect of them. The use of 360-degree sound helped to add dimension to the twisted world created around me.
While I did start with the items to aid me in following along with the stories, I stopped using them during the second story. Why, you may ask? Because I was genuinely terrified. CANDLE managed to frighten me so much, that not only was I scared during the stories, but I was left absolutely terrified after. I may have checked under my bed right after I finished the stories. And I just might have ran from the bathroom back to my room. Which totally was *NOT* because the story scared me. No way. Not at all.
Overall, CANDLE was terrifyingly wonderful. Electric Goldfish created an amazing experience that was executed beautifully with incredible use of sound. While Halloween has passed, this is an experience that can be enjoyed at any time, especially when cozied up in the room believed to be your sanctuary.
To purchase, visit: http://www.electricgoldfish.online/keep-the-candle-burning/4595062706