Joe Bob's Haunted Drive-In brought a short horror film festival, a COVID-conscious scares, and socially distant meet-and-greets to the Roadium Drive-In for two nights before a final bow on Halloween night at Pasadena's Rose Bowl. The special Halloween event places visitors at the center of a raucous night at the drive-in with iconic movie host Joe Bob Briggs in the midst of a progressing zombie outbreak. With plenty of action on the screen and a collection of talented actors ready to pounce, we have one of the better Halloween experiences for 2020.
There wasn't much to it at the outset. Roots firmly planted in the pop-up world, Joe Bob's makes no effort to dress up the experience. It IS the drive-in after all. Arriving at the Roadium Drive-In Torrance we queued up as dusk fell. A helpful attendant scanned our ticket and the herd of cars was ushered into the expansive lot.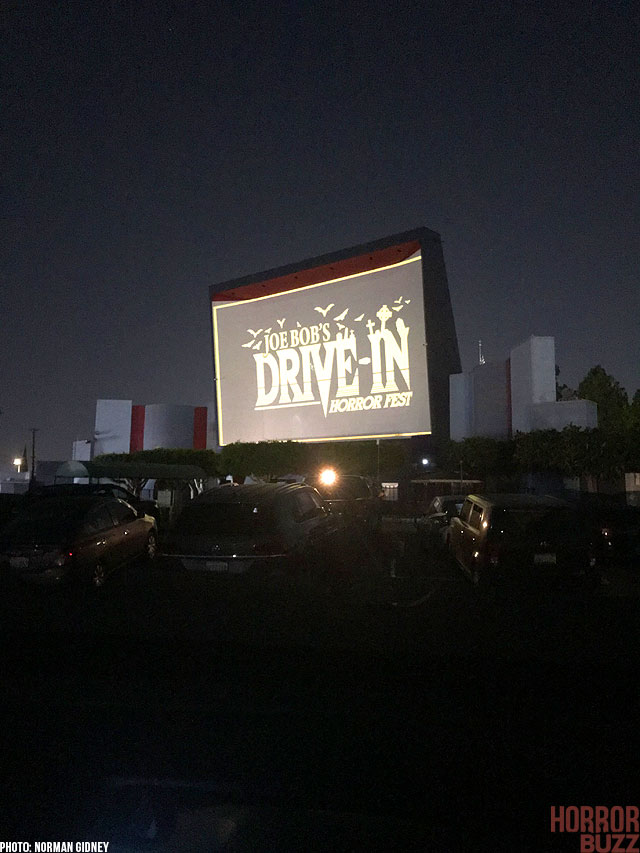 As we pulled in we were instructed to set our radios to 87.9 and the show began. DJ Tiffany Shepis sets the mood and sets up the storyline. Playing choice cuts for horror fans we are offered the storyline; Joe Bob is hosting a film festival at the drive-in with Felisa Rose (Sleepaway Camp) and Darcy the Mail Girl. Everything seems fine but there is a lingering feeling that things might go terribly wrong. Nevermind that, we are told to go and get in line early if we wanted to meet Joe Bob, Darcy, and Felisa at a socially distant meet.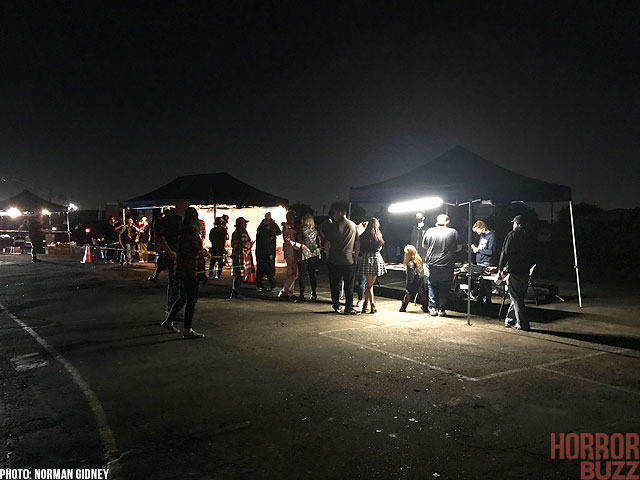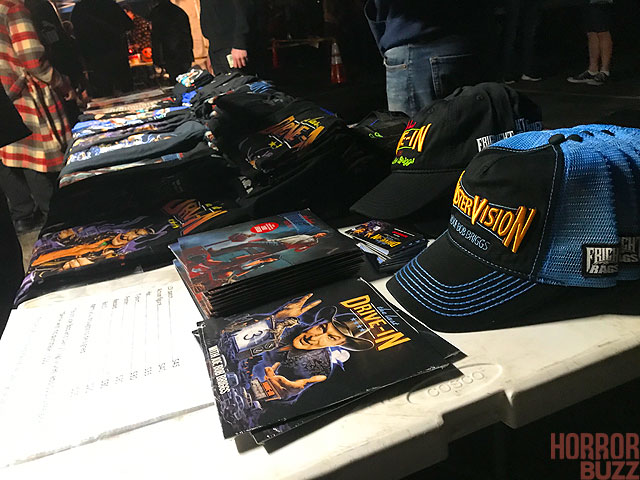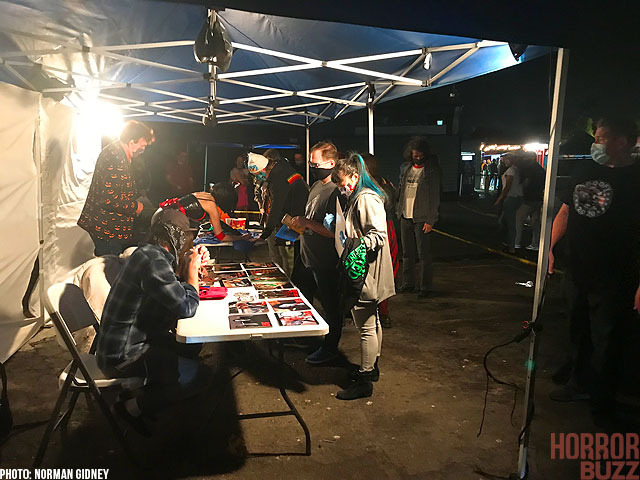 With all the dicey possibilities of a meet and greet during a pandemic, this looked to be handled as safely and efficiently as possible.
Okay back to the cars. We settled in as the show on the big screen began and our hosts are coming to us "live" from the projection booth. Briggs begins the short film festival with his trademark snark and swagger as his co-hosts vamp and cut up. In between movies, we learn that just outside our cars there may or may not be a zombie outbreak happening. Nevermind that, just keep the doors locked and watch the show. Here's where Joe Bob Brigg's Haunted Drive-In works. What is happening on the screen distracts well enough with the raucous hijinks of our hosts and the short films, so that the army of zombies can move in for the scare.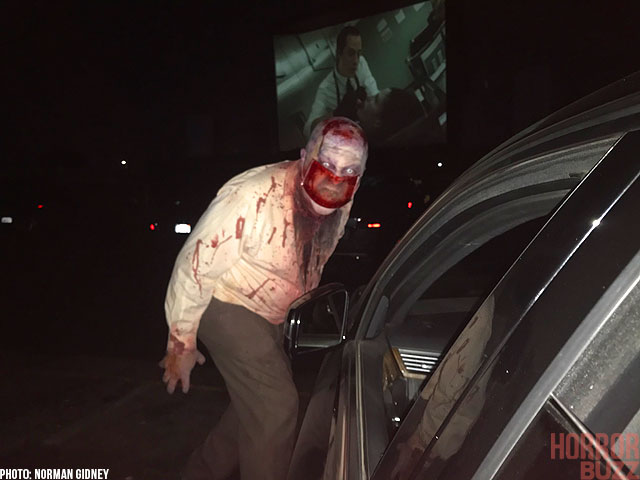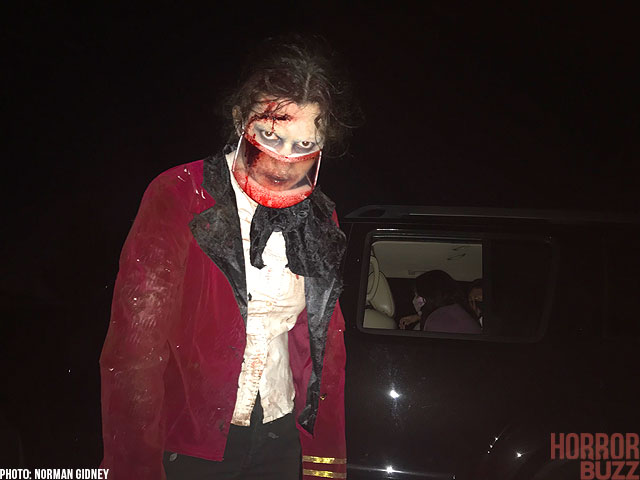 This is full-on tongue in cheek bawdy humor, not for the entire family so you are warned. There are plenty of boob jokes, sexual references, tons of gore, and a hefty amount of F-bombs. Some of the jokes landed, some didn't. Most of the movies were fun, some were stinkers. It didn't really matter all that much since the talent creeping around the lot kept things hopping. Another point to mention, the actors seemed to really circulate through the entire lot. When your scare targets are stationary, it becomes harder and harder for the same actor to creep up on the same victim. Here there was a good rotation of creepers and I am struggling to say that we saw the same one twice.
All said, Joe Bob Brigg's Haunted Drive-in worked for a number of reasons. To begin with, Joe Bob and his special brand of sleaze humor and roadside wisdom was literally born of the drive-in experience. To use an exhausted term, it's a perfect fit.  His level of entertainment is strong enough to hold the audience so that the scares can happen. No, this is not normal Halloween. It will not feel like normal Halloween. But here we are, and we have a fun drive-in movie experience with fun hosts and a handful of solid actors working their butts off to create a good scare.
If you want a nostalgic, gory, sleazy, silly chunk of Halloween fun, Joe Bob Briggs Haunted Drive-In does the trick. There is one more night available too. Halloween, Rose Bowl, GRAB YOUR TICKETS HERE.