The most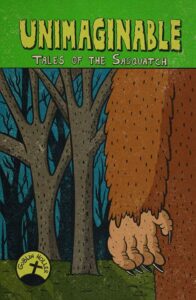 famous of cryptids returns this Halloween season with Goblin Holler's new anthology Unimaginable: Tales of the Sasquatch! Sporting a fun, pulpy cover reminiscent of EC Comics, this book might be just what Bigfoot lovers need to get in the spirit of the season. From the authors: Something lurks in the woods, watching, stalking…waiting. It has lived in legend. It has snuck through our dreams. It has crept in nightmares. But now…it walks among us. Something this monstrous is…UNIMAGINABLE.
Unimaginable looks like a pretty straightforward joint, but it's further notable as the first release from Goblin Holler. What is Goblin Holler, you ask? According to their Facebook page, Goblin Holler is a new self-published horror imprint, it's something like an independent horror author collective that seeks to bring fresh new content to horror fans. Sounds pretty cool!
There are also a few miniature samples of the stories found in Unimaginable on the Goblin Holler Facebook page if you'd like to check it out before buying. Here's my favorite of the samples, taken from Chris Ringler's story The Wooden Heart:
Whoever had me was sick. Very sick. I took a deep breath to scream again but the shadow spun around and before I could even open my mouth, they let out a low growl that sounded like a cornered dog. I got a glimpse of their eyes then, which were milky yellow and deeply set and for a split second I saw its face. I saw a mouth full of sharp, yellowed teeth, and around it the skin was dark and sunken and looked almost like a skull covered in thick, dark hair.
I knew then what I had already suspected, and my mind reeled.
This was no man.
There would be no escape.