That's right! Our favorite purveyor of drive-in schlock cinema, Joe Bob Briggs is bringing his immersive haunted experience, Joe Bob's Haunted Drive-In to the Rose Bowl on Halloween night! As we had previously reported, legendary horror host Joe Bob Briggs and Los Angeles-based Black Vortex Cinema are bringing Joe Bob's Haunted Drive-In, a brand new, one-of-akind, COVID-conscious haunt experience/short horror film festival to drive-ins in Southern California this October. The tour will culminate in a huge finale at Pasadena's iconic Rose Bowl on Halloween!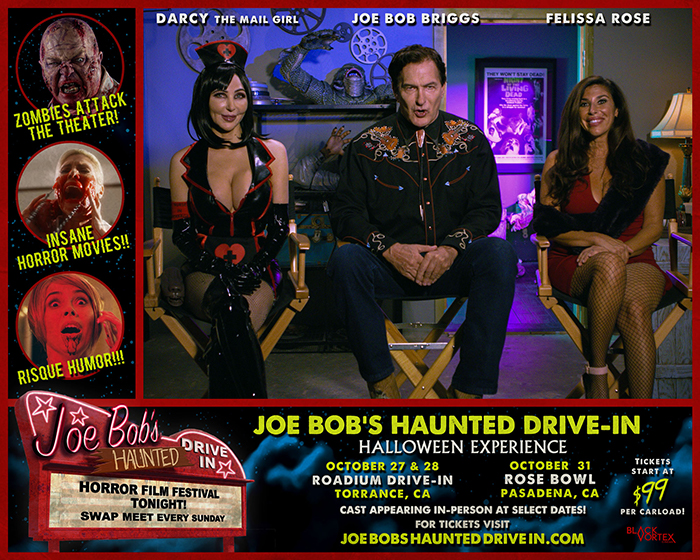 "I'm excited to bring some of the very best short horror films to drive-ins this October, but I take no responsibility for any zombie attacks that may occur," said horror icon Joe Bob Briggs, who will act as the pre-recorded Master of Ceremonies of Joe Bob's Haunted Drive-In, along with his The Last Drive-In sidekick Darcy the Mail Girl, and scream queen and actress Felissa Rose.
With tickets now on sale for screenings at Pasadena's historic Rose Bowl on October 31st , as well the Roadium
Drive-In in Torrance, CA on October 27th & 28th, the unique event will blend the nostalgia of watching a drive-in fright film festival with a live, interactive haunt. As audiences watch Joe Bob, Darcy the Mail Girl, and Felissa onscreen in the Joe Bob's Haunted Drive-In film fest from the safety of their own cars, the drive-in itself will be prowled by socially distant ghouls, eager to terrorize.
T
ickets for Joe Bob's Haunted Drive-In
start at $99 per car. For more information on the series of events, including more soon-to-be-announced dates, special event packages, details on live signing appearances by Joe Bob, Darcy,Felissa and more, please visit www.JoeBobsHauntedDriveIn.com.