Every year Orange County, CA looks forward to the return of its very popular theatrical production of Night of the Living Dead, presented by the Maverick Theater. Night of the Living Dead's 15-year anniversary was nearly skipped this year due to the pandemic. Thankfully, the Maverick is continuing this annual tradition, but with a brand new (COVID friendly) spin. This COVID-safe and immersive experience draws guests into the story as groups of six to seven join the cast of the Night of the Living Dead while trying to survive a zombie outbreak. Night of the Living Dead 2020 is a modern-day take on George Romero's classic horror film. Witness theater in motion as guests explore a nearby creepy industrial area and follow the cast through various locations as they try to escape the flesh-eating zombies lurking around every corner.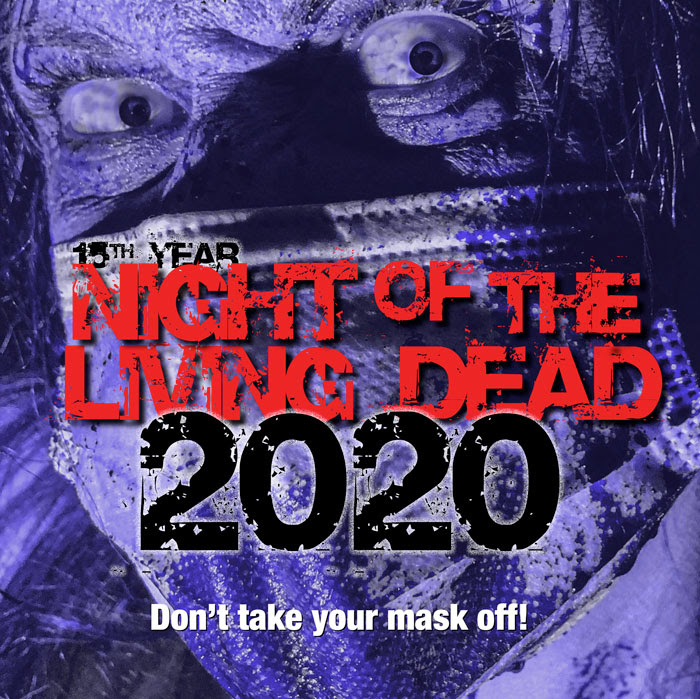 DRESS TO GET BLOODY! You WILL get stage blood on you so don't wear anything that you don't want stained. The entire walking experience is roughly 1/3 mile with some narrow passages and quick movements. There is limited space for this special experience so buy your tickets early!
Tickets go on sale October 1 and the event opens on October 16. Shows run from October 16-31 Thursday and Friday 6-10pm, Saturday 5-10pm, and Sunday 5-9pm. Admission is $45 and includes disposable protective gear. DO NOT show up to the event under the influence of alcohol or any other substance. Your money will be refunded and you will be asked to leave. State and county COVID requirements are being strictly enforced. All guests not from the same household will by physically distanced and all guests will be required to wear the provided PPE: hooded poncho, mask, nitrile gloves, and face shield. Visit their website for tickets!