Spider Season is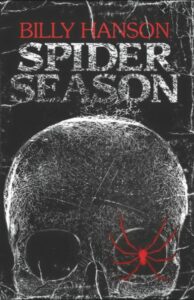 a new short story collection by Billy Hanson, a first-time author with previous experience writing and producing for the screen. The book is composed of ten stories geared mostly towards exploring real-world horrors. While there are a few supernatural beasties, the majority of the monsters here are the very believable human variety, which seems to be where Hanson really shines.  There's a deep fear of the people all around us and their capacity for violence which permeates the book and makes for some really chilling entries.
What immediately stands out about Spider Season is how well Hanson can put readers in the heads of deranged characters. Stories like The Clearing and The End of Edgar Wren work very well together because we're given front row seats to truly horrendous thought processes and internal justifications for violence– these stories make you feel like you need a shower simply from inhabiting the headspaces of the characters.
Characters aren't the only part of a story though, and that holds true here– this is occasionally an uneven experience. Midway through the book there are 3 screenplays written by Hanson for a speed writing competition which, were it not for the author's preceding note, would be entirely out of place. Hanson does take some time to explain their inclusion, but they still felt very out of left field in what is otherwise a tonally distinct collection. None of the three are bad but only the third is distinctly horror, and even then it's very separate from the rest of the stories. I'd love to see a single author collection from Hanson which is entirely screenplays– he has a knack for concise scripts and subtle world-building– but this just isn't the collection for that diversion. Props for trying something different, but I almost wish Hanson had written screenplays specifically for Spider Season as I'm sure they could have shown the same versatility while contributing to the whole.
Don't let that dissuade you though, as there are a few stand-out pieces in the latter half of the book as well which are worth the price of admission. Particularly, Music from the Gun Room offers something which I rarely encounter in short horror, which is an examination of the banality of evil. The story is about a traumatizing encounter with an alcoholic parent that doesn't rely on over the top violence, opting instead to present a stark, realistic look at the horrors of alcoholism. This one borders on being "too real"  but is uniquely effective for it. The closing piece, Everyone Else is Asleep, is also very creative and gives another layer of thematic strength to the collection. The idea that there is terror just outside of our peripheral vision and daily routines is a strong one and I like how literal that idea is here, especially given that it is one of only two short stories that are definitively supernatural.
Ultimately, this is a collection for those who want something less escapist. If the dark corners of the human psyche and the cobwebs that hang there are your cup of tea you'll find a lot to enjoy in Spider Season. Also, as this collection is exactly ten stories my rating is the number of stories that I really enjoyed– weird, I know, but probably more descriptive than an otherwise arbitrary number.
Rating 7 out of 10