Fans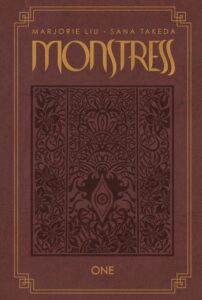 of Image Comics' Eisner Award-winning series Monstress have a lot to look forward to for the next few months! A new cycle of content began last week with the release of a special edition hardcover Monstress Book One (pictured right), limited to 500 copies and each signed by the creators Marjorie Liu and Sana Takeda. The interior matches the standard Book One hardcover, collecting the first 18 issues of the series plus extras, but features the signatures and the stylish new cover design.
In addition to the new hardcover, fans can expect the 30th issue of the series to release September 2nd. Monstress #30 will conclude the current story arc and asks: Who will win this crucial first battle between the Federation and Arcanics? And whose side is Maika on, anyway? There's yet another September release coming in the form of Monstress, Vol. 5— the newest trade, which collects issues 25-30. Volume 5 drops on the 30th of September, so readers who hold out for trade collections won't have to wait long at all for the newest arc.
But wait, there's more! In order to bridge the gap between the 5th and 6th volumes of the series– which is slated to begin in January 2021– Monstress returns with Talk-Stories, a two-part limited series that invites you to eat dumplings beside the fire and listen as Kippa recounts a defining moment from her childhood.
There's a lot of dates to keep track of here, and while that's a good problem to have here's a recap of everything you can expect from the series from here to November, followed by a corresponding gallery of covers:
Available now:
On sale Wednesday, August 5 – Monstress Book One Limited Edition Deluxe Hardcover (Diamond Code: JAN209110, ISBN: 978-1-5343-1432-0)
Available for pre-order:
On sale Wednesday, September 2 – Monstress #30 (Diamond Code JUN200256)
On sale Wednesday, September 30 – Monstress, Vol. 5  (Diamond Code JUL200117, ISBN: 978-1-5343-1661-4)
On sale Wednesday, November 25 – Monstress: Talk-Stories #1 (of 2)