The end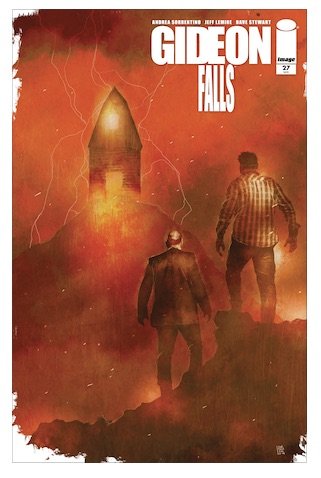 is near for Image Comics' multiple Eisner Award-winning series Gideon Falls. This December the extra-long 80-page 27th issue will bring the overnight sensation to a show-stopping conclusion that promises to keep readers guessing until the very end.
Gideon Falls debuted in 2018, showcasing the writing of New York Times bestseller Jeff Lemire, the art of Andrea Sorrentino, and the colorwork of David Stewart.  It's a stylish, visually distinct horror mystery that went on to take home the 2019 Eisner Award for Best New Series and quickly became one of the top-selling, most reordered series at Image Comics. Note that Lemire and Sorrentino are also the creative team behind Green Arrow and Old Man Logan— those are some impressive credits.
Gideon Falls explores the lives of a reclusive young man obsessed with a conspiracy in the city's trash, and a washed-up Catholic priest arriving in a small town full of dark secrets. At the heart of the town's secrets is intertwined with the mysterious legend of The Black Barn, an otherworldly building that is alleged to have appeared in both the city and the small town, throughout history, bringing death and madness in its wake.
"We've been fortunate to publish a lot of great work by Jeff and his many collaborators—Descender, AD, Plutona, Royal City—but his work with Andrea on Gideon Falls is one of his most incredible storytelling accomplishments to date," said Eric Stephenson, Publisher & Chief Creative Officer at Image Comics. "It's a true pleasure to see talent of this level complete such an amazing series, not just in the way they intended, but with their most thrilling issue yet!"
There's no definitive release date for issue 27 yet, but expect to learn more as we creep closer to the series finale this December. Gideon Falls is also available for purchase across many digital platforms, including Amazon Kindle, Apple Books, comiXology, and Google Play.