Planet DIVOC-91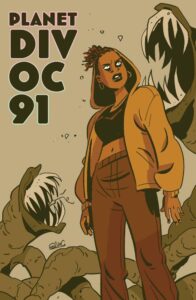 is a new sci-fi satire comic hosted on Webtoon which hopes to make the ongoing COVID-19 crisis a bit more manageable and quantifiable for young adults. It's also a collaborative effort featuring a laundry list of household names in the comics industry including Charlie Adlard of The Walking Dead, Alex Paknadel, Hannah Berry, and a great deal more, so if you're in the market for some free (FREE!) pandemic entertainment, you could probably do a lot worse.
From the creators: Planet DIVOC-91 follows the adventures of two earthlings: Sanda Oung, a 23-year-old girl from the UK, and Champo Oung, Sanda's 19-year-old, non-binary sibling. In the series, 15% of the world's population of 7.5 billion people are now stuck on another planet, miles from the safety of home. Sanda learns that humans have been brought to Planet Divoc-91 because the Earth is at risk of an extinction-level event – and young adults have been moved to safety by the Board of Adversity Scientists for Intergalactic Leadership' (BASIL), led by a charismatic and fearsome alien named ADRO.
As exciting as all that may be, what makes Planet DIVOC-91 stand out is a collaboration of another sort– the series is largely backed and supported by health agencies in the UK and the world over. The project was kick-started via NIHR Manchester Biomedical Research Centre seed funding who are providing continued support. Additional supporters include The Science and Technology Facilities Council (STFC); Royal Society of Chemistry (RSC); The University of Manchester through the Wellcome Institutional Strategic Support Fund award; Sarah Iqbal,  DBT/Wellcome Trust India Alliance; Anita Shervington, Blast Fest and Nabeel Petersen, Interfer (South Africa).
Planet DIVOC-91 is produced by Dr Bella Starling, Director of Vocal at Manchester University NHS Foundation Trust and Sara Kenney, Creative Director at Wowbagger Productions, in association with the UK Academy of Medical Sciences. "Bella and I were already working together on creative projects to engage audiences in sharing their views about antibiotic resistance and immunization and when lockdown hit, it became obvious that our thinking could be refocused on the COVID pandemic," said Kenney. "We realized there was a ton of information and advice about the pandemic out there, but it's so difficult to know what to believe and who to trust, and there were virtually no young voices in the mix."
Having glanced over the first chapter, which is available for free here, I can tell you that the comic is vibrant and intriguing with an air of unease surrounding authority figures and an uncontrollable situation which well mirrors the current climate. Additionally, there are several interviews with health professionals at the end of the first chapter which have been conducted and written by young adults about the pandemic.
Planet DIVOC-91 seems like a great way to help young people quantify and make sense of the current global health crisis. A lot of love has been poured into the project, from the expansive list of contributors to the extremely accessible distribution model. why not check it out?
For more information, follow PlanetDivoc91 on Twitter and Instagram.