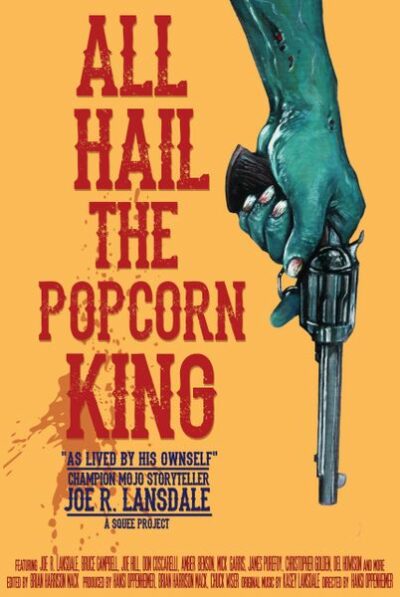 All Hail the Popcorn King follows author, screenwriter, actor and director Joe R. Lansdale, writer of Bubba Ho-Tep, the Hap and Leonard series, and dozens of others. There are 50 novels and over 500 short stories to his name. He has a further 24 writer credits on IMDb.com.
Nowadays he is living in the smallish town of Nacodoches, Texas, where, he says, the 50s lasted until 1963. He is an avid fan of Texas history, and frequents local museums and libraries, where can identify landmarks and portraits for visiting friends.
As a child, his parents encouraged him to read from a young age, and he was devouring comic books before he started first grade.
From there, he really got his start through old movies and serials, pulps, radio shows. "If there's any uniqueness to the work that I do," he says, "it probably comes through that crossing of all these different forms of media and time and experience."
His fans speak highly not only of his writing, but also of who he is as a person. "(He's) My personal friend and lifetime hero: Joe R Motherfucking Lansdale," says Vince White, guitarist for Devon Rowland and Crazy Heart. Author Christopher Golden, says, "I know lots of writers that are full of shit … but Joe is a no-bullshit guy."
A recurring theme of his life is that he can be friends with people of different political opinions. Himself, he is progressive, having opposed segregation and successfully sued a Texas University for barring him for his long hair. And yet he counts many conservatives as friends, and even encodes this attitude in his Hap and Leonard books (and the brief TV adaptation thereof).
Which in principle this is a commendable attribute, but in times of current unrest this feels a bit naive, frankly. But it probably keeps him saner than I have been.
A big breakthrough into public attention came with the story, Bubba Ho-Tep, which started as a short that he almost retracted, but which became popular and was eventually adapted into the film. It is a story of two men fighting a rampaging mummy, but, says Bruce Campbell, who played "Elvis Presley," it really is a story of old people becoming friends in a world where they are forgotten. This Bram Stoker Award-winning film has a lot of heart, he says. "Joe and me for all our bluster are sentimental guys, I think."
Joe's process is unique: his wife would make lard-laden popcorn, and he claims this would give him the dreams that would lead to some of his best ideas for stories, including The Drive-In, the novel that includes the character of the Popcorn King, after whom this documentary is named.
In addition to prolific writing, Joe has developed and teaches his own martial art, Shen Chuan, cobbled together from pieces of various other martial arts he has studied. Bruce Campbell admires this: "Guys who can actually do stuff are great writers, because they're not just writing what they think is real. Joe can actually kick somebody's ass."
Joe is in his 60s, and still writing. "Bat Masterson .. died while he was writing, at his typewriter, which is the best way to go," he says.
Rating:  8 out of 10 Buckets of Lard Popcorn
All Hail the Popcorn King
RATING:
UR
Runtime:
55 Minutes
Directed By:
Written By: