The horror movie RELIC goes to some pretty dark places. The film, being released by IFC Midnight nationwide today, explores the horrors of dementia and caregiving through the lens of a haunted house horror film with poignant effect. Kay (Emily Mortimer) is tasked with looking after her aging mother whose increasingly erratic behavior is cause for alarm. When Kay and her daughter Sam (Bella Heathcote) arrive at Edna's (Robyn Nevin) home they discover a creeping mold throughout the home and the disturbing possibility that something more than natural aging is taking hold.
Stars Mortimer, Heathcote, and Nevin, along with writer-director Natalie Erika James sat for a virtual roundtable discussion about the film via ZOOM recently. The thing that truly impressed us about the movie was the notable chemistry between the three leads, as well as their heart-wrenching performances. We decided to ask the four women about their personal experiences and what they brought to the film to make it as effective as it was.
Now, fair warning, the question below leads to minor spoilers about the film and the discussion of loss. If this is something you want to avoid, best click this link here.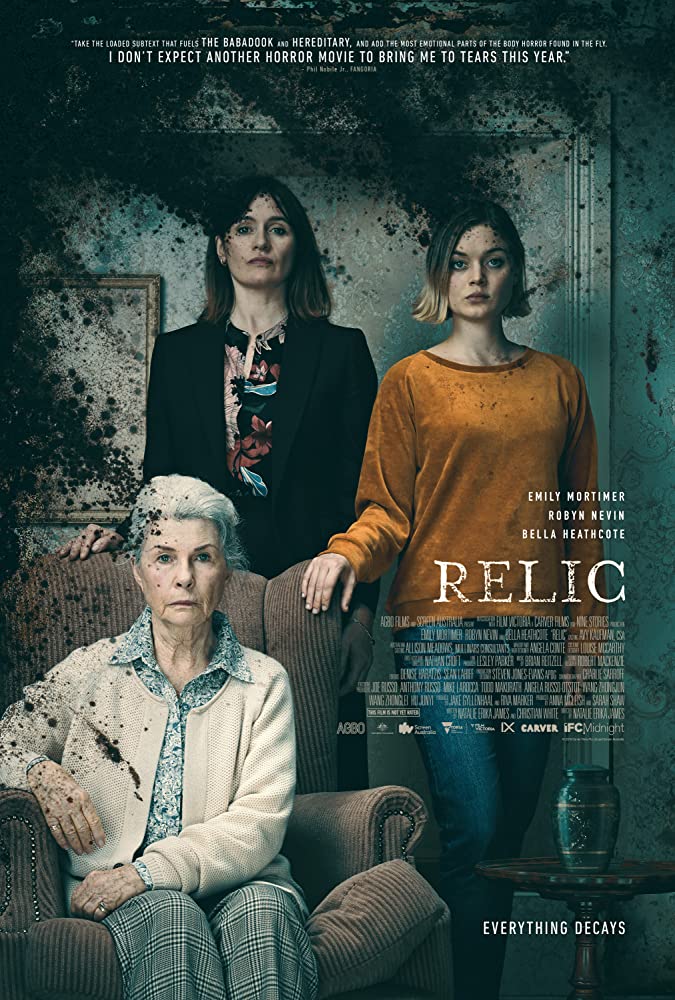 HorrorBuzz: This movie in particular touches on the hopelessness and the sadness of caregiving and death and the transitions that everybody in that situation goes through. This is kind of a personal question, but Have any of you been in that type of a situation where you've gone on that on that journey yourself? Did this inform your work? Have anyone of you gone through this situation?
Emma: I certainly have, you know, I am I lost my mom at a young age. And, you know, I've lost other people that are close to me. But I certainly remember being young enough that, you know, when she was quite sick near the end, and she was, you know, pretty, probably pretty high on morphine and just not knowing who I was just having those moments and, and finding that one of the most alarming things at the time, like seeing someone you love, not recognize you or kind of not being able to understand what they're saying, not being able to kind of communicate, and it's right at the end. And that feels like the stakes are so high and you desperately want to connect. Yeah, I think that's what moved me so much about the film. I think that's what grabbed me so much about the script. And the moment that I love that last scene in the film so much because it feels like in that moment, Kay was able to be of service to her mother who was dying, you know, she was able to confront her own fears about the situation and just go back in there and and help her final moments in a loving way. And I just thought that was so phenomenal. The fact that you can touch on that, what Emily described as like being on a roller coaster ride of a horror film. Yeah, I just think it's an incredibly unique depiction of death.
Emily: I agree with Bella and I definitely had a similar experience too when my dad died. Having that person that's always never not looked at you with, with love and adoration suddenly looking like looking at you like they don't really know who the hell he is. Is that scarier than anything you've ever seen in any horror film up until now like that's the scary is really the scariest thing I've ever experienced, actually. The fact that Natalie kind of managed to bottle that feeling and depict it in in a really thrilling and entertaining and wild horror movie is a huge achievement. And I think that it's going to chime with with anyone that's ever been through a similar situation when they watch it.
Robyn: It's different, different for me because I was actually the one who was undergoing this set process. So and I haven't, obviously, I hope it's obvious. I haven't experienced any such condition myself. (Laughs) Although it may be more obvious than I, since myself, so my experience the experience of my relationships with my, both my mother and my daughter were the ones that were of particular significance to me. They were useful in that they're just in me, they're just part of who I am and what I actually use as an actress and have always, always used my own personal, inner, inner well of memory and emotion.
Natalie: The, you know, inspiration for the film came from a personal place. So I'd say yeah, 100% that into the work. And it was this there's something about something very particular about the heartbreak goods grieving for someone who's still alive as you're losing parts of them. That's a yes. Very, very affecting and what I was kind of trying to capture and the contrast of, you know, the brilliance of who they were at the height of, you know, being healthy and how much that declines. That is, yeah, a particular kind of hard thing to witness.
---
I think that I would agree that it, those moments in the film are far more chilling than any of the gore or any of the creepiness. so nicely done. While not the jump-scare movie that some would expect, the horror in RELIC is introspective and more frightening when it depicts the terrors of real life.
RELIC OPENS TODAY IN THEATERS AND ON VOD/DIGITAL RENTAL
Relic
RATING:

UR

Runtime:

1hr 29 Mins.

Directed By:

Written By:

Natalie Erika James, Christian White