Over the course of this quarantine, I've done a lot of things to keep myself busy so I don't go mad: read books, binge TV shows, build LEGO sets, and spend a lot of time in virtual reality. And by virtual reality, I mean The Under, a zany world where anything can and does happen on the regular. Found in THE UNDER PRESENTS, it has two sides: a multi-player space to interact with other players and live performers and also TIME BOAT, a Sleep No More-like immersive show where you observe the lives of people on a boat over 3 acts. Both are wonderful, both are wildly different, and both are a huge time suck. It's great.
After many months of random live performances and variety hours in The Under, Tender Claws, the team behind the game, announced their first truly interactive immersive experience with THE UNDER PRESENTS: TEMPEST. Based on the Shakespeare play of the same name, the show takes a new approach to not only the world of Shakespeare but also The Under itself, allowing new mysteries to be uncovered and a live actor to guide us through their story.
I had the pleasure of attending TEMPEST just before opening night and let me tell you…it was a blast. Fellow HorrorBuzz writer Brian Tull (our other resident The Under expert) and I "met" in the virtual world just prior to showtime to explore a new waiting area at a theater amongst a few other patrons. However, while in The Under, guests are unable to speak, so we could only communicate through a series of hand gestures of snaps (and there is a whole community that crafted this language, it's amazing).
As the show began, we were whisked away to a home in the "Hollywood Hills" where we sat around a campfire with everyone else attending and Deirdre, our performer. TEMPEST has a rotating cast of performers playing the same role, so every show will be different as everyone puts their own spin on it, but we were lucky enough to have Deidre Lyons, an immersive actress that many readers will know from the LA scene.
It was from here that Deirdre took us on a journey through the TEMPEST. As an actor cast in the lead role of the show, she needed to practice her role of Prospero, so when COVID-19 is over, she can perform it on the stage once again. As the experience progresses, this somewhat grounded performance took turns into the fantastical, as we helped Deidre perform the show ourselves.
The show itself was fantastic, as Deirdre took us to different virtual worlds, telling the story of TEMPEST with her own flair. We were each cast in many roles, from spirits to human, and despite not being able to talk, each guest was able to take on said role with grace (and oftentimes hilarity).
I'll be honest, I was not sure what exactly to expect going into this, but TEMPEST far exceeded my expectations. As a fan of immersive theater (something I have been missing very much during all of this), TEMPEST is exactly the at-home immersive experience we need right now. It reminded me of some of my favorite shows I have seen in person, but the virtual platform made it much easier to get lost in the fantastical world that Deirdre painted for us.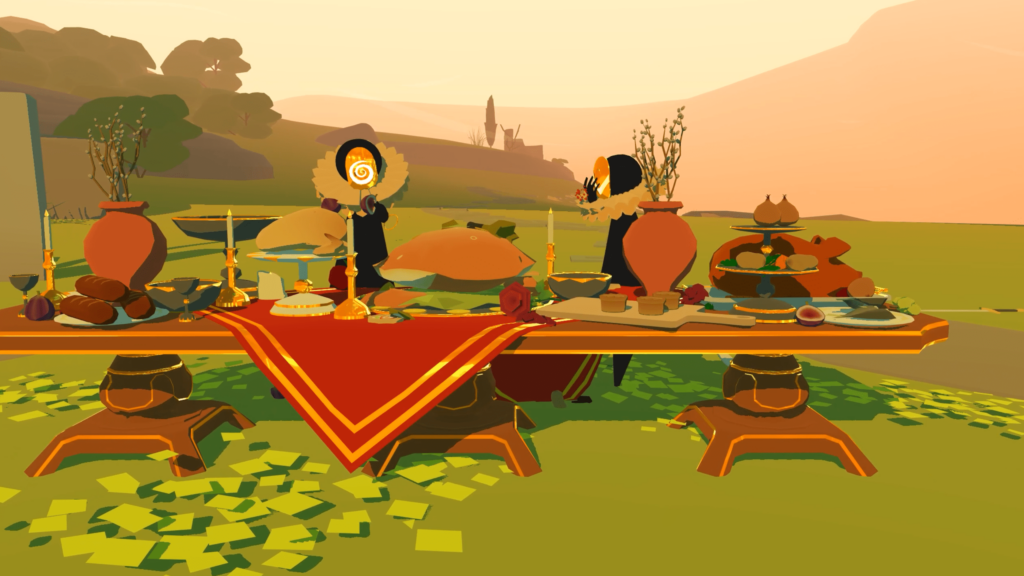 Each location we visited was so much fun to explore, and to see what Deirdre did with the world around us to tell Prospero' story. Everything from the environments we visited, to the "special effects" we witnessed, to Deirdre's performance, each and every bit was truly magical…so much so that I plan on going to see it again, to see another performer's take on the show.
The only downside here is that not many have access to an Oculus Quest or Rift, the only platforms you can see TEMPEST on. This of course limits the audience who can see it, but the folks who do own an Oculus are in for a real treat. I truly cannot say enough about the show, and I applaud Tender Claws for taking the first, really excellent step into the virtual immersive world. I really hope to see more of this from them beyond TEMPEST (and from others), because it just works on every level. I am beyond impressed.
Ticketed showtimes will be held throughout a 4-hour window (4:00pm – 8:00pm Pacific on weekdays, 11:00am – 3:00pm Pacific on weekends) every day from July 9 through the end of September. Tickets are available as an in-app purchase within THE UNDER PRESENTS.
To learn more, visit them online at: https://tenderclaws.com/tempest
To explore The Under Presents on the Oculus store, please visit: https://www.oculus.com/experiences/quest/1917371471713228/