The Miskatonic Institute of Horror Studies, the world's longest-running educational organization dedicated to classes in horror history, theory and production, currently has branches in L.A., New York, and London. While preparing the Fall 2020 semester amidst the current lockdown regulations, Miskatonic will be launching archival videos of classes online for by-donation access.

Released periodically over the summer and viewable globally, the online roll-out will currently feature a masterclass from British exploitation/horror filmmaker Pete Walker moderated by Bret Berg of The American Genre Film Archive, and will  be closing out with The Shadow Over Lovecraft: Interrogating H.P. Lovecraft's Racism, a panel of revisionist Lovecraft authors including Matt Ruff (Lovecraft Country), Victor LaValle (The Ballad of Black Tom), Ruthanna Emrys (The Innsmouth Legacy series) and longtime Lovecraft scholar Peter H. Cannon that took place at Miskatonic NYC in April 2019. The latter will be released in August, the same month that Jordan Peele and Misha Green's hotly-anticipated series adaptation of Ruff's novel Lovecraft Country premieres on HBO.
Miskatonic will also welcome actor and filmmaker Graham Skipper (Re-Animator: The Musical) and film historian Amy Searles as the new co-directors of its Los Angeles branch, based at the storied Philosophical Research Society headquarters in Los Feliz.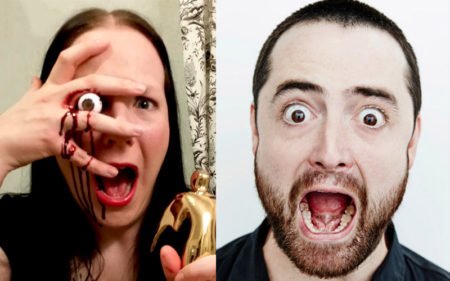 Date: Thursday, July 16, 2020 – 12:00 Noon PST

LIVE FROM MISKATONIC: PETE WALKER IN CONVERSATION

Miskatonic will present an evening in conversation with the great British horror and sexploitation director Pete Walker, moderated by Bret Berg of The American Genre Film Archive. This class originally took place on Thursday, May 9, 2019 in the main lecture hall at our Los Angeles host venue, the Philosophical Research Society.
Starting out in softcore sex shorts in the 1960s before turning to features in 1968 with films like The Big Switch, School of Sex, and his breakthrough, Cool It Carol!, Walker then self-financed a decade of brilliant horror and terror films including Die Screaming Marianne (1971), The Flesh and Blood Snow (1972), House of Whipcord (1974), Frightmare(1974), and many more.
Date: Thursday, August 20, 2020 – 12:00 Noon PST

THE SHADOW OVER LOVECRAFT: INTERROGATING H.P. LOVECRAFT'S RACISM

There is no denying that H.P Lovecraft was a racist. Though racism was not uncommon in his day, and some have argued that this excuses his attitudes, his racism and xenophobia were especially vehement, even for his time. These attitudes are directly apparent not only in an infamous 1912 poem denigrating those of African descent, but in journal entries and personal correspondences, as well as both directly and allegorically in his fiction. Does Lovecraft's racism overshadow his incredible contributions to the field? Should Lovecraft be demoted in the pantheon of horror writers based on his personal ideologies? Can people of those races and ethnicities Lovecraft directed hate towards still find value his work?
This momentous class, moderated by Miskatonic board member, author and festival programmer Rodney Perkins, features special guest speakers longtime Lovecraft scholar and Mythos author Peter H. Cannon, and authors Victor LaValle, Matt Ruff, and Ruthanna Emrys.