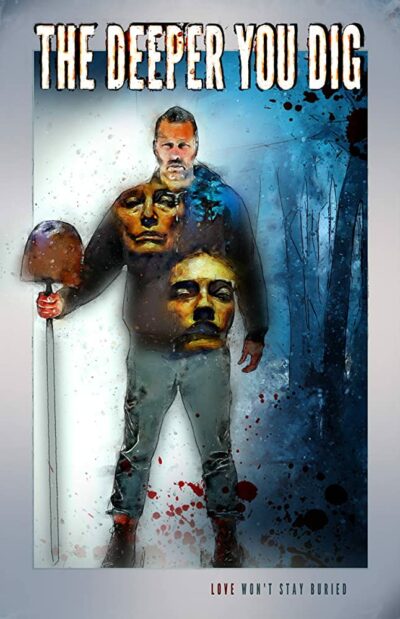 In the middle of a snowy night deer leap in front of drunk-driver Kurt's (John Adams) headlights, distracting him, and with a sickening thump he realizes he has hit something. But it is not a deer, it's a teenage girl, Echo (Zelda Adams). It is unclear why, but he decides to bury the body. And then bury it deeper. Then deeper.
The next day, Echo's mother Ivy (Toby Poser), a fortune teller and mystic, reports her daughter missing. But the small-town police offer little to discover what happened to her daughter. She pursues her own methods, including tarot readings, visions, and help from a former protege, who gives her a box that opens onto something called the Seven Circles, a sort of symbolic otherworld where spirits want to make her pay for turning her back on her gift, but they may help bring Echo back to her.
Kurt, meanwhile, has been seeing Echo's spirit. "Tell my mother what you've done," she says.
The film has a weird aesthetic: most of the music is very old-timey (you'll have "Ain't we got Fun?"  stuck in your head for sure), and Kurt's house is old and dilapidated. Fixtures are antique. And the sets outside of Kurt's sort of have that "we redressed our brother-in-law's apartment to look like a bar" sort of feel.
John, Zelda and Toby are a family, and the credits are pretty repetitive. These three and very few others wrote, directed, shot, edited, composed, and presumably catered this project.
Some of my favorite movies have been made with a small cast and crew, many people doing double and triple duty, all friends at the end, if not from the beginning. This is also a formula for really terrible movies. It can go either way. Sometimes it's Eraserhead or Pink Flamingos or Jesus Christ Vampire Hunter, but sometimes it's just boring drek, amateurish in the bad way. This movie? I'm having a hard time making up my mind. Parts that seem like they are supposed to be scary are really funny, but I can't imagine that's on purpose. There are a couple pretty cheesy jumpscare and YouTube-ready effects that just make it impossible for me to take it seriously, but it's not funny enough to be an intentional parody.
I think it's just a really cool family project. It has some interesting ideas (the 7 Circles segments are trippy and surreal), but it doesn't really go anywhere. I can imagine this team doing better if they learn from the process, though. This is hardly the worst movie I've seen — hell, even this week — but it doesn't have a lot to say for itself. But you might like it if you like teenage goth chicks (the character is supposed to be only 14, though. Whiiiich …  I think is a stretch), old-timey music, noise composition, tarot cards, undercuts and/or snow.
It's the Tell-Tale Heart with tarot cards and clownface. Oh, didn't I mention? There's a vision where Ivy is wearing a decrepit clown face. To be honest, it's by far the best acting in the film.
Rating:  4 out of 10 Blue Lipsticks
The Deeper You Dig
RATING:
UR
Runtime:
1 hour 32 minutes
Directed By:
Written By: