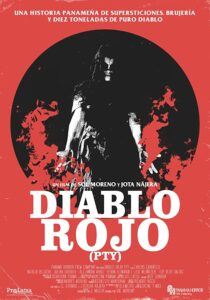 A "Diablo Rojo" bus driver, his helper, a priest, and two policemen fall victim to a mysterious spell and end up lost somewhere in the Chiriqui jungle, where they will have to survive the creatures that inhabit the roads, with the old bus as their only refuge.

In Latin American culture, if your public transportation busses don't have a nickname, it's probably because their drivers haven't done anything special to receive this honorable mention. In the case of Panama, they've done it already and they have blessed them as "diablos rojos" which is Spanish for red devils. These busses are overly decorated, with murals painted on the outside and disco lights all over the place to be noticed at night. For some residents, this may be art, but for others, it comes to be considered as visual contamination, in addition to being a risky way of transportation for the population since the drivers of these busses tend to believe that they are above the law for having decades of service. What does this have to do with the plot of Diablo Rojo PTY (2019)? Nothing at all. It's just a random explanation for the title.
The film begins with Miguel (Carlos Carrasco), a driver of a "diablo rojo" through the cities of Panama. Miguel is accompanied by Junito (Julian Urriola), a young man whose job is to charge passengers and yell in an announcing way the bus' routes from its sliding door. One night, after Miguel has a strange sexual encounter with a woman who turns to ashes in the restroom of a bar, they flee at full speed along the highway until two patrolmen catch them speeding and a chase begins, which is abruptly stopped by the presence of the same woman who is in the middle of the road doing a kind of ritual. After this, the police and the "diablo rojo" crew begin their endless confrontation against what appears to be a group of witches seeking revenge and blood.
Even though the film might seem to develop itself around the bus, the main local legend depicted through the film is the Tulivieja which, as it may be similar to La Llorona but with a different outlet, is a female creature that searches around water masses to find the child she let go down the river so she could keep on going out every night. The depiction is quite natural, gross, and artistic; the team behind the creature effects did a wonderful job.
Diablo Rojo PTY depicts a graphic nature and brings in elements we haven't heard of before because they haven't been overly used in popular culture, but it tends to play it safe for delivering a story we already know: a woman seeking revenge against a man that forgot about her existence. The plot is pretty much an empty cartridge, like the gun of the movie's cop that keeps firing it for no reason. But, it's not a bad attempt to break into horror when you're trying to incorporate local legends to add to the story. It might be unnecessary, especially when including every interesting myth and legend will result in a convoluted story that'll make the viewer forget about the antagonist. It's a nice and odd touch to honor the folklore of your roots.
As soon as you listen to the music of the feature film, you would think that the film was filmed during the 70s; the soundtrack is old and has probably been used in other movies. However, this is not the case. Diablo Rojo PTY is obviously a tribute, from start to finish, to exploitation films. It has excessive use of profane words that make the dialogue natural, but at the same time makes the element of horror lose its essence by falling more on the comedy. As for the acting, there's not much to say since it's on the level of a Latin-American telenovela.
Diablo Rojo PTY is a Spanish-language hot mess of folklore, horror, comedy and action. It's entertaining, just as it is suspenseful. It will not leave you satisfied but it won't leave a bad aftertaste.As a bonus fact, PTY is the airport code for Panama. I just saved you from a trip on whichever search engine you might use.
Diablo Rojo PTY
RATING:

N/A

Runtime:

86 Mins.

Directed By:

Written By: