Alamo Drafthouse Cinema has partnered with ScreenPlus and Vista Cinema to launch their new VOD platform, ALAMO ON DEMAND, boasting a growing library of entertainment for rental or purchase that's been carefully curated by the company's programming team. This new service allows the cinema company, which operates 41 locations in the United States as well as the influential genre film festival Fantastic Fest, to champion innovative and exciting films far beyond its auditoriums.
"I'll describe the scenario that sold me on the ScreenPlus platform," says Tim League, Alamo Drafthouse founder and Executive Chairman. "Alamo Drafthouse had been promoting Portrait of a Lady on Fire to our guests for months… this platform allows us to give folks who missed [the film] in cinemas another chance to see it, which is simply an extension of our enthusiasm and support for the film… in these shuttered days and beyond, these rentals and purchases help support your neighborhood theater."
To create the Alamo On Demand platform, the company collaborated with longtime cinema management software partner, Vista Cinema. By integrating existing backend systems (film scheduling, weekly emails, online ticketing and the Alamo's Victory loyalty program), the Vista platform can provide meaningful offers to guests of Alamo.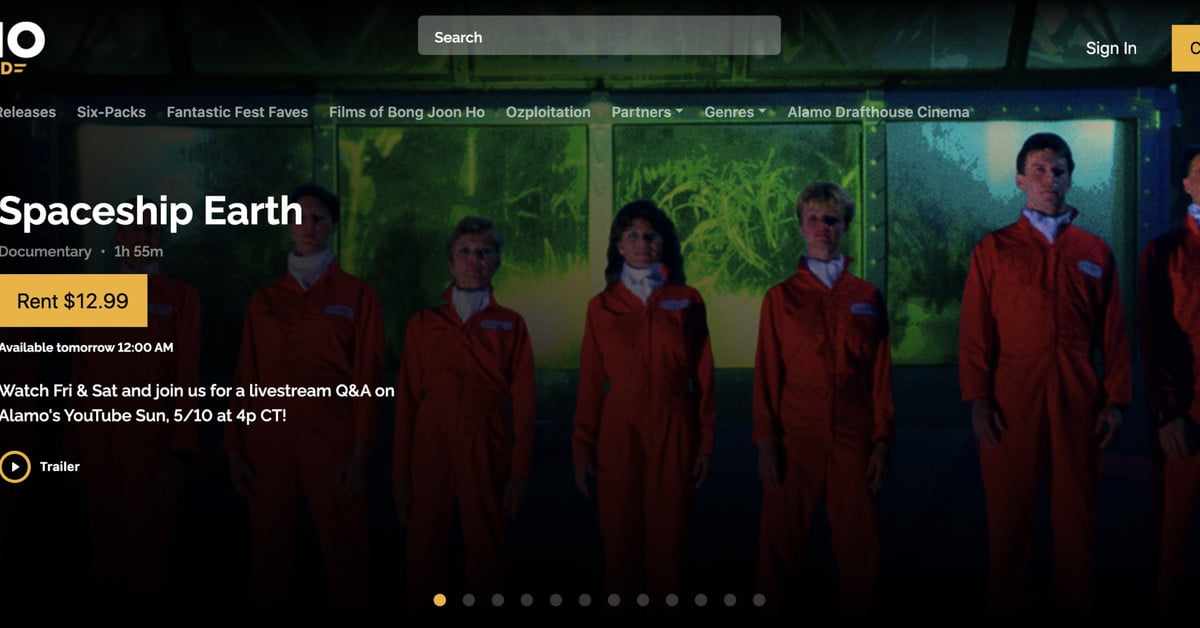 The programming team will curate their personal recommendations as new content is added, such as forgotten genre film classics, female-driven films, etc. To get guests excited for studio tentpole releases, Alamo Drafthouse can augment their in-theater marketing with video rental packages of a director's past films.
"Every title on the platform has a champion on the Alamo programming team," says Sarah Pitre, Alamo Drafthouse's Senior Director of Programming and Promotions. "Alamo On Demand is a curated library, with each film nominated and personally recommended by a programmer."
In the coming weeks, Alamo On Demand will welcome new partners such as Sony Pictures Classics and is in discussions with all the other major studios. In parallel, users can expect more deep curation of classic films.
CURRENT AND UPCOMING TITLES:
●     Lionsgate's ARKANSAS, APOCALYPSE NOW FINAL CUT, JOHN WICK: CHAPTER 3 – PARABELLUM, LA LA LAND, A SIMPLE FAVOR, KNIVES OUT, and DIRTY DANCING.
●     NEON's Academy Award Best Picture Winner PARASITE and PORTRAIT OF A LADY ON FIRE, as well as the documentary premiere of SPACESHIP EARTH.
●     An exclusive premiere of the new documentary KATE NASH: UNDERESTIMATE THE GIRL, which will include a livestream Q&A and performance by Kate Nash.
●     Magnolia Pictures' RBG, SKATE KITCHEN and RAISE HELL: THE LIFE AND TIMES OF MOLLY IVINS.
●     Director Paul Thomas Anderson's music documentary JUNUN.
●     Severin Films and Alejandro Jodorowsky's modern masterpiece SANTA SANGRE.
●     Well Go USA's 2018 South Korean masterpiece BURNING, starring Steven Yeun and considered by many to be one of the best films of the 2010s.
●     Drafthouse Films' entire catalog, including Academy Award nominees THE ACT OF KILLING, THE LOOK OF SILENCE, and BULLHEAD, as well as the acclaimed Riz Ahmed breakthrough film FOUR LIONS.
●     A "movie riffing" screening of the rediscovered cult classic ROAR from the renowned comedy collective Master Pancake Theater.
●     Shout! Factory's Ramones-starring classic ROCK 'N' ROLL HIGH SCHOOL.
●     A wealth of restored genre films from American Genre Film Archive like Ed Wood's TAKE IT OUT IN TRADE and NINJA ZOMBIE.
●     Family programming like the New York International Children's Film Festival's KID FLICKS ONE AND TWO, two programs of award-winning and audience favorite family shorts from the NYICFF 2019 festival, and the 50th anniversary restoration of Harry Nilsson's THE POINT.
Alamo On Demand is available now at ondemand.drafthouse.com, with apps for iOS and Android coming very soon.