Why 50 years of creature features, you say?
All kinds of reasons, but here you go:  they're largely free of magic/faith-based resolutions in that characters must do or die based on choices/luck, the casts are often a variety of people from all walks of life, they can be the expensive highest-grossing movie of all time or an extremely low-budget group effort labor of love, the endless creature options available enable creative effects work, and that's probably enough.
I suppose they also tap into a base "What would I do? Could I survive that?" set of emotions in addition to just being a good fun time at the movies. What qualifies as "creature feature"? In pursuing this I've learned everyone has all kinds of definitions, to the surprise of nobody.
I decided on including films revolving around people having to survive/defend/endure/whathaveyou against creatures or die trying with "creatures" being considered as animals, aliens, mutations, science experiments gone haywire, perhaps a being from another dimension–as long as it doesn't speak and has no qualms with eating you should the opportunity arise.
A loose definition, yes, but sometimes going with the gut is simplest. Films like Night of the Creeps and Shivers feel more zombie-esque than creature-based even though slugs are monsters, too (maybe I'm slug racist) while Bird Box et al are far more psychological and human oriented–often with no creatures at all or bare-bones versions–so those things won't be included.
I'll stick with US theatrical releases, for the most part, until we get to ~2000 when straight to DVD & streaming releases become players in their own right so I will include as many notables as possible. Turns out there are more than a few of these movies, so I've broken things up by decade to perhaps become a bit more manageable.
Anyway, in addition to the title watch out for the Rotten Tomato score & box office (domestic ie North America as well as worldwide using *only* Box Office Mojo as reference–no Mojo no box office). These inclusions are to act as a barometer of the film's critical & financial results for trivial purposes–don't take a beloved film's low receipts or harsh reviews personally. Also my personal favorites have their titles bolded as such because why not!
I'm sure there are movies I've left off others will find essential, but I'm only human and that's what comment sections are for (besides calling people names and links to home business lies). So, let us begin with a whimper…
1970
Bigfoot – People meander around looking for Bigfoot, vaguely, as captors of the creature have chats about life to pass the time. Dull, poorly made, and the poster is more exciting than anything you'll witness in the feature itself. I'm already kind of done summarizing this slog. Even if you're related to the cast in some way just don't–life is precious.
Box office: / 
RottenTomatoes: / , 20% audience
Trog – Joan Crawford's final film role which I wouldn't actually label "creature feature" but it's Bigfoot-adjacent and 1970 is light on our category a bit. Crawford plays a doctor trying to domesticate a troglodyte found alive in countryside caves. This one's amusing enough a while and, for me, falls into so-bad-it's-good territory (albeit mildly). The fashions and crappy monster effects provide brief chuckles but unless Joan Crawford is *all* you need then pass. 
Box office: /
RottenTomatoes: 14% , 24% audience
Equinox – A student film made for next to nothing with a couple creatures briefly in there. This achieved distribution thanks largely (solely?) to effects work that is respectable for what it is, especially at the time. Again let me stress, this is a student film from 1970 with a few minutes worth of movie monsters so unless you're curious about what those results might be or want to watch casual old school sexism unfold before your very eyes I'd say keep walking unless you have a buddy for maximum MST3K. 
Box office: /
RottenTomatoes: 33%, 28% audience
1971
Willard – Bruce Davison plays a loner searching for a friend who finds one in his pet rat. Things go poorly, of course, but they went well enough for the film to initiate a little wave of imitators. The first time you watch it serves as a fun time capsule, Bruce Davison convinces, plus Ernest Borgnine's here if that floats your boat.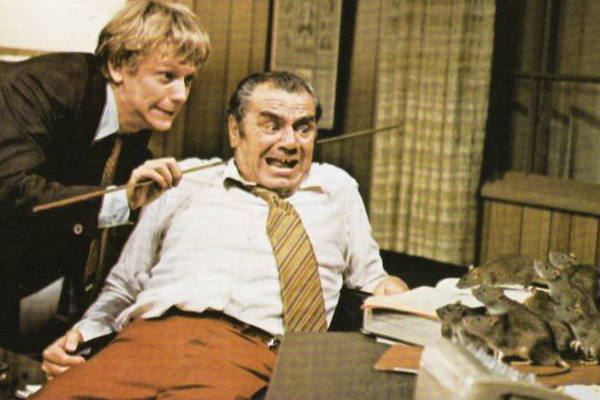 I'll say this here to try and get it out of the way even though it'll come up again–when real animals are abused or killed for the sake of filmmaking that's a dealbreaker for me re: enjoyment. All these 70's animal attack movies are peppered with a laundry list of abusive/deadly scenes that make objectivity hard. I'm not saying Willard is an egregious example, this is simply the beginning. Anyway, this one may not be to your liking but it's easily the best listed so far.
Box office: /
RottenTomatoes: 57%, 38% audience
1972
Ben – The follow-up to the previous year's Willard is most notable for the award-winning theme song by Michael Jackson. I recall watching this a few times while young and enjoying it as far as rat movies go so I'm sure that nostalgia element helped on the rewatch, but amusement was had. I wouldn't go as far as saying it's especially good at all, in fact "bad" sounds more realistic, but there are worse and if you loved Willard or rat attack movies in general I'm sure you'll find something here.
Box office: /
RottenTomatoes: 67%, 39% audience
Frogs – Sam Elliot stars in a man vs frog melee you have to see to believe! Lies, of course. Sam Elliot's in it, true (in some tight pants–I hope you've always wanted a clear dick outline), except the "frogs" part is more like spiders, snakes, lizards, and more in this nature pushes back night at the movies. Frogs are featured, don't worry–you will see  frogs if that's a must. Bit of a misnomer, is all. If 70's set animal attacks and all that suggests (styles, production values, sound quality, etc) aren't up your alley this won't change your mind, but if so then enjoy the silly cult entertainment (or stare at Elliot's pants the whole time).
Box office: /
RottenTomatoes: 29%, 24% audience
Night of the Lepus – This was apparently supposed to come as a bit of a twist so spoiler alert–it's rabbits. Quite a reputation as ridiculous though I found it a more low-key kind of smirking stupidity than over-the-top hilarious. It helps that this was made earnestly (as far as I can tell 50 years later) and simply ended up being a colossal misfire, since those are way more amusing than Sharknado bullshit where it's a joke from the start. Good for an MST3K-style viewing with a buddy and not much else.
Box office: /
RottenTomatoes: 8%, 27% audience
Stanley – A Native American man who prefers snakes to humans deals with bigots and murderers while trying to live in peace. Frankly, I can't get past the snakes killed for this movie. I simply lose ALL interest in a film when real, live animals are murdered for…this. So, in the name of honesty I made it all the way to the point snakes were actually killed and then checked out. Chris Robinson is rather effective as the lead and the villains are all awful people you're happy to see dead, but I wouldn't recommend this for the reasons previously stated–I'm not on board with blowing animals away or sewing their mouth closed or all the other horrible things done to these creatures for a lame movie.
Box office: /
RottenTomatoes: /, 19% audience
1974
It's Alive – Technically a 1974 release but also a 1977 release, so we'll go with the first time. A successful couple waiting on their second child is horrified when out comes a hideous mutant creature that kills just about everyone in its way. I can see why this is a cult classic with the committed lead performance from John Ryan as well as bloody kill scenes and a general schlocky tone. You might get bored of it at a certain point and you might hate it, either of which certainly won't lead you to its sequels or remake in 2009 that require no further words, but give it a chance and see where you land. There's always the stop button.
Box office: /
RottenTomatoes: 75%, 39% audience
Phase 4 – Ants evolve to a collective intelligence and communicate/combat scientists attempting to discover and destroy before they can spread. I hadn't heard of this one before learning of it recently and I want to make it known that the extreme oversell I received turned this into a rather average (as average as this can be–it's odd!) or even underwhelming experience. It's more philosophical sci-fi with some good buggy visuals than a monster movie, if you ask me, so if you're in the mood for a very 70's thought-based sci-fi movie about intelligent ants then yes but if you want a creature feature kinda movie about killer ants then no. Also search out the original ending if you're at all curious afterwards.
Box office: /
RottenTomatoes: 56%, 55% audience
Fangs aka Snakes aka Holy Wednesday – A man sends snakes to kill people he chooses. To some they see camp classic, to me this was an endurance test that I failed–I ended up skipping ahead to wrap it up. Poorly done and boring dreck. Nope!
Box office: /
RottenTomatoes: /
1975
Jaws – An all-around game changer for many involved in addition to the movie going public ever since its release. Pre-Jaws the "summer movie season" was not a thing as we know it–wide releases weren't even a common practice yet. Jaws was the first film to crack 100 million at the US box office and settled on a massive figure, though the specifics of that are a bit fuzzy since the box office before 1982 is far from exact (plus box office reporting post-2019 will sure suck now that BoxOfficeMojo sold its soul so massively and the whole pandemic situation–to look on the bright side).
As for the quality of the film itself, it's both an all-time great as far as pop culture goes and a personal favorite–Quint singing "Spanish Ladies" has been my ringtone for the last 20 years, for example. From the script to performances, score, direction, and whatever other aspects you want to choose this a wonderful movie that stands the test of time. Fin.
Box office​: 261 million domestic, 471 million worldwide (a massive, otherworldly box office success–even if all that wasn't from the initial release)
RottenTomatoes​: 98%, 90% audience
The Giant Spider Invasion – This one was a slog, I'll say. I  went the raw route instead of MST3K and I believe that was a mistake. It's just boring, kind of gross (there's some extremely icky ass-sweat very present at one point), and no spiders show up until halfway through then it's still a while until a giant one. There's some 70's brand sexism on display, so it isn't without anything to laugh at.
Box office: /
RottenTomatoes: /, 15% audience
1976
King Kong – Jeff Bridges and Jessica Lange (her film debut) vs King Kong, easy enough. Here's another one I've seen a few times as a child only never since. I'm a little useless here, sorry to say, but I remember it being fun enough. This doesn't qualify as "creature feature" as far as I'm concerned but it had support so here it is.
Box office: 53ww (a hit)
RottenTomatoes: 53%, 31% aud
Grizzly – Jaws, but with a bear. There could be further plot expounding, but why? Horrible sound (score is pretty okay, but ADR & the like…no), ladies taking off their tops for no reason, poor editing, a slapped-together script, and many more fine attributes make this an enjoyably stupid movie with a bear who's teeth are always pretty white–even moments after tearing people apart. This knock-off is at least funny moronic instead of boring moronic so that should elicit some laughs.
Box office: /
RottenTomatoes: 44%, 30% aud
Kiss of the Tarantula – A loner teenage girl seeks revenge on those she deems deserving with her pet tarantulas. This has largely left my brain already and time has forgotten it, so shows you how distinctive it is. Don't bother unless the sight of tarantulas scurrying is enough in itself to keep you occupied, but even then…no.
Box office: /
RottenTomatoes: /, 12% aud
Rattlers – Guess what causes the bizarrely violent snake-based killings that occur near an army base in this take on murderous snakes? You probably got it at "army base." More lame mid 70's snake attacks that I passed on after reading about it and my previous snake experiences with this decade.
Box office: /
RottenTomatoes: /, 3% aud
Dogs – I think the best summary of this killer dogs movie is a spoiler for it, so you've been warned: it ends with a cat on the side of the road looking shifty and meowing, as if to set up the sequel. Homer Simpson would be proud, I must say. The film itself is that thing I just described it as–dogs decide to kill a town, because reasons, and people try not to die. It's a little serious at times but also extremely NOT serious–at one point a dog kills a lady in the shower as naked ladies must exist in scary movies whenever possible. If the premise and year together don't ward you off then you'll probably be amused by something.
Box office: /
RottenTomatoes: /, 24% aud
Squirm – Electrocution causes carnivorous worms to come calling for townsfolk in small town Georgia. This one received the MST3K treatment already so you can do the original, rather ho-hum release or the much more fun version that's actually amusing. It's a killer worm movie so I believe that's enough explanation–do the MST3K take.
Box office: /
RottenTomatoes: 36%, 26% aud
1977
Orca – Richard Harris (Dumbledore #1 to some) brutally hunts an orca with the aid of Bo Derek and Charlotte Rampling, among others, except it proves much more difficult than he anticipates. Jaws and Moby Dick retread/mashup that's comfortably in the Jaws sequels quality field, so I think however you reacted to those might be in the same family. Mix this in with some more modern creature feature schlock for variety's sake and this could be a good time.
Box office: 15ww (okay/meh)
RottenTomatoes: 10%, 33% aud
Kingdom of the Spiders – William Shatner does his thing through this rather slow story of spiders taking over a town. As a young person I very much enjoyed the MST3K version of this and I'm sure it's still funny but once I realized they actually stomped, squashed, and otherwise destroyed real, living spiders the amusement did subside for me. I know, I know–they're "just" spiders but on this topic I believe I'm decided. Killing living creatures as a byproduct to our passing amusement (ie film, tv, art, etc) doesn't sit well with me regardless of how great a shot the outcome yields. If you don't care about any of that stuff I said then I think entertainment will be had, soulless bastard ;)
Box office: /
RottenTomatoes: 44%, 37% aud
Tentacles – Jaws, but with an octopus. It's driven mad by Henry Fonda's underwater radio signals. More harsh truth, I fell asleep about halfway through and turned to a synopsis for the rest. Boring, simply put. Don't waste life here.
Box office: /
RottenTomatoes: 0%, 10% aud
Day of the Animals – Humans damage the ozone layer to the extent that nature fights back in the form of animals attacking at random instead of plants releasing a chemical like The Happening. Get ready to loathe the words "hot shot" as well as wish a deeply annoying mother to a young man some ill-will while Leslie Nielson takes his shirt off and descends into rapey madness. Also be prepared to watch lots of animals sit or stand around, menacingly of course. Again, have a buddy around for maximum mock-based humor.
Box office: /
RottenTomatoes: /, 30% aud
Empire of the Ants – Meh. Joan Collins is here as well as large mutant ants. Really, I don't have much else to say about this beside standard comments of forgettable and not even really so bad it's funny–more lame and nap friendly. Better off falling asleep to Phase 4.
Box office: /
RottenTomatoes: 0%, 26% aud
The Pack – Abandoned dogs on a summer tourist spot go on the offensive against Joe Don Baker and friends. I'm not really a killer dog fan, especially, but this one was a pretty okay foray into this subgenre of creature feature. Aside from dealing the specifics, just know that if you want to watch a 70's set movie where dogs go nuts on an island and the human fight for survival that follows you will see that here.
Box office: /
RottenTomatoes: /, 48% aud
1978
Jaws 2 – Three years and a dozen silly rip-offs later finally brings us to a silly Jaws sequel. Chief Brody returns with big guns this time, as you can see by the poster touting Lorraine Gary & Murray Hamilton as the Richard Dreyfuss & Robert Shaw. The shark gets an identifying scar (so you never lose track of it!) and Roy Scheider runs around in little hot pants the whole time which I find an amusing choice. Perfect Saturday morning filler as you ease into the day as long you aren't expecting a Jaws-tier classic, plus this gave us the classic "Just when you thought it was safe to go back in the water…" tagline.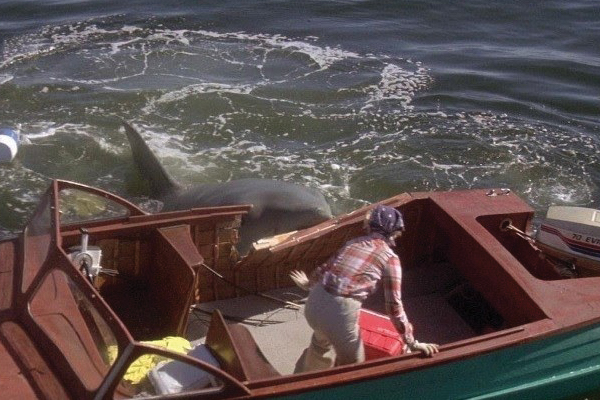 Box office: 103dom/209ww (eventual tallies, ~78dom in 1978, not that anyone but me cares. Highest-grossing sequel at the time despite making half as much as the first).
RottenTomatoes: 60%, 38% aud
The Swarm – Bees swarm together and cause many problems, as you could imagine.  This one has Michael Caine, Katherine Ross, Olivia de Havilland, Henry Fonda, and the rest in an extremely 70's disaster movie about bees. Again, I could say more things but I believe the whole angle of something like this is simply to see  an all-"star" cast be bumped off in the face of whatever menace and it makes no efforts to be different. I'm a sucker for these and as a fan of the Caine & Ross I at least get to watch them flail about with bees. Don't plan on this being *any* good and there will be laughter.
Box office: /
RottenTomatoes: 11%, 19% aud
Piranha – Just in case Jaws 2 wasn't enough, here you have Piranha's take on the water-based hungry monster. The government did it! Easy enough, now enjoy the cult classic of flesh eating fish loosed on the populace. This no doubtedly assisted Joe Dante's career along and while "official" box office is unavailable best I can tell it did well enough in the universal language of money to spawn a franchise. A fun enough 90 minutes of killer fish.
Box office: /
RottenTomatoes: 72%, 42% aud
The Bees – You want more bees, you say? John Saxon stars in this tale of killer bees out for world domination in which humans must "accept their terms" or face extinction. The music is all genuinely awful, first off. It seems like perhaps whoever did the score was seeing footage from who knows what–certainly couldn't have been this. People evidently lose the ability to walk when bees are around so at least I learned that. Also there's some stock footage of random plane crashes to sell the chaos but I'd say that was a swing & a miss. As a "legit" movie I'd refer you to Nicholas Cage's "Not the bees! No! Not the bees!!" Wicker Man rant, but to mock with a buddy could work.
Box office: /
RottenTomatoes: /, 7% aud
Jennifer – Like Carrie but she can communicate/control snakes instead of telekinesis. If you watch the trailer before the movie like I did you might be *extra* bored as it's one of those 70's classics that simply goes through everything in chronological order. Whenever people say trailers give away too much I like to point that at things like Carrie and now this as these are just short film editions of the whole movie. Skip!
Box office: /
RottenTomatoes: /, 38% audience
Barracuda – The government causes then covers up killer barracuda. This is barely a creature feature and spoilers (you'll be fine) the climax is a bunch of barracuda-free person vs. person gunfight stuff that just stops–a kind of popular 70's trope. They ran out of film and figured "may as well stop there!" A waste of time all-around.
Box office: /
RottenTomatoes: /, 2% aud
1979
Alien – Ridley Scott brings this palate cleanser of endless B-movie animals trying to kill us with H.R. Giger's face raping, chest-bursting movie monster for the ages.
The first creature feature since Jaws to nail the landing in all departments–direction, casting, score, cinematography, script, set design, cultural impact, as well as financial success. If it seemed as though I was a fan of Jaws before, then multiply that by a bunch to approach my adoration levels for this film. Over 40 years later and this still puts so many other movies of the genre, even from now (by the same director…), to shame. Any blurb of Alien cannot be completed without mention of Sigourney Weaver's iconic place in film history as Ripley. More on that later ;) Find a beautifully restored version on bluray and make your day (do the theatrical version instead of the director's cut, I say).
Box office: 82dom, 108ww (A hit which launched a franchise that dies with humanity)
RottenTomatoes: 97%, 94% aud
That's a wrap on the 70's and see you soon for a new decade of people getting eaten by various whatnots! Next time on Creature Feature Semicentennial…

You can also follow Adem on his personal site GLASS HALF CRACKED.