One of the amazing gifts of modern technology is that in times of social distancing, we are still able to correspond and connect. Over their separate tech devices and wifi routers, Miranda Riddle and Michael Reich had a conversation about SHE'S ALLERGIC TO CATS.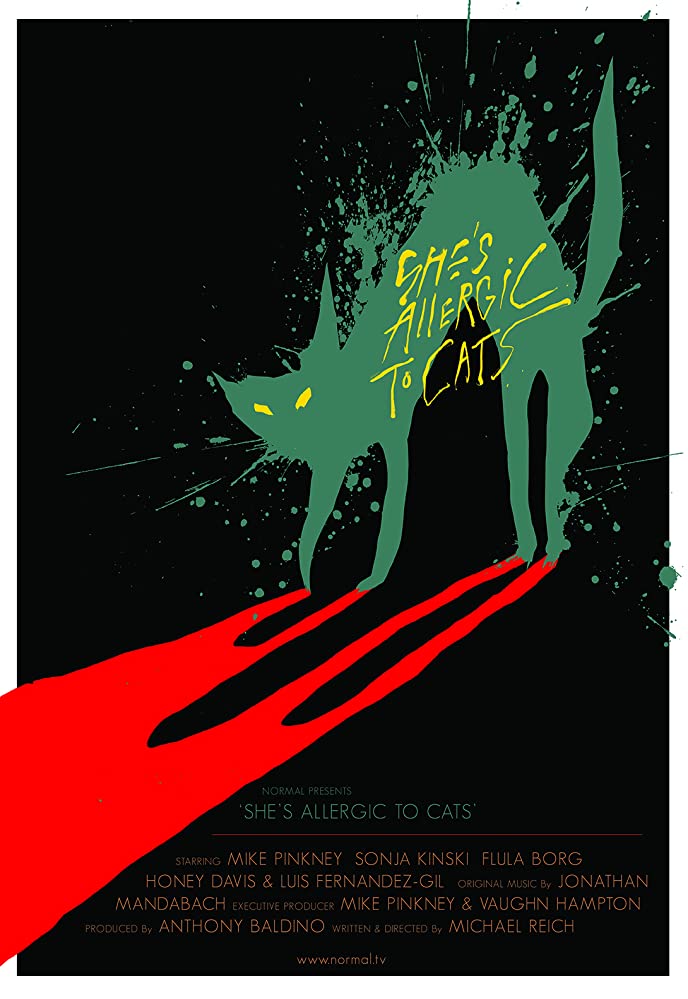 HorrorBuzz: First and foremost I want to of course thank you Justin for facilitating and thank Michael for taking the time with us! 
Michael Reich: Thanks! Excited to do this!
HB: SHE'S ALLERGIC TO CATS is being framed as "semi-autobiographical". How much of this film is based on your real life? 
MR: Everything happened in one way or another but it's all jumbled and mixed up in different ways. So everything is true but also not true. Like, I was definitely a dog groomer for several years and clipped a dog's nails too close to quick so they bled. But then I never went on a date with that customer. Not at all. Quite the opposite actually. The lady was rightfully pretty upset with me and there was no romance there. 
HB: Mike Pinkney has been a collaborator of yours for some time – how did that relationship come to be? 
MR: I met him in college and we instantly clicked over our movie taste. We showed each other our short films in a friend's dorm room and tried to outweird each other with our movies. His was a real moody one called CrackBabies about babies that smoked crack. Mine was a simulated porno based on the Oedipus Rex tale called Eat-A-Puss Wrecks: Motherfucker. I think his movie was weirder but mine was more uncomfortable. Either way, we became best friends and have been making weird shit together ever since.
HB: What was the casting process like for this film? It's great to see a cast broad enough to include both a Kinski and longtime viral sensation Flula Borg… was this a cool chance to cast friends? Did they audition? And how much did they influence the story and characters, if at all?
MR: I met Sonja in an acting class. We had to do a scene together and I saw her last name. I said "Kinski?  Cool last name! It's like my favorite actor Klaus Kinski!" And she very matter of factly told me that Klaus was her grandfather and I just thought it was the coolest. From then on I was mesmerised by whatever she did in acting class 'cause I could totally see the Kinski in her performance. After casting her, the character completely changed and I just let her run with whatever she wanted to do on set. She would always make the strangest choices but ultimately they were always the right choice. I wrote the part of Sebastian after a good German friend of mine (also named Sebastian). And someone had actually already sent me one of Flula's youtube videos because he reminded them of Sebastian so much. So when we were casting the movie it was a no-brainer. He was really great to work with too. Such a talented and hilarious guy. We shot a few extra scenes with him that ultimately didn't make it into the movie but everything he does is always really fucking funny.  I can't wait to see him in the new Suicide Squad movie.
HB: The video art aspect of this film, both in the story and in the actual edit of the film, really drew me in. Where did that inspiration come from? 
MR: I've been doing video art for a while now. I started out making background visuals for bands that I would tour with and then it evolved from there. I do a lot of circuit bending using a combination of Tachyons and BPMC video glitch devices. I had never seen the process of making glitch video art in a movie before so that's why I included it into the story. Then once the character was making that kind of  glitch stuff it gave me the license to use it as transitions wherever in the movie. So yeah. That answers that question right? 
HB: They say never to work with children or animals – no kids here, but animals in SPADES. How was that experience on set? 
MR: I will always work with dogs. I mean, dogs are THE best. My dog Martin is the coolest. He loves wearing costumes and has great comedic timing. I'd love to work with him on a big project some day. Cats kind of suck to work with though. They are visually interesting but don't take direction well at all. Rats were kind of whatever. They were uninspiring and didn't really show that much emotion. Ducklings were also difficult to work with. They were cute but they were constantly pooping everywhere and smelled pretty bad. Apparently duckling poop can give you salmonella so we had to constantly be washing our hands around them. Now everyone is washing their hands though so I guess we were ahead of the curve on that one.
HB: Do you have any stories from set you can share with us? 
MR: I almost burned down the house during the burning cat carrier scene. It was a pickup that we did months later around Halloween and I shot it in the front yard. I used model cement to light the cat carrier on fire and it was working pretty well. The plastic started melting and the flames were picking up a little too much so I went to put the fire out. But apparently you don't put out chemical fires with water? So when the hose water hit the flames it just exploded into a huge fireball and set the trees on fire in my front yard.  It all happened so fast. Then the roof started catching fire and I thought the whole house was going to burn down. I really didn't know what to do and I kind of froze up. There was a Halloween party going on across the street and a bunch of partygoers saw the flames and came over. They were dressed like wizards and bumble bees and they all helped me put out the fire by throwing dirt on the flames. The shot turned out amazing though so I guess it was all worth it.
HB: Can you tell us a particularly wild or memorable story from your real life experience as a dog groomer/documentarian/music video director? 
MR: I groomed Brad Pitt's dog a few times. An English bulldog named Jacques. Very handsome dog. Never met Brad Pitt but his dog was very friendly. 
HB: What's of your own projects, including music videos et al, do you think best represents you as an artist? 
MR: I guess it's always the most recent thing so…I made a short film with my girlfriend and roommate during this whole self isolation quarantine thing. It stars my dog Martin who is a fantastic actor. It's called Quarantine Dog Good Boy. Here's a link to the film. https://vimeo.com/404538296
HB: What and who were your biggest influences, as a filmmaker and in this film in particular? 
MR: Direct influences for this movie were (in no particular order) Kill The Moonlight. Ken Russell. David Lynch. Harmony Korine. Ninth Configuration. American Werewolf In London. Wendy and Lucy. Air Bud: Golden Receiver.
HB: What's next for She's Allergic to Cats? 
MR: I'd love to do a collectors edition on VHS. But other then that….it will be available on a few more VOD/streaming platforms in the coming weeks. And then we are going to do a Virtual Premiere April 30th hosted by The Spectacle Theater on Twitch. 
HB: What's next for you? 
MR: I have been writing a Christmas horror movie and a Bar Mitzvah horror movie. So one of those two things.
HB: Thanks so much for taking the time to go over these! I truly appreciate it. Hope you're keeping safe and sane! 
MR: THANK YOU!
You can watch the SHE'S ALLERGIC TO CATS online now.