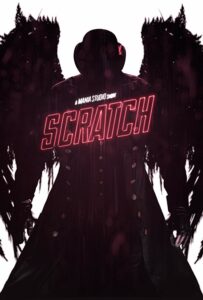 On the night of a double murder, a mysterious patron of a roadside diner has a date with the Devil.

Scratch (2020) tells a big story in 10 minutes: a serial killer known as the "Butcher" hiding in plain sight and pretending to have a normal life. As we get to see everything from his POV, we meet a stranger that self-claims to be unlucky when it comes to dating women so he finds comfort on paying for sex. We meet possible victims as the murderer turns from right to left and back looking at women walking by. And we also get to might another stranger; someone who encourages him to be his true self. A stranger who, without preaching morality, exposes his desires over his well-being and exploits his addiction to feed its ego. But, is this stranger only in his head? Could it be that the devil came out to play for a while in a forbidden part of town?
Sometimes having a simple story without paradoxes that complicates it but with a dialogue worthy of being recognized is enough to have a good plot that avoids being hated by horror lovers. This helps Scratch to be recognized as something unique despite not bringing anything new and yet having points in its favor.
A great help for the short film are the actors as they give the plot a push in the right direction; they never allow it to be boring nor dull at any time. The actors try their best to maintain the simple dialogue afloat so that the spectator never spans out of the attention to detail, even when the killer's perspective is distracted by seeing other parts of the location.
The setting is visually stunning, but at the same time, it's very much an artistic clog of everything neon pulp; as if Frank Miller's Sin City took a spin down to the EDC music festival even though Tomorrowland is better but way more expensive.
Developed in a state of pulp/crime noir, Scratch brings the goods without any news. It shows effort, but at the same time it's effortless as a game-changer.
Scratch
RATING:

N/A

Runtime:

10 Mins.

Directed By:

Written By: