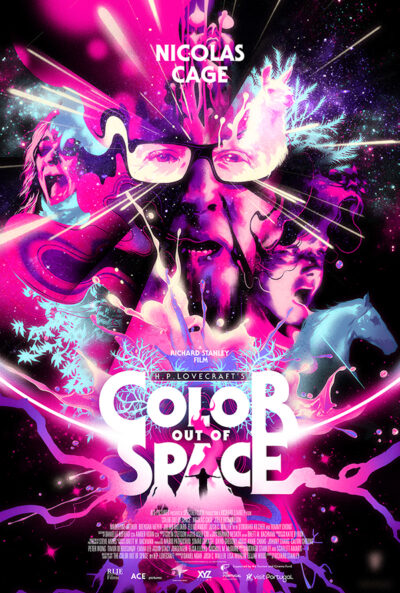 Madeleine Arthur stars in the upcoming film, The Color Out of Space, only In Theaters January 24th, where she plays Lavinia Gardner, daughter to Nicolas Cage's character, Nathan Gardner. The Gardner family, together, own an alpaca farm struck by a meteor bearing the titular color out of space. The story is based on an H.P. Lovecraft novella. Color c
Madeleine has a lengthy filmography, including the romantic comedy To All the Boys I've Loved Before and its sequels; but also some titles familiar to HorrorBuzz readers, like episodes of The X-Files, Supernatural, The Magicians, and R.L. Stine's The Haunting Hour.
We had an opportunity to chat with her about her upcoming role in Color, as well as some of what she finds inspiring.
HorrorBuzz: Hello, Madeleine
Madeleine: Hi!
HB: To start off, I've been looking at your imdb page, and I've noticed a lot of titles with a bit of the weird and supernatural in them: X-Files, Magicians, RL Stine. Is that because of a preference of yours?
M: I wouldn't say it's because of a preference of mine. I'd say I greatly enjoy exploring the supernatural in many different ways and in different realms. But I think it's something that's kind of, stuff just happens that way and I've enjoyed all of those projects a lot.
HB: Are you at all concerned about being typecast in all that? Particularly after this fairly big title coming out?
M: No, I don't think so at all, I've also done a movie called Big Eyes, which was far from supernatural as you can be. I did a series which was called The Family, which was a thriller, and I have a couple of romantic comedies coming out, so I'm not too worried yet.
HB: Pretty versatile, then
M: Yes.
HB: I kind of almost have to apologize for this next question, 'cuz I'm sure you're going to hear it a lot: what was it like for you working with Nicolas Cage?
M: (laughing) You do not have to apologize for that question! If I hadn't worked with him I'd want to know, too! He's the coolest. He learns so much about the movie that you're making, he shows up to the set so prepared, with so many different ideas for the scene, and he just makes it so much fun to work with him and it's just such a hoot. And when you walk in with him, you're just taken on that ride, and he makes your job easy and keeps you on your toes . It's really great.
HB: I tell ya, I've watched the film and I really get the impression that everybody was having a lot of fun with it.
M: We were, we definitely were! Even when we started the descent to madness with the Color. We all got along so well. We did it together, and to do anything with your peers, it's a fun ride.
HB: What, if any, preparation did you do to get ready for this role?
M: To get ready for this film I took some horseback riding lessons, so when I first landed in Portugal, I did three horseback riding lessons on the beautiful stallion Shebanga, and I also– Nick gave me this book, passed on this book on Wicca by (Gerald) Gardner and so, learning about witchcraft, are ways that I prepared for the movie.
HB: I was actually going to ask about that, your character's family name is Gardner, is that a coincidence?
M: It's funny you ask that I don't actually have an answer to that. My mind is blanking, but it may be the name of the family in the actual short story (it is).
HB: Kind of a fun synchronicity then.
M: Yes, exactly, exactly.
HB: How did you find this role? Did you seek it out or did they seek you out?
M: I had the honor of being sent the script and absolutely loving it, and the following week I was on a plane to Portugal. And I still can't believe that happened. …I'd love to go back, I just saw the film another time last night, and seeing it again, I want to re-film those scenes, I want to be back at the Gardner farm, it was such a good time!
HB: It really was a beautiful setting
M: Stunning, yes.
HB: I'm very excited for when this movie comes out so I can talk about it more publically. What's next for Madeleine?
M: What's next for Madeleine? I have a movie called To All the Boys: P.S. I Still Love You coming out February 12th, and we also have the third installment to that trilogy, Always and Forever Laura Jean, not sure when that one's coming out. And I have an art piece that's going to be at the Park Avenue Armory at the end of the year and Snowpiercer, which is also going to be awesome.
HB: That's right, I'd heard they're making a series out of Snowpiercer, right?
M: Yes, that's right, they are.
HB: That is going to be amazing.
M: It's a really cool world. I'm a huge fan of the movie. I thought it was fantastic.
HB: Is there anything else that you think I should know, or my readers should know about you or about the movie?
M: I'm trying to think of any fun anecdotes… we did do this cool song, we were talking briefly about how we had a lot of fun. Nick taught us this song, that he uses sometimes and we all started using it. When he starts to feel like he needs a little refresher in the brain, to kickstart back into acting. So that was a lot of fun, and we all really loved singing it on set. (I am kicking myself that I didn't ask her to sing it.)
HB: Did you spend much time with the alpacas?
M: Oh, we did! On a rehearsal day we got to spend time with the alpacas, walking them around the property. My alpaca that I was getting to walk was named Oscar, and he was very soft and friendly. Alpacas are such interesting and gentle animals, and they talk a lot. And I wish I had more free time with them. I feel like audiences will enjoy all the alpaca references.
HB: When I watched it I enjoyed that particular detail, because it's such a specific and odd detail, to add alpacas to the story. I thought it was great.
M: Yeah. They're not your average animal.
HB:  And I think that speaks to Nicolas Cage's character being slightly an oddball right from the start.
M: Exactly, it centers so well, with a slightly quirky family that's on the farm.
HB: Well, that's all I have.
M: It was really nice to speak with you.
HB: Yeah, maybe we'll meet in person one day if you keep doing these awesome films.
M: That would be awesome, I hope that happens.
Color out of Space
RATING:

UR

Runtime:

2 hr 16 Mins.

Directed By:

Written By: