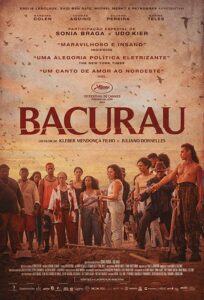 Director Kleber Mendonça Filho's (Aquarias) latest film (co-directed with Juliano Dornellos) is a meditation on the socio-political state in Brazil, the importance of community, and the effects of violence. Shortlisted for Brazil's official entry for best foreign language film for the 2020 Academy Awards, Bacurau has garnered acclaim from audiences and critics alike since its premiere at Cannes, where it tied for a Jury Prize. Reportedly, Udo Kier cried during the screening,  later explaining the experience of making the film and later viewing it elicited such an emotional response from him.
Although the story occasionally meanders in this sprawling epic that cleverly references westerns, John Carpenter, and other genres and films of Filho's interest, the film captures a small community in distress when the town becomes the target of mercenaries hired by the government to eradicate them. Before they arrive, the townspeople have been protesting the campaigning mayor's empty promises to improve the townspeople's livability, mainly by withholding water from the region.
As the story unfolds in long, languid shots by cinematographer Pedro Sotero that recall the beauty and pacing of Sergio Leone, the audience grows to care for the denizens of this small, fictional town as they are besieged by outside forces.
At points, the film borrows heavily from horror, western, sci-fi (given the drone that observed the events from afar), to create an atmospheric tone that is laced with dread and anticipation. All seems to be lost when Udo Kier's team of mercenaries descend upon the town. However, the community learns to forgive differences, welcome back local guerrillas, and stand together as one unit to protect themselves.
This exercise is sustained tension is most effective. While the climactic shootout is rightly bloody, the violence is understated. But a sense of retribution is achieved as those responsible for the massacre are punished.
In many ways, Bacurau is also about memory and how memory is felt by future generations and becomes part of personal history. For a country currently rife with political turmoil, Filho's film is a timely commentary on Brazil's current and past political powers and how they exploit the country's people. Bacurau is a film to revisit to fully ingest its message. But it is more so important for how Filho creates living characters and how their collective celluloid memory reflects those of real people in the region.