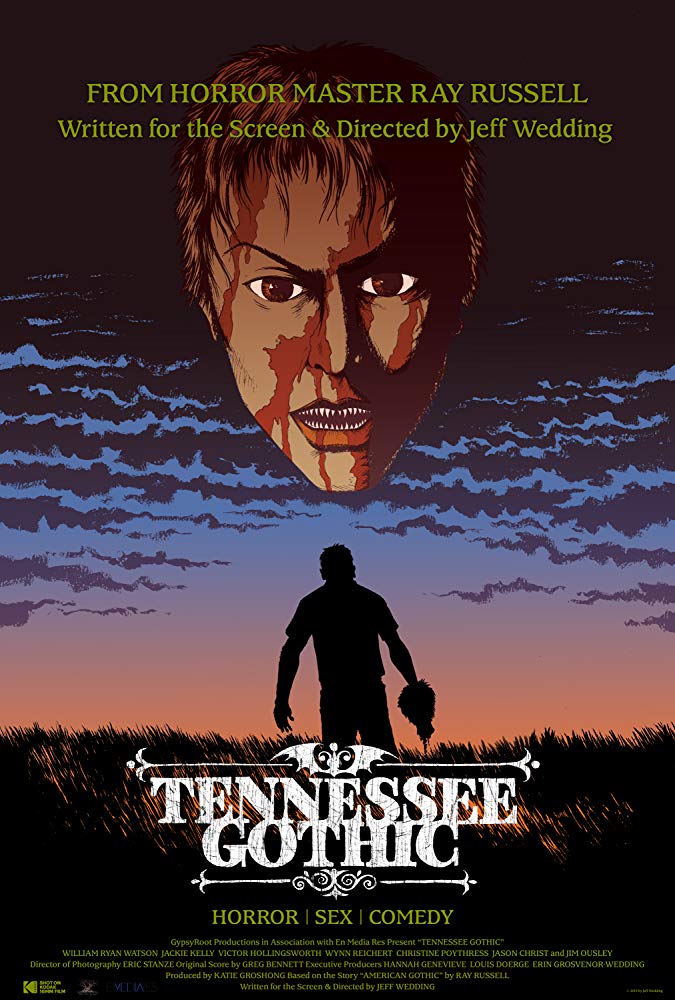 When a dim-witted widower and his teenage son offer a beautiful young woman refuge on their farm, their living situation escalates from hysterical comedy to maddening horror once they discover she's not who she says she is.
From a story called American Gothic out of the mind of celebrated horror novelist Ray Russell, who penned influential works such as Incubus and Mr. Sardonicus, comes its film adaptation by screenwriter/director Jeff Weeding, called Tennessee Gothic (2019). An erotic horror film about a sexy succubus and her unsuspecting prey, Tennessee Gothic is not the kind of movie you want your mother to walk in on you watching, that is unless she also likes artsy grindhouse softcore-porn wrapped in a thin veil of Americana horror.
The film stars angel-faced Jackie Kelly, who I have not yet had the pleasure of seeing in anything but after seeing her in Tennessee Gothic I truly believe she should be an indie queen and in more projects. The film also stars William Ryan Watson, Victor Hollingsworth, and Wynn Reichert. The actors do not shy away from anything, weaving a tale of southern mysticism while they step into the dark sides of love, lust, and religion. The expected gothic elements are present: a dark atmosphere and lighting at times, supernatural beings, and sexuality and idyllic imagery of the female form with framing like a painting, a credit to the film's cinematography. Weeding captured the beauty of rural America, crossing hillbilly horror with demonic folklore in the heart of America.
Tennessee Gothic begins in the backwoods of Tennessee where two men are holding captive a young girl named Sylvia (Jackie Kelly). After raping her, she unleashes her fury and manages to escape, though wounded from the battle. Collapsed on the side of the road, a dimwitted but bighearted widower, named Paw Taggott (Victor Hollingsworth), finds Sylvia and takes her back to his farm where he lives with his equally dimwitted son, Caleb (William Ryan Watson). After refusing to be taken to a hospital, the two men decide that she can stay with them as long as she helps around the house. It is not before long that Sylvia does more than chores, as she begins a carnal relationship with Caleb, who quickly falls for her. When the town hears of her presence on the farm, the local churchman, Reverend Simms (Wynn Reichert) is sent to give her counseling, though he too falls prey to her feminine wiles. To secure her place in the home and to show her gratitude, Sylvia finally beds down Paw as well, which complicates things when Sylvia eventually announces she is pregnant. The reverend's wife, Mrs. Simms (Christine Poythress), suspects something unholy is afoot, and soon all hell breaks loose in this comedy of horrors.
The film is surprisingly slapsticky, there is about as much comedy as there is sex, and as the trailer says, there is A LOT of sex. The frequent sex scenes are not raunchy, but rather lighthearted, and after learning the true nature of little miss Sylvia, played by the stunning and captivating Jackie Kelly, those scenes of passion become horrific in retrospect. All this sex and funny banter are balanced out by the drama and few horrific moments; the humor is tempered by suspense and clues to her true nature and identity which lead up to the horror payoff at the end. The climax is badass; imagine if the farmer's wife from Grant Wood's famous 1930 American Gothic painting came to life and transformed into a fierce warrior in order to take down a seemingly unstoppable demoness — see this imagery brought to life thanks to Christine Poythress. It's a must-see.
Tennessee Gothic is a great movie, but it may not be everyone's cup of tea. While it is technically a demonic horror movie, it is much more of a dark dramedy, with the horror aspects placed like bookends that make up the first 10 minutes and the final 10 minutes of the movie. Released to US audiences this October, Tennessee Gothic is now available on DVD/Blu-ray and VOD.