I am not an extreme haunt fan. I have tried them, but unlike many of my friends that adore them, I have never found that I personally have gained insight about myself through those types of experiences. But as I sat, locked up in a jail cell, looking for my son who had been kidnapped by ghost pirates, I couldn't help but feel like a kid again.
I experienced the exclusive, secret show "Terror Up" on my second visit to Dark Horizon and it was the most fun I have had at a haunt experience. It's one part upping the intensity (and physical contact) of the monsters, one part mystery, and one part earning special trinkets that you can trade for things and information that you need. It's also the greatest writing challenge I have had because I want to absolutely rave about each and every part of it, but I cannot without spoiling the experience for anyone lucky enough to get the Terror Up token. How do you get it? I can't tell you. All that we can say is engage and pretend. Dive into the world of Dark Horizon.
I am going to really attempt to walk the tightrope on this one and pull back the curtain without giving away the secrets of the magic trick.
To understand why I loved the experience so much, some background is required:
A few months ago, my family and I were at the annual pass holder preview for Star Wars: Galaxy's Edge, here in Orlando. We had a block of 4 hours in the hot, Florida afternoon sun to enjoy everything the land had to offer.  We left an hour and a half later, not because our time and attention was grabbed for an hour and a half, but because we finally had our chance to ride the Millennium Falcon: Smugglers Run attraction (which was the highlight) and we had experienced everything else we could there.
There are many theories as to why this new billion-dollar Disney expansion misses the mark and I don't consider it to be the total disaster many have made it out to be. For me, its biggest shortcoming can be attributed to budget cuts they made to hire a cast to play the residents of the Black Spire Outpost.   Sure, they gave the cast members some "special" phrases to make it appear like they were the inhabitants.  In fact, every time someone says "Bright Suns" to me, all I can think of is the Lucky Charms cereal commercial and reply: "Yellow moons, blue clovers, and purple horseshoes to you too!"  It's nice they made the effort, but it doesn't world build the way a Star Wars cast of characters would have.
Oddly enough, a few years ago Walt Disney Imagineering had what they called a "playtest" in Disneyland's Frontierland called "Legends of Frontierland: Gold Rush!" This was a very thinly veiled trial of the interactive role-playing elements they envisioned to allow each Galaxy's Edge visitor to "Live their own Star Wars Adventure."  The game pitted the citizens of Frontierland against the citizens of neighboring town Rainbow Ridge, allowing the players to pick a side, and play the game for as little or as long as they liked helping their faction gain power and territory.
It relied on a handful of gifted improvisational actors in a variety of townsfolk roles, but the draw was the interactivity. Small tasks led to small discoveries that led to other tasks and rewards. Based on the number of people I always bumped into over and over again "playing" the game, it seemed very successful, and strangely enough, became an even bigger hit the next year at a smaller park that actually HAD a ghost town, when one of the Imagineer's who helped create it ended up as Vice President of Entertainment at Knott's Berry Farm.
Re-crafted from the ground up as the Thea Award-winning Ghost Town Alive!, guests found themselves wandering the ghost town streets of Calico where every summer day is "Founder's Day" with a big celebration, a variety of townsfolk and villains, and a whole lot of interactive role-play that can occupy your time for hours until the nightly celebration dance where all the storylines come together.
Dark Horizon's Terror Up
By now you should have a gut feeling for where I am going with this.  The places are important, but it's the people who bring things to life. In haunts, this is always the case, but at Dark Horizon they have elevated the monster/scare actor role to an art form.
There are of course the usual jump scares that you get from darkened corners, and sinister prowling monsters on the loose, but what if, you were given a token that instantly let these dark forces know you had come to really play. What if they split you up from your party, locked you up in foreboding dungeons until you could escape or barter your release, or even grab hold of you and push you through secret passages in the houses, no other visitors get to see, would you play along? If you had the chance to unravel some of the mysteries and secrets of Dark Horizon like a member of Scooby Doo's Mystery Inc., would that keep your curiosity peaked?  Most importantly if you could secure enough coveted trinkets to visit the hidden bar multiple times could you handle all the booze?
"Terror Up" is the key to the show beneath the show that is Dark Horizon: Point of No Return. In horror terms, you might believe that you have been cast in the role of the "Final Girl."  Most of your friends might be long gone, and you alone will be left to get all the gory final details as it were. Why are these monsters what they are?  Do they have weaknesses? Can they be stopped?
You will find allies wandering the street in the fog, who with a whisper can send you searching for some lost item to retrieve.  These items lead to stories or can be traded for other items you need to further one of several narrative lines.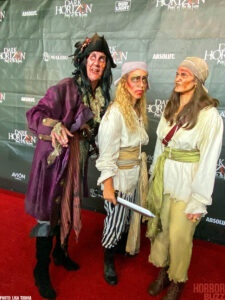 I'm sorry if this all seems cryptic, but I would rather give you a taste of the adventure without spoiling the surprises.  There are some physical challenges, and some pushing and pulling, so if you aren't comfortable with some light contact it might not be the best experience for you, but I also caution, this is not some extreme torture simulation, you will be pushed or pulled where you need to go to advance a story but not without reason.
So what happened to me?  Well, the evening started off slowly actually. Once I started wearing the item that indicated I was a willing participant, the monsters gradually turned up the heat. I would turn to go somewhere and find a fiend ready to strike just over my shoulder. Then there were whispered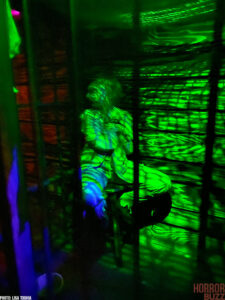 conversations. Questions about what I already knew and more importantly what I didn't. My son (who was also participating) was led off by one of the pirate crew and several minutes later the same actor returned in a panic letting me know he might not be okay and starting a quest to find him dead or alive.
As this was the second night of the event for us, we only planned on staying a few hours, but we stayed most of the night.  Yes, there are parts of the houses built specially to accommodate the experience and we saw them all a few times. By the end of it, I felt as if some of these creatures of the dark were friends. The actors, who never broke character, were so deep into their part that it was easy to get sucked into the adventure and forget that there were several hundred other people oblivious to what was happening directly to us.   I have been talking it up as one of the best nights I have ever had in a very long haunt history.
The major theme parks are completely aware of what their true enemy is. Chances are you are reading this on one of them: a mobile screen.  Most of the initiatives in creative design and attractions are aimed at pulling this generation and the ones that come after it out of the online fantasy worlds that take up most of their time and bring their attention back into the elaborate ones they have physically created.  I would argue that the ol' master Walt Disney actually had it right all along.  He once said, "You can design and create, and build the most wonderful place in the world. But it takes people to make the dream a reality."  Interactive storytelling, creative play, surrounded by elaborately designed settings is the only true answer to the problem of getting people to re-engage.
David Wally, his actors, and the entire creative team of Dark Horizon: Point of No Return, are to be congratulated for achieving so much in the event's inaugural year.  There are a few nights left. If you can get there, and search high and low, beg if need be, to get one of the Terror Up tokens.
---
Prices start on select nights for just $20, but be sure you order online before the event.
For more information visit: