There were things that I really liked about the new film WE SUMMON THE DARKNESS. Set in the midwest during the height of the Satanic Panic of the 80's the film follows a pair of trios, 3 boys, three girls, that meet at a concert. After a night of metal music they decide to keep the party going and things go horribly awry. There was a palpable sense of time and place, a clever storyline, and strong performances all around. Yet for a horror thriller, it had a difficult time maintaining momentum once the s*** hit the fan.
Alexis (Alexandra Daddario), Val (Maddie Hasson) and Bev (Amy Forsyth) meet Mark (Keean Johnson), Kovacs (Logan Miller), and Ivan (Austin Swift) at a heavy metal concert. After some playful pranks on each other, they hit it off and start sharing their "first concert" stories to bond further. The concert ends and Alexis invites the group to come party at her parent's house nearby. Ominous mentions of ritualistic murders happening in the area are made and we get the idea that one of these groups knows far more than they want to admit.
The night goes on and the 6 continue drinking and light a bonfire in the backyard. It is here that the cards are played and we see where the movie is headed. It is also one of the best scenes because director Marc Meyers and writer Alan Trezza stand on the precipice of a major plot point and offer the reveal with excruciating glee. Then the movie takes a dive. That's not to say that it is boring or flat. The movie is a fun watch, but Trezza paints himself into a particular corner and never seems to make his way out.
What I can easily say is that the performances are all great. Daddario, Hasson, and Forsyth have amazing chemistry, making us believe their connection and their story. Hasson nearly steals every scene she is in though with her sloppy gum smacking and constant need to pee. Johnson does a fine job as the male lead while Miller as Kovacs is a comic standout. Then there is the production design by Adrian Traquair that is painfully perfect. This film feels like the 80's. Every square inch of the interior of the home where most of the action takes place screams tubular, 'Family Ties' decor right down to the bubble gum pink tones. Equally impressive is the soft-focus camera work from Tarin Anderson and the impeccably period hair and makeup by Roberta Gale and Kim Wright.
There is a lot to like here. However, without the energy and consistent pacing to keep us engaged, the movie flounders in points and races to others. Like a great band without a setlist, WE SUMMON THE DARKNESS knows the beats it wants to hit but doesn't have the rhythm quite right.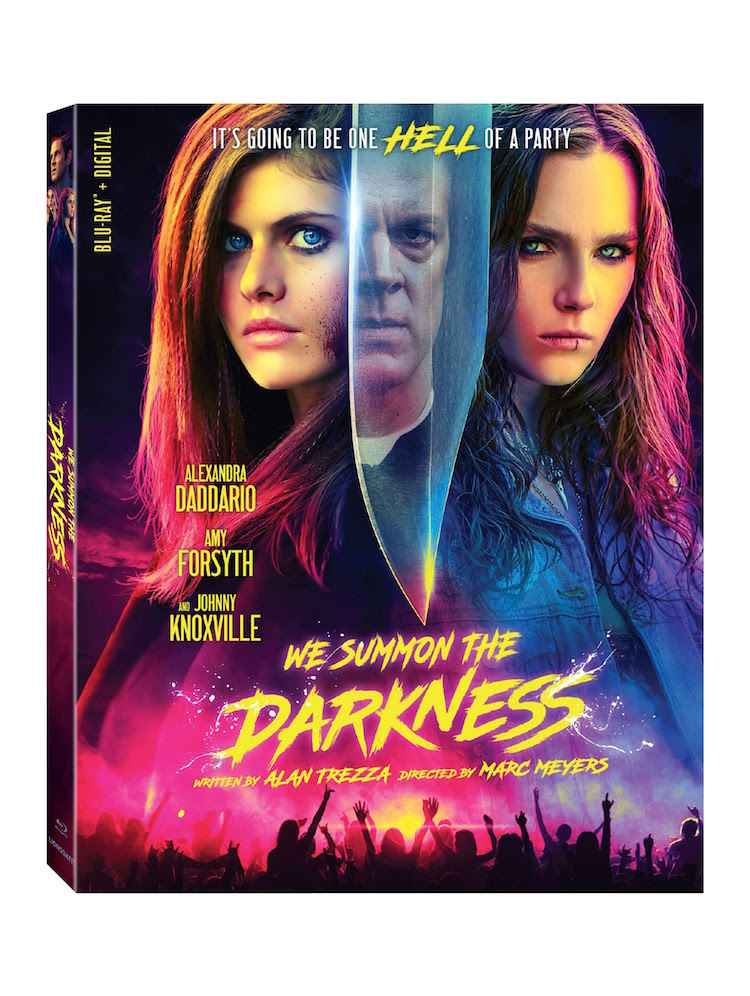 Street Date: 6/9/20
Blu-ray™ + Digital SRP: $21.99
DVD SRP: $19.98
We Summon The Darkness
RATING:

UR

Runtime:

1 hr 23Mins.

Directed By:

Written By: