Dark Horizon – Point of No Return is the new Orlando Haunted House with an absolute unique edge. Located what seems like just steps from the Mouse House, the event is literally built on the "ghostly" remains of what was the Nickelodeon Suites Resort (now the Holliday Inn Resort Orlando) and transports us into a unique dark vision from prolific event company Epic Entertainment Group. Here Haunted Houses are sprinkled amongst an exotic bacchanal with food, drinks, and performers all celebrating the Halloween season to the max. On the surface, hosting only three haunted houses it might be tempting to assume this is somehow a half haunt night experience, but nothing could be farther from the truth, in fact I would argue that with its totally original collection of frights, booze, and performance thrills all working together, more like Orlando's first haunted nightclub.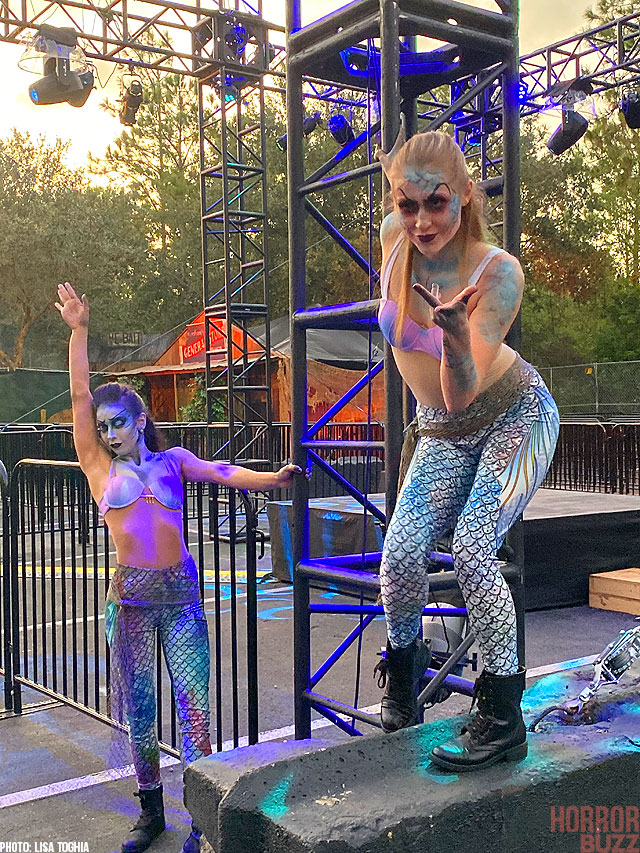 A word of caution, the event on first entry looks tiny, but don't let that throw you.  There are plenty of entertainment stages, a great selection of bars, and most of all, the Houses are very extensive.
The Lead Characters
I have a lot to say about those houses, but I need to start with the event's star monsters. Epic has assembled top-shelf talent to produce this unique experience. Performance is the key at Dark Horizon, sure you get some sliders that will just stalk you for the jump scares just like other haunt parks. You are also going to have the opportunity to meet a whole cast of characters, that behind the makeup are great character actors or even improvisational comedians.  Thanks to David Wally, the talent here is some of the best actors in the haunt industry. Expect some laughs between the screams there (except the Voodo Queen! nooo nooo, it's all intense deadly business with that one.)
Yes Killigrew is bloodthirsty, yes she wants to kill you, but she'll also have a rum with you in her secret bar hidden somewhere in the ship.  She is one of the most over the top and outrageous characters in the event,  and happy to stop to chat with you (possibly shanghai you aboard her ship as part of her crew), or even pose with you for a selfie (though she might not totally understand the sorcery ye be using to do so.)
And that is the key to the houses, they are based on real Florida legends. The spirits invoked at Dark Horizon – Point of No Return are (or at least were) real monsters to a certain extent.  These aren't houses based on movies, or even creative stories, these are lairs tailored to the murderous villains that dwell within them.
These houses are all amazing.
So what did he and the creative team pull of for Dark Horizons?
House #1 –  GHOSTSHIP
Captain Killigrew, also known as Lady Killgrew was married into privilege and led a double life as a pirate captain.  She really had a bloodthirsty reputation, once capturing another ship and completely murdering the captain and crew to cover her crime. A Ghostship has mysteriously landed aground in Central Florida, and you are beaconed aboard only to discover her crew and a few captured near-death sailors are still lurking below the deck. Worse yet, their rum stores appear to be depleted so not only are they physically ill from Botulism and starvation, they are deadly and ill-tempered in detox. Don't rush through this one, there are plenty of things to discover and monsters to interact with.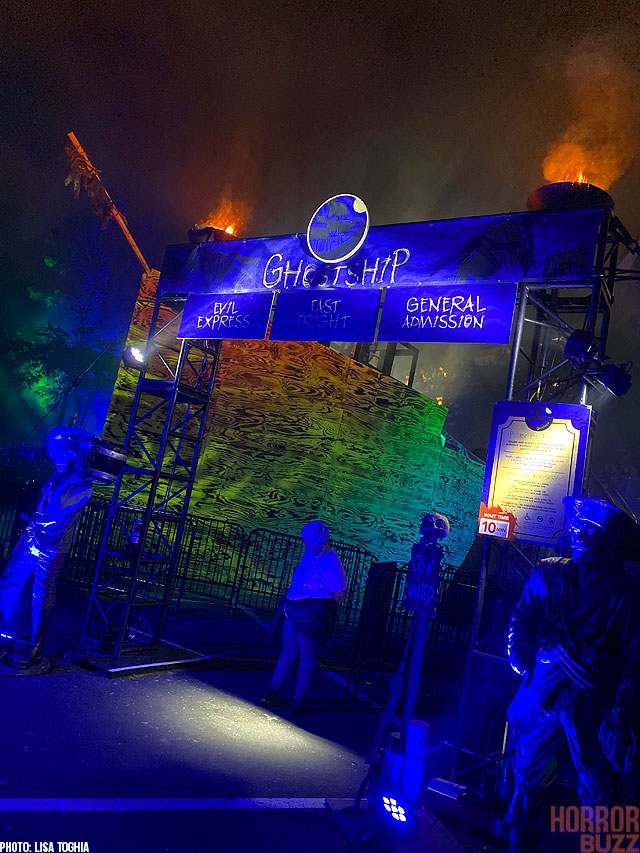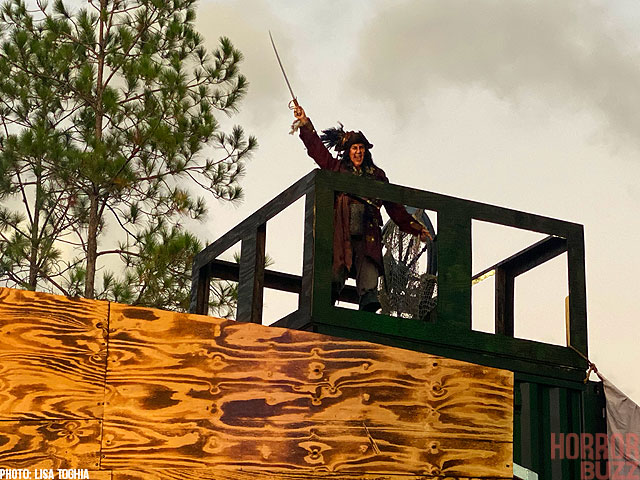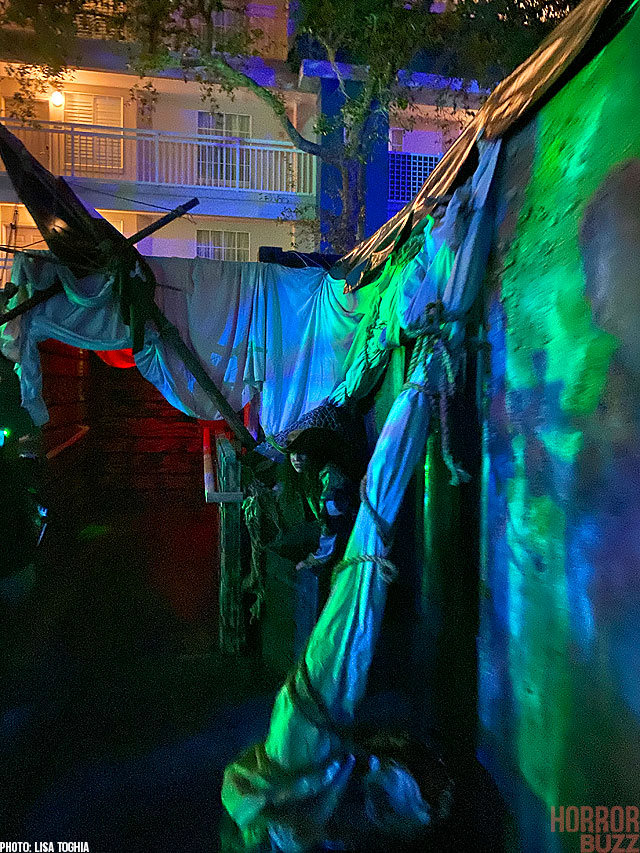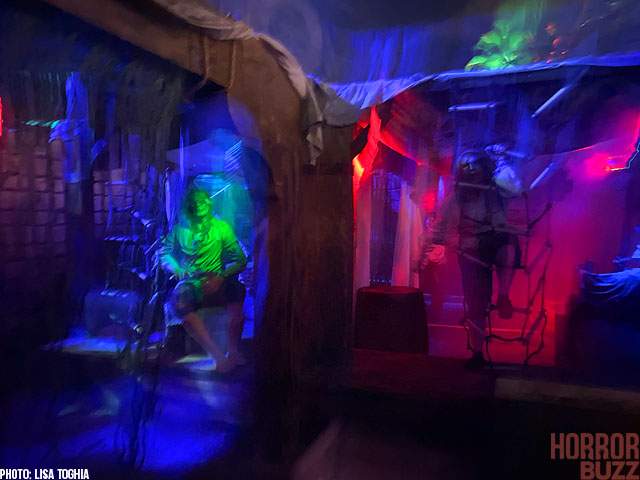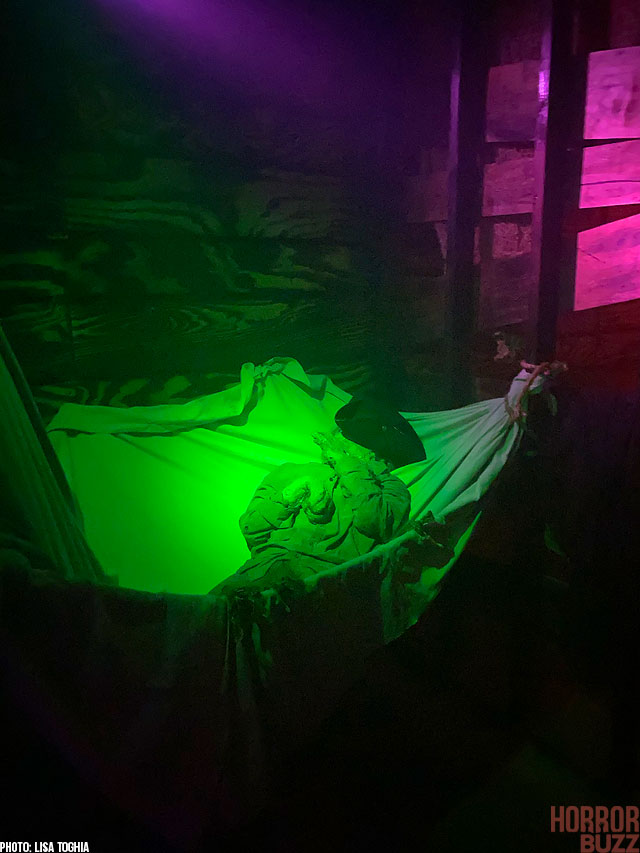 House #2 – Murder Island
Florida's biggest serial killer inhabits Murder Island, a small corner in the swamplands of the Everglades, where 57 (possibly more) restless souls were murdered for harvesting sugar cane (and you thought your boss was hell.) Bloody Ed Watson with his business suit and bloody apron, doesn't seem too thrilled that you have come calling at the end of the sugar cane harvest season. That's when the blood bath begins. Terrified migrant workers try to flee, while Ed's poorer associates and relations seem every ounce as invested in the killers cost-cutting initiative. If you are prone to scares in tight, confined spaces, this house definitely delivers with its many wild twists and turns.  I love this one late in the night where it feels like you have the place to yourself, with the exception of the inhabitants that seem to be around almost every corner.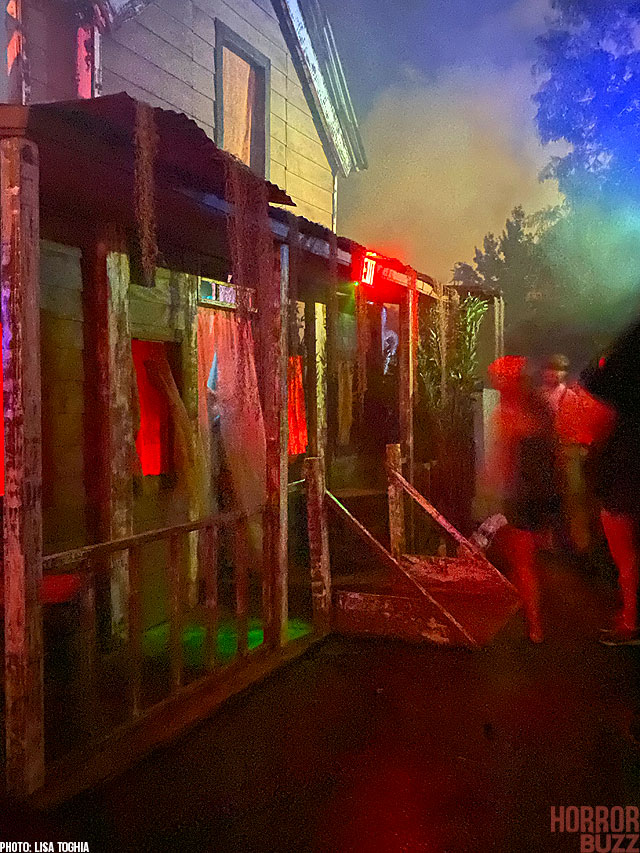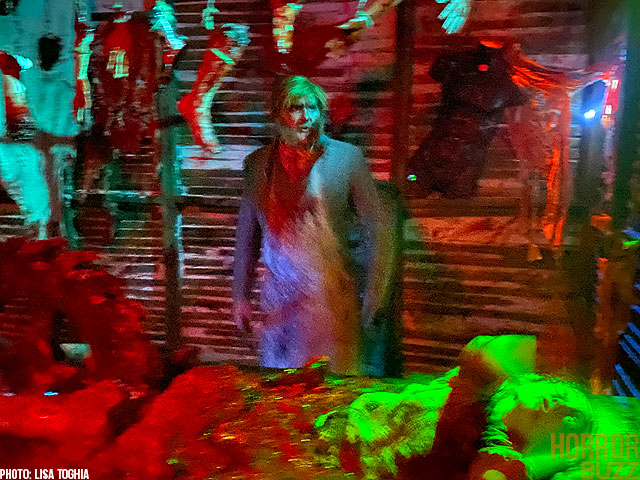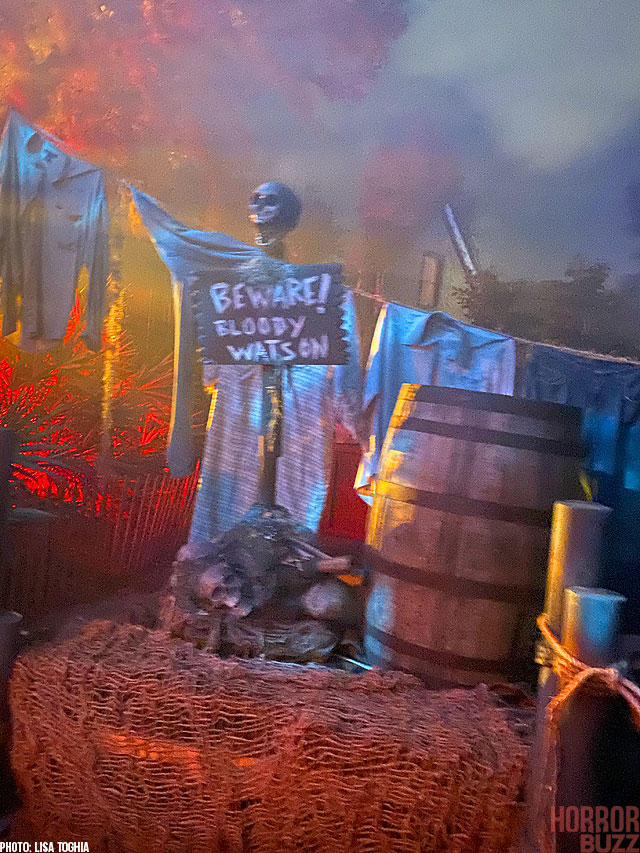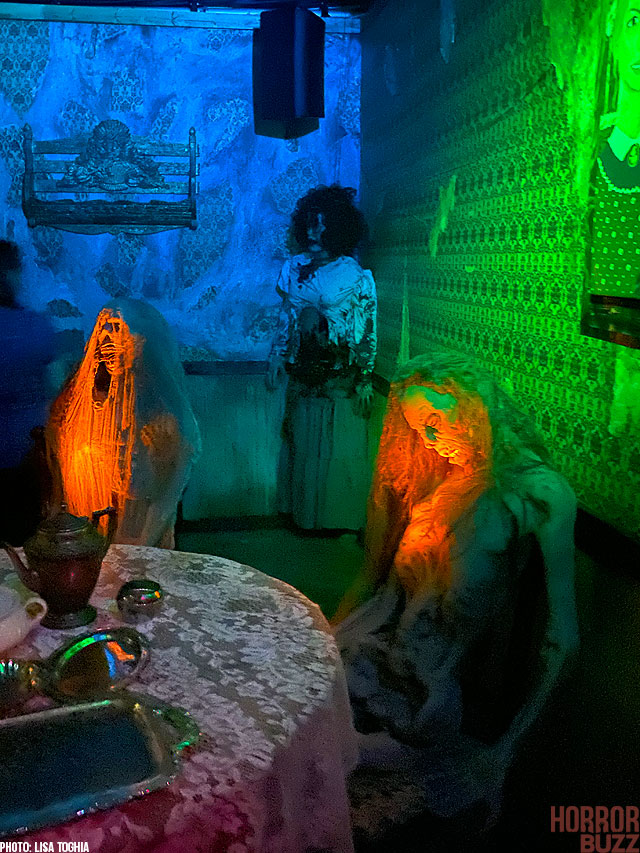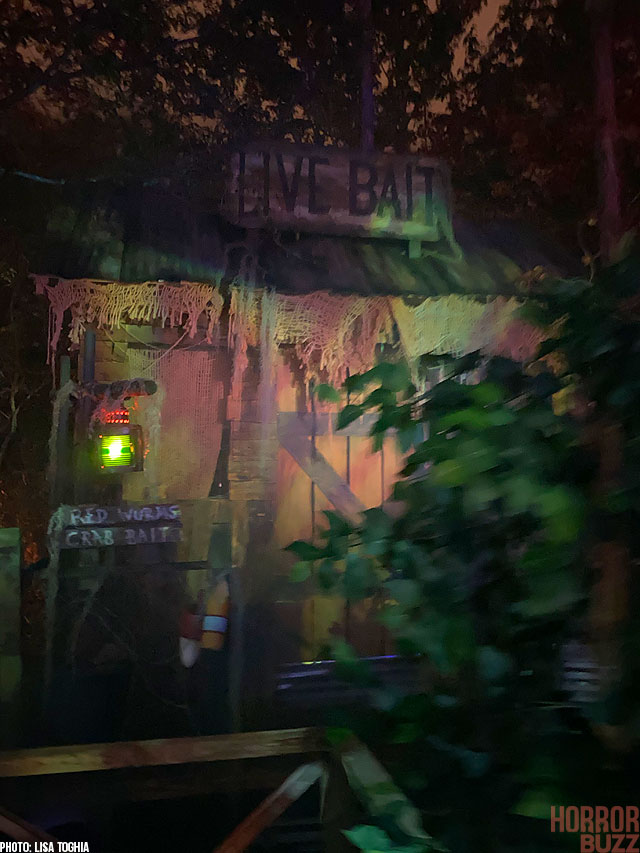 House #3 – VODOU
My favorite house, with so much detail that it really requires several trips through to really experience it.  Mambo Cecile has opened a portal to the spirit underworld and you have been dragged through it. All around are the screams of agony as others are tortured and killed to feed her powers. The house feels like a horror film. The scares here are good and come at you from every angle. The High Priest got me a few times, giving me the first real scares I have had this season. If you, your family, or friends are not quite sure about the Houses, this is not the one to start with.  I can't wait to go back again.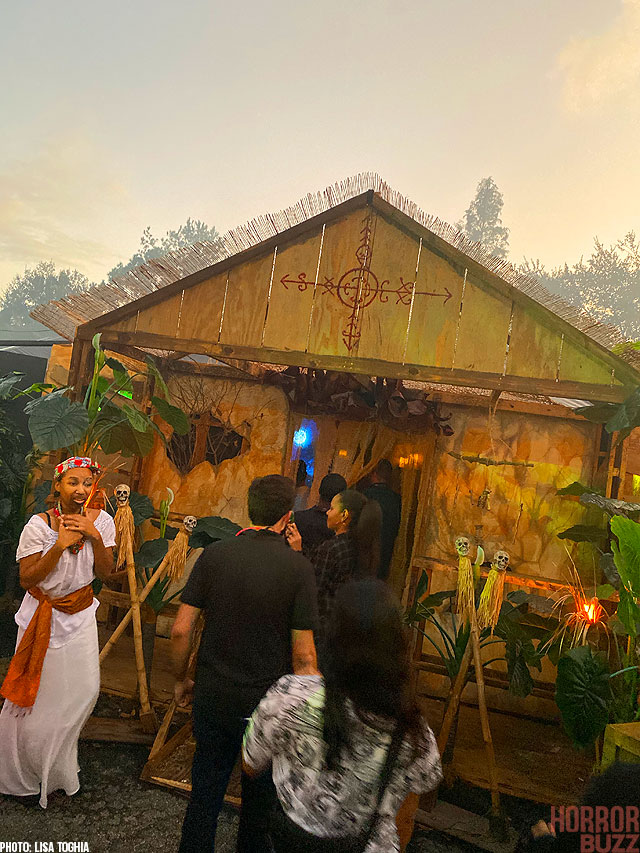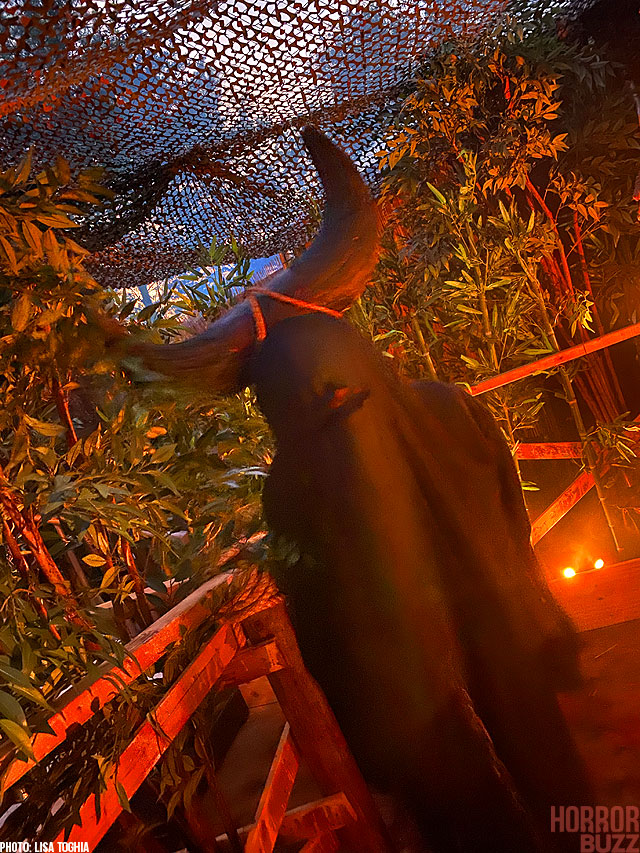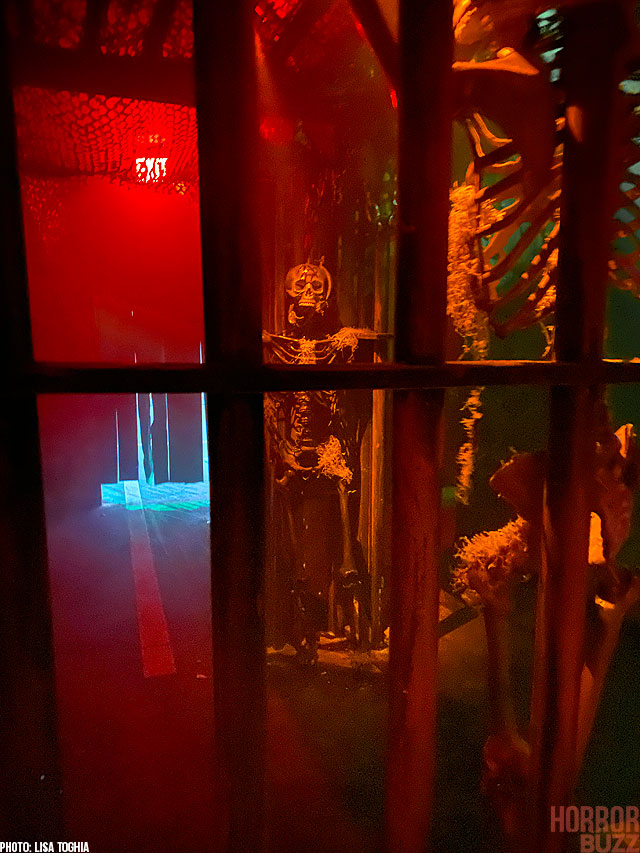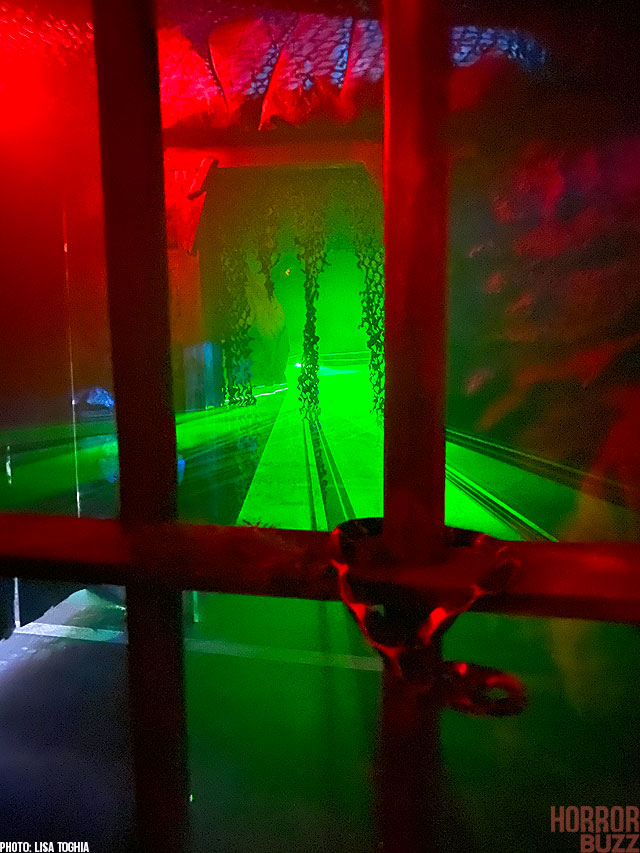 If you are a Haunted House fan you will not be disappointed.  These are not extreme houses where you can be touched or grabbed, but they are certainly more intense than the local neighboring attractions are producing.  For a first-year effort, they are already outstanding and we are extremely excited to see how they evolve in the next several years.
Entertainment Stages
There are also three major live entertainment spots.
The Siren Stage is the place for the high-flying aerial acts. It's always nice when your already haunted house adrenaline-fueled heart, gets another jump start witnessing death defying acts.  The aerialist, in this case on silks above the stage, flips, spins, and has several "death" drops, while a live singer performs "Black Magic Woman."  I found this profoundly mesmerizing and enchanting.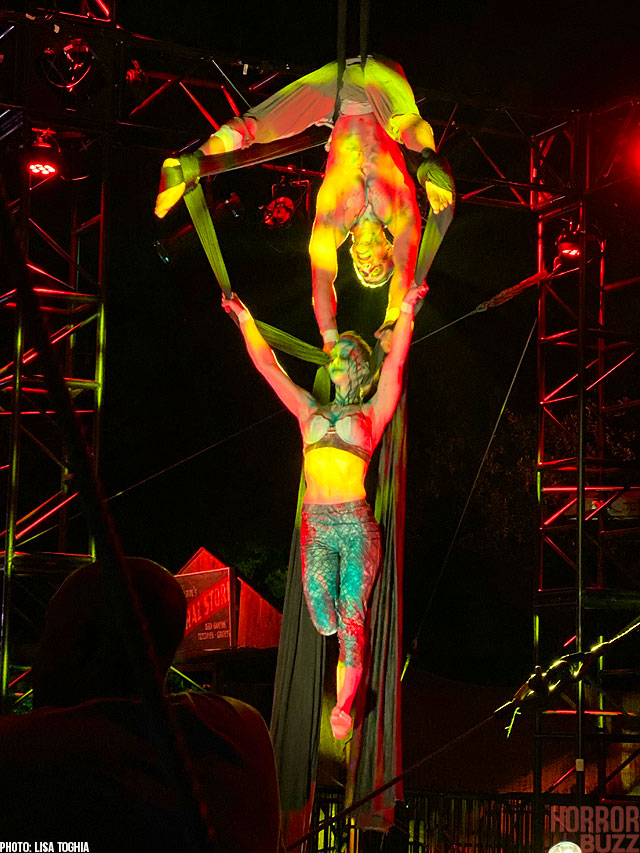 For the pyromaniac in all of us, there is the Sacred Circle Stage, where primal fire dances and fire eaters light up the night. We witnessed a few different versions of this one. The circular stage is perfect for the fire dancers and eaters that perform upon it with plenty of room to watch all around. We even caught one performance from the VIP lounge the Cellar, which sits directly behind it.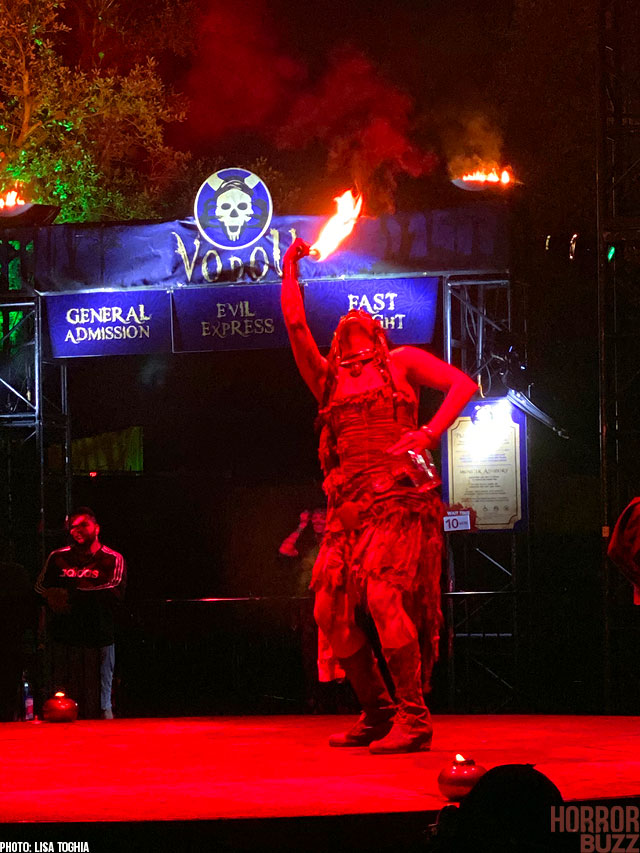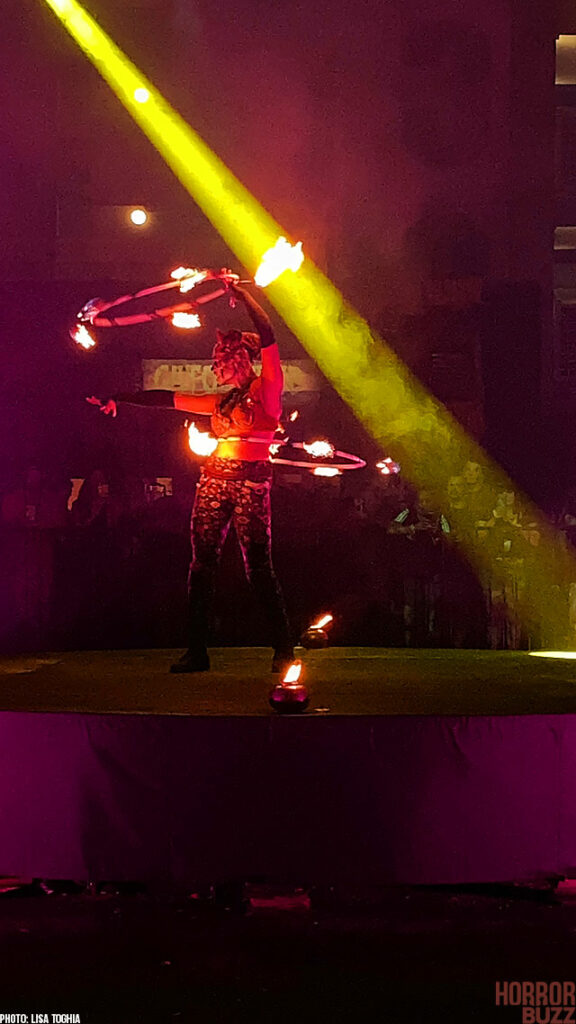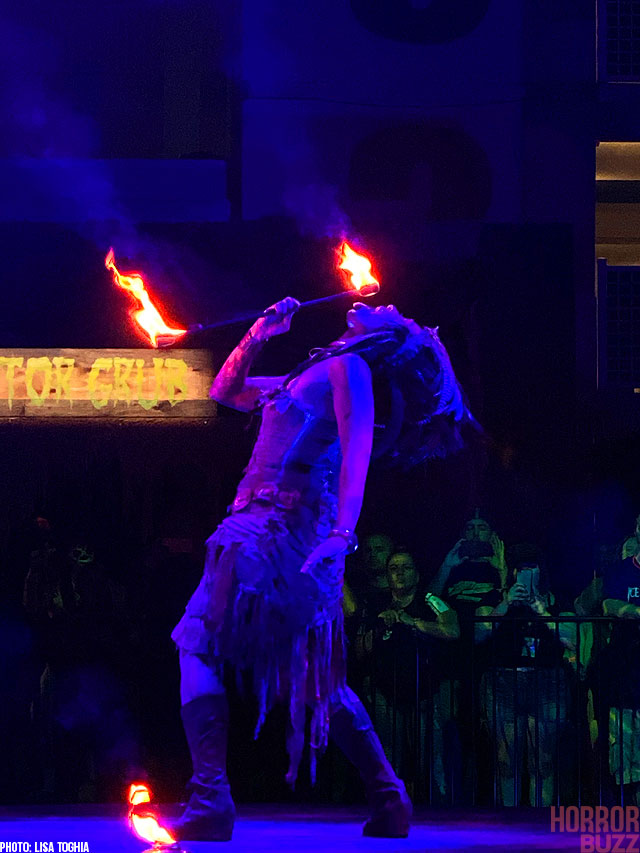 Underscoring the nightclub vibe, there is a great dance area where local DJ's will be featured all season. It is great to see all the monsters cavorting their way on and off the floor. If your boyfriend or girlfriend is not keen on the big scares, this is the place to introduce them to some of the characters they will encounter throughout the night, and "ease" them into the whole event.
Food and Drinks
Queen Mary's Dark Harbor is known for its amazing array of themed bars and drinks, and Epic outdid themselves here in Orlando.
I'll start with the bar that was the talk of the night Looter's Lair (aka the secret bar)
There are only two ways into this ultra exclusive tiny hideaway, get a gold coin from one of the monsters, or sign up or reserve a tasting and tour the house before the event opens ($99 for up to 10 guests.) This looks like the kind of Officers Club that Captain Killigrew would keep on her ship. It's just big enough for herself and a few "mates". The two specialty drinks they served there were both delicious, but there is a full bar as well.  Our barkeep was delightful and never broke character the entire time we were there, and to answer your question, yes the booze does taste better when you have to discover it like a long lost buried treasure.
The Storm Cellar RIP Lounge (please see VIP extras below) and a walk-up watering hole The Outpost. The Outpost is a nice spot to grab and go a quick cocktail, especially before the Fire Stage shows.  I was amazed at how many different cocktails they actually served from this tiny bar setup.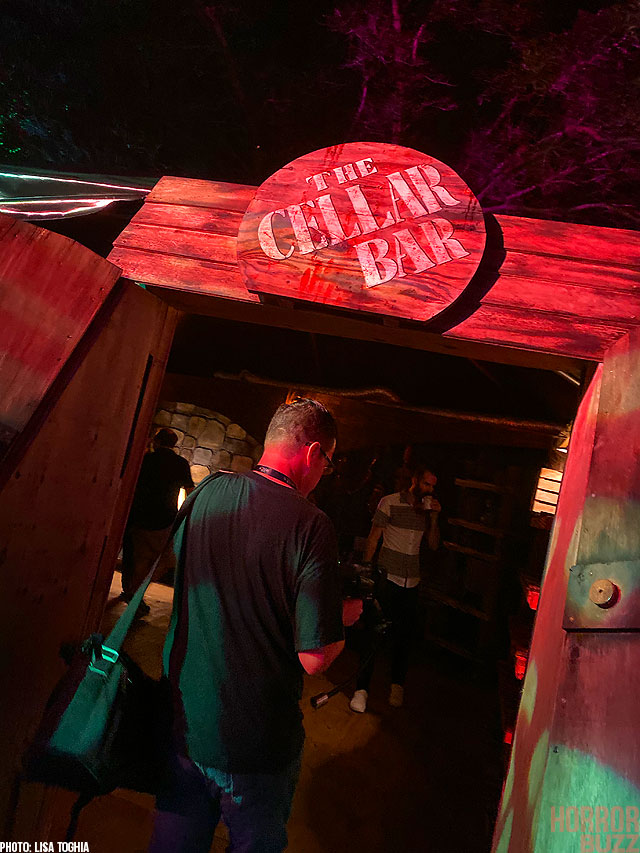 Walk the Plank Pub and Pier is next to the Siren Stage and is a well themed pirate bar.  I particularly liked this location because of its central location.  You can watch the show, or just watch the monsters ply their trade in the middle of the central walkway.   The sliders are very active around here for sure!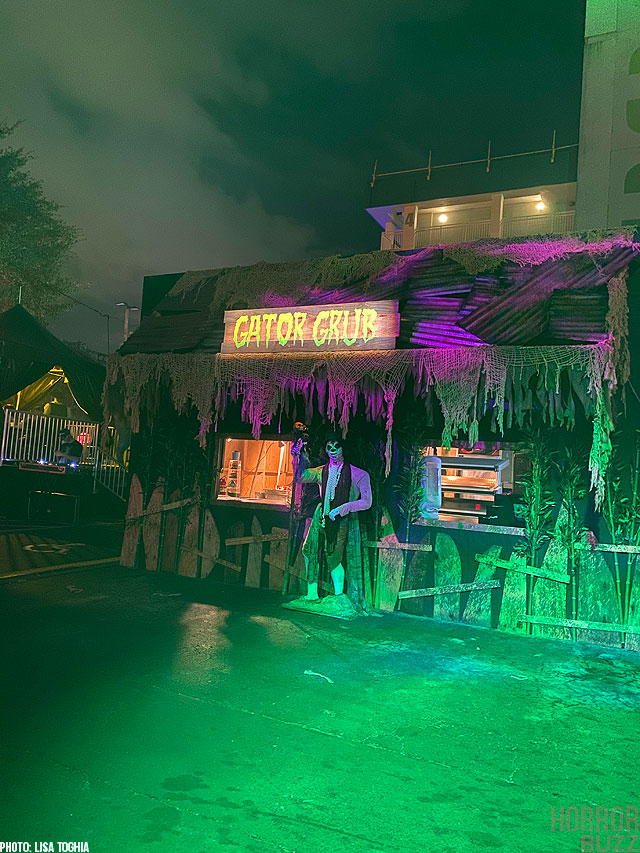 We only sampled the Gator gumbo and gourmet dipped churros (both delicious) at the event but there is a wide variety of food available not just at the popup locations within the event.  There is a Subway, Candy food truck, Pizzeria, Mexican cantina, and Hershey's Ice Cream shop.  But honestly, if you like it, the gumbo did not disappoint.
VIP Treatment
This is a playground built for VIP's so there are a bunch of add-ons you can select from.  Most of us are used to paying for special access or activities and (likely) groan at the prices, so I must point out that the admission price for the event starts at only $20. Using the horror nightclub concept, this is your cover charge and gives you access to all the important elements of the event: houses, entertainment, non-VIP bars, after that its really up to you how up upscale your evening and there are many choices:
Rent one of the Bootlegger Bungalows (starting at $99) where you can watch the action on the Siren Stage all night with your friends and live it up like a buccaneer on shore leave. This is a great base camp from which to strike out at the remote and exotic terrors of the event while having a place to drink a little liquid courage in between. For slightly less (starting at $79) you can grab a spot on the Walk The Plank Pier which also has a view of the Stage, but is a little more self-service.
Similarly (starting at $79) there is the Shelter Patio you can reserve a private spot to hang with your friends and enjoy a great view of the Sacred Circle Stage.
There is also the "VIP" lounge called the Storm Cellar RIP Lounge that can be added to any general admission. It comes with two complimentary well cocktails and access to a bar where they feature moonshine Tasting. This is my favorite bar at the event. Leather seats, and barstools, fun bartenders, and the very richly themed. It's profoundly comfortable and the 105% proof moonshine tasting (3 – 2oz pours for $20) is enough to drop Bloody Ed Watson on his "southern comfort."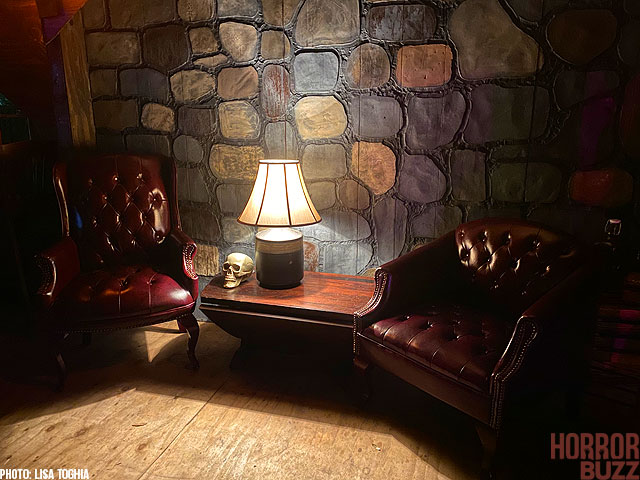 Or for the die hard fans, there is a package they call the Ultimate Scream which gives you a fast lane into the event, express access to all the houses, a guided tour of each house, and access to the RIP Lounge.
So why the focus on add-ons?  Well for many of us, we want a FULL fright night with our friends that isn't just running from house line to house line. What this event seems to understand so well, is that the opportunity to sit back and watch the chaos unfold all around us, while being able to grab a drink in a well themed and exclusive bar is largely what the theme park Halloween events miss out on.  Any of you who have already been to Universal's Halloween Horror Nights this year (which all seem to be busy now) and grown tired of the stream of masses will have to agree; There are few places to grab a break, and if you do find a spot, they are the same brightly lit, tucked-away restaurants and bars with no way to continue to enjoy the fun.
Verdict
And there you have it, Dark Horizon – Point of No Return is the customizable experience. The houses alone are worth the visit but stay for the incredible shows, monsters, mayhem, and unique food and beverage (bar) offerings. We highly recommend this event especially for adults and older teens looking for some bigger scares that are far more inventive than universal push-button scares.
We hope that you will grab some of your closest haunt season "fiends" to experience it for yourself. It's fun, it's unique, and we cannot wait to go back again.
ADDITIONAL IMPORTANT INFORMATION
There is no onsite parking for Dark Horizon.  Parking costs $20 and is located at 2925 International Dr. S, Kissimmee, FL 34746, close to the Kissimmee Old Town attractions and a short ride to the Holiday Inn Orlando Resort. They have very nice shuttle buses that will take you on the ~7-10 minute trip to the event and drop you off.  Even then you still have to walk or catch a golf cart to the front entrance. While not ideal it is understandable considering the event is located throughout a working resort hotel.  They have an Uber/Lyft drop off spot right near where the buses drop off and pick up, and if you can manage it (and your fare would be less than $20) this would be the way to go.
Buy your tickets ahead of time online. We cannot stress this enough. We didn't know until the last minute that we were going to be able to go and the prices at the ticket booths were more than double what they are online (up to 1 hour before the event starts.) ALSO, these low-cost tickets have to be used by 8PM on the night of the event or you will have to pay full price.  So to avoid some extreme shock both to your night and your wallet, plan ahead even if only a little.
---
There will be a second whole review of Dark Horizon Point of No Return coming very soon, because on my second night my son and I were fortunate enough to obtain one of the most exclusive and not for sale Terror Up tokens.   Which led to the best night we have ever experienced in any haunt, ever!
For more information and tickets visit www.darkhorizon.com