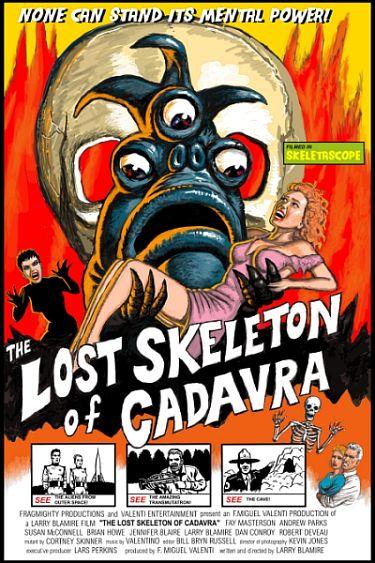 A bad scientist and wife, a mad scientist and skeleton, two aliens and their escaped pet are all searching for the elusive element "atmospherium".
A scientist, Dr  Paul Armstrong (Larry Blamire) travels to the woods with his wife, Betty (Fay Masterson) to seek the mysterious element, atmospherium. At the same time an evil scientist (Brian Howe) also seeking atmospherium awakens an animate skeleton (Skeleton) and creates a pretty girl named Animala (Jennifer Blaire) from multiple woodland animals. At the same time two aliens (Andrew Parks and Susan McConnell) crashland in the area and release a terrible mutant.
There's a science fiction adage that you should create just one extraordinary thing like time travel or artificial intelligence or aliens lusting after American girls, and spend the rest of the story developing that "what if?"
Lost Skeleton is not about that.
This film is both an homage and a straight-faced parody of B science fiction films of the 1950's and 60's. And it is that straight-faced quality that gives this film its charm and humor. The mutant's shoes are visible under its zippered costume, costumes fail continuity, and the skeleton's wires are clearly visible. The dialogue is wonderfully stilted and awkward:
"Seriously, Betty, you know what this meteor could mean to science. If we find it, and it's real, it could mean a lot. It could mean actual advances in the field of science." — Dr. Armstrong
I fell in love with this film when it first came out in 2001 and find it infinitely quotable: "I've seen a bear do things, well… even things that even a bear wouldn't do." There was a sequel, The Lost Skeleton Returns Again, that moves its parody up to the 60s.  A third has been attempted but put on indefinite hold, called The Lost Skeleton Walks Among Us, which covered the Atomic Age science fiction films.
Definitely a good watch with friends.
The Lost Skeleton of Cadavra
RATING:

PG

Runtime:

1 hr 30Mins.

Directed By:

Written By: