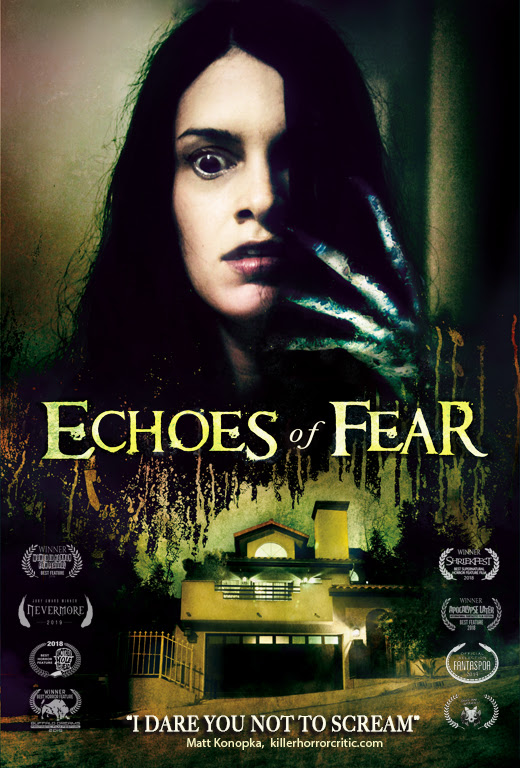 After inheriting her grandfather's house, a young woman must confront the mystery of his sudden death and the evil that hides inside.
Echoes of Fear is a supernatural horror that crawls at the beginning, but soon breaks into a full sprint of fear-inducing, thrilling, and twisted events for its heroine. Writer/director Brian Avenet-Bradley and co-director/cinematographer Laurence Avenet-Bradley, a husband-wife film team, have a winner on their hands – it is not surprising that it won 'Best Feature Film' at the 2018 Women in Horror Film Festival and 'Best Supernatural Feature Film' at Shriekfest 2018, to name a few out of several winning awards and nominations since its 2018 festival premier. It is a perfectly scary Halloween movie, one that is worth revisiting for occult enthusiasts.
In Echoes of Fear, College student Alisa (Trista Robinson) is heartbroken by the news of her grandfather tragically passing away in his home. Since the property taxes are too high, she is obligated to sell the place, and sets out to ready his house for sale before the semester begins. Her controlling boyfriend stops by to help but he comes and goes for work, leaving Alisa to do most of the dirty work. While fixing up the property, she soon begins to experience strange occurrences: noises around the house and over the intercom, as well as mysterious clumps of black hair causing black water to back up in the shower.
As she cleans, she discovers secrets around the house, such as medication saying that her grandfather had a tumor, as well as clues indicating that he was digging around his house for something. Alisa is sure that she feels the presence of someone else in the house, finding evidence of a squatter and experiencing visions of shadows. The visions become more up close and personal and her dreams start to become real, prompting Alisa to investigate the secrets hidden within the walls and buried deep beneath the foundation of her grandfather's house. With the help of her best friend, Steph (Hannah Race), Alisa must expose the hidden secrets in order to rid herself of their haunting affect.
It is a thriller that slowly builds in the beginning, with its wholesome, baby-voiced female lead lulling me into a sense of a typical mystery that abruptly turns full horror halfway through; Echoes of Fear is deceptively scary. I found this movie to have a strong Japanese horror vibe, with its wet black hair imagery and the dark water signaling something sinister going on. Even more so, the styling of the poltergeist was reminiscent of The Ring, as well as the way that the body actress moved — except somehow even more frightening, since her, every appearance is out of nowhere and is accompanied by a sudden loud and frightening music score.
Despite guessing at one of the bad guys early on, Echoes of Fear had an excellent narrative, dialogue, and character development that kept me on my seat until the end. The film stars Trista Robinson (Purgatory Road), relative newcomer Hannah Race, television turned film actor Paul Chirico, and veteran thriller/film actor Marshal Hilton (The Raking, The Bunnyman Massacre). This relatively small ensemble carried the film into the scary supernatural territory; the women were strong and the men were as misogynistic as the film needed them to be. Lead Trista Robinson as the doe-eyed and innocent-looking Alisa went from controlled by her boyfriend, Brandon (Paul Chirico), to taking down the killer; similarly, her friend Steph, played by Hannah Race, was supportive, inquisitive, and I liked how her character was game for exploring the supernatural oddities from the get-go.
This movie is so eerie that I wish I hadn't watched it alone at night! The jump scares are effective, the score and visuals cultivate an unsettling atmosphere, and it is a true horror thriller with unexpected twists and turns intermixed with some freaky occultism. If you are a fan of all of those 2002 J-horror American remake films like The Grudge and The Ring – or just plain old scary-fun movies – you'll want to catch this one! To catch this frightening, murder mystery occult J-horror-ish thriller, the limited-release U.S. theatrical national tour of Echoes of Fear kicks off on October 16th.
UPCOMING CITIES
Los Angeles, CA Oct. 16 – CLICK HERE for the event page, info, and tickets!
Torrance, CA Oct. 24th
Chattanooga, TN Oct 24th – CLICK HERE for the event page and tickets!
Johnson City, TN Oct. 24th
Knoxville, TN Oct. 23rd
New York, NY October (Date TBD)
San Francisco, CA October (Date TBD)
Greenville, SC November (Date TBD)
Pasadena, CA November 6th – CLICK HERE for the event page and tickets!
Atlanta, GA November (Date TBD)
Palm Springs, CA November (Date TBD)
Boston, MASS. November 6th – CLICK HERE for the event page and tickets!
Santa Monica, CA Nov 20th
Orlando, FL Nov. (Date TBD)
ECHOES OF FEAR
RATING:
UR
Runtime:
1 hr 30 Mins
Directed By:
Written By: