Not excited yet for Dark Horizon, the latest Orlando haunted attraction? Well, let me tell you, you SHOULD BE. Let me tell you why…
Dark Horizon: Point of No Return is the East Coast cousin of Queen Mary's Dark Harbor back in Southern California. It's an intense horror carnival bringing new and innovative houses, bars, monster scare zones, bars, creepy sideshow performers, bars,  and did I mention bars?
A Bit of Background
Let me take you on a little journey through time and space. We start in 1936, at a time when big ships were still the primary way to voyage across the Atlantic. The Queen Mary, the ship in question, was longer, wider, and faster than the Titanic. It served both in peace as a luxury ocean liner, and at war as a troop transport ship. Most important of all…it saw more than its fair share of death.
Paranormal investigators widely consider it one of the most haunted places on earth.  It has the catacombs, boiler rooms, sick wards, and other deep recesses of the ship that the haunted houses of Dark Harbor utilize. If the thought of wandering darkened, tiny corridors of a ship that literally saw hundreds of deaths doesn't make your hair stand on end, then add on the fact that the denizens of these houses are based on some of the most "active" ghosts that live upon it.
So, yes, the designers are invoking the spirits of the young engineer who was crushed in one of the water-tight doors during a routine test. The little girl who tormented guests using the second-class passenger pool. The psycho killer that went on a rampage during one of the crossings and killed himself while confined to a room, or the woman in white who still appears in full evening gown in the first-class lounge.
Alright, I know you are thinking…what does this have to do with Dark Horizon in Orlando, Florida?
Well, into this perfect petri dish of horror came an extraordinary group of creative people with a real vision of where their event could fit into an already very crowded haunt market. Think of it this way: there are theme-parks in Southern California that target teens (PG-13) for scares. There are some that shoot for the more mature (R) level, mostly because of the movie properties they present. Dark Harbor aims to be the experience for the mature, discerning haunt audiences that love innovative, intense, and VIP experiences.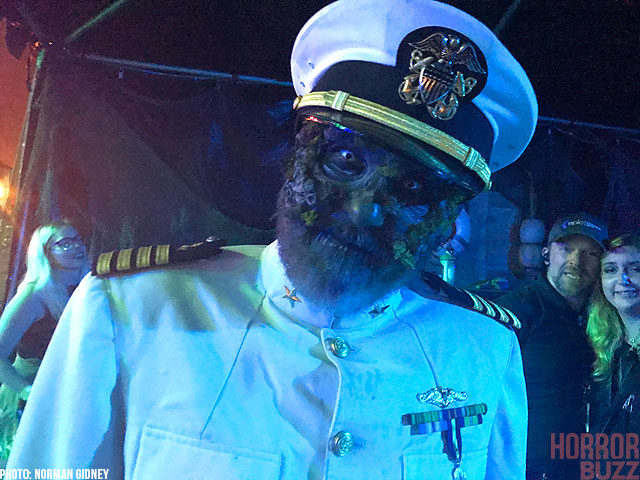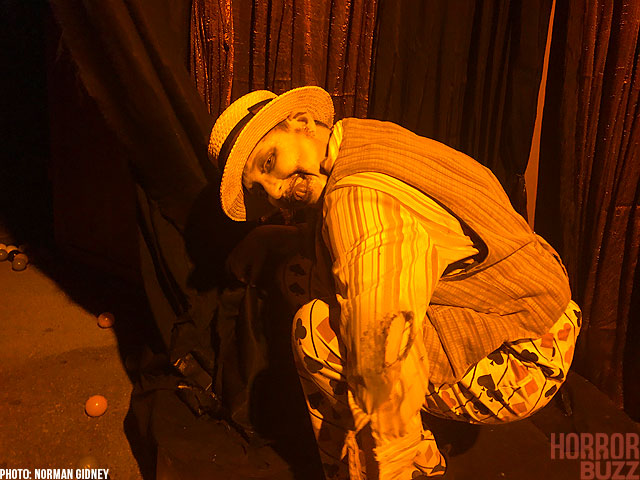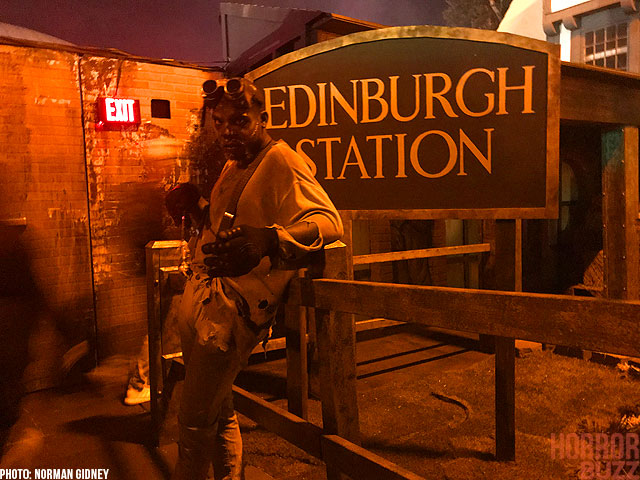 Much like the mouse theme parks have their mascots, Dark Harbor has some of the best scare-actors in the business. Enter the Ringmaster, a ribald, partially rotting, bringer of chaos and death…and one of my personal favorites, an over the top all-time monsters and M.C. Yes, she will have you laughing with a somewhat dirty joke, ply you with drinks from her own special Ringmaster "sippy" cups, get you all loose, and then gleefully lead you to the entrance of her big top, where her minions are ready to torture and destroy you. There is the seemingly jovial yet bloodthirsty ship Captain, who's only desire is to lure you on-board, make sure you are quite comfortable and ensure you never leave.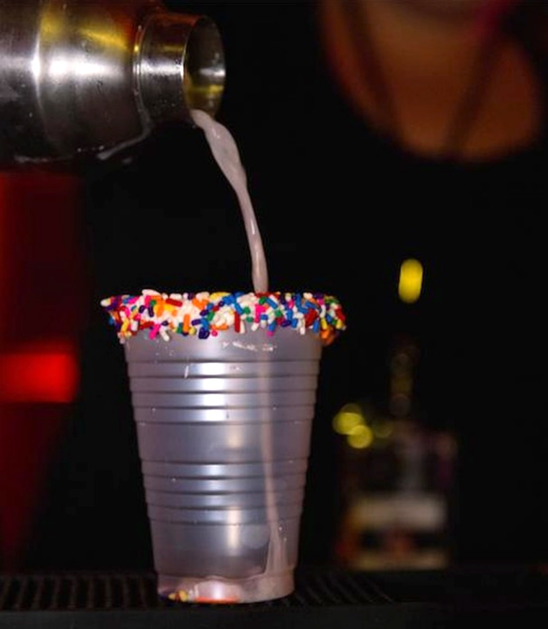 Remember those bars I mentioned above? Well, imagine that in the middle of a haunted house walk-through, you found a secret passage that led to a secret bar, that allowed you to trigger some of the effects that scare the heck out other hapless victims wandering through. Or that you could pay not just for the front of the line, but access to a VIP lounge far above the terror below where you could lounge, sipping a premium drink, while watching large clusters of sliding monsters on the prowl and attack. Or grab a reserved cabana in the middle of the dark carnival and watch really great fire dancers, fire eater, glass eaters, and every sort of unsettling sideshow performers ply their trade, while you are served by a cocktail hostess.
So, yes the bars are a part of the show, but they aren't the main event. No, the stars are the houses and to understand why these are unique and innovative, I need to introduce you to one of the absolute current stars of the haunt design community: Jon Cooke.
Jon Cooke, Scary Guy
Jon worked his way up through the ranks at Knott's Scary Farm. Before he formed his own design firm, Plague Productions, a few years ago, he was responsible for completely innovative and unique experiences that ranged from laser-tag zombie infestations to multiple path houses that require repeat viewing to experience all the terror. He created full rocking ship hulls, massive animatronics, and surprise endings that haunt fans in California still argue their favorites.
After he set the haunt community on fire, he was recruited by the Dark Harbor team and given free rein to make them as terrifying as possible.  I won't even attempt to spoil some of the innovative scares Jon has unleashed in his houses, but I will give him the highest praise I can give any haunt designer. I don't scare easily anymore; his houses still get me.
The Dark Horizon Haunted Houses
The Dark Harbor team could have elected to copy much of what they already had here in Orlando, but that wouldn't be true to what they do, or fair to a place like Orlando that has its own rich history of ghosts and myths.
Murder Island
They are crafting a whole new experience based on characters like Florida's most infamous serial killer Bloody Ed Watson.
Ghost Ship

Captain Killigrew who with her crew captured the Spanish ship Marie and ruthlessly killed many of the crew.
VODOU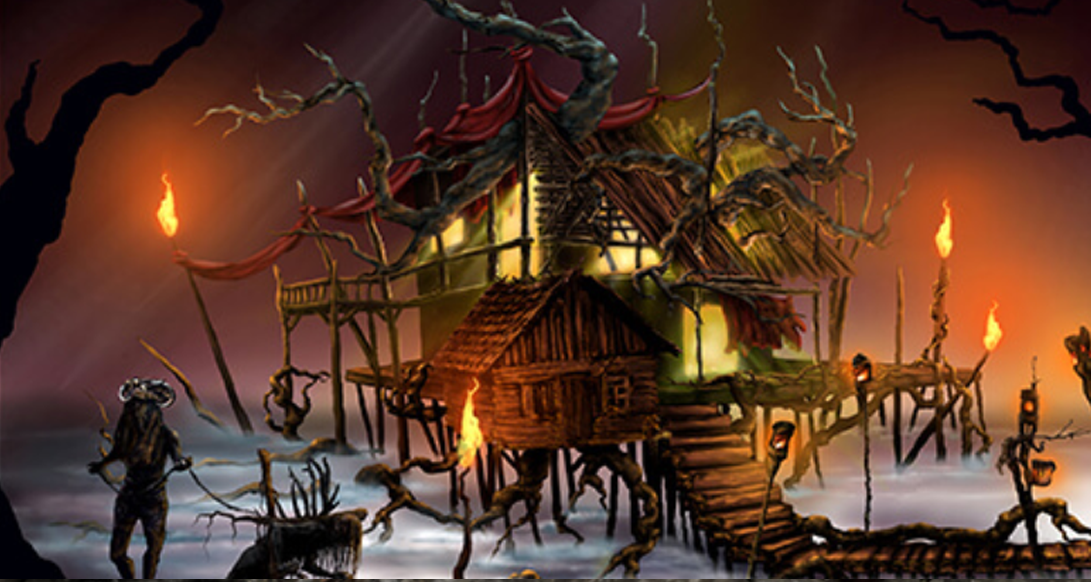 Or Mambo Cécile, the possibly undead, but definitely evil Voodoo Priestess who wants to entrap you in her boggy village and steal your very soul.
To bring it all together, in its inaugural year here in Florida, Dark Horizon will invoke the darkest local horror spirits (and not just the drinks but ghosts too), bring the best in house design, the strongest talent, all together in what promises to be one of the most unique experiences the I-drive area has ever seen.
That's why you should be excited about Dark Horizon Orlando!
Dark Horizons will run select dates from October 10th to November 2nd.  Tickets start at only $20 and a variety of VIP options available.  For more information visit https://www.darkhorizonorlando.com/