If you want an experience that truly captures the foreboding horror of the Halloween season, look no further than the Urban Death Tour of Terror at Zombie Joe's Underground Theatre. Located in North Hollywood in an unassuming storefront along Lankershim, Tour of Terror is part walkthrough haunted attraction, part theatre piece that is unlike anything being done in the Los Angeles area, much less the country. What's more, it is remarkably inexpensive at just $16 online or $20 at the door for a 45-minute experience.
To explain; You first order your tickets online here. Don't worry, you can still buy tickets at the door but it's easier to have everything all lined up. If you are coming from the 134 freeway, you'll be driving along Lankershim, just after the insane 3-way intersection, the theatre will be on the right. The theatre itself looks like any other bland storefront in North Hollywood. Beige stucco, posters in the curtained windows, and the big block letters "Z.J.U." above the door against a white, lit sign. Do NOT let this appearance fool or dissuade you. For inside lurks a Pandora's Box of thrills and otherworldly chills.
As the show begins, patrons are broken up into small groups of anywhere to 1-4 people at a time, handed a very dim flashlight, and permitted entry into the dark. The experience begins as guests make their way through a very tight labyrinth of black plastic sheeting. Around every corner lurks the possibility of discovering a ghastly scene of body horror, an unsettling experience with a deranged maniac, or perhaps just a puzzling vignette of the macabre. Don't worry. This is NOT one of those haunts where the actors can touch you. They may invade your personal space a bit due to the intimacy of the maze, but that is just about it.
Exiting the maze we arrive at a seeming oasis of open space. Here a man stands laughing, giggling, sometimes leering at the audience. Once we are all seated, the lights go out and the show portion begins. The format of the show is episodic, Gran Guignol, theatre of cruelty, Butoh theatre type stuff. No dialogue, hardly any vocalization, just visuals and action. Actions that, I might add, are at once disturbing, hilarious, and poignant. This is not the jump-scare type of haunt but one that aims to delve into the psyche and stick with you long after you leave. The lights rise on a scene inches in front of us, something happens, the lights go down. wash rinse repeat. We never really know what will be waiting for us when the lights return but the antici… pation is grueling and wonderful.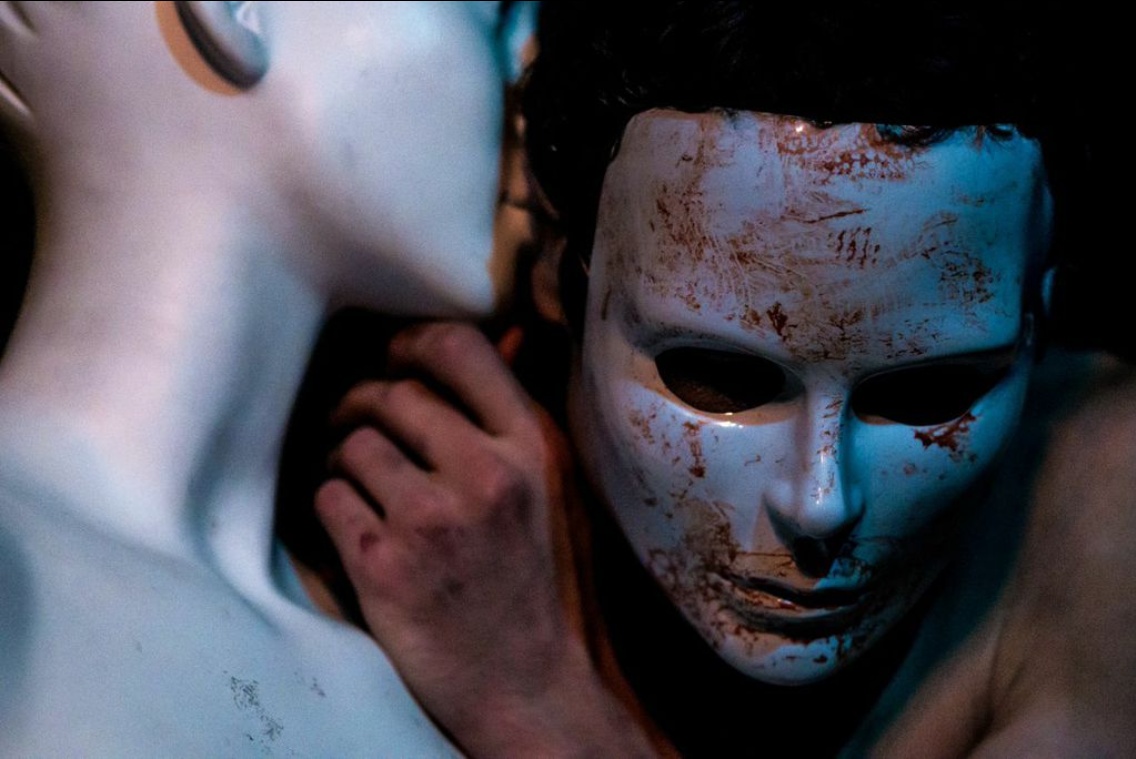 The roughly 25-minute segment of the tour ends and as luck would have it, we must traverse the dark maze to get out again. This time, however, new horrors await us. Returned to the "safety" of Lankershim we hand our flashlights back to the attendant and the show is done.
What sets this Haloween experience apart from so many in a crowded haunt scene is price and substance. You will not find a less expensive haunt that has this much pulpy nastiness and depth. This is the type of horror that lures you deeper into the dark despite everything in your head telling you to stop.
The cast gives it everything they've got too. The entire cast is remarkable too plumbing the depths of terror. Truly wonderful work. Once again, Warren Hall dominates with his twitchy, spastic energy and his ability to disarm and control. We also get the petite, yet powerful Jonica Patella fearlessly performing grueling scenes of strange horror. The real breakout performer here is Brock Birkner who equals Patella and Hall in presence and stamina.
Zombie Joe's Underground Theatre's Urban Death Tour of Terror is a must-do for the Halloween season. Now, fair warning, this version of the show is an entirely ADULT SHOW that features full nudity, disturbing and mature themes, and violence. This is an 18+ show.
With that said, they also offer a family-friendly version of Tour of Terror that is all-ages and equally wonderful in fun and exciting ways, perfect for the little monsters looking for some high-brow horror experiences this season. We will review that next. Suffice it to say, if you want something entirely original, scary, challenging, and fun, BUY YOUR TICKETS NOW!
FRIDAY and SATURDAY Evenings at 8:00pm / 9:00p / 10:00p / 10:45p / 11:30p: OCTOBER 4 – NOVEMBER 2, plus THURSDAY, OCTOBER 31 (Halloween).
WARNING: Graphic content, trigger warnings, and full nudity. For Ages 18+
---
*NEW FOR 2019: "Family Friendly" version of URBAN DEATH TOUR OF TERROR: Haunted Theatre Attraction!
SATURDAYS @ 7:00pm, OCTOBER 5 – NOVEMBER 2, plus THURSDAY, OCTOBER 31 (Halloween). For Ages 8+
Zombie Joe's Underground Theatre Group
4850 Lankershim Boulevard, North Hollywood, CA 91601