When my two boys were growing up in the 2000s, we took every opportunity we could to take them to Disney's Halloween events. They started out very small, with lots of candy. They would hand out huge bags and then fill them with more Nestle treats than my youngest one could carry. They also had a few DJs setup around Disney's California Adventure to dance to YMCA or do the  Cha Cha Slide. Over the years, we watched the parties evolve. Not too long ago, we could no longer justify the hit to our budget for just my wife and I to attend anymore, even though they had added a parade and decent fireworks show.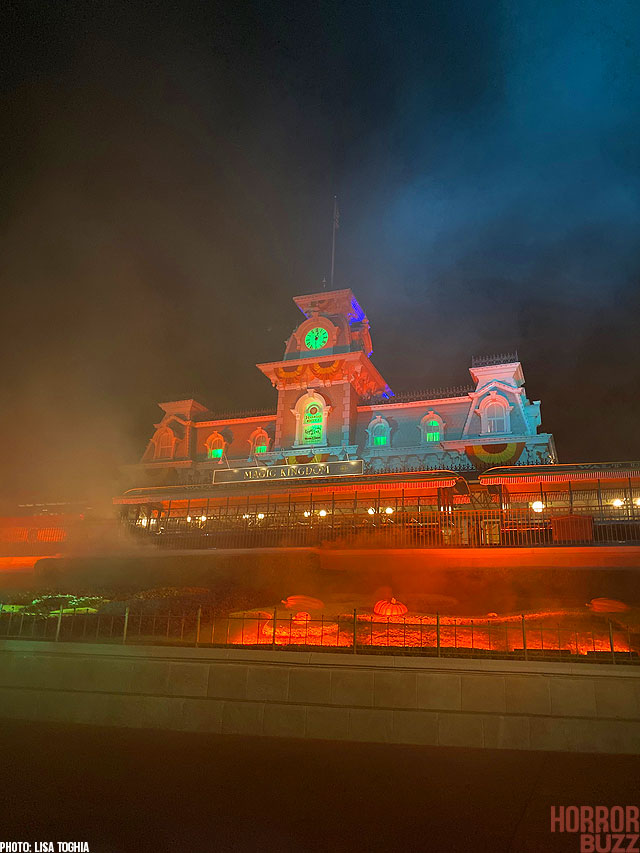 Walt Disney World evolved along a different path. Searching for ways to attract local visitors to the park in the off-season, they started experimenting with single night events back in the mid-90s for the unheard-of bargain Disney price of just $16.95 per person. Word of mouth grew fast, and the number of nights grew with it. Why was it so popular? Well, unlike Disney's California Adventure, which was a virtual ghost town most of the time, the Magic Kingdom parties featured super-low wait times because of the limited number of tickets sold. Even if your 'tweens didn't come for the candy, they could still get a thrill ride rush doing Space Mountain several times in a row.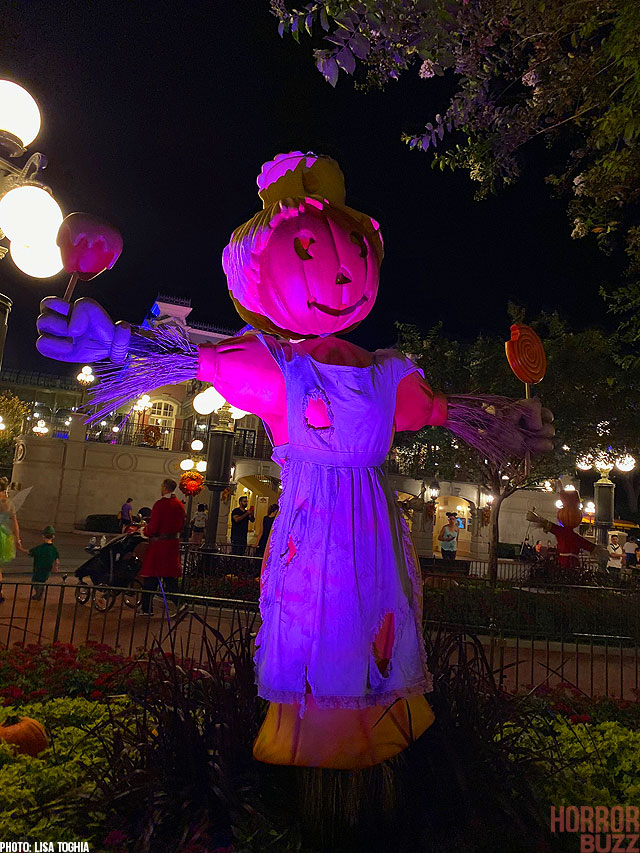 Fast forward to today, where Halloween spending is approaching $8.8 billion dollars in the U.S. Disney now starts their parties in the middle of August and they are popular beyond belief, selling out several nights each year. Though the wait times are still reasonably short for most of the attractions, we had to say goodbye to small crowds!
Halloween is a season now and Disney really stands tall against more common teen and adult offerings. They have literally covered the park with unique entertainment offerings, "plussed" up some of the attractions in ways you can only experience during the party, and give away more than 200 tons of candy over all the event nights (dentists, please feel free to cower in fear).
So is this party, which costs around a hundred dollars per person, worth the cost for two childless adults? Well, my wife and I had a great time and there is actually too much Halloween magic to experience in one night. And trust me, we tried.
They let you into the park at 4PM, and we got there early so that we could see how things work. They scan you in (if you have the tickets linked to your MyMagic+, you can use your Magic Band for admission), wristband you up, and usher you via the fireworks backstage bypass into an area with some of the characters, treat bags, and a starter packet of candy.  The park usually closes at 6 for normal guests, and the actual party starts at 7, but with your event wristband you are free to roam the park.  This is a great time to get a couple of rides in. My wife and I grabbed dinner at Cosmic Rays, as well and planned out our night.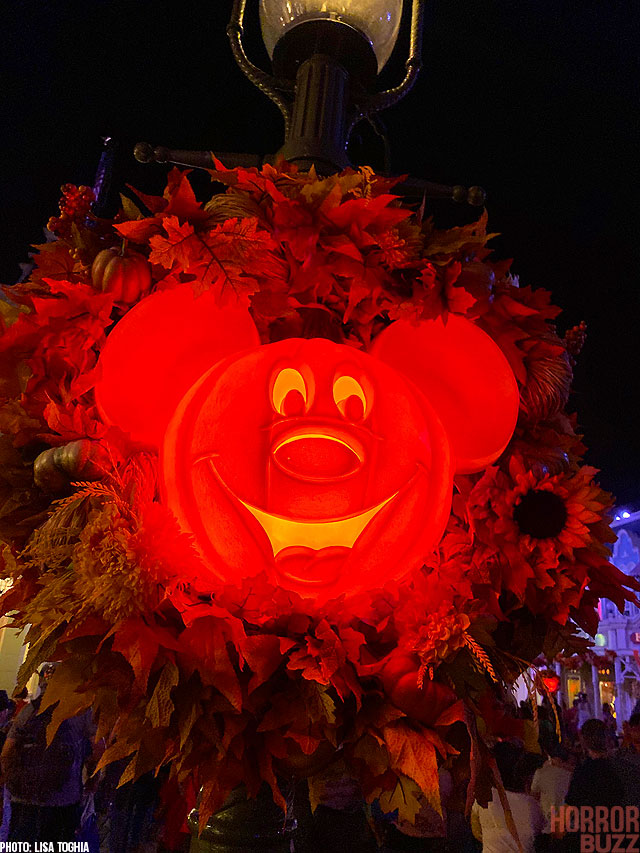 It was actually fairly crowded for a Tuesday night in September, but the park was beautifully decorated for the season (especially Main Street and the Rivers of America).  Disney lets children come in costumes all the time, but there is really something special about seeing  just about everyone decked out in their trick-0r-treating best. This is the only time that mom and dad get to join in the fun, and there are treat dispensaries just around every bend, so the smiles were infectious.
One tip I can pass on is that these stations get really busy early on in the evening and some of the wait times might test your patience.  So if candy is the ultimate goal, wait until the night time shows really get going. The lines disappear and you can make out like a bandit. It's M&M's, Mars, Wrigley candy, and really a great variety. The bags are much smaller than they were years ago, but you can ask for additional as needed at the treat stations.  I saw one family that evidently wasn't aware, so they kept emptying the bags into their small child's stroller, and boy was he (not) happy when he had to walk at the end of the night.
Some of the attractions get an extra helping of magic. For example, Pirates of the Caribbean has some live pirates thrown in here and there. At the end, we got some chocolate pirate coins. It was fun, but there didn't seem to be any storyline woven in for the actors. I can't help but think that if they all were somehow talking about a hunt for special pirate candy or something related to Halloween, it would have been cooler.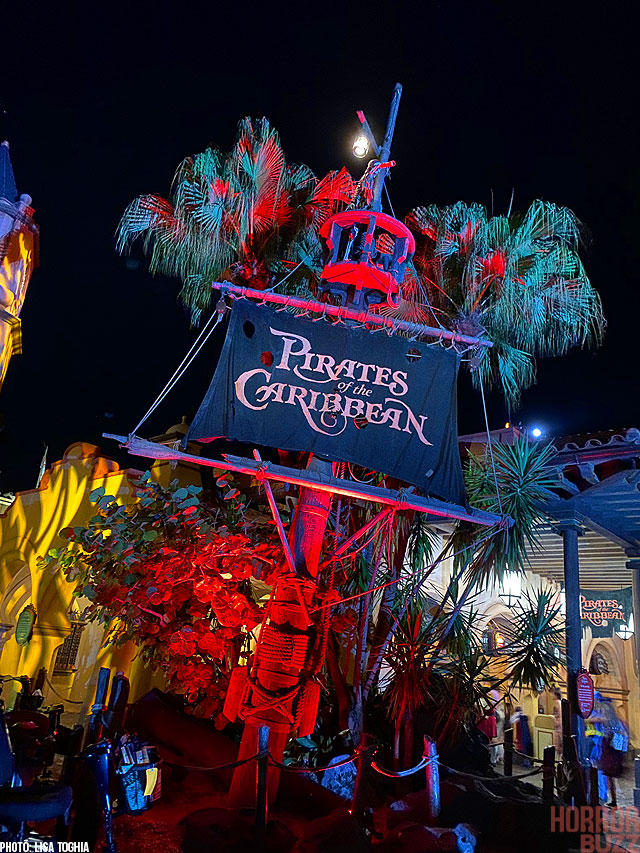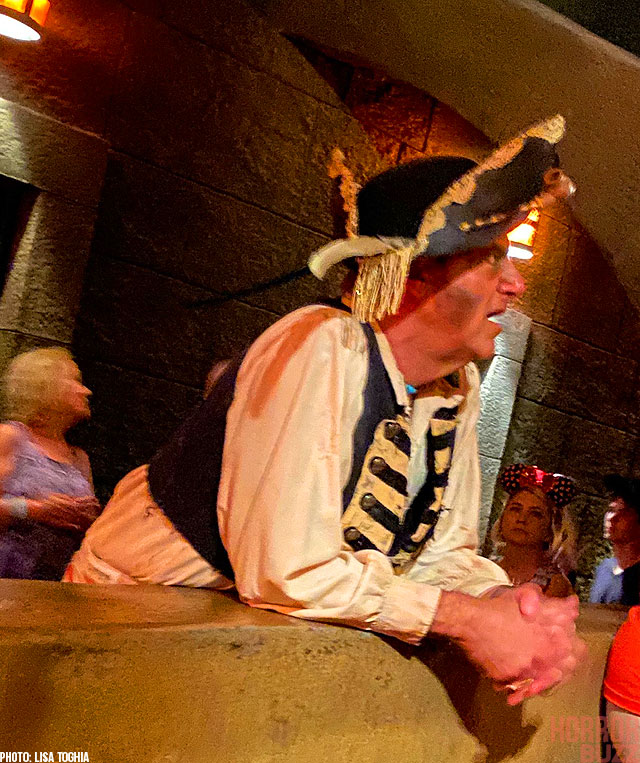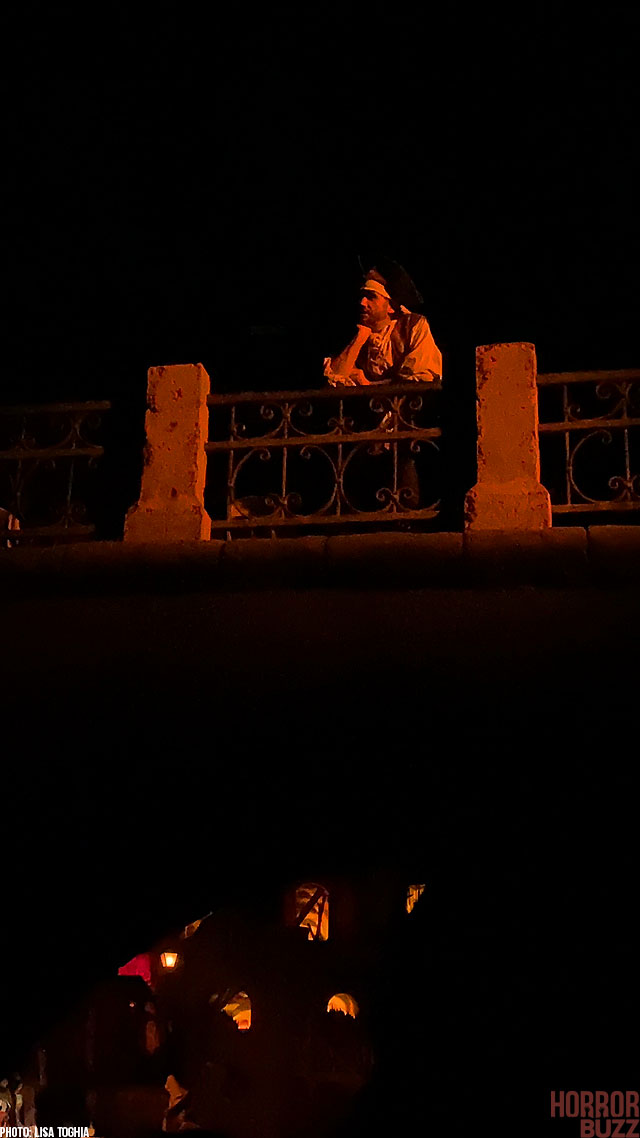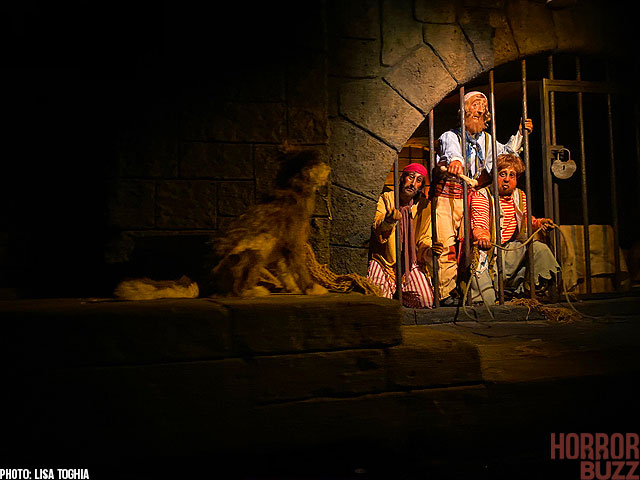 Space Mountain gets run completely in the dark.  I managed to snap a photo on the ride:
I'm not the greatest fan of the Florida version, as it's a lot rougher than many of the later incarnations, but without the disco ball stars, it is much scarier. I like the Ghost Galaxy overlay they have in California, but kudos to Disney for both saving energy costs and finding an ultra cheap way to make something much more intense.
The overlay I enjoyed the most was over at the Haunted Mansion, which of course was lit up and festive for the celebration of All Hallows Eve. Out front, interactive ghosts were working the crowd waiting in line, searching for a new suitor for the murderous bride, Constance. There was also a proper, but deceased, southern "aunt" was all too happy to dish the gossip. I found the little interactive experience delightful and I think we watched 20 or 30 minutes of banter with different ghosts.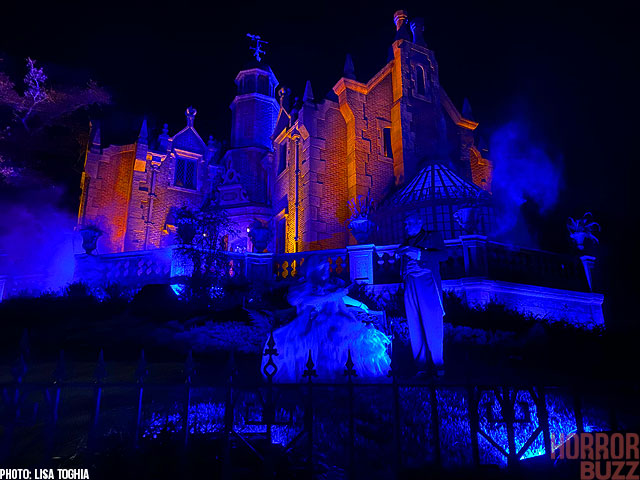 Speaking of shows, the parade, new fireworks spectacular, and Hocus Pocus shows were all amazing and this is where the event really shines. A tip for those of you without small children: we decided early on to wait for the late parade and Hocus Pocus showings knowing the crowds would thin out, and that turned out to be a smart choice, as the first parade viewing areas were packed.
So what should you see?
Fireworks
New for this year is a special fireworks show that is limited to showings on event night.  Disney's Not So Spooky Spectacular utilizes the standard fireworks and projection combination that they have been using for the last several shows, but with an added twist.  This one is hosted by the one and only Jack Skellington, brought to life in the most realistic, "live" way I have seen in the theme parks.  Be sure you see this one as close as you can to the front of the castle, it really makes a difference.  The story is cute and follows Mickey, Donald, Minnie, and Goofy making a visit to a haunted house with nods to the classic Disney cartoons Skeleton Dance and Trick or Treat.  Great show, not to long so that the concept wears thin, and the castle projections are really the star here.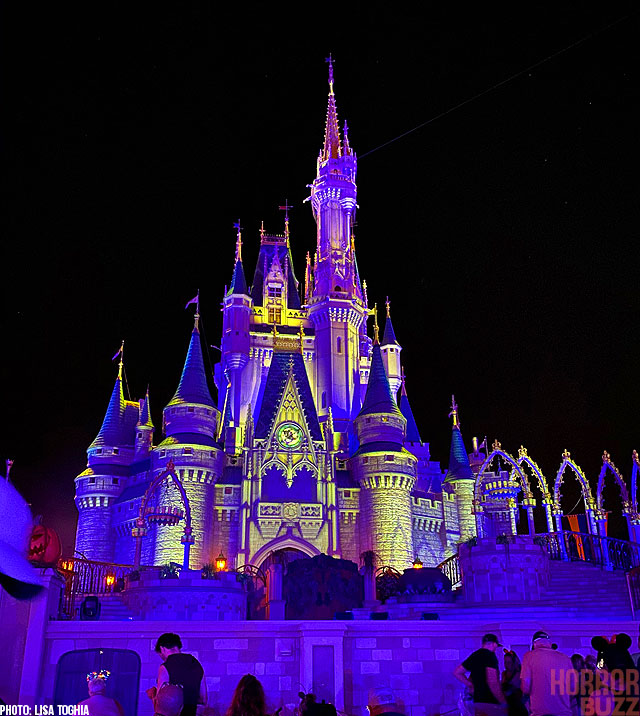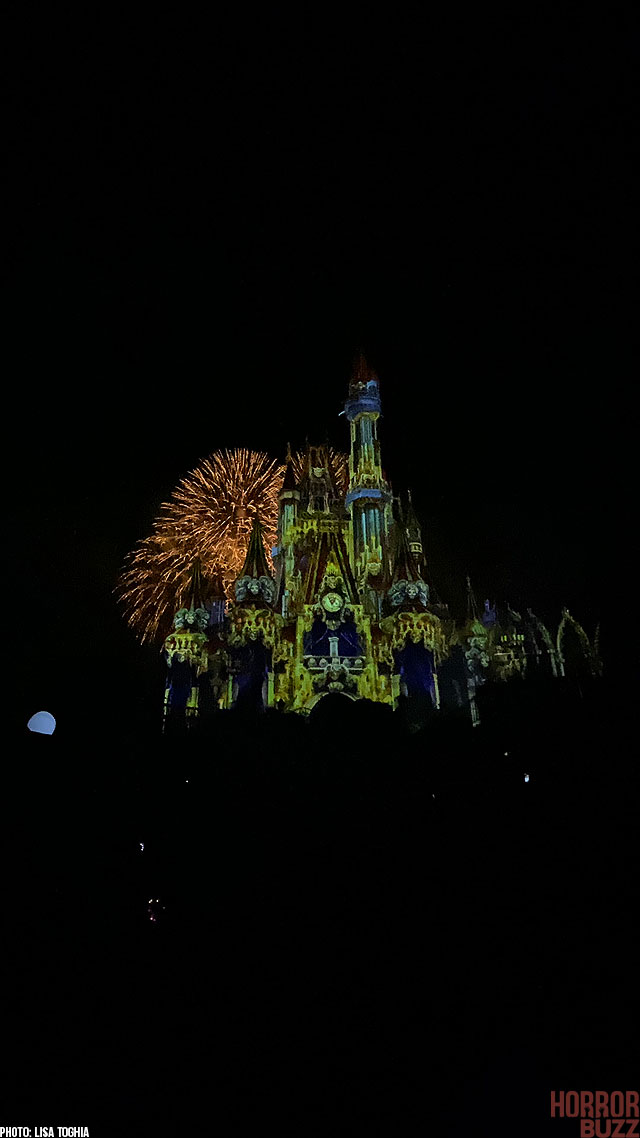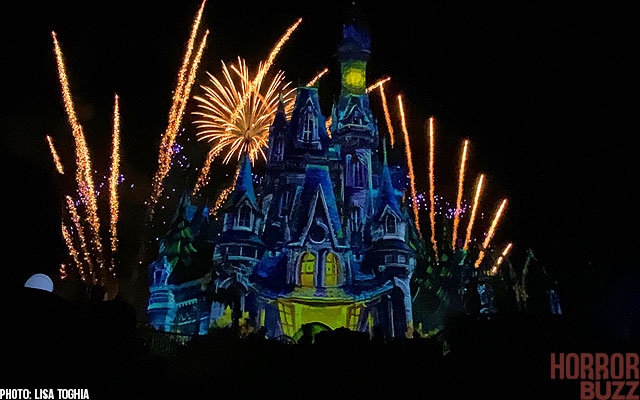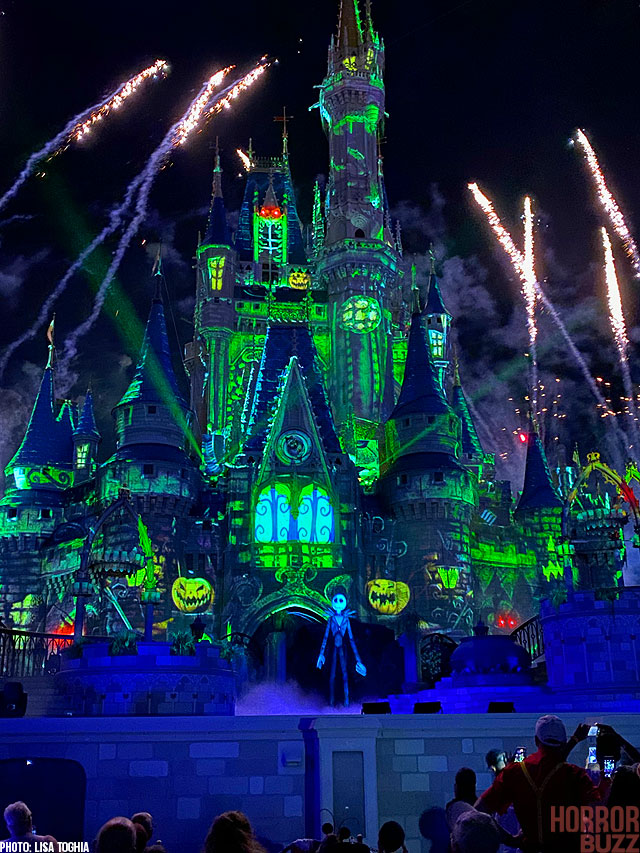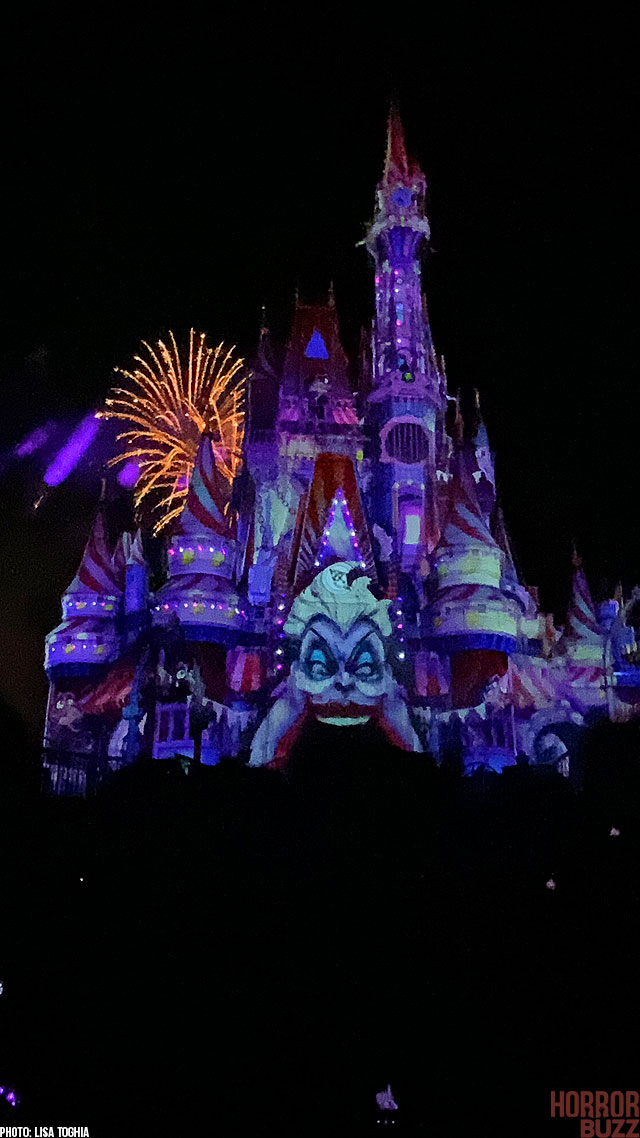 Parade
The parade is something you also want to carve out some time to get a seat and prepare for.  We saw the late showing, so the crowds were lighter, so we made it over to Frontierland and eagerly awaited not only the parade but the arrival of the Headless Horseman, who precedes it. The Horseman was definitely intimidating riding down the streets of the frontier, on a really tall and powerful looking pure black horse. Be sure and cheer for the custodial person who has to follow along with a shovel and trash can after the lightning effects and eerie music have stopped.
Big hint here: the Cadaver Dan's perform for the crowd periodically so if you time it right and get a spot near the Country Bear Jamboree, you get a lot of entertainment coming to you while being able to rest your legs a bit.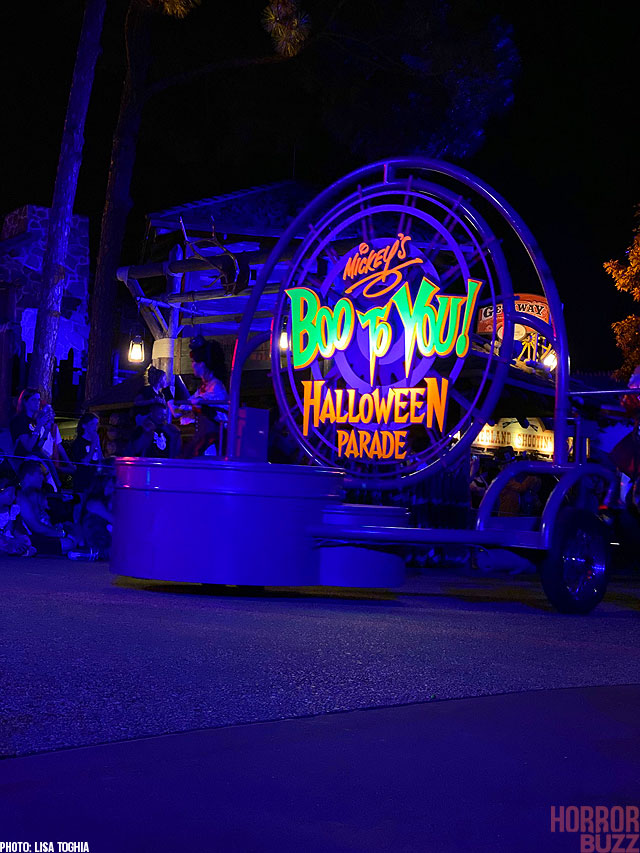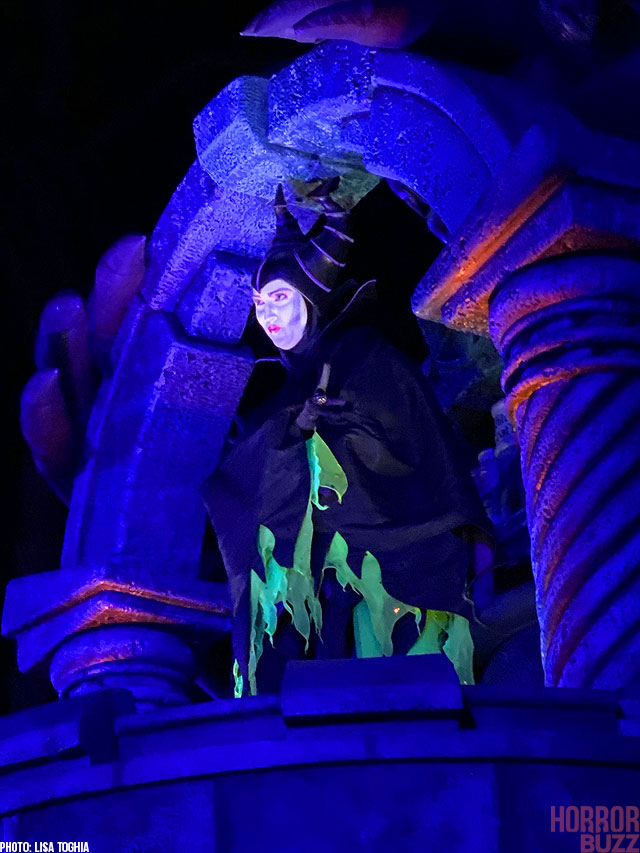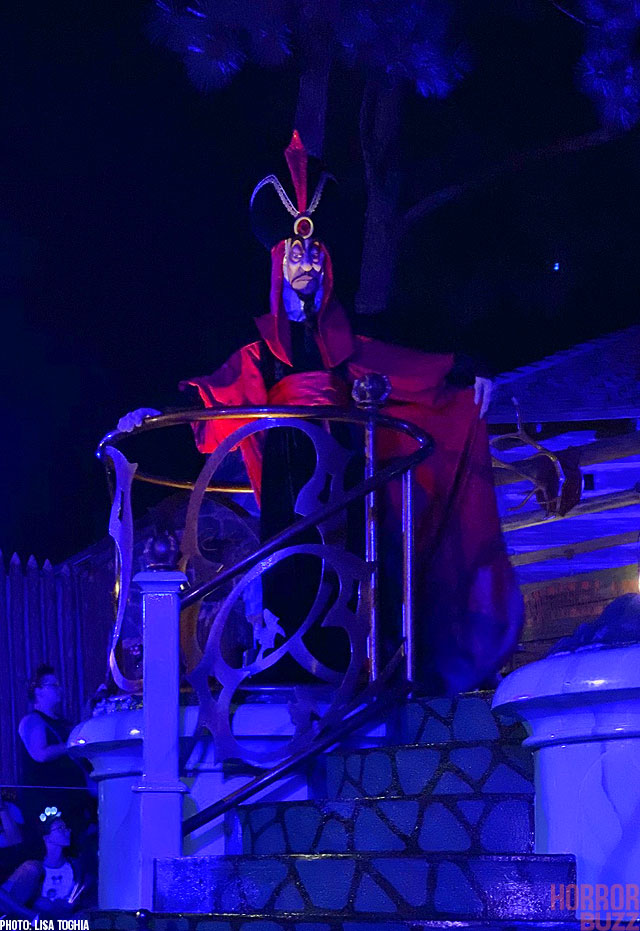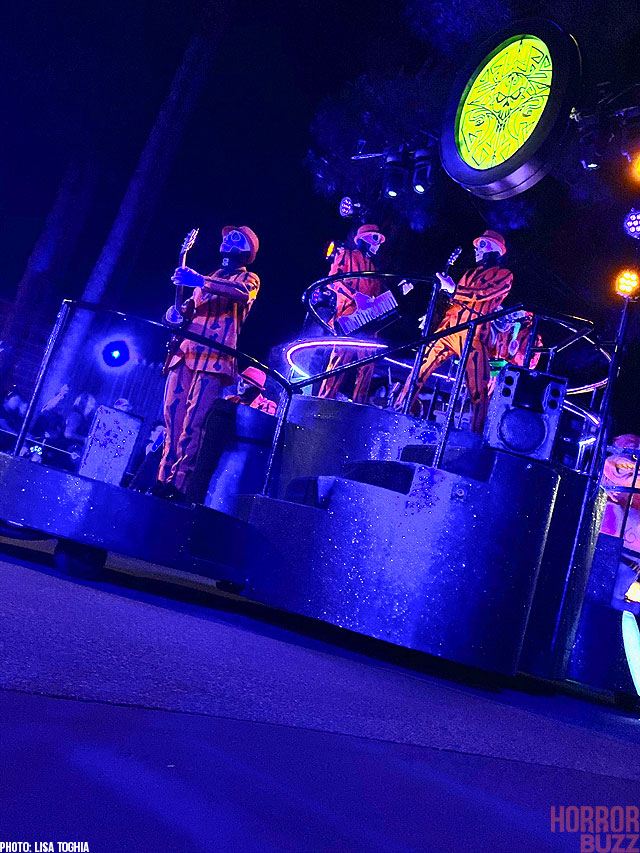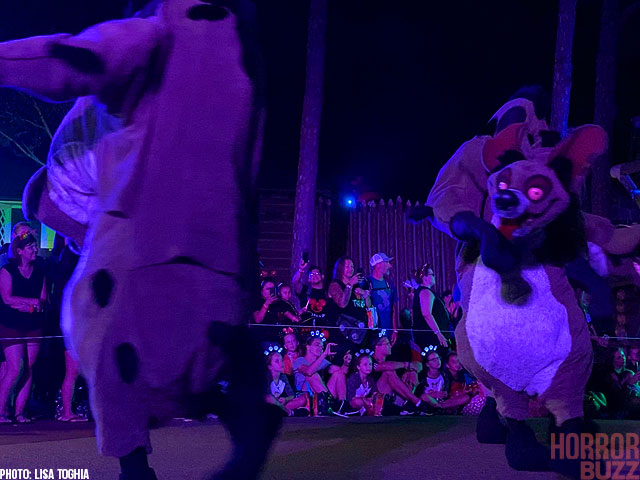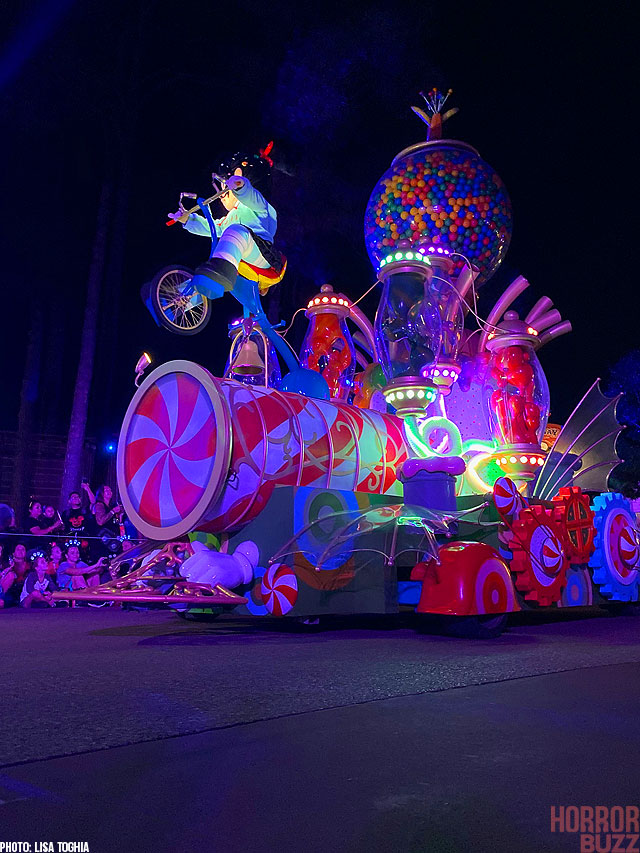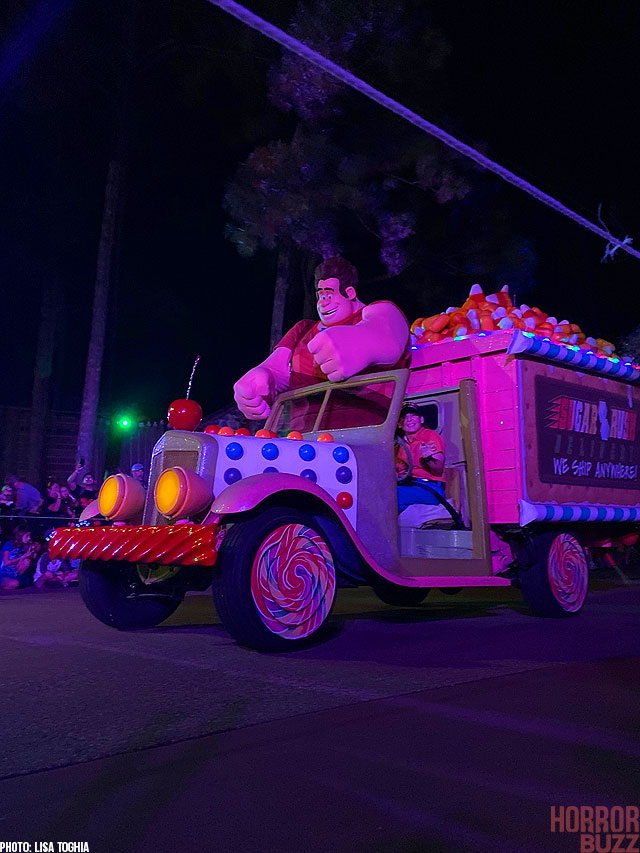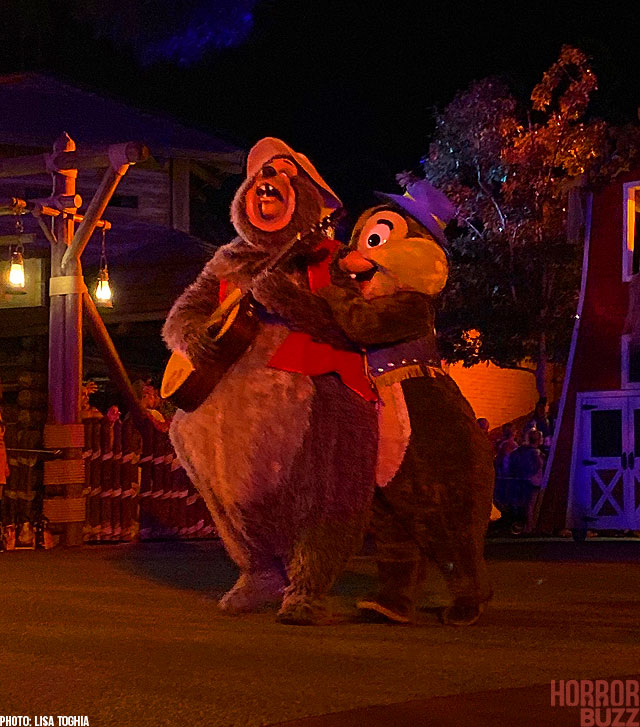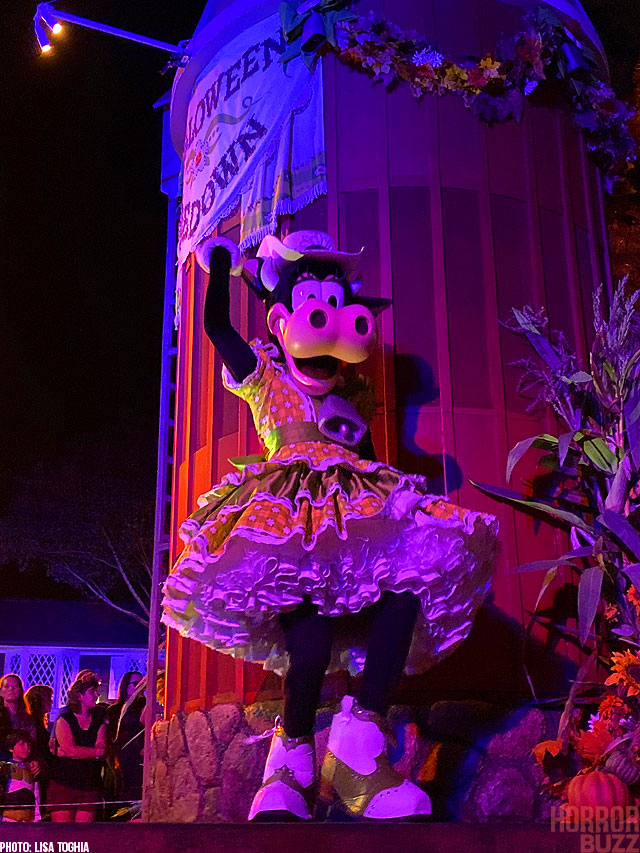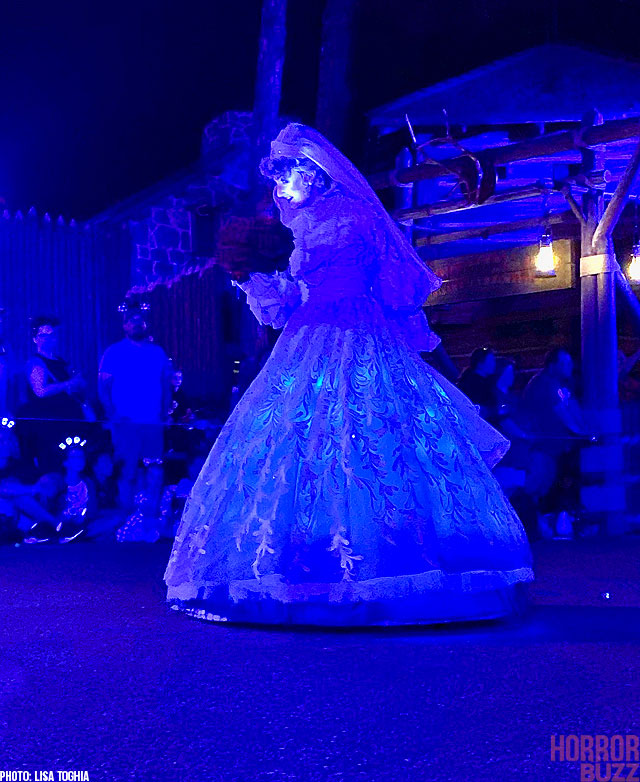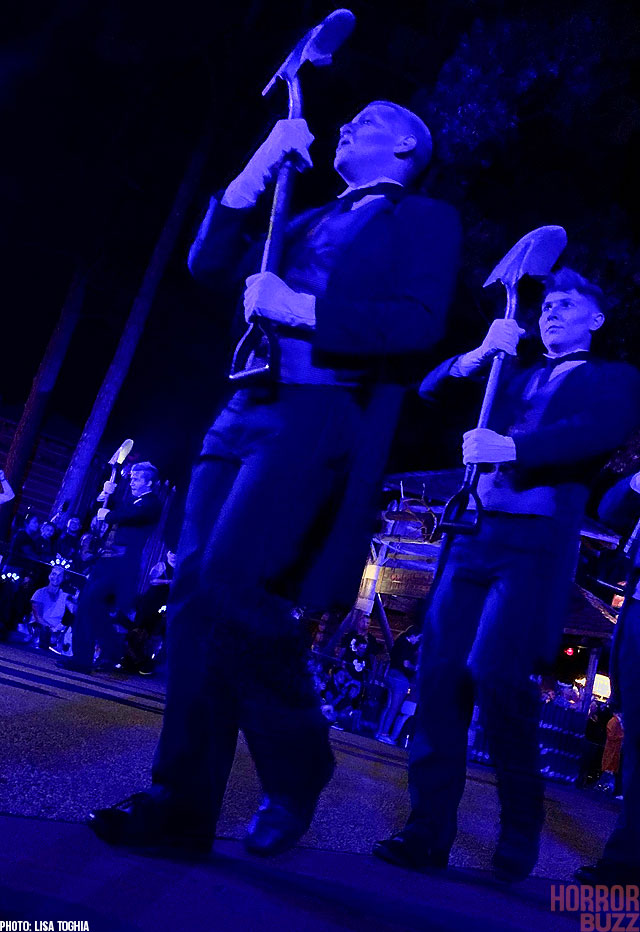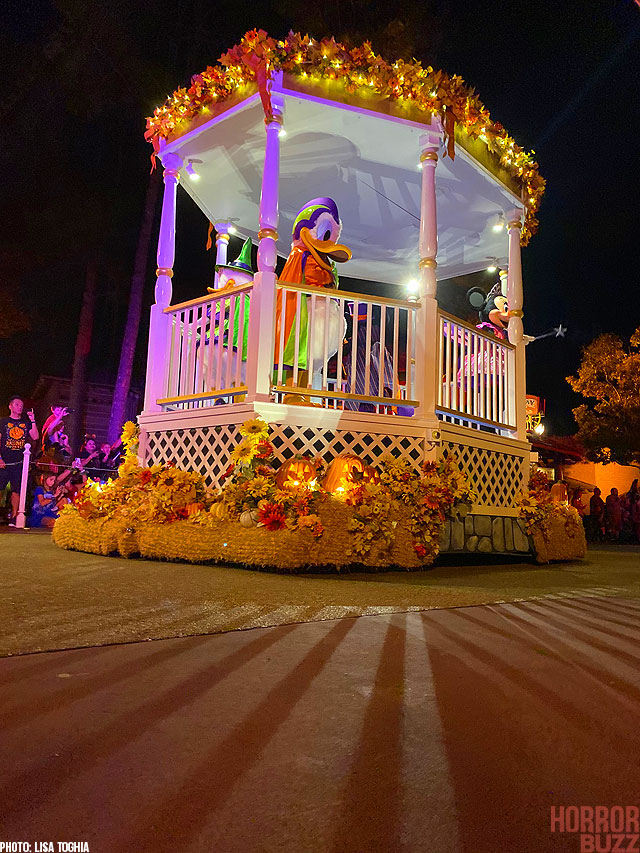 The Mickey's "Boo-to-you" Halloween Parade has a theme song that while, at first, seems delightful and light, much like "it's a small world",  plays over and over for the next 20 minutes to embed i self in your brain. The parade also has Mickey Mouse and his friends in Halloween costumes, Hitchhiking Ghosts, and a floating Constance from the Haunted Mansion (also a lot of precision drill team shovel butlers, not grave diggers, but butlers…hmmm). The Incredibles, Buzz Lightyear, Captain Jack, Wreck-It Ralph, Venellope von Schweetz, and a good ol' country Hoedown with Clarabelle Cow and Clara Cluck all make an apperance. It's all over the place but I promise it does work all together, and you will wake up in the middle of the night still haunted by that soundtrack hours after the event has ended (so much for not so scary.)
Hocus Pocus Villain Spectacular
Being straightforward, I was never a huge fan of Hocus Pocus originally. I was already a college junior when the movie came out and much more into horror than horror-comedy at the time. I will say I am a huge fan of the Hocus Pocus Villain Spectacular show, however. The impersonations of the original Sanderson Sisters (originally played by Bette Middler, Kathy Najimy, and Sarah Jessica Parker) are spot on.  The singing and dancing are really great, and the interaction with some of the really heavy Disney villain baddies is a ton of fun to watch.  Dr. Facilier, Oogie Boogie, and the ultra evil Maleficent all combine their powers to brew a patch of ultimate Hocus Pocus Party Potion, and since they eat children…bonus! Shorter lines for adults…just kidding.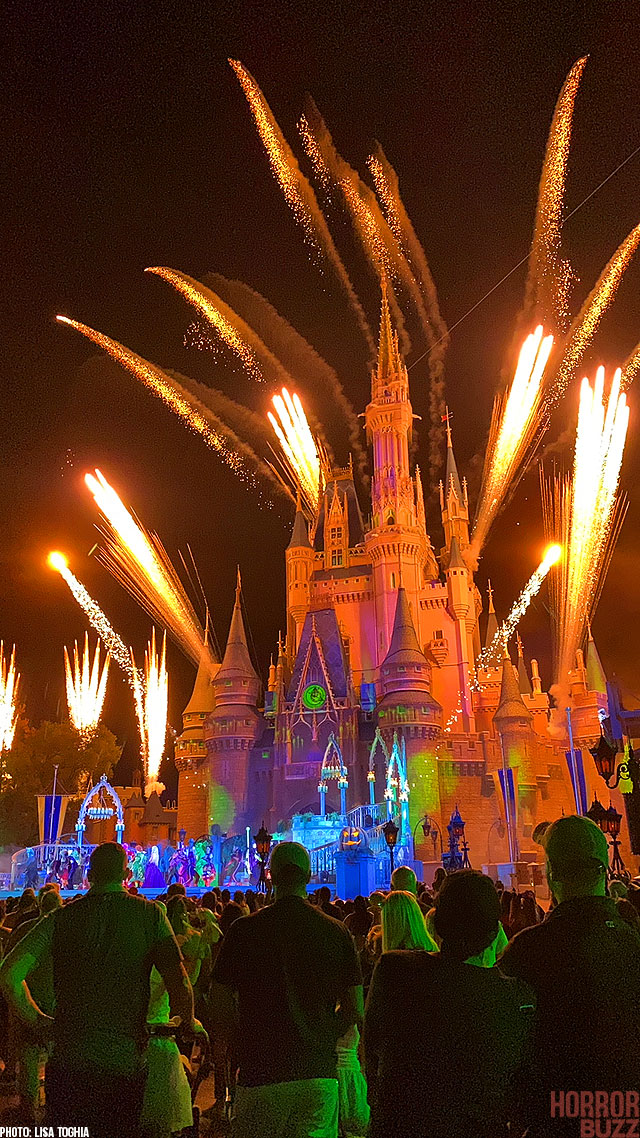 There were also a Descendants, and Monsters Inc. dance parties over in Tomorrowland, which we didn't get to experience but we really wanted to.
So rides for the teens…check.
Entertaining shows for all ages…check.
Tons of good candy all over the place to collect…check.
Lots of smiles and exhausted legs…check.
Mickey's Not-So-Scary Halloween Party checks all the boxes for a fun night out for the whole family and I highly recommend it for any Disney/Halloween fans out there without kids as well.
The event runs now through November 1st on select nights and they offer $10 dollars off with advanced purchase on some nights as well.
For more information and ticket prices, visit: https://disneyworld.disney.go.com/events-tours/magic-kingdom/mickeys-not-so-scary-halloween-party