Knott's Scary Farm kicked off its 2019 run last night to hordes of eager fans waiting to dive back into the fog. Running select nights from now until November 2nd, Scary Farm features a solid line-up of 9 original mazes, 4 themed scare zones, and three shows. That's not to mention the rides, with the entire park open including the Halloween Hootenany Log Ride.
Here is what visitors can expect for the price of admission when they pass through the turnstiles and into the murky world of nightmares.
SCARE ZONES
Scary Farm is nothing without the scare zones. What are those you ask? They are sprawling, themed sections of the park that are teaming with actors trained to frighten. Below is a listing of the four wonderful areas, each with its own unique feel and atmosphere. The scares vary from subtle to jarring. From slow-burn unease to jump scare. Yet it takes a tremendous amount of talent for the scare actors to free roam, size up victims, and frighten.
At the Boardwalk, deviant clowns crave your undying attention at CARNEVIL. It takes a particular talent to scare in full lighting, yet these insatiable tweakers in face paint do it every night and are to be commended on their use of misdirection and body language.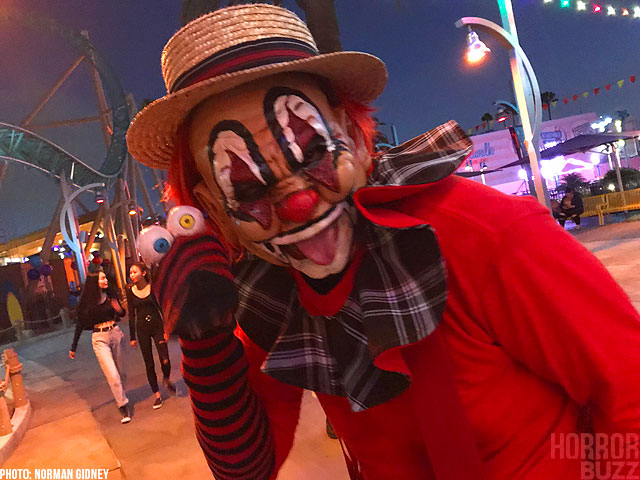 Forsaken Lake scare zone returns, where gothic creatures ravaged by the dark and murky waters wander from their crypts preying on unsuspecting visitors, looking for victims to drag back to their watery graves. This relatively new area has evolved further with grander sets, better lighting, and a gothic sweep. As if waltzing in the moonlight, monsters breeze around waiting for their next victim.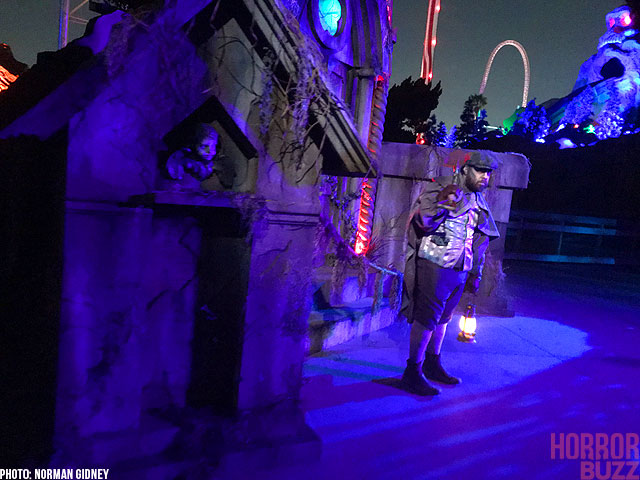 Ghost Town Streets is the original and largest, with the fog-filled alleys being prowled by monsters. For the first time ever, a scare zone, The Hanging (which we will get to shortly) and the new maze Origins: The Curse of Calico all have a cohesive storyline. You must experience all three. Yes, even The Hanging.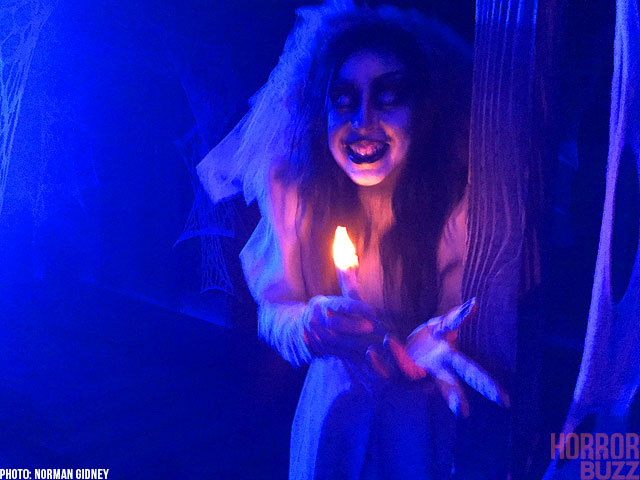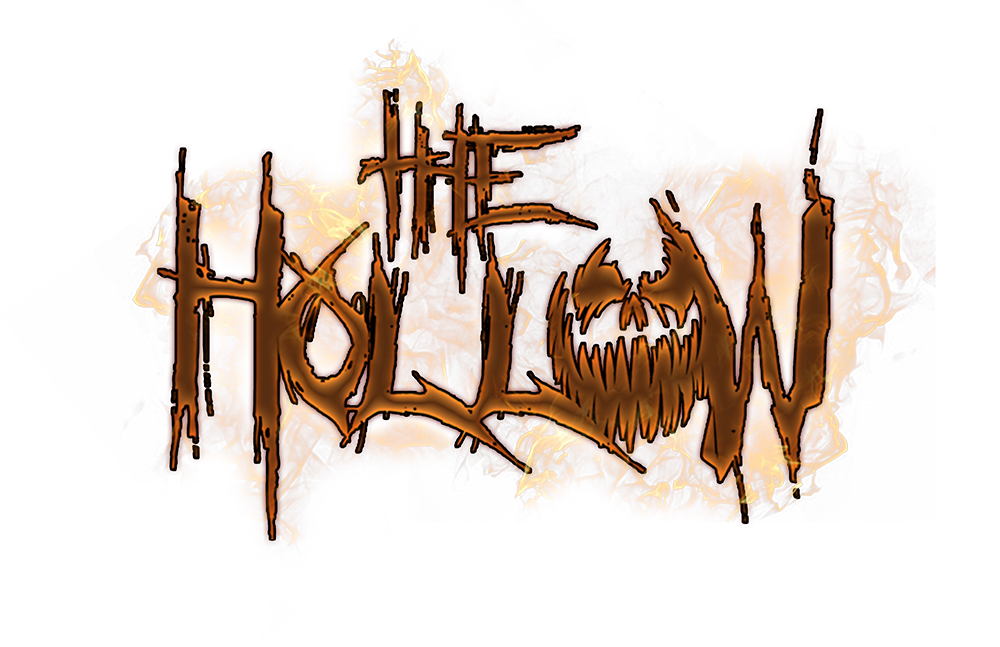 The Hollow scare zone will terrorize guests as the Witches of the Hollow along with their armies of creatures have risen once again to battle with the Witch Hunter. Earthy and primal, this section of the park features warm lighting and burlap clothes monsters skulking in the corners.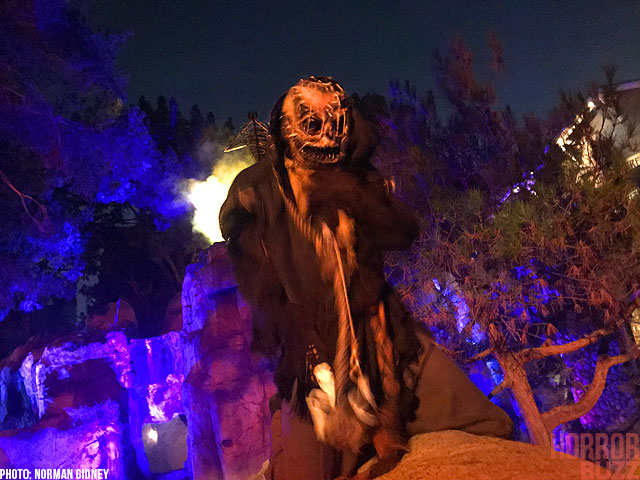 As per usual, the talent in the scare zones terrorizes with endless energy and boundless enthusiasm to entertain. Not a single false note in anything that we saw last night.
SHOWS
Coming to the Charles M. Schultz Theatre this year comes Puppet Up! Uncensored, an outrageous, off-the-cuff live show featuring a combination of improvisational comedy and the magic of puppetry performed by a cast of world-class comedian puppeteers from The Jim Henson Company. With audience participation and suggestions, this show is intended for mature (or immature) audiences.
PUPPET UP
Now listen to us very carefully. Elvira is gone. No more. Stop being sad. Just stop. Take your mopey butt into the Ghoultime Theatre like we did, sit down, and let the felt-covered profanity wash over you. Puppet Up is, the best thing to come to Knott's Entertainment in years and is, without question the funniest show we have ever seen at Knott's Scary Farm. Tears people. Literal tears were streaming down our faces from laughing.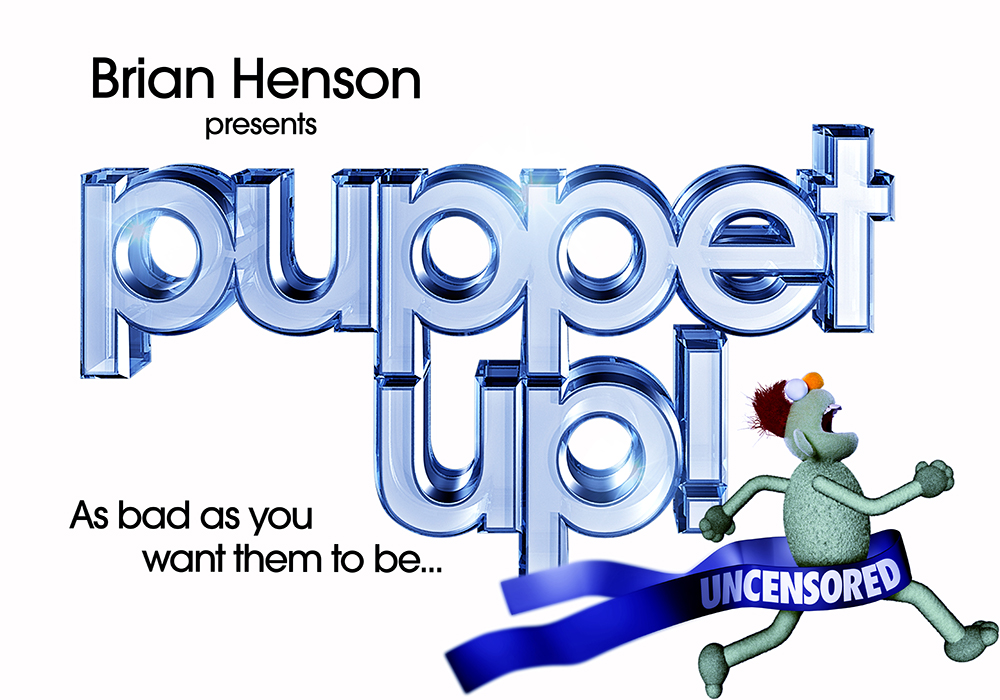 The setup? It's an improv puppet show. What else do you want? The talented and very twisted minds at Jim Henson Studios have devised this hilarious show that features a group of improv actors performing puppet skits based on suggestions from the audience. Center stage you can see the performers with the camera square in front of them, while to stage left and right are huge video screens that show what the camera sees. Actors on stage, puppets on the big screens.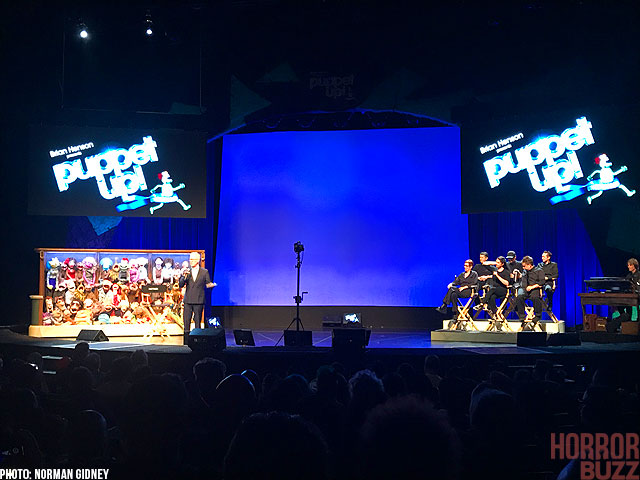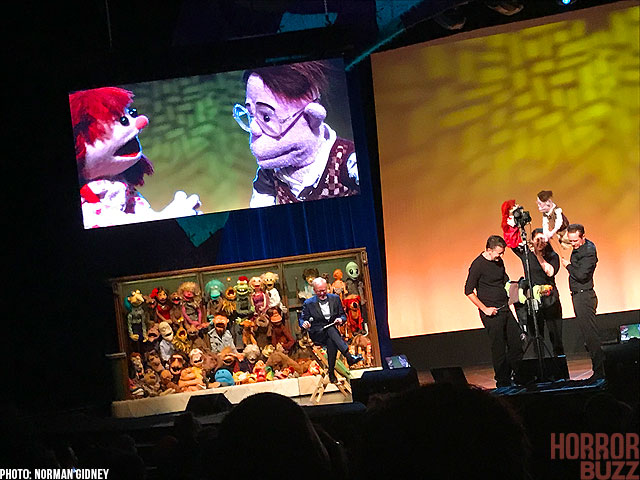 I seriously cannot effuse about this painfully funny show enough. Stop being a big whiny and give it at least a try. We will be returning several times during the run.
THE HANGING
The Hanging is also back, with some new twists and surprises, to tie into the Origins maze.

[Best_Wordpress_Gallery id="301″]
CONJURE
Conjurers also returns to the Birdcage Theatre for some magic and mystery. Sadly we had no time to catch this show as we had to cover the big two, and all of the mazes.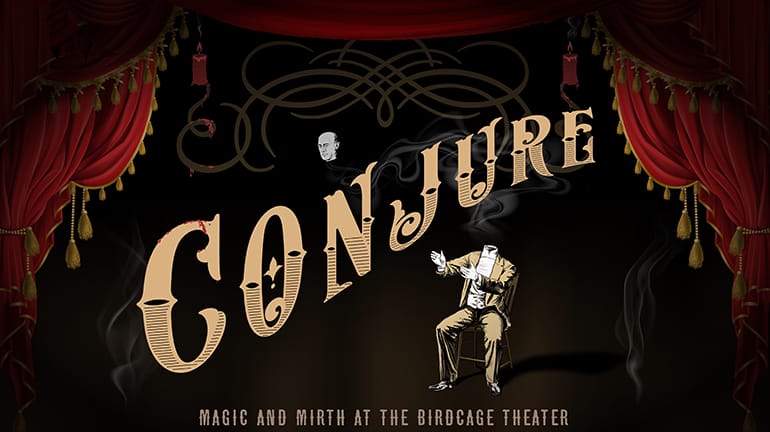 INTO THE FOG
This is a brilliant art gallery and exhibition situated just under Voyage to the Iron Reef.  Here a collection of pieces celebrate the history and future of haunt. There are also pieces for sale while supplies last.
AWAKEN THE DEAD
If you want to liven things up a bit, you can check out the Awaken the Dead dance party in Fiesta Village. For the most part, this area was closed during the press preview so we cannot offer a review at this time.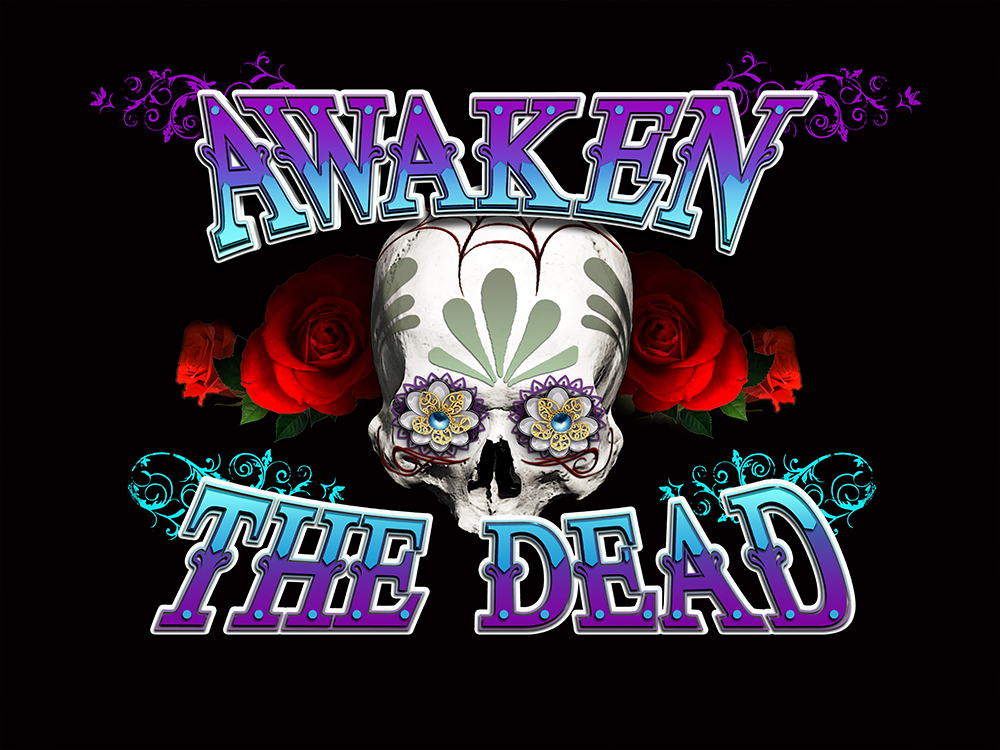 MAZES
Waxworks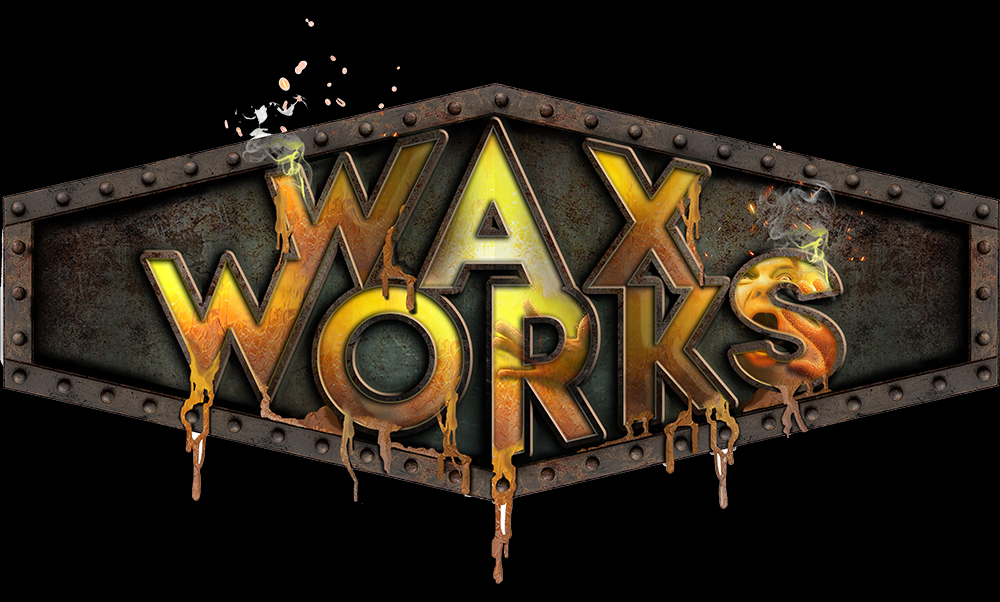 The first new maze is Wax Works. Mysterious lights and strange noises have begun to emanate from the eerie abandoned wax museum. The once prominent plastic surgeon, Dr. Augustus Scratch, has been seen tinkering at night and is now ready to show off his beautiful yet terrifying life-like masterpieces of hot molten wax and bloody flesh. Who doesn't love a house of wax?!
Another Daniel Miller goopfest, Waxworks takes notes from his previous Houdini maze and the Tooth Fairy to create something entirely disturbing. We walk into the burning façade of the Wax Museum. Inside masked figures try to maintain an order of showmanship. As we wander deeper into the terror, we come across Scratch's shocking "masterpieces". Of course, we come face to face with the man himself before the maze ends on a delightfully dower note and we become permanent fixtures in the museum.
While the scares are light in this maze unless your timing is spot on, you can still appreciate the phenomenal detail and atmosphere on display. From the ground up, this is a brand new maze and every square inch is not only new, but fully themed.
[Best_Wordpress_Gallery id="309″]
Origins: The Curse of Calico
Origins: The Curse of Calico, is the best maze of the night, and could be described as perfect. Diving into the back story of Sarah Marshall, the Green Witch that descends upon the farm every year, we see the curse she puts on the town take hold.
The experience starts in the Boot Hill cemetary where lawmakers set up the story. This group of townsfolk shun Sarah and in a mob mentality keep insisting that she is evil. We enter the maze as she is put on trial for witchcraft and curses the townsfolk. We then see her curse raise the dead, and transform the evil townsfolk into animal representations of themselves.
Everything in this maze works in service of the story and that is the key to its success. We not only understand the threat, we witness it and are then attempting to escape. The love and care that has gone into the storyline and the creation of every scene is simply breathtaking. Nods to Ghost Town history abound as we see everything from The Haunted Shack's origin to why the Catawampus exists.
This is not to mention that every trick in the theme park haunt book is used. Projections, peppers' ghost effects, rain effects, blacklight effects, stunts, lighting, fog, and the best one of all, actors are utilized to terrorize and tell the story. What's more, after exiting, the horror lives on in the streets.
Easily one of the best mazes that Knott's has ever had in its 47-year run.
[Best_Wordpress_Gallery id="317″]
The Depths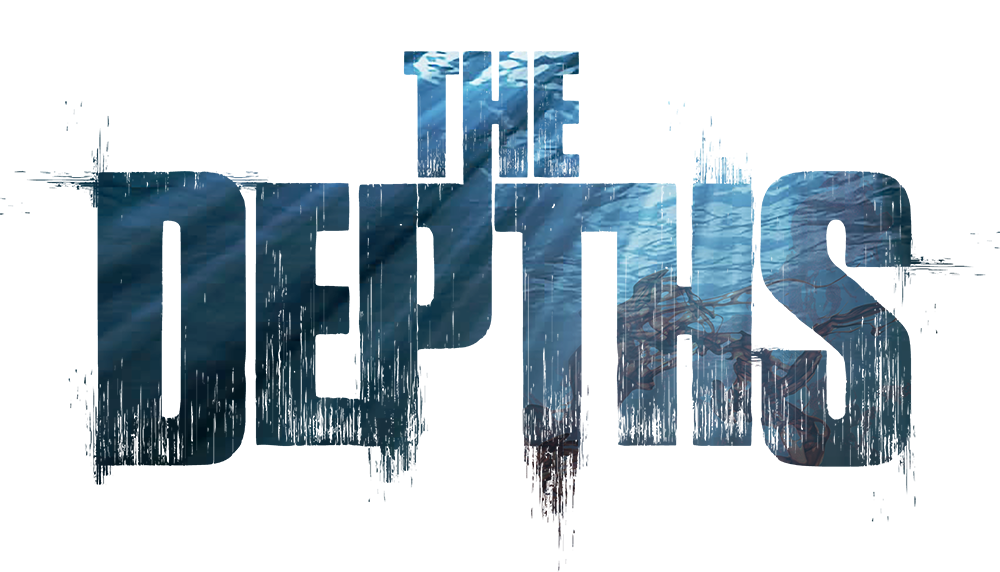 Jon Cooke's The Depths returns for a second year, this time with an added show scene at the beginning. Sadly, due to technical difficulties, the new scene was not operational. Still, this is a fun maze to explore for its inventive scares and originality.
[Best_Wordpress_Gallery id="311″]
Special Ops INFECTED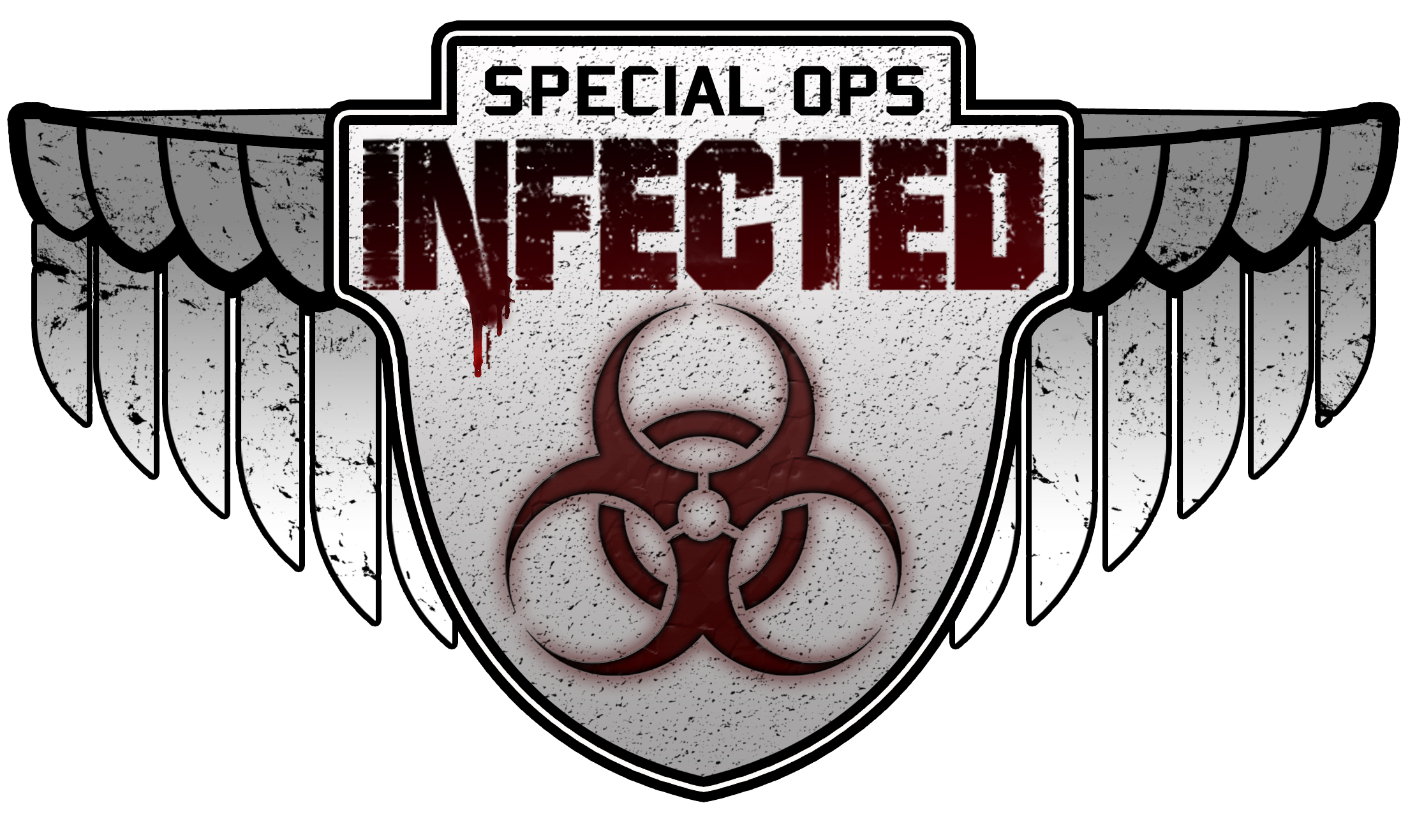 Special Ops Infected returns for a heralded final year. This fan favorite arms guests with "machine guns" and off into a team to hunt zombies in the tight quarters of an infected city. Exhilarating and engaging, this is a great way to start the night. The cast here should be commended for their relentless energy. Their voices will thank them after this maze closes, but the throat lozenge industry will weep. Good job team!
Shadowlands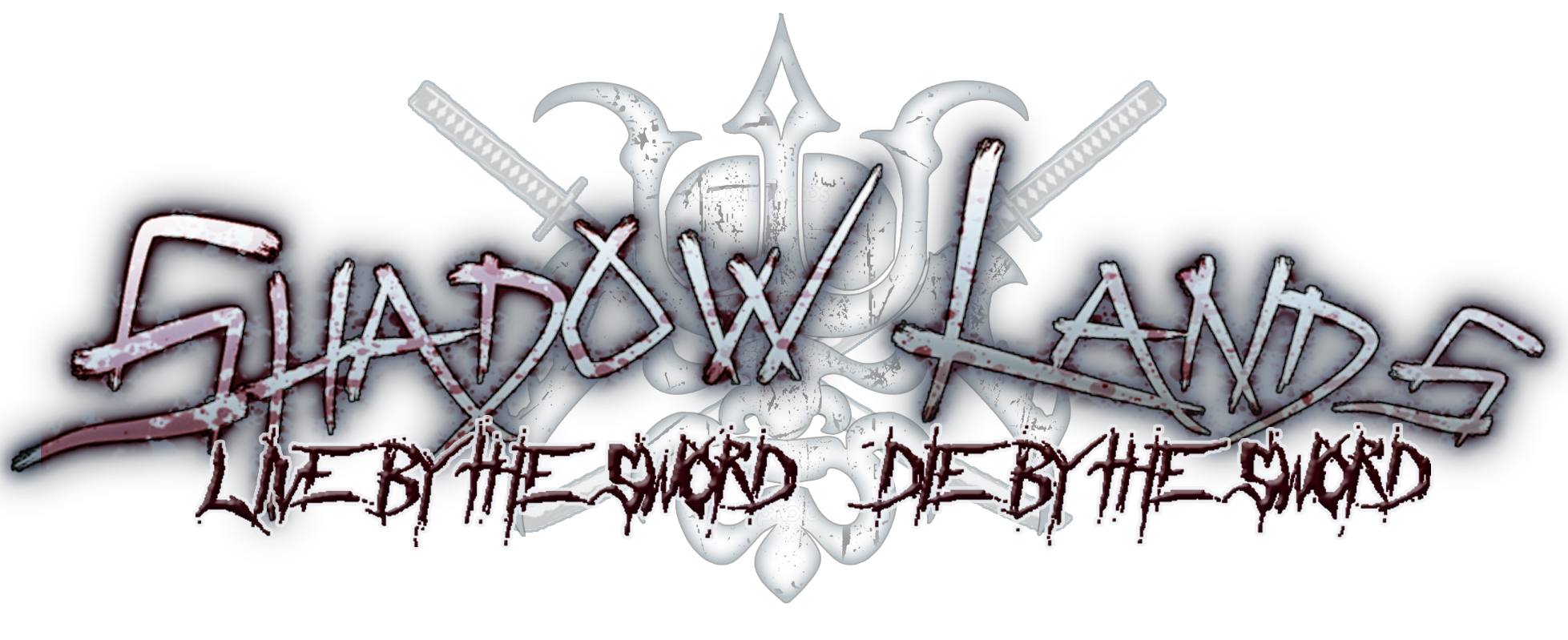 Another maze promoting its final year at Haunt is Shadowlands. Following in the footsteps of a disgraced Samarai, we walk the spirit world in search of a final resting place. High-concept and beautiful, Shadowlands again works as an effective, atmospheric adventure.
[Best_Wordpress_Gallery id="299″]
Pumpkin Eater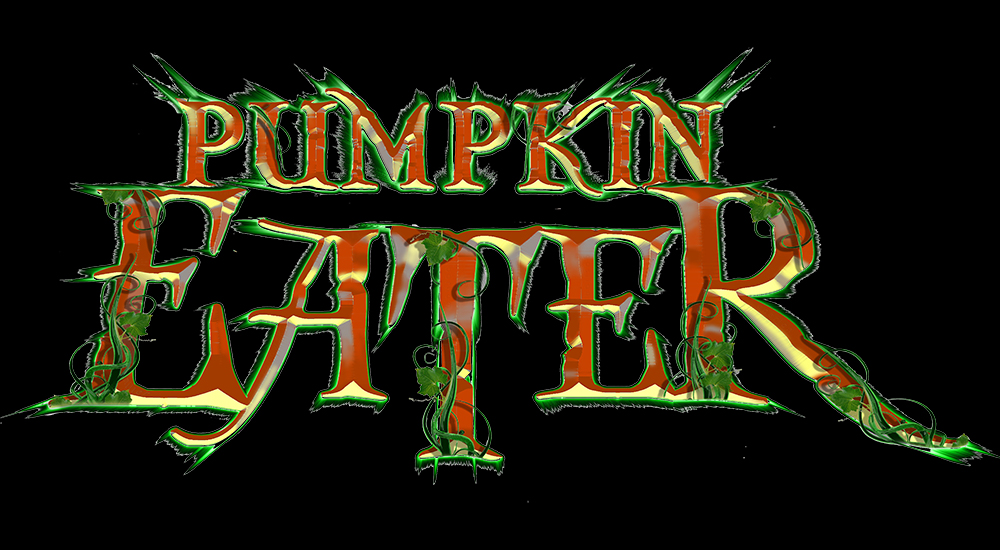 Another Daniel Miller creation, Pumpkin Eater looks at the Peter Pumpkin Eater rhyme with blood-colored glasses. Nasty, ooey and gooey, we swerve around the many wives Peter stored in pumpkin shells and come face to face with autumnal monsters.
[Best_Wordpress_Gallery id="307″]
Paranormal Inc.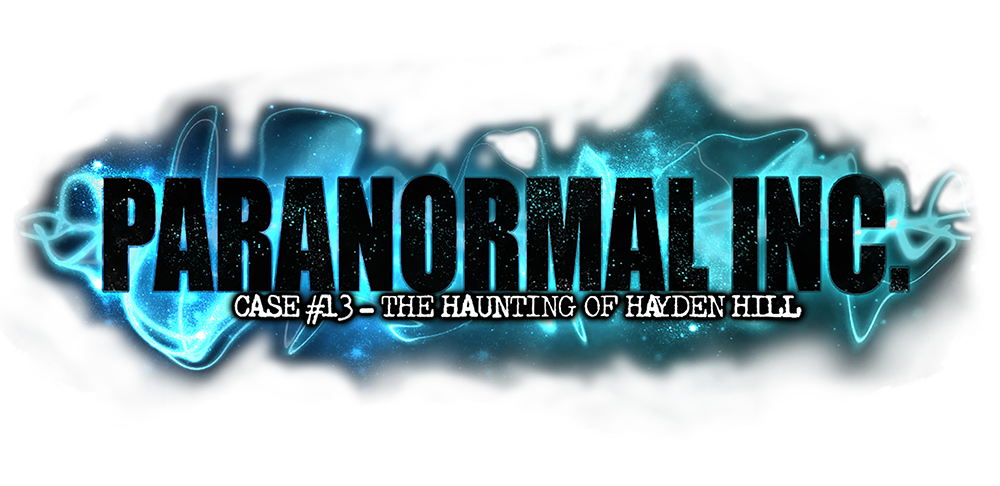 Paranormal Inc., which has held a spot as our favorite maze for several years running, returns. Guests enter an old asylum as a ghost hunting show is taping a live episode. Things go horribly wrong. With a new ending added last year by the maze's original designer, we get to return to the madness. Sadly though, last night felt a bit off. The opening scene felt a bit flat in its abbreviated form, and the scares rushed. Pacing issues aside, we still love this one, but Origins is gunning for top spot now.
[Best_Wordpress_Gallery id="315″]
Dark Ride
Enter the abandoned dark ride at the carnival and come face to face with terror. What happens when a ride shuts down, the set pieces sit in the dark, and the fun has ended? Well, of course, they come to life with the help of murderous clowns, maintenance workers, and carny folk.
This veteran maze enjoyed a bit of freshening, yet it was the talent in this maze that showed the biggest improvement over previous years. In short, they were on fire. They were, overall, even better than the talent in Origins and that is saying something. Ferocious, unhinged, and utterly insane, they came for us and we ran until we got to the exit. Simply brilliant work here.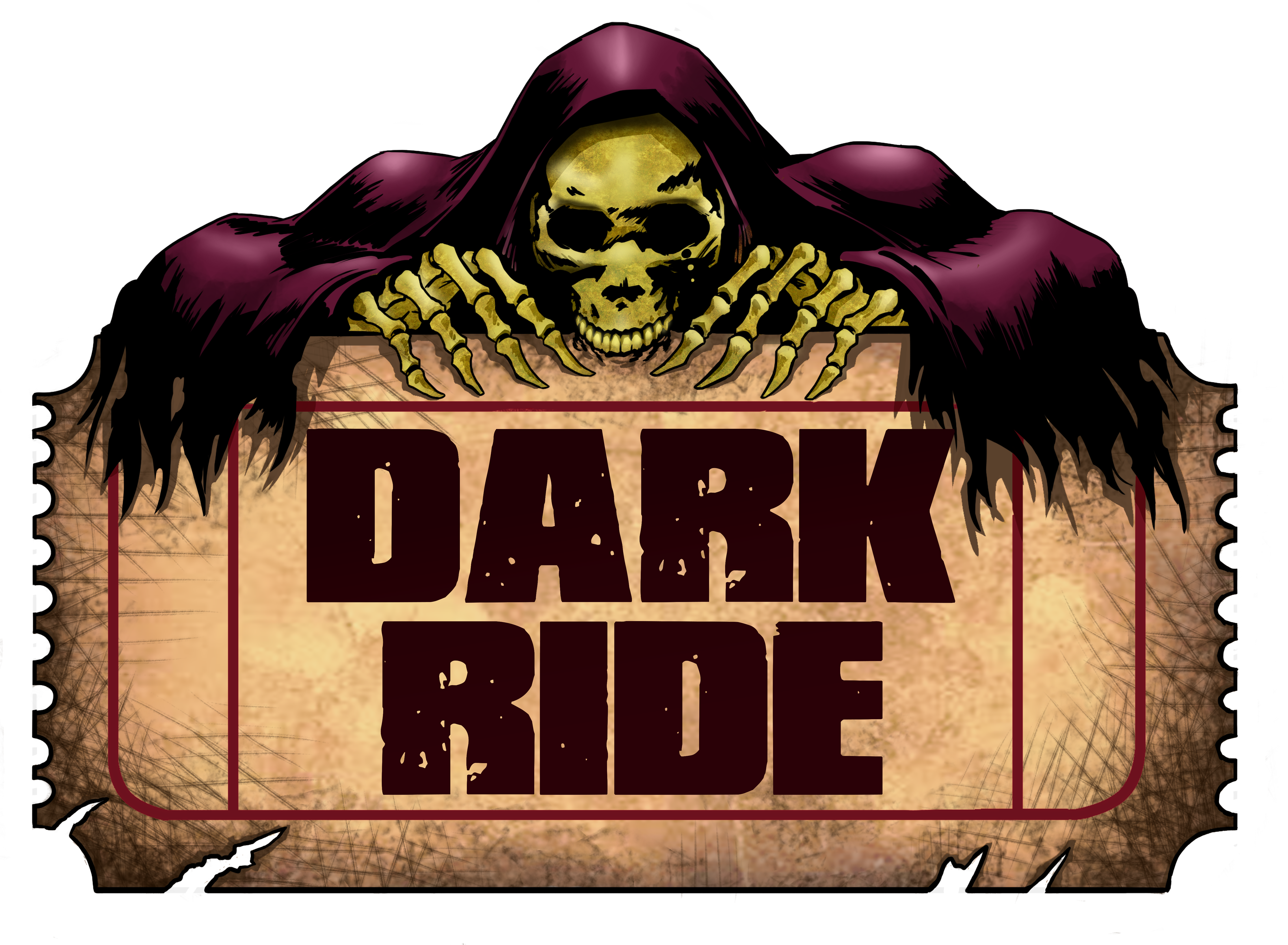 [Best_Wordpress_Gallery id="305″]
Dark Entities

Returning for another year, Dark Entities again tells the tale of we, the hapless volunteers, as we are recruited to inspect a spacecraft under siege. Once teleported there, we notice things are not quite right. Soon we spot the infected and the aliens causing the terror. Our only hope is to teleport back.
Let's be clear. This maze looks wonderful. Yet somehow it is light on the scares and heavy on the gore. There is a sick, cynical sense of humor to it that is wonderful, yet the issue here may be that the maze's approach to the scare is scattered. I will admit there are some stunning set pieces and jump scares. But something is amiss.
Regardless it is still an enjoyable walkthrough. Original from top to bottom and worth the time in checking out.
[Best_Wordpress_Gallery id="313″]
The originator of the theme park haunt, Knott's gracefully established its reputation as the quintessential haunt experience. What started as a last-minute Halloween weekend in 1973 has blossomed into a full-fledged event that somehow marks the official start of the local haunt season.
Without question, this is one of the strongest years for Knott's Scary Farm. Every maze is en pointe despite minor qualms, every scare zone is clearly defined and produced, and the shows are actually worth the time to watch. There is so much good work here that we may very well consider buying the Scary Farm pass if for nothing else than Origins and PuppetUp!
---
Admission and Season Passes to Scary Farm are available now, along with Fright Lane, Boo-fet extras, and so much more.
Knott's Scary Farm runs September 19, 20, 21, 26, 27, 28, 29, October 3, 4, 5, 6, 10, 11, 12, 13, 17, 18, 19, 20, 24, 25, 26, 27, 31, November 1, and 2. For more information, go to www.knotts.com