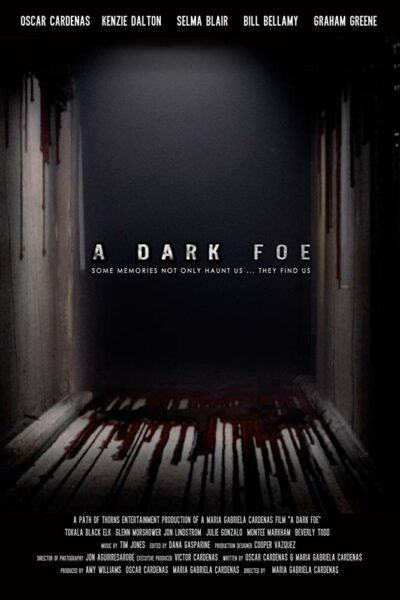 A guilt-ridden FBI agent, stranded in the painful memory of the abduction of his sister, suffers from a rare condition known as Nyctophobia, an irrational fear of the dark, and will have to face-off with the cunning serial killer who took her away.
Tony Cruz (Oscar Cardenas), an FBI agent haunted by his past seeks to take down an underage sex trafficking ring that runs a rotating brothel in the city. Whenever he is in the dark he begins to have hallucinations of spreading pools of blood and flashbacks to the time when he was a kid and his mother was murdered and his sister abducted, and he hid in the dark crawlspace under the floor. His condition is described as nyctophobia (fear of the darkness), but it really more resembles PTSD with darkness as a trigger.
Along with his quest to take down the sex trafficking ring, he is still trying to find his sister, even though she has been missing for 30 years. Selma Blair plays a therapist trying to deal with his flashbacks and overwhelming hopelessness and guilt.
When a bust uncovers a man suggestively called The Cradle (Graham Greene), the mastermind behind the trafficking ring, Cruz recognizes him as the man who killed his mother and abducted his sister.
Of course, there couldn't be a mystery without a woman: Kenzie Dalton plays the wife of a millionaire suspected of being one of the backers of the trafficking ring. Cruz goes undercover as her bodyguard and discovers she has her own secret: she used to be a prostitute in the ring and has been paying her former pimp (played by Jon Lindstrom) to get her sister out of his clutches. When she discovers she's been double-crossed, she turns for comfort to the man by her side, haunted by his own guilty demons.
The Cradle, meanwhile is revealed to be a serial killer, abducting young blonde women and injecting them with a skin-bleaching chemical before skinning them to graft onto his disabled, shut-in daughter ("My skin falls off, and he sews it back on again," she mewls). Troublingly, The Cradle kills in what appears to be Cherokee regalia, starting his kill by scalping the girls. This is presented in part as revenge for the injustices of the White Man. There is some history lesson in a serial killer monologue, and while it is correct (as far as I can tell), the fact that it is in the mouth of a killer kind of undermines any effect it might have on the knowledge of the audience.  The actor himself is First Nations Oneida, and I'm not entirely sure if this makes a difference. I'd like to talk to him about it one day.
Thematically, this film has a lot going on: sex trafficking, PTSD, Native genocide, radioactive pollution, extreme decadence among the wealthy, serial killer for revenge, serial killer releasing victims from suffering, serial killer with benign intent, serial killer with strange quirks, and on and on. There is sure to be a TVTropes.org page for it one day soon. I can't help wondering if this might have been a better movie if one theme were allowed to take center stage, perhaps even expanding it into a trilogy of the adventures of Tony Cruz, the haunted agent.
That said, it is fairly well-acted, and while Cruz's wig for the early part of the movie was unfortunate, the effects and sets were really quite well-done. The tension was a little dissipated by the distracting array of plotlines, but overall it is a good thriller, and I think Maria Gabriela Cardenas should be proud of it. This appears to be her first feature film, and it is a great introduction to the horror scene. I have a feeling she'd be interesting to talk to, as well.
A Dark Foe
RATING:

UR

Runtime:

1hrs. 33Mins.

Directed By:

Written By:

Maria Gabriela Cardenas, Oscar Cardenas