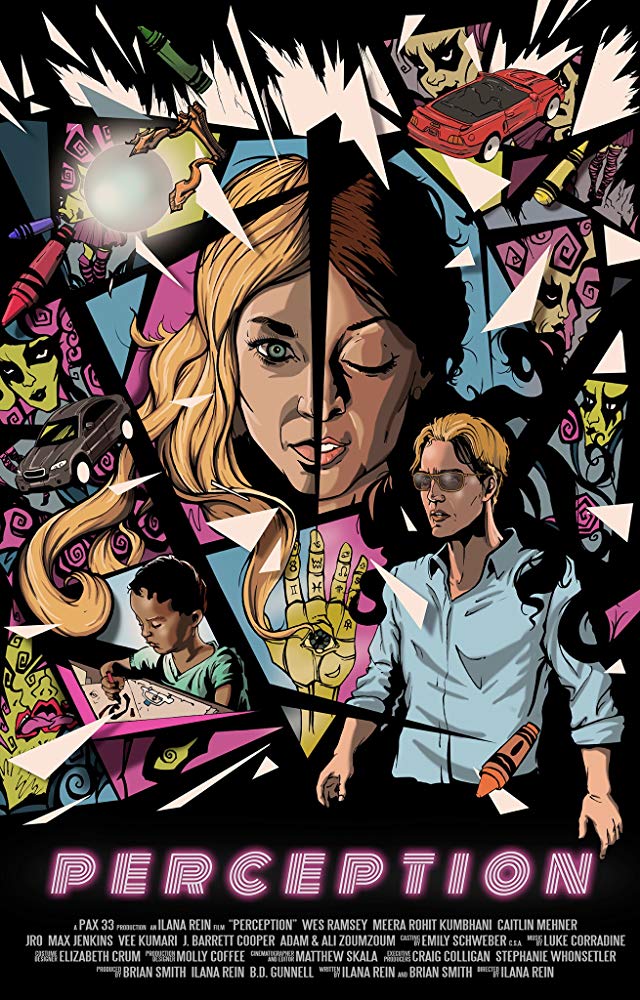 A free psychic reading leads to a dangerous obsession when a handsome real estate developer finds a way to reconnect with his dead wife.
All that we see is but a dream within a dream, and in Ilana Rein's 2019 indie film, Perception, dreams oscillate between sexy fantasies and nightmarish visions. Not to be watched with blushing company, Perception deals with the occult, clairvoyance, and ghosts, while being sexy, passionate, and cerebral. It is a cautionary tale about how love haunts the living, whether the object of our affection is dead or alive, playing out as a psychological thriller that surprises as it builds to its climactic end.
On his latest assignment as a rising real estate developer, Daniel (Wes Ramsey) is sent to evict the struggling businesses from a shopping mall set to be bulldozed by his company. When the appearance of a mysteriously mute young boy in his car leads him to meet his mother, psychic Nina (Meera Rohit Kumbhani), who works at a small psychic business in the shopping mall, Daniel becomes intrigued when Nina's abilities seem to reconnect him with his recently lost love, Maggie (Caitlin Mehner). Daniel reaches out to Nina again for her services, though she is reluctant to connect with this seemingly angry spirit of his dead wife, so he offers to pay her thousands of dollars in exchange; struggling to pay for private school and medical care for her mother and close family friend, Nina reaches out to the other side for Daniel, unknowingly reigniting a flame that was bitterly extinguished — but whether it was a flame of love or obsession is up to one's…perception.
I didn't think I would like this film from its trailer, which is all over the place, but Perception made a believer out of me. With its unexpected plot twists, sexy scenes (Wes Ramsey shows off the goods, yowza), and emotional acting performances from each character (so much with the yells!), this film centers around the spiritual science of clairvoyance, and those who can contact the spiritual realm. The jury is out on whether true mediums exist though, a notion that seems to be played with within the film. The film uses gripping music that instills a sense of intensity, though at times it also sounds like made for TV horror tracks. I also appreciated the artwork used in this film, as one of its main characters is an up and coming artist with a unique style, and the original art pieces, done by Jennifer Stern, added to the dark and slightly sadistic background of the film.
The film stars Wes Ramsey, who is no stranger to the occult, having guest-starred on the cult classic TV show Charmed as warlock Wyatt, and is still looking fly today (and a lot like Paul Walker in this film). In Perception, he plays Daniel, a business shark but one seemingly with a heart as he plays a lovelorn widower dying to reconnect with his deceased wife. At times his performance verged on campy, which might be explained by his track record of TV roles like Charmed and General Hospital, but his performance took off at just the right points, especially when acting opposite of co-star, Meera Rohit Kumbhani, who gave a riveting performance as a down on her luck psychic that just can't catch a break in life. The film also stars Caitlin Mehner as the haunting wife who appears in flashbacks and sightings, and who I found to be compelling in each scene she was in, her doe eyes either full of fear or anger.
Writer/director Ilana Rein and co-writer Brian Smith cultivated a suspenseful atmosphere with great imagery and an intense plot that plays with our perception by holding back just enough information to keep the audience guessing on what is real in love and relationships… though the ending itself can be guessed at early on. Though I had hoped for some Drag Me To Hell inspo for this occult film, the film mainly drops the ball with not going far enough with any thriller, horror, and haunting aspects, but they can't all be Sam Raimi, I suppose. Beautifully shot, well structured, and entertaining with its surprises and seemingly fresh narrative, film distributors Gravitas Ventures brings Perception into your view via VOD and Blu-ray this summer.