The Deeper You Dig, a true family project, written, directed by, and starring husband and wife team John Adams and Toby Poser alongside their daughter Zelda, is a supernatural drama about dark secrets and a mother's desperation to be reunited with her daughter.
We begin with some nice character building as Echo ( Zelda Adams ) is telling her mom, Ivy ( Toby Poser ), about how a teacher had scolded her for wearing dark lipstick, to which Ivy responds with an offer to go kick his ass. We get the sense that the two have a casual relationship but there's the sort of chemistry that's hard to replicate without the actors having that level of familiarity. Ivy isn't an entirely sympathetic character, however, at least not at first, as we find out she's been working as a phony medium and exploiting an elderly client's hopes of being able to speak to her dead husband.
This stability is short-lived as only 10-15 minutes into the film, Echo is killed by Kurt ( John Adams ), a hapless drunk living out of a dilapidated home, who runs into her while she's out sledding. From here the story diverges into a plot about Ivy rediscovering her spiritual roots and magical abilities in her mission to discover her daughter's fate and Kurt's guilt over Echo's death manifested in her ghostly presence.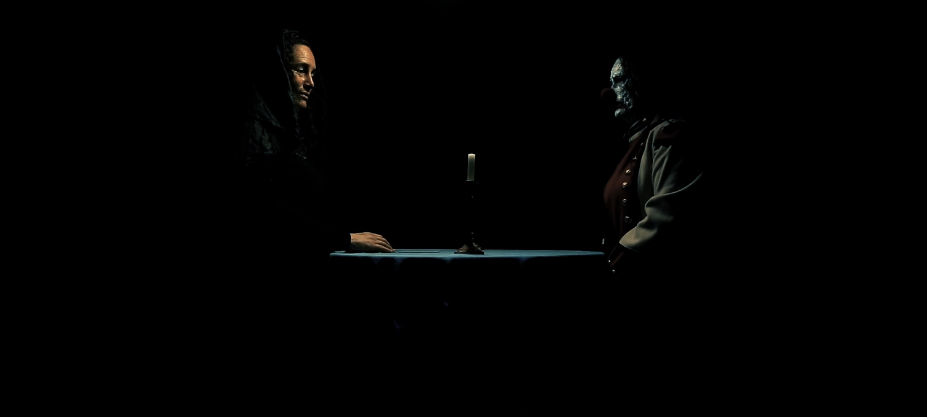 While The Deeper You Dig's production was quite lean in manpower, with the family doing pretty much everything down to the editing, score, and camera work, they clearly have their process dialed in as the film both looks and sounds high budget and the acting and pacing keep the viewer invested in anticipation of the inevitable confrontation.
This is a very visually bold film, which is usually to its credit, though its insistence on putting seemingly every other scene at a unique angle can feel at times like a kid trying to use every crayon in the box and some of the CG undermines the otherwise stark realism of the film. I particularly loved the extensive use of blacks, making some scenes appearing to be in a formless void, and the use of Citizen Kane-esque double exposure to blend shots together. As Ivy begins to re-devote herself to real magic and to go down a road that may sacrifice her own soul for the sake of her daughter, we get some highly stylized scenes of esoteric occultism that are intriguing in their symbolism but perhaps a bit opaque and give us very few details about the more mystical side of this story. The general lack of a score complements the somber atmosphere but it pulls its weight when things begin to get dark and surreal with an inharmonic cacophony of distorted industrial synths.
The Deeper You Dig is a creative and exciting thriller by any measure but the fact that it's the product of a committed family of filmmakers makes it all the more so and bodes well for what they might accomplish as their process and abilities become more refined.
The Deeper You Dig


RATING:

UR

.

Runtime:

1 hr. 32 mins

Directed By:

Written By:
John Adams