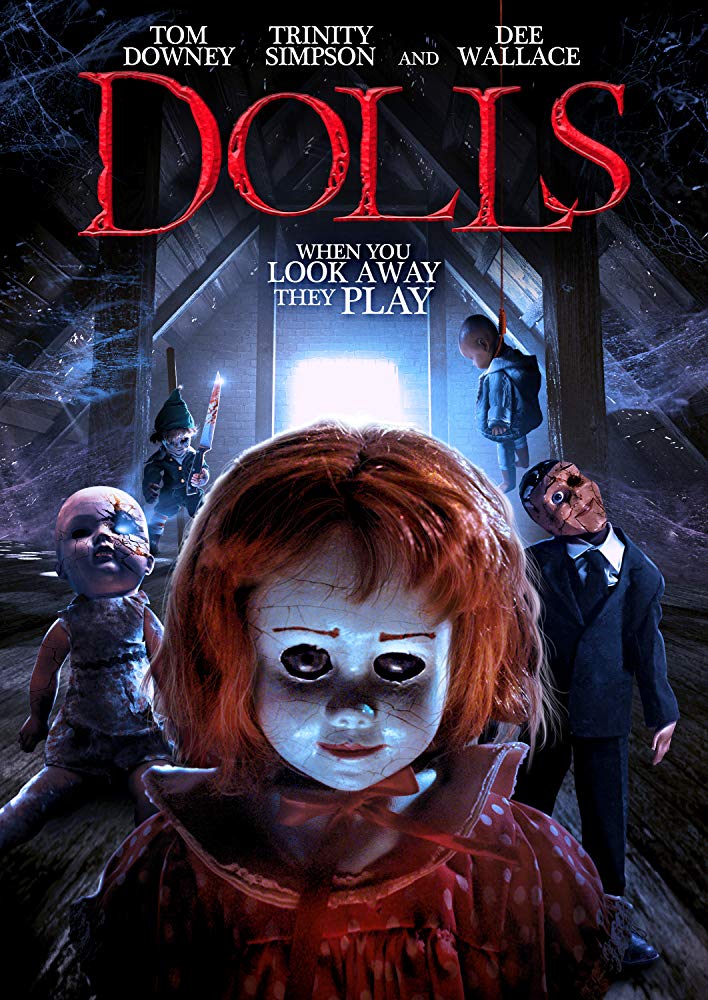 A struggling children's book author and his rebellious teenage daughter move into a house they've inherited and find mysterious dolls in the attic. They soon learn that the dolls have a sinister—and deadly—past.
If movies like Child's Play and Annabelle show how tough it is to deal with just one possessed doll, Cuyle Carvin's film Dolls (2019) has not one, not two, but three of them to go up against! This movie is a supernatural thriller that turned out to be heavily geared towards the psychological realm, as much of its cast grapples with their sanity, along with some very deranged dolls. 
After the sudden passing of his estranged mother, Robert (Thomas Downey), a divorced, alcoholic artist, moves into her old house in order to get his life back on track by working on a new children's book. After rifling through some of his mother's things, Robert discovers a trio of dolls, who he uses as inspiration for his book. Not long after, his teenaged daughter, Sammey (Trinity Simpson), follows him there, determined not to live with her "bitch" of a mother anymore. Robert begrudgingly lets her stay, despite a lingering handsome gardener hanging around, and at the disapproval of his worrisome ex-wife, Lynn (Elise Muller). Thinking she'll get to spend a nice summer with her dad, Sammey is visited by her grandmother's neighbor, Margaret (Dee Wallace), who warns her about the dolls and their origin in a fit of frenzy. Chalking it up to the psychobabbling of some crazy old lady, Sammey ignores Margaret's advice, though she herself questions if she has seen the dolls move too… If she had read the tagline on the Dolls movie poster, she would have had her fears confirmed before it was too late; she eventually realizes that "When you look away, they play".
I had my preconceptions about this movie based on the trailer since it makes it seem like the dolls will be moving a bunch. I thought that would detract from opportunities for suspenseful doll stalking, however, I was pleasantly surprised by darn near every aspect of this movie. The film has some excellent shots and production quality, at times Dolls reminded me of so many horror greats — Psycho-esque in one bathroom scene, The Babadook from its creepy and sinister nursey rhyming and images, a little Annabelle but only for the styling of the dolls. That is not to say that this movie was a rip-off, Dolls has a lot of psychology injected into its narrative thanks to its screen/story writers, Justin and Josh Hawkins and Jeff Miller; the film has a fresh feel to it overall, and is an impressive feature debut from director Cuyle Carvin. I appreciated the 'wait… what did I just see' moments, they instilled an atmosphere of paranoia and kept me on edge up until the end. Obviously, the whole doll thing has been done to hell within the horror genre of film, these tiny human-like creatures make great villains, and again their eerie uncanny-ness is utilized wisely by Carvin in Dolls, who employs some CGI to give movement to their faces at times. The glowing eyes in the trailer may seem a tad cheesy, but in-film it does not detract from their sinister gaze. 
A lot of why I enjoyed Dolls had to do with the father/daughter relationship within its story, made believable because of the chemistry built through Thomas Downey's 'everyday-man-ness' and the charms of new-comer Trinity Simpson, who in the film, portrayed their characters' personal demons and struggles with family-ties in an understated but impactful way. You might actually get a slow-burner feel from this movie, as I felt most of the action started happening towards the end, with the beginning and middle fleshing out the family dynamic and background — the suspense of having kills stacked towards the end didn't cause the movie to fizzle out, luckily, the end delivers a bit of a twist in unexpected deaths and intentions of some characters. In short, the movie didn't fall prey to the 'low budget begets low acting quality' that it seems so many indie horrors of late have had. In fact, the cast was rounded by veteran actress Dee Wallace, who you may recognize as the movie-mother to dog-dodging and alien-calling kids from a few '80s classics. 
Not to rain on Dolls' parade, but there seems to be a couple of doll-lead movies stalking movie theaters at the moment — Child's Play had a reboot, and Annabelle had yet another installment this past June. However, if you want to be spooked in the comfort of your own home, Dolls is an indie flick with a Hollywood-level horror feel that will be well worth tuning into for its 90-minute runtime. Might even be a fun drinking game to take a shot whenever Sammey says "bitch"? Very well shot and structured by actor turned director, Cuyle Carvin, Dolls is distributed by Uncork'd Entertainment who has the film set for release on July 2nd via DVD and VOD.
DOLLS

RATING:

R

Runtime:

1 hr. 30 mins

Directed By:

Written By: