The Urban Legend of The Blink Man spreads worldwide on various VOD platforms. Watch BUTTERFLY KISSES now on iTunes, Google, Xbox, Amazon, & Vimeo.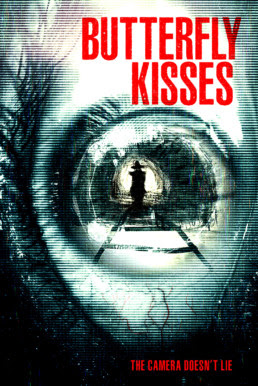 This underground meta-horror follows a filmmaker who discovers a box of video tapes depicting two students' disturbing film project featuring a local horror legend, The Peeping Tom. As he sets out to prove this story is real and release it as a work of his own, he loses himself and the film crew following him into his project.
You can read my previous review of Butterfly Kisses here.
Now Available In The Following Territories:
iTunes: United States, Canada, Ireland, United Kingdom, Anguilla, Antigua and Barbuda, Armenia, Azerbaijan, Bahamas, Belarus, Bermuda, Botswana, Virgin Islands, British, Brunei, Cambodia, Cape Verde, Cayman Islands, Dominica, Dominican Republic, Fiji, Gambia, Ghana, Grenada, Guinea-Bissau, Israel, Lao People's Democratic Republic, Mauritius, Micronesia, Federated States of, Moldova, Republic Of, Mongolia, Mozambique, Niger, Philippines, Sri Lanka, St. Kitts and Nevis, Swaziland, Trinidad and Tobago, Uganda, Vietnam, Zimbabwe
Google: Antigua and Barbuda, Albania, Armenia, Angola, Argentina, Aruba, Azerbaijan, Belgium, Burkina Faso, Benin, Bolivia, Botswana, Belarus, Belize, Switzerland, Cote d'Ivoire, Chile, Colombia, Costa Rica, Cape Verde, Cyprus, Czech Republic, Denmark, Dominican Republic, Ecuador, Estonia, Finland, Fiji, Gabon, United Kingdom, Greece, Guatemala, Honduras, Croatia, Haiti, Hungary, Ireland, Iceland, Jamaica, Kyrgyzstan, Cambodia, South Korea, Kazakhstan, Lao People's Democratic Republic, Sri Lanka, Lithuania, Luxembourg, Latvia, Moldova, Macedonia, Mali, Malta, Mauritius, Namibia, Niger, Nicaragua, Netherlands, Norway, Nepal, Panama, Peru, Papua New Guinea, Philippines, Poland, Portugal, Paraguay, Rwanda, Sweden, Slovenia, Slovakia, Senegal, El Salvador, Togo, Thailand, Tajikistan, Turkmenistan, Trinidad and Tobago, Taiwan, Tanzania, Ukraine, Uganda, Uruguay, Uzbekistan, Venezuela, Zambia, Zimbabwe
Xbox: Austria, Belgium, Brazil, Canada, Denmark, England, Finland, France, Germany, Ireland, Italy, Japan, Mexico, Netherlands, New Zealand, Norway, Spain, Sweden, Switzerland
Amazon: US, UK (Debuted at #1 in the Horror-Fantasy category on Amazon)
Vimeo: Worldwide