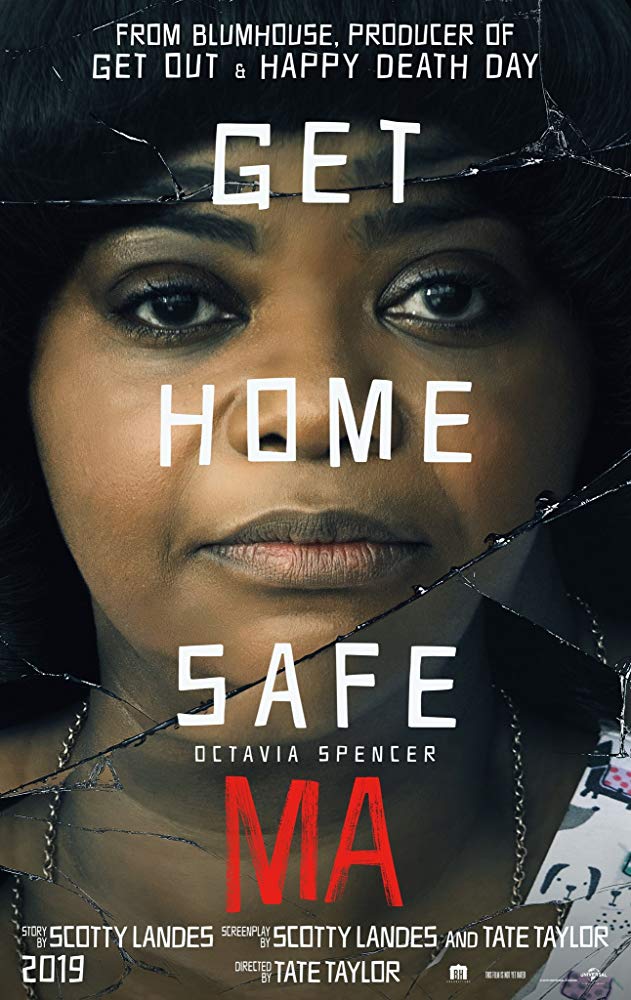 MA stars Octavia Spencer as lonely woman who befriends a group of teenagers and decides to let them party at her house. Just when the kids think their luck couldn't get any better, things start happening that make them question the intention of their host.
MA is like that party that sounds awesome but never really gets going. Yes, the new thriller boasts Octavia Spencer as a deliciously deranged psychopath preying on high schoolers. Yes it has its moments. But, like that tray of room temperature crudités, it never fully satisfies.
Moving back home stinks. Erica (Juliette Lewis) know this all too well when, after a failed marriage in California she returns to the small Mississippi town she grew up in with daughter Maggie (Diana Silvers) en tow. The two gamely take on a new future as Erica gets a job at a local casino and Erica begins to make new friends at school.
Quickly attracting the attention of the cool kids at school Maggie is invited to go drinking out at the ol' rock pile by Haley (McKaley Miller). Along for the bacchanalian adventure are Andy (Corey Fogelmanis), Chaz (Gianni Paolo), and Dante (Dante Brown). In a rite of passage that many will recognize, the group of teens park outside a local liquor store hoping to convince an adult to buy them booze. After several attempts they give it one last try on another passerby, Sue Ann (Octavia Spencer) who gives in to their pleas. After doing the deed, however, Sue Ann invites the rebellious booze hounds to come party, "safely", in the basement of her two-story home in the middle of nowhere. Soon enough, Sue Ann earns the nickname MA among the local high schoolers and her basement becomes the party palace.
We wait to see when and where the dark side of this joy palace will become apparent. The red flags were there. But, of course Maggie and her friends must have been color blind. MA's only rules were to never take the Lord's name in vain, not to spit on the floor and never to go upstairs. Next were the weird thuds coming from the forbidden upstairs zone. If either of those were not enough there is the violent reaction MA has to seeing two of the kids sneaking upstairs to use the bathroom.
MA will see respectable returns this weekend as it is a passable thriller. What makes it work despite its many flaws is the remarkable cast. If there were an Oscar for casting, I would nominate Kerry Barden and Paul Schnee for putting together one of the most solid ensembles in recent memory. We have Oscar Nominee Lewis as the struggling mom, Oscar winer Spencer as the quiet creeper with a crazy streak, Luke Evans as a parent of one of the rebellious teens, Missy Pile as the local slut, and the phenomenal Dominic Burgess as Erica's nurturing manager. There is even a delightful cameo by Oscar winner Allison Janney. There is a lot of great talent here.
The story is a fiendishly clever one, with high schoolers headed off to a sort of "Pleasure Island" like Pinocchio and his pals on a predictably ill-fated journey. However, the script by Scotty Landes could have used another pass or two as it spends a tremendous amount of time on certain plot points while breezing over others. Yes there are revelations to be had as any good mystery/thriller/horror movie does, but some things just don't add up, leaving us with the feeling of being entertained, yet somehow cheated along the way. Director Tate Taylor handles the proceedings with a consistent tone and a capable eye, but I would say he wasted the opportunity to really go full tilt and let things get insane. Or I should say more insane. There is one brief moment between Pile and Spencer that hits the right tone, so to speak, but nothing else really touches that scene.
Spencer is the reason to see this movie, no question. In fact, any other actor in the same role could not touch the bug-eyed insanity that she gives the role. She is a force to be reckoned with that commands every scenery-chewing moment she is in. But dammit that material.
Should you party with MA? Well, it isn't the worst idea, but it isn't the best one either. There is as much good as there is bad in this movie. You can go ahead and take the shot and party it up, or stay sober and dissatisfied. It's up to you, but remember curfew and get home safe.
MA

RATING:

R

Runtime:

1 hr 39 Mins.

Directed By:

Written By: