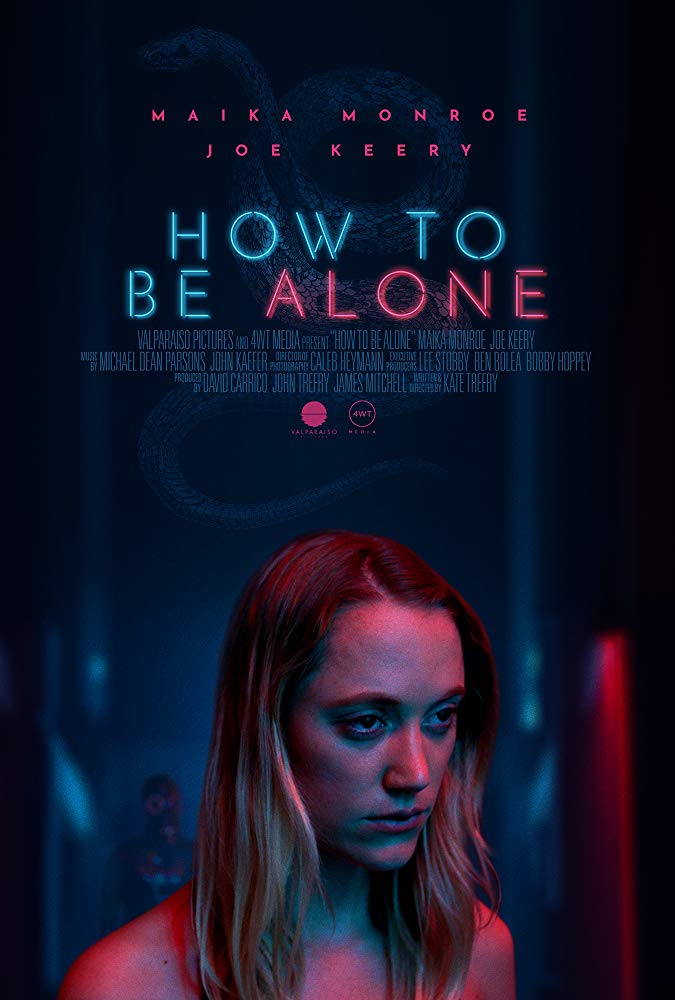 The need we have to connect, to belong, is something that can have some pretty negative effects. It can compromise our beliefs, our behaviors, and it can make us lose who we are. In the new short HOW TO BE ALONE, writer-director Kate Trefrydives deep into the psyche of one woman whose painful need for company is triggered every time her boyfriend leaves for work. Left to her own mental trappings we get a hyper-stylized, very sleek look at isolation and the fear of being alone.
The short 11 film begins naturally enough with a couple, Jack (Joe Keery) and Lucy (Maika Monroe) waking up in the late afternoon. Jack, a doctor, needs to head off to work a 12-hour graveyard shift, leaving Lucy to another night alone in her loft apartment and artist studio. Everything is sweet, cheery and dappled with the sun beaming through the windows until Jack leaves. That is when Lucy's inner demons pounce.
Suddenly, the stylized, hyper-sensory look of the film kicks in and we are in Lucy's mental state. An inner monologue narrates thoughts, reflections, fears, and secrets as she inhabits the now expansive living space that she shared moments before with her lover. Caleb Heymann's photography becomes saturated in colors and vivid emotion, the editing by David Pergolini becomes rapid and frantic. Monroe's performance as Lucy is a fascinating watch as her descent into paranoia and inner demons become increasingly unhinged and pathetic.
I loved seeing a movie that so freely explored the fears of isolation and loss like HOW TO BE ALONE did. Kate Trefry is a dazzling talent that knows how to utilize visual metaphor and play with the language of cinema to suss out the darker parts of human behavior. Find this one at the festivals this year if you can. It's not only a good piece, but it is a nice preview of some amazing talent on all fronts.