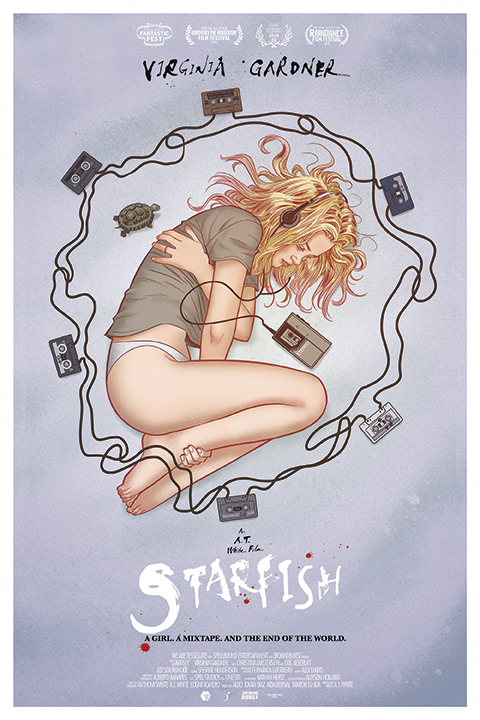 A unique, intimate and honest portrayal of a girl grieving for the loss of her best friend. That just happens to take place on the day the world ends as we know it.
The conventions of genre cinema have often lent themselves to filmmakers looking to explore and communicate deeper themes through an unconventional lens, and it seems as of late a resurgence of such explorations has sparked in independent horror cinema. This has worked for some, and caused backlash from others – for every critic who raved about Julia Ducournau's Raw for its fresh take on the pain of a teenager's passage to adulthood and inherent first steps away from the safety and comfort of home, or Jonathan Glazer's Under the Skin's exploration of the seemingly intertwined link of sexuality and identity, there's a social media poster blasting each for how "lame" they are, blasting them as "slow" due mostly to their lack of jump scares and "kills." The same can be said for filmmakers who, whereas they might be attacked for placing style above substance, approach their films with style as the substance – the aforementioned Under the Skin, Robert Eggers' The Witch, Luca Guadagnino's Suspiria. The horror tropes are there, to be sure, but not everyone appreciates the role of the quiet moments in the middle, and the style that permeates the whole of the proceedings – for some, they are an essential to what makes the films work as exceptional entries in the horror genre, and for others –"boring," "slow," "meh."
In both these camps comes writer-director A.T. White's languid – but wholly intentional – Starfish. Virginia Gardner of 2018's Halloween stars as Aubrey, a young woman who is suffering from crippling grief after the death of her friend Grace. After visiting Grace's apartment, Aubrey does what most people who are in deep depression do – she shuts out the world around her, lying on a couch with nothing but sad music and sadder memories as company (Grace's adorable turtle notwithstanding). Flipping through Grace's tapes, she discovered a mix tape called "THIS MIXTAPE WILL SAVE THE WORLD" – the timing of which is apropos, as Aubrey soon discovers that something cataclysmic has happened outside of the safety of Grace's apartment.
Thus begins Audrey's strange, surreal, often meandering, sometimes truly terrifying journey, as she begins to piece clues together to an uncertain end – maybe to get some answers, maybe to save the world, maybe just to get out of the house. Stricken with grief, Aubrey reacts to the challenges that present themselves with a sighing resistance – when some legitimately monstrous creatures enter the proceedings (the film features some impressive effects work), a fair argument can be made that the audience might be more disturbed than its heroine. But this is not the result of poor acting – Gardner is fully invested and effective in the role, communicating just about the level of reaction that someone in the depths of depression can muster as they make their way through a landscape with terrifying horrors that can nevertheless never match the devastation within.
This is, of course, what Starfish is going for. And that's pretty evident early on, as the film's deliberate pace, intimate approach, and often completely silent soundtrack never aim to suggest that the film is anything but what it is intended to be – an exploration of the genuine personal apocalypse that is a tremendous loss, and overwhelming grief. Complemented by a haunting score (composed by director White himself, who is a member of the popular UK band Ghostlight), and peppered with dreamlike, ethereal tracks from bands such as Sigur Rós and Sparklehorse, the sound and images of Starfish are a roadmap of the stages of grief themselves – denial, anger, bargaining, depression and acceptance – mixed and muddled as they often are, coming on as a merciless attack from a gargantuan creature when you least expect it, then as silent as a dead branch lying on the ground in the middle of an expansive, snow-covered forest. In a way, the film plays out as sort of interior Alice in Wonderland – like the memories of a grieving person, filled with alternating moments of beauty and pain, focused on in the hopes that they might lead to some form of escape and release, while the unavoidable truth of it all never comes to make any sense.
Therein lies the dilemma of a film like Starfish – how does one herald the arrival of such a film without it inherently suggesting a level of blanket endorsement? Because here's the thing – Starfish is most definitely the kind of film that one recommends subjectively. It's the kind of film you're telling one friend about, and then another friend (you know the one) steps in and asks "What movie are you talking about?," and you find yourself saying – right after you just passionately endorsed it – "You wouldn't like it…" Suffice it to say, Starfish is not a film that offers clear answers or any form of discernable navigation – but the proceedings are handled with such a deft and intentional hand that there is the persistent feeling that this is intentional. And in the hands of such mastery, how cheap would it be to suggest that a film exploring the terrains of loss and grief would offer clear resolution and answers? Starfish is a film that takes place inside the Hole of depression, not from the safety of the surface looking in. At that level, it is an extraordinary success.
For a full listing of Screening dates CLICK HERE