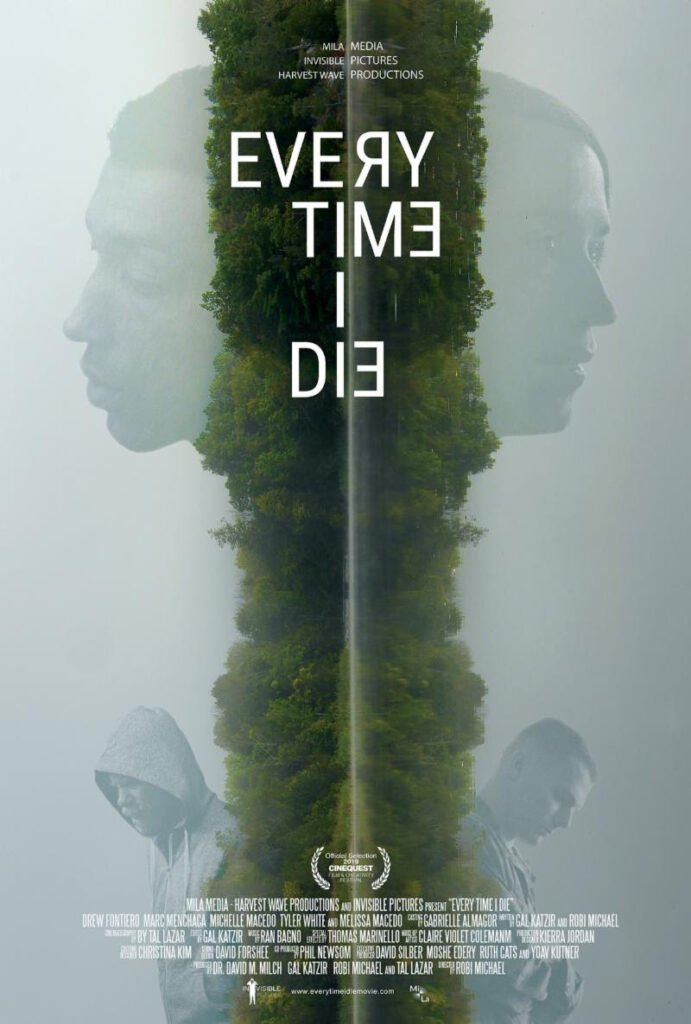 When Sam is murdered in a remote lake, his consciousness begins to travel through the bodies of his friends in an effort to protect them from his killer. This dark passage leads him on a greater journey – discovering his own true identity.

EVERY TIME I DIE will have its World Premiere at Cinequest 2019 and will screen March 8th, 10th, 12th, 15th
Sam (Drew Fonteiro) is a troubled, softspoken EMT with a past that haunts him every minute of every day. As the film opens he and his ambulance partner and friend Jay (Marc Menchaca) attempt to save yet another person in need. It is during one of these many runs that Jay invites Sam along for a weekend trip to a lake house with a few friends to get some much-needed downtime. Of course, the mix of quiet and interpersonal conflicts only bring darker elements to to the surface in the new, surprisingly original thriller EVERY TIME I DIE from director Robi Michael and writer Gal Katzir. Beginning as an obtuse, overly moody film, EVERY TIME I DIE becomes a fantastic paranormal thriller that is held together with incredible performances and solid directing.
Joining Sam and Jay at the lake house are Jay's girlfriend Mia (Melissa Macedo), Mia's sister Poppy (Michelle Macedo) and Poppy's boyfriend Tyler (Tyler Dash White) Sam spends the beginning of the film looking doe-eyed, being haunted by splitting headaches and painful flashbacks from a childhood tragedy and watching the two couples do their thing. Sam's friends attempt to pull him out of his shell, but that is when he admits to killing his little sister when he was a young boy. Awkward. It is decided that Sam should leave the next morning but that is when things really get crazy and not at all in the way you are expecting which adds to the delight of how this mystery unfolds.
With just a singular location and five characters Michael and Katzir hurdle us into a mindbending metaphysical thriller that is, truly, remarkable. We stay with our protagonist Sam through the entire film as he lives, he dies, then lives again through the eyes of another. Secrets are uncovered, murders are committed, and loyalties are tested as Sam mourns the accidental death of his younger sister while chasing the woman he loves in what could be described as one very trippy weekend.
I think that what makes EVERY TIME I DIE work so well is, in order, Michael's very clear narrative. Staying with Sam, even inhabiting his point of view at times, works to sell the throughline in a consistent fashion that never loses focus. This is then supported by solid performances from the entire cast, most notably Menchaca as Jay. His job is a particularly dicey one that could have fallen apart, but he holds things together in a key scene that get us to stay with the conceit. It really is some wonderful work. Of course, that is not to mention the understated effects that are used only when specifically needed, the production design that telegraphs the subtle cues and tonal shifts, and the clean photography that plays with point of view.
Honestly, Every Time I Die took me completely by surprise. what started out as a run-of-the-mill high-concept horror movie, became an entirely original, competently executed thriller that had me in its grip before I realized what was happening. It takes a minute to get going, but once it does, EVERY TIME I DIE is a fun paranormal mystery thriller.