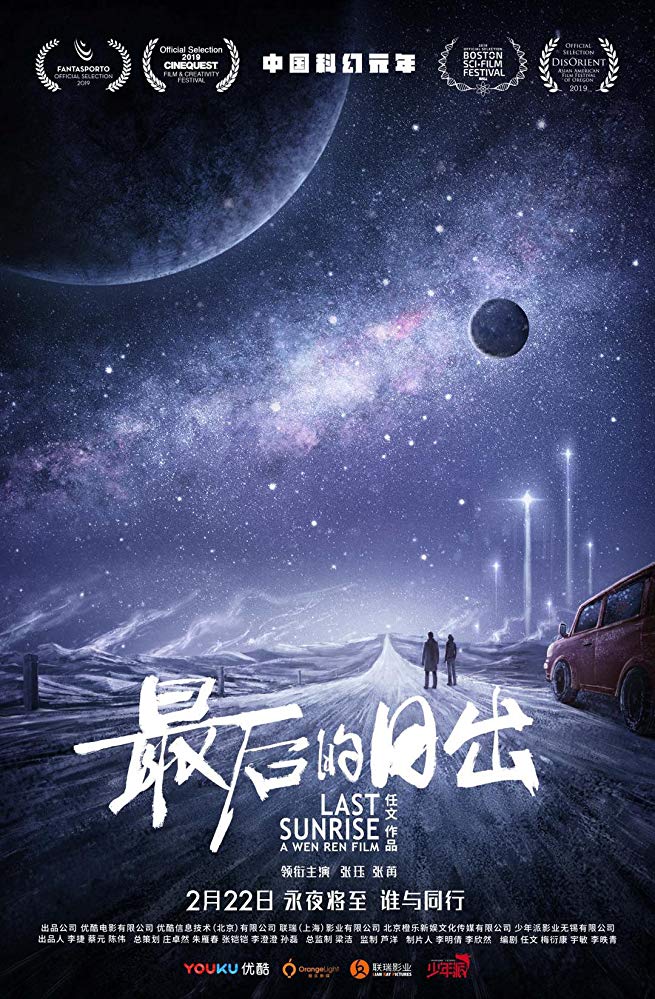 A future reliant on solar energy falls into chaos after the sun disappears, forcing a reclusive astronomer and his bubbly neighbor out of the city in search of light in the perpetual darkness.
LAST SUNRISE will screen its North American Premiere at Cinequest 2019 on March 8th, 10th, 13th, and 16th
Most of us hope we're heading toward a future of renewable energy, but Wen Ren's Last Sunrise works through what would happen in said future if the sun suddenly disappeared. A neat crossbreed between a sci-fi thriller and a buddy comedy, Last Sunrise is an absolute treat. So much so, it caught me by surprise and has become one of my favorite releases of the year thus far.
At the center of Last Sunrise is Sun Yang (Zhang Jue), a lonely astronomer, and his quirky neighbor Chen Mu (Zhang Yue). Surrounded by solar-powered gadgets and, along with them, a sassy AI named Ilsa (à la Samantha in Her), Sun Yang seems to hardly leave his home—let alone interact with his neighbor Chen Mu. One day, when the sun starts acting kinda funny, Chen Mu and Sun Yang stand together as they watch the sun disappear from the sky. As it would, their city falls into chaos. In an effort to survive, Sun Yang then treks across the country with Chen Mu following close behind. An unlikely pairing, the two come to rely on one another and, together, they manage to shoulder the many tragedies they face on their journey.
While the story is thoroughly enjoyable, extraordinary production circumstances are what makes Last Sunrise a great film. When I read it was shot in 14 days for less than $250k, I nearly fell out of my seat. And, if those hurdles weren't big enough, the production took place across 1600km in subzero temperatures. Amazingly, nothing about the film suggests it was low-budget. In fact, its technical aspects are so cleanly composed, the final result is beautiful and nearly flawless. Each shot is so well constructed, I actually paused the film a few times to linger on its more painterly moments.
Although the underlying concept of Last Sunrise is almost hilariously simple, it's pretty well insulated from cloying plot holes. Sure, there are few laughs to be had when the film relies on generic clichés, but things never get out of control. Whenever I found myself muttering, "wait a second, what about…" the film miraculously provided a satisfactory explanation that kept me sucked into the story. Whoever made sure the film didn't stray too far into the realm of implausibility deserves a biscuit. There were times, though, when the desire to make things clear to the viewer became a bit heavy-handed. For example, there is one stretch when characters have an extended back-and-forth about mythology. While the boundaries of the film's metaphorical territory were clearly defined in this scene and others like it, the dialogue felt quite stilted. Despite these hiccups in the script, the performances remained consistently superb.
The politics operating behind Last Sunrise are worth noting even though I'm not sure I can fully unpack them. First, as a Chinese production, there are elements of communism that surface in even the smallest interactions. For instance, Chen Mu is quick to give what little she has to others while Sun Yang ignores those who need help. This contrast undergirds the film's main moral arc and, unsurprisingly, plays into the outcome of each character. And, second, it was a bit surprising to see a nonrenewable energy source, like coal, reified. Going further into this detail might spoil things, but there's a critique of solar energy or, in the very least, our reliance on modern technology lurking right under the surface. As a piece of speculative fiction very much tied to the context in which it was made, Last Sunrise is sure to leave a lasting impression on its viewers.
When I typically end a film review, I try to wrap things up into a nice little package. Here's all I can offer: If you get the chance to watch Last Sunrise, take it.
LAST SUNRISE will screen its North American Premiere at Cinequest 2019 on March 8th, 10th, 13th, and 16th
Last Sunrise
RATING:

NR

Runtime:

84 Mins.

Directed By:

Written By: