Transport through time back to a cold night in April 1912, become a passenger of that ill-fated voyage and experience an evening that you will never forget. The Queen Mary presents Aiden Sinclair's A Night to Remember, a black tie evening in honor of the RMS Titanic on Saturday, April 13, 2019.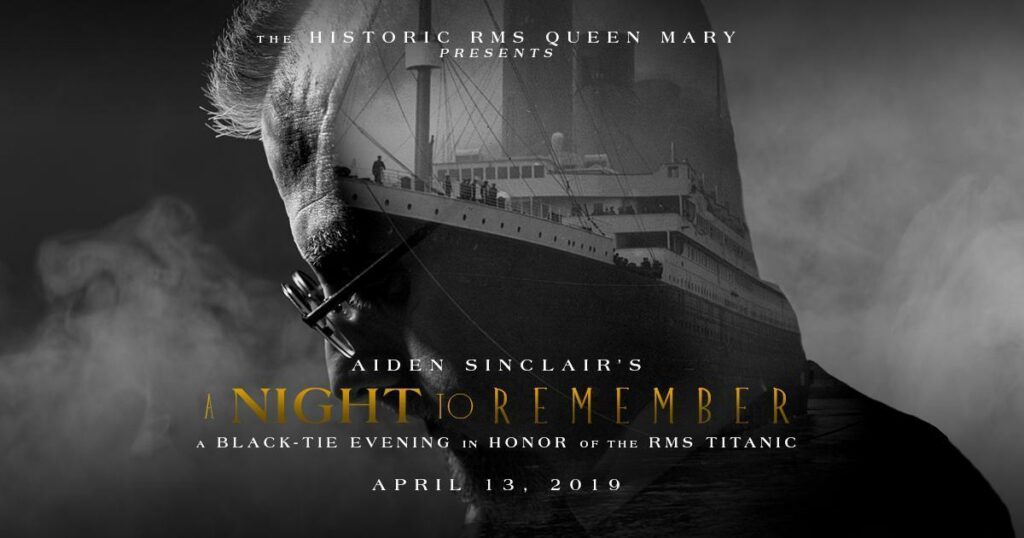 Enjoy a seven-course gourmet meal, inspired by the final first class dinner served aboard, view artifacts from the ship and hear the bone-chilling tales of the passengers who both lived and died on that cold April night. After dinner, indulge in a haunting evening of paranormal illusions featuring artifacts from the Titanic at Aiden Sinclair's Titanic Seance: A Night to Remember.
"Beyond the great disaster of the Titanic, a number of strange and rumored supernatural events took place leading up to the sinking," says Sinclair.  "The performance portion of A Night to Remember will use artifacts from the tragic event to bring the audience a direct encounter with the ghosts and spirits of Titanic."
https://youtu.be/ZvFnvFUNQQo
Tickets are currently on sale starting at $300 general admission seating. VIP tickets start at $400 and include an exclusive cocktail hour with complimentary champagne 30 minutes before doors open, a private reception with our resident ship's officers and Aiden Sinclair himself, a souvenir photo, whiskey flights, a complimentary cigar, and two-etched wine glasses. All tickets include the seven-course gourmet meal and viewing of paranormal illusions featuring artifacts from the Titanic. Upgrades will be available on-site including souvenir photographs, and whisky flights & cigar rolling. Discounted hotel room rates will be available for all attendees. To purchase tickets and for more information on pricing, events, and hotel packages visit queenmary.com.