If you haven't already, get into the holiday spirit with the trailer to the third episode of Hulu's Into The Dark series, Pooka! The horror anthology series focuses each episode on a different holiday.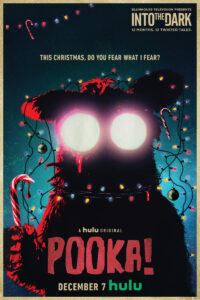 Synopsis: Pooka!, starring Nyasha Hatendi (The Front Runner and Replicas), follows a struggling actor with an unconventional gig as the Christmas character, Pooka. What starts off as a fun distraction begins to take a dark hold on him. He slowly develops two personalities, one when he's in the suit and one outside of it.
Pooka! i
s a dark, yet fun ride through the twisted mind of its protagonist. The trailer takes a steady turn from a new and exciting job to a dark and almost psychedelic journey into the jarring mind of Pooka.  It's trippy, disturbing and intriguing.
Into the Dark: Pooka! will launch exclusively on Hulu on December 7, 2018. It stars Nyasha Hatendi, Latarsha Rose, Jon Daly, Dale Dickey, Jonny Berryman and Diane Sellers.