It is dusk in Buena Park. Fog is rolling in through Ghost Town and making it's way to the front gates. Throngs of people eagerly await the thrill of being terrified, monsters lurk in-between shrieking guests and as the rope drops, the hysteria mounts to a boiling point.
In the middle of it all is my seven-year-old son.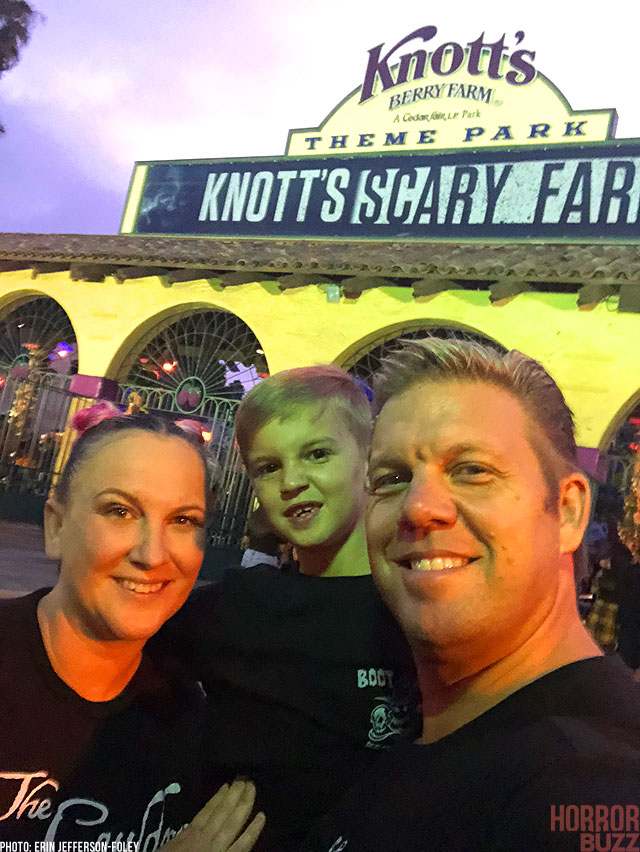 This isn't his first year, he's been going every year since he was four months old. Yes, I paid full price for a four-month-old *baby in a carrier* to get into Knott's Scary Farm! He has always enjoyed the street zones. Hanging out quietly watching the sliders and clapping if he something piqued his fancy.
But last year, as a first grader, there was a shift in his demeanor. His eyes grew wide before we even hit the gate. Between the screams, the snorts, and the thunder jugs it was the first time that I thought my little guy wouldn't make it past the first few feet of fog alley. At six years old, the monsters became a little too real and it took a good forty-five minutes for him to relax enough to enjoy himself. Even still, he was ever so cautious as we trekked throughout the farm.
I was sure that this year's annual family trip to Knott's Scary Farm would be more of the same. So with great trepidation, we made our way through security, pushed the turnstile and BAM!
THUNDER JUG!
I thought that was it, he would bolt right back under the turnstiles and our evening would come to an abrupt end. Right back out the gate and straight into the therapist's office.
But that didn't happen. In fact, he didn't even flinch. He stopped for a second, giggled, smiled at the monster and kept walking.
Success!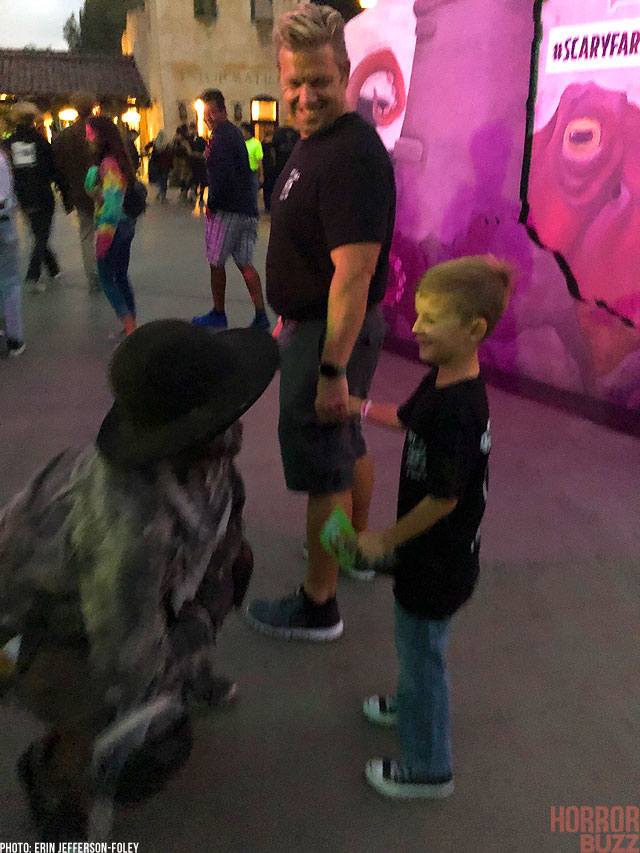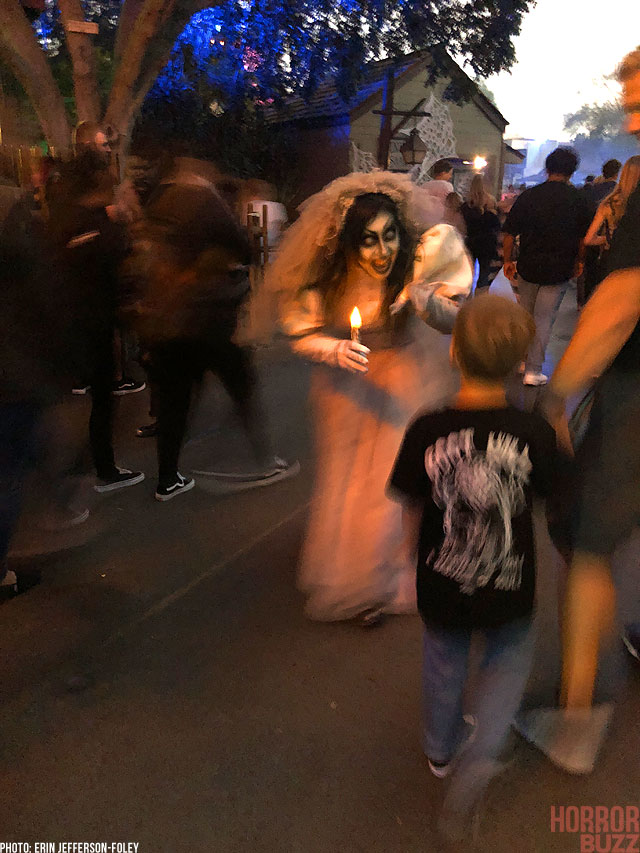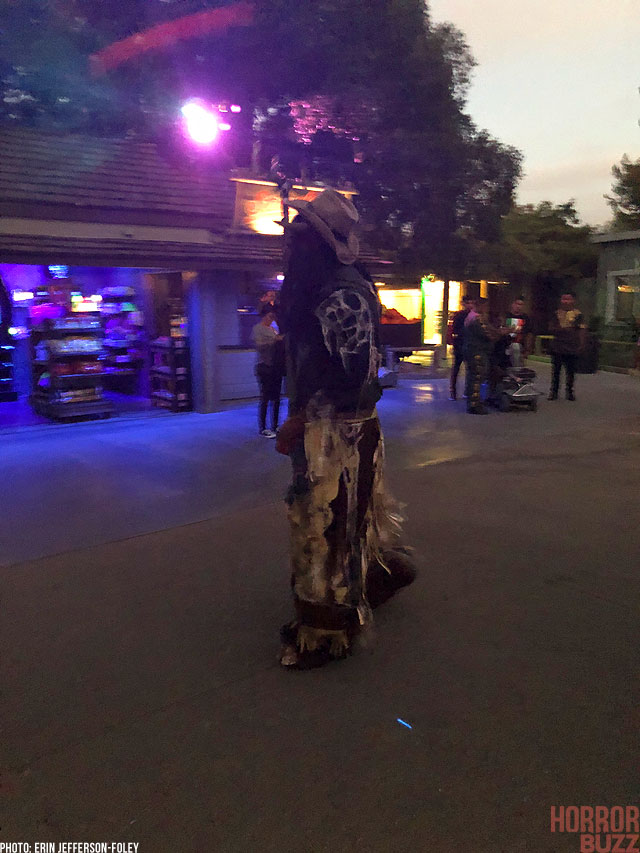 We have our little fan back and he is living his best life amongst the citizens of Ghost Town. He laughed along with the antics of those clowns on Boardwalk. Especially the clown that scared the daylights out of me with a balloon. We all enjoyed the procession at Forsaken Lake as the ghouls howled amongst the graves. Our tour of each street zone ended with The Hallows. He gingerly roamed through the pumpkins and the trees truly enjoying the monsters that scared him. I watched with great pride as he appreciated the high fives along with the scares, loving each interaction equally.
[Best_Wordpress_Gallery id="147″]
We marched for a couple hours when suddenly he wasn't content with just the street zones.
"I think I want to do that 'Infection' thing and shoot zombies!"
My husband and I have been waiting for him to venture into mazes, putting it off until we thought he was emotionally ready. Sure, we have our own home haunt and he loved "Mabel's 6 Feet Under" but there is a certain degree of *intensity* when it comes to mazes at theme park haunts. Seeing his utter enjoyment of scares as well as his understanding that scary can also be fun, we decided to start with "Special Ops: Infected."
Our little guy loves video games so the thought of him having a task, like shooting rotting zombies, while experiencing his first maze seemed right up his alley. We were not wrong. Not only was he so intent on racking up headshots, but he also didn't have time to really be scared as he bolted through the carnage.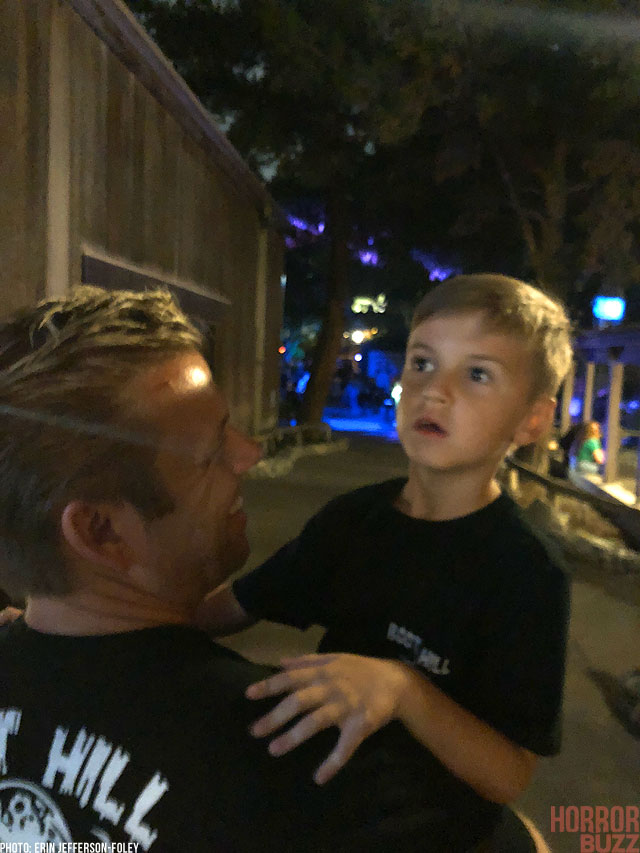 Parenting win!
Now, not every kid will react the same. I know a few kids who are seriously freaked out by zombies. If your kid fits that description, obviously this attraction would not be one to take your young Haunt fan through.
He handed over his rifle and bounced all the way out of the exit ramp. He was more engrossed with racking up points than the decayed hands and groans reaching for him.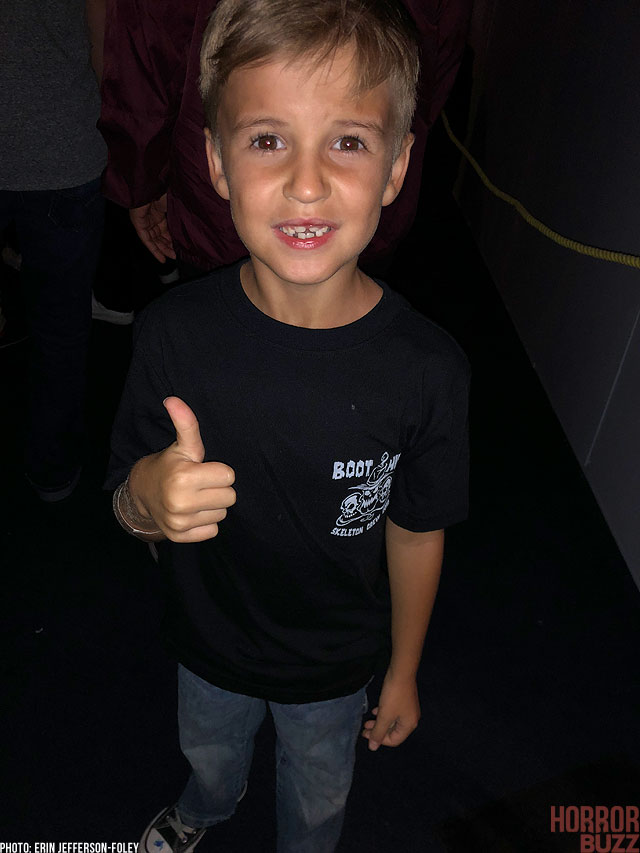 He was hungry for more and lucky for us, there were more options that we felt he could handle.
Hand in hand with dad, we dove into The Depths with great expectations and perhaps just a little nervous laughter. The talent in there showed no mercy on their pint-sized guest and I would not want it any other way. I watched in awe as he quickly surveyed the surroundings, kept his feet moving and never once yelled out. (On the other hand, I had a few scares that caused me to scream like a little baby) We did warn him about the ending so that he could be prepared. In this case, a spoiler wouldn't have hurt anything but the possibility of a complete surprise with him ending up completely terrified would have been detrimental.
With the rush of adrenaline nearing its end, he skipped out of The Depths and raised his fists in victory with mommy right behind him doing the same.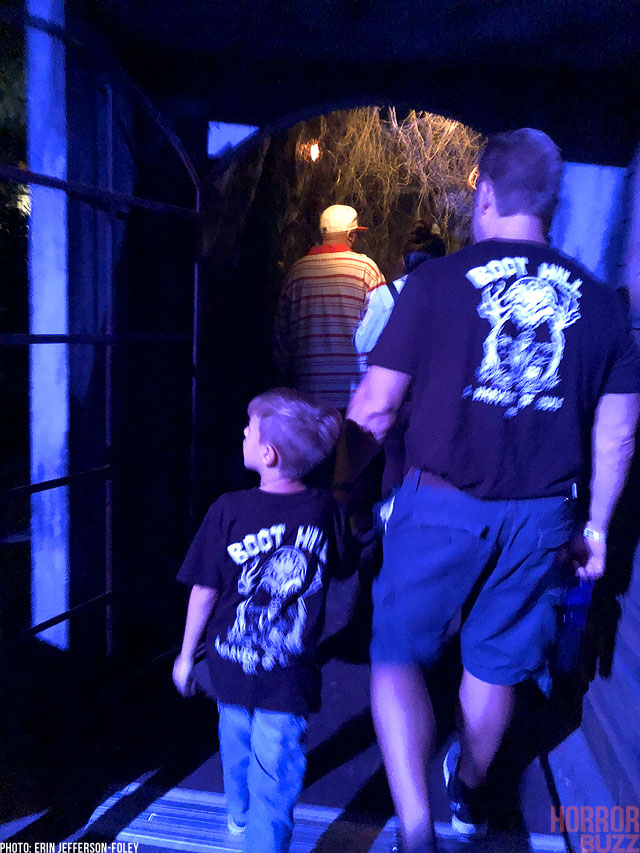 I cannot say the same for Paranormal Inc. While it is a favorite of both my husband and me, our son was not a huge fan. He went in brave, the talent did their job (quite well), he did not cry or ask for a way out, but there was no victory dance at the exit. He quietly walked away and looked a little shell-shocked.
We had made a mistake and pushed a little too far.
As we made our way out of the park and to our car we continued to talk to our little guy who had a wonderful night but it ended on a sour note.
I felt tremendously guilty. I have never wanted to traumatize my children and when I see kids begging to "go home because it's too scary" it does make me cringe. You can't force a kid to like scary things and if you ask most adults, they will tell you that horror was a no-go when they were younger. It's ok to be too scared. If or when a kid does get into the scary scene, they'll appreciate the goosebumps a little differently than a kid who was never frightened.
I was worried that I could have tainted his love for Scary Farm. Or perhaps that we would be back at square one on our next visit.
He went to bed and slept all night. The only person who had nightmares was me. Nightmares of being a bad mom and proving all of those people who judge us for bringing a small child into an event clearly marked for attendees over Fourteen years old.
I was eager to get his opinion after he had a few hours to sleep on it. I listened in on a conversation he had with his grandmother as he recounted the highlights of the previous night.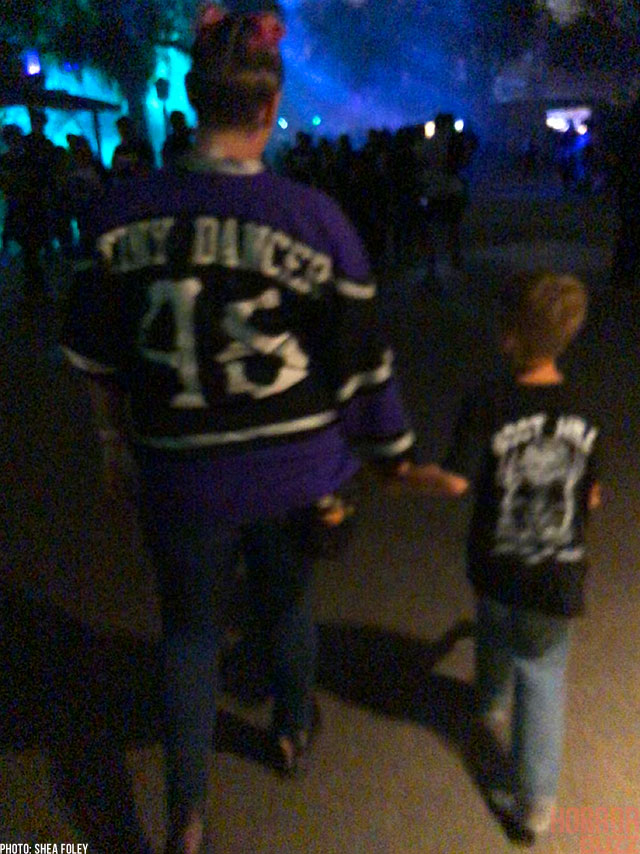 "And then we did Paranormal. At first I didn't like it because it was too real but now I want to go back and try it again. I think I'll like it next time!"
SUCCESS! AGAIN!
I felt as if Halloween had been saved and so did my bank account because therapy is very expensive. (The season pass for Knott's Scary Farm is way cheaper)
I am not sure if I have any words of wisdom on how to handle haunt with a young kid other than the following:
As a parent, it is imperative to know what your kid can handle or what is appropriate for your own child. My youngest is not even close to being ready for Haunt. She is terrified of spooky things beyond a G rating, and sometimes even that won't cut it. We know that and we don't push it too much. It's also key to let your kid know what to expect. What may be a fun or harmless surprise for an adult can really end up damaging a kid. No one wants that!
Hopefully, we will get a chance to make our way into the fog at least once more during the season. He will pick up his weapon and defend his squad against zombies. He will hold my hand as we zigzag through the seaweed in "The Depths." We will also give the rundown Hayden Hill Hospital and it's inhabitants just one more chance at showing our kid that scary doesn't always mean mortifying or scarring.
Hats off to the many monsters of Knott's Scary Farm. From street zones to mazes, you continue to bring the energy and spirit of Halloween!