I love to decorate the outside of my house for the Halloween season. We don't really have a theme in our yard, it is more of a mishmash of my family's favorite spooky things.
I am always looking for a fun and quick (emphasis on the quick) craft that I can do with the kids. Or at least start out with the best intentions of crafting with the kids until they lose interest five minutes into it.
My latest homemade haunted knick-knack drew inspiration from my favorite hangout, The Cauldron in Buena Park. The everyday decor is top notch but the creator/owner, Lara Hanneman, really kicked it up for Halloween. I looked up, noticed some super cute buzzards hanging out and asked where they were purchased.
They were not from the fancy website, Ms. Hanneman made them herself from dollar store flamingos! As I pulled into my driveway later that evening I saw my cheap flamingos in the flower bed. Long since losing their vibrant pink, the pair were now sad looking and whitish. One had tipped over and because I am super lazy, it had been laying there for a month or so.
Soon I found myself in the middle of Michael's and decided to attempt to revive…or transform my cheap flamingos into the beautiful buzzards that they could be.
Step 1.
Rescue those old flamingos from the dirt, wash and dry them. If the sun has made them brittle, use a little caution. If it cracks don't panic, no cracks will show up once the paint is on.
Step 2.
Wrestle the basic black craft paint from your youngest child so it doesn't get all over the carpet. Apply the paint using a cheap sponge or cheap brush all over the wings of the bird up to the neck.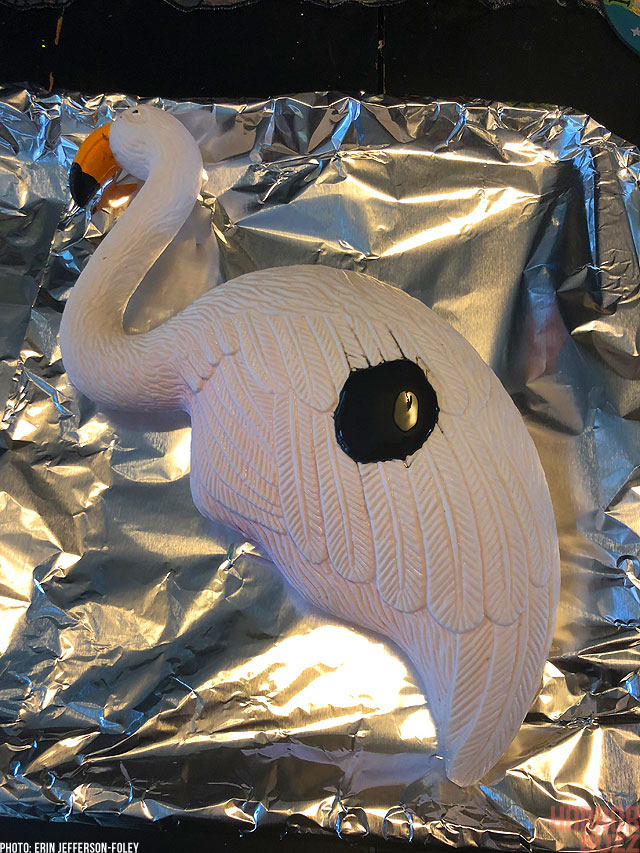 Step. 3
Wash paint off of your child's hands, arms and face. Then apply orange/red paint to the neck of the bird up to the beak. If your beak needs a touch up of black paint, this is the time to do that. Wait about fifteen minutes for the paint to dry.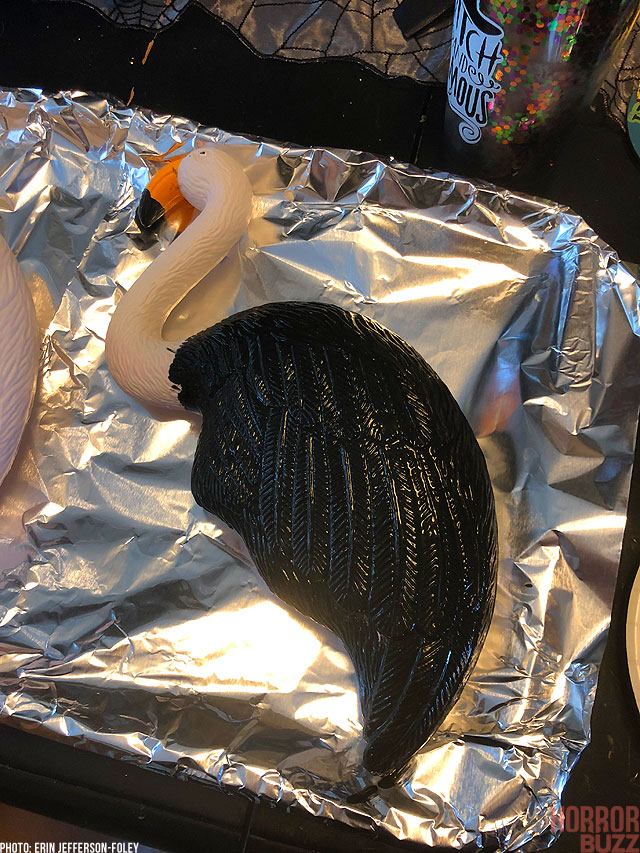 Step 4.
Put a movie on for one kid while the other one has retreated to his bedroom with some type of handheld gaming system. You're in too deep now, you must finish this project. The good news is that you are almost done! Measure the feather boa around the neck. A crude measurement will do, no need to be exact here. CAREFULLY hot glue the feather ruff around the neck, disguising where both paint colors meet.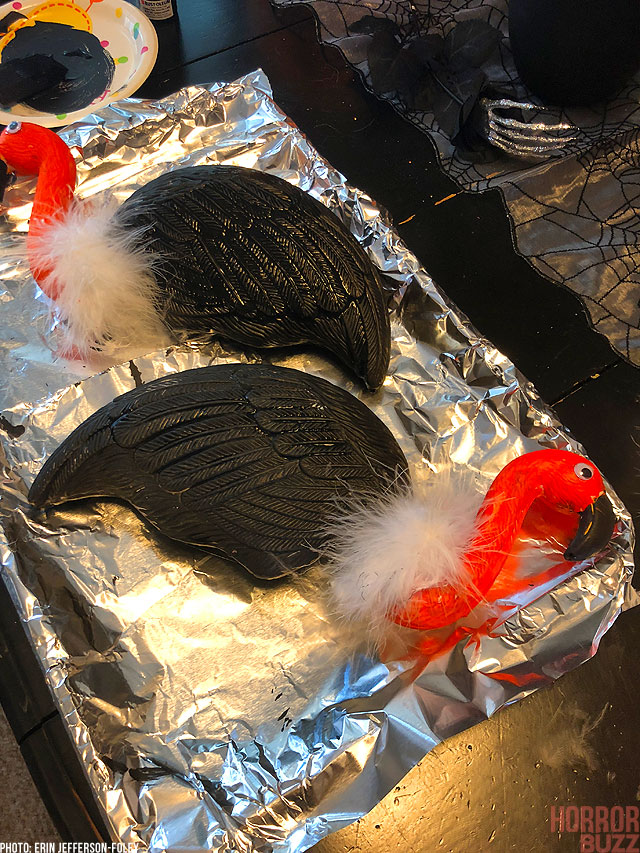 Step 5.
Triumphantly march out of your house holding your buzzards high while announcing to the kids that you'll never ask them to help you create anything again. It doesn't matter because your dreams of impressing your neighbors with elaborate decorations will come true. Plop those buzzards in a prominent area of your flower bed or yard. Make a note to buy extra Dollar Store pink flamingos next year so that you can have a wake of buzzards. Yes, a group of buzzards is called a *wake*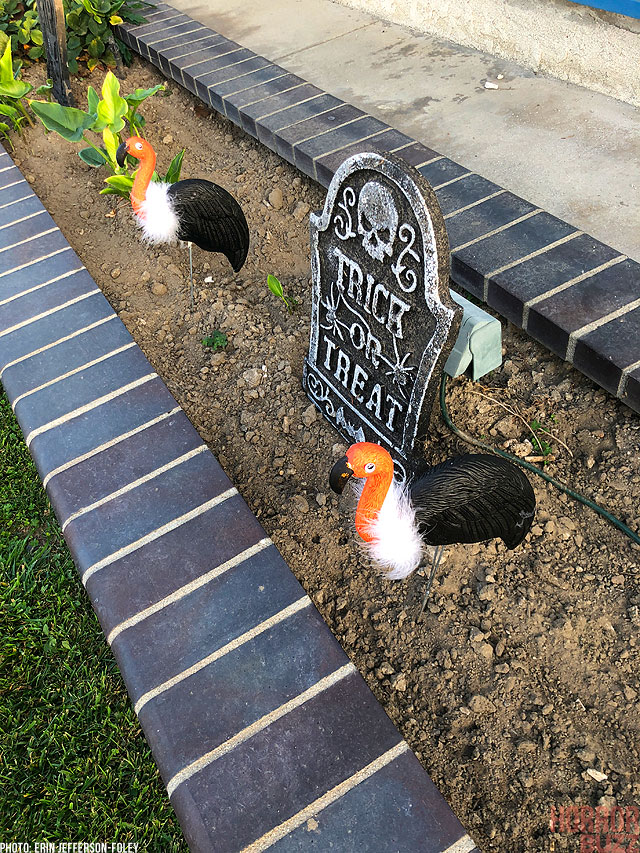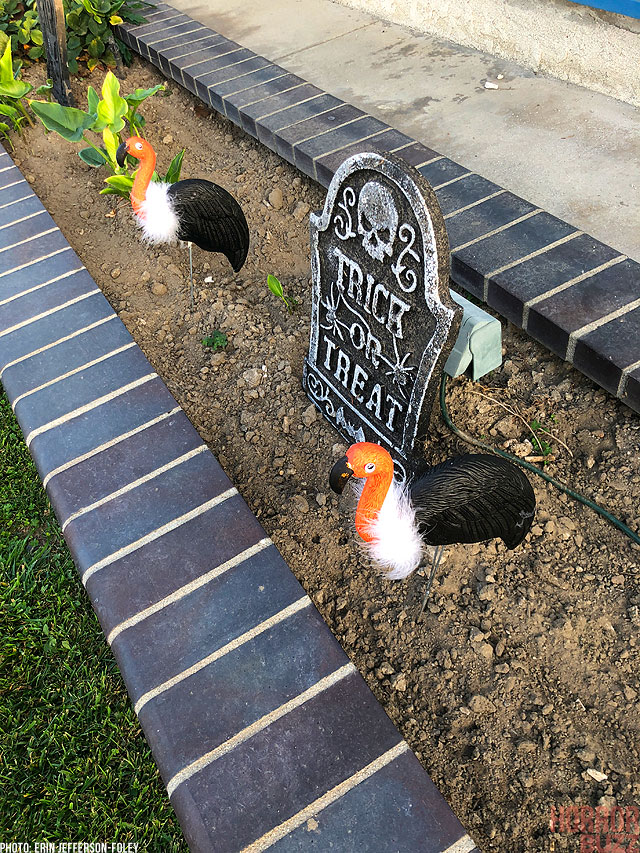 There you have it! The whole process including drying, whining and washing the paint off a squirrelly four year old took about 45 minutes. With the original flamingos, paint and cheap boa the cost was under $10. I am obsessed with these guys. Happy crafting!