Gemr, Inc. has announced that they will be presenting the World Premiere of their original docuseries 'Collection Complete' at one of our favorite film festivals, Screamfest Film Festival (running October 9-18) in Hollywood, CA. Following that, the new show will arrive on their own platform at www.Gemr.com.
Spawned from the dark minds of co-creators Sean Decker and Carlee Baker, 'Collection Complete' takes an in-depth look into the lives of filmmakers and artists and the collections that fuel their work, from screen-used props to action figures and beyond. Ema Hutchins and Arielle Brachfeld produce, with Gemr CEO Tom Bennett serving as executive producer.
The episodes are relatively short, delivered in blocks of 3-5 minute segments.  The series' first two subjects are comprised of Big Ass Spider!/Tales of Halloween filmmaker Mike Mendez, and The Hills Run Red producer and Free Enterprise director Robert Meyer Burnett, who each take viewers on an intimate tour through their own personal collections as they discuss their lives and art, and the influence on both by their respective collections.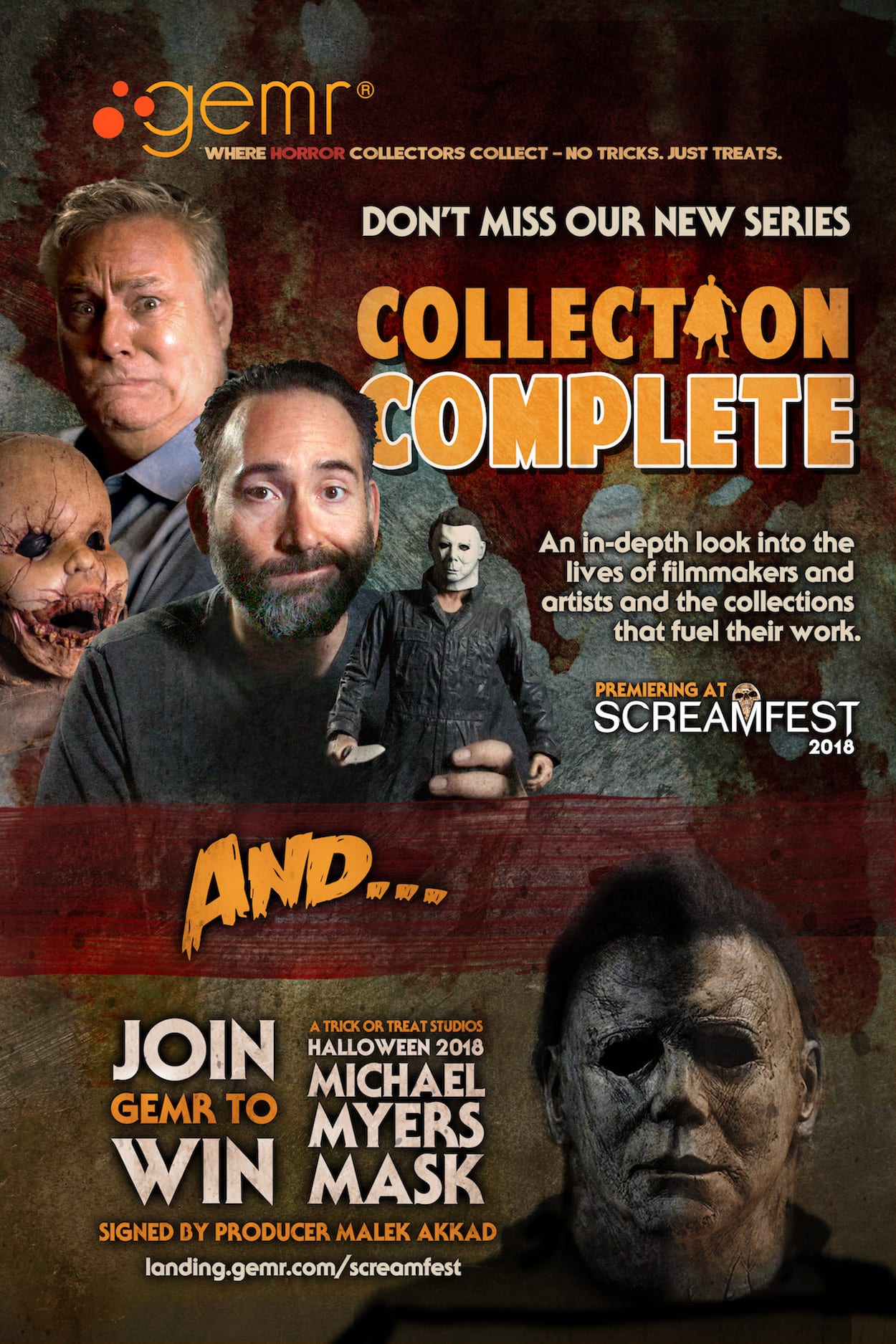 Says Bennett of the series, "Collection Complete does what every collector on Gemr loves us for; it celebrates the collector and collecting culture. It's amazing how many collectors have kept their obsessions under wraps out of a fear of being misunderstood. This series celebrates pop culture from the perspective of its most dedicated fans and shows how cool it really is to be a collector."
He added of the fast-growing Gemr, which currently has over 375,000 members and climbing, "The goal really is to create the ultimate community platform for collectors, brands and influencers. Traditional social channels are full of noise, lacking in collector specific features and are taking an 'all things to all people' approach, which ends up diluting the experience. We're built from the ground up to solve problems for collectors, influencers and the brands that they know and love."
Of his experience filming the series, guest Mendez added, "It was a lot of fun to share a side of me I don't talk about very much. I'm a hardcore collector, and you never know how people will react to the depths of obsession that I swim in. But I knew I was in good hands with the production team, so I felt safe to let my freak flag fly."
Burnett also effused, "As an imagination connoisseur, a great action figure represents a character conceived by a writer, designed by an artist, performed by an actor and directed by an auteur. One day, I hope a kid somewhere owns a figure of a character I had a hand in creating, inspiring them to continue the cycle."
Producer Baker said of future plans for 'Collection Complete,' "With so many fascinating collectors and collections and the richness of stories that surround them, I think that the sky is truly the limit for this series."