Knott's Scary Farm has opened its gates for 2018, unleashing another remarkable roster of Halloween scares. Running select evenings now through Oct0ber 31st, Knott's Scary Farm was the brainchild of the park's original founder. On a whim, Walter Knott pulled his team together just three weeks before Halloween in 1973 and shared his notion of a nighttime Halloween event. Decorations were placed, employees were asked to arrive in costume, and during just three nights in October, the landscape of themed Halloween entertainment and theme park operations would forever be changed.
Now in its 46th year, Knott's Scary Farm easily maintains the crown as the industry leader for Halloween events. Others have taken the formula and tweaked it to make it their own; Universal has the polished push-button scares down, while Disneyland owns the family haunt market. Yet nothing can touch what Knott's Scary Farm does.
This year, Scary Farm sports 9 original concept mazes (2 of which are brand new), three shows, and a re-themed Timber Mountain Log Ride. While this year is not the strongest in entertainment offerings, there is no question that Knott's carries the most consistently entertaining and terrifying roster walkthroughs of any of the major events.
Scare Zones
Ghost Town Streets
Ghost Town Streets is the original Scare Zone. It has gone through phases here and there, from comedic, to bloody, to now a startling mix of villainy and mayhem. If you go to Scary Farm and you never stroll through Fog Alley, well then, what's the damned point?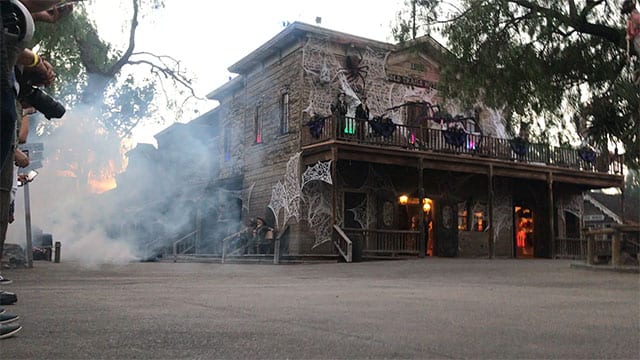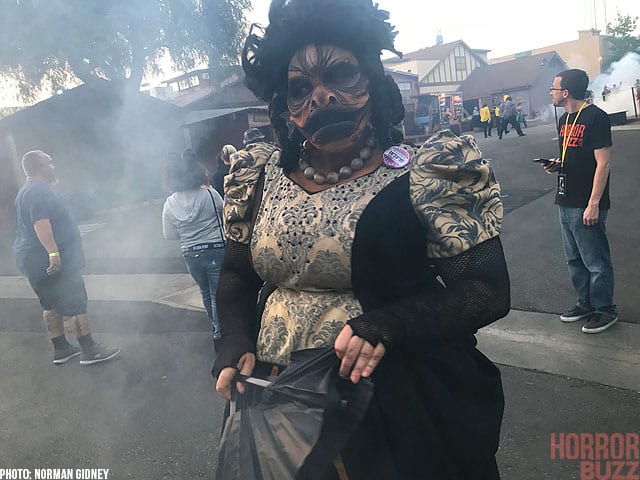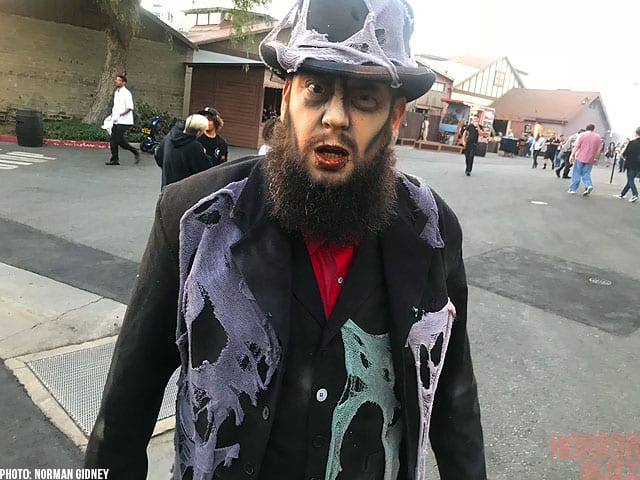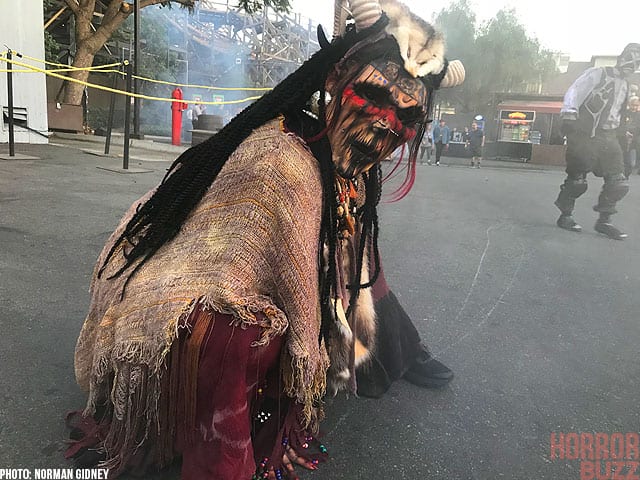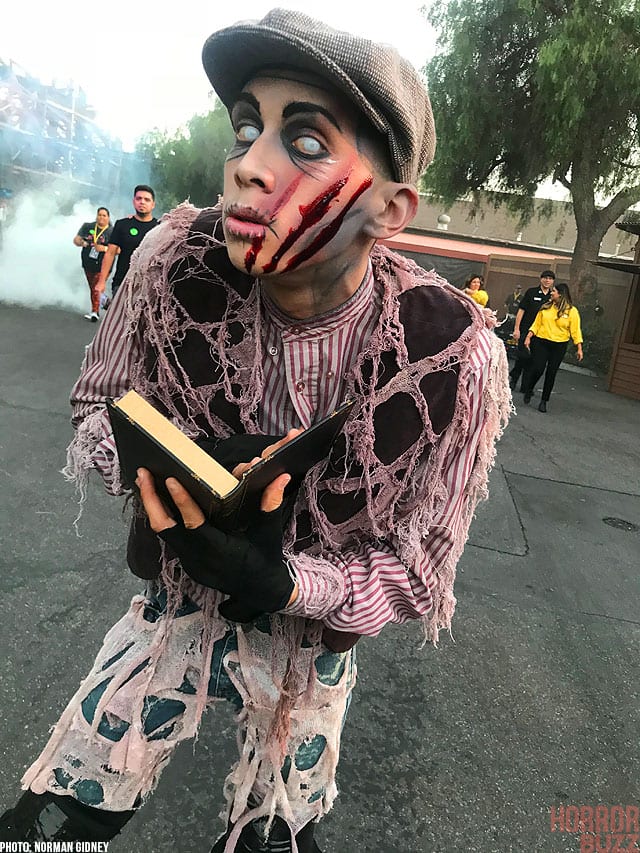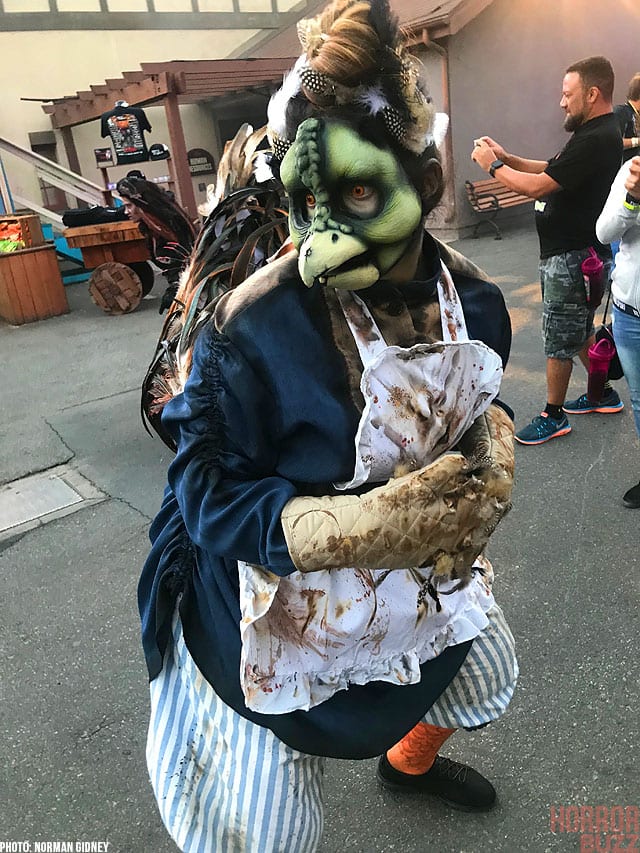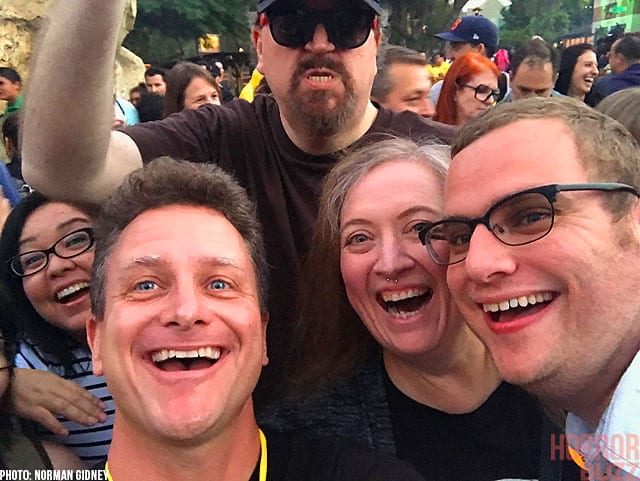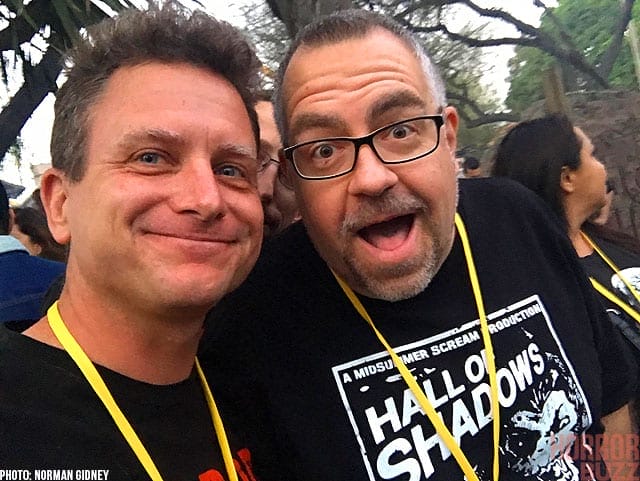 Carnevil
Carnevil is the most difficult place to work as a scare actor. It is a brightly lit riot of color where scares are a puzzling challenge. Everything is out in the open. Somehow this talented coven of clowns taunts the hordes of guests with spastic energy and fiendish comedy. Yeah, I am not a fan of clowns at all, but these ones…they are out for blood and they have my respect.
The Hollow
Located in Camp Snoopy, this scare zone pays homage to the New England steeped scares of Sleepy Hollow. Glowing pyres punctuate the landscape, billowing smoke from their sneering faces and stacks. The talent in this area has a lot more to work with in terms of darkness, surprise, and mythology. This is a scare zone that deserves time in order to absorb the creepy atmosphere.
Forsaken Lake
Forsaken Lake is easily the most beautiful new scare zone in recent memory. The dead have risen from a watery grave to seek vengeance. Elegant and spooky, this new zone is a carryover from the now gone Voodoo maze. They have taken the finale scene, expanded it, and given it some New Orleans class and flare. The smallest of the zones, this one also needs to be given a chance to blossom. The talent is there, and they bring it, no question. But these poor folks have to compete with Silver Bullet and Jaguar, two coaster located directly above them and that isn't the easiest thing to do. The makeup is on point as is the color palette and costumes. Nicely done.
SHOWS
I will lavish praise on Knott's this year for their phenomenal scare zones and excellent mazes. However, I cannot ignore the utter belly flop taken in the entertainment department. Let's be clear. Nobody expected Knott's to outdo themselves over 2017. Last year, The Hanging was one of the funniest and filthiest in half a decade. Last year, Elvira was doing her victory lap and celebrating her FINAL show at Knott's Scary Farm ever. On top of that, it was Elvira's best show at the park ever. Still, there was a need for more than just two big shows and Knott's valiantly addresses that fact. We get more, but it's not all better.
HACKS: Cutting Room Floor
Following Elvira's final year is a thankless endeavor. Right off the bat, I give these performers the respect that they deserve in going out there and putting on a show after such a banner year. Hacks is an improv and audience participation based comedy show that utilizes vintage film clips, props, and occasionally, the phones of willing participants.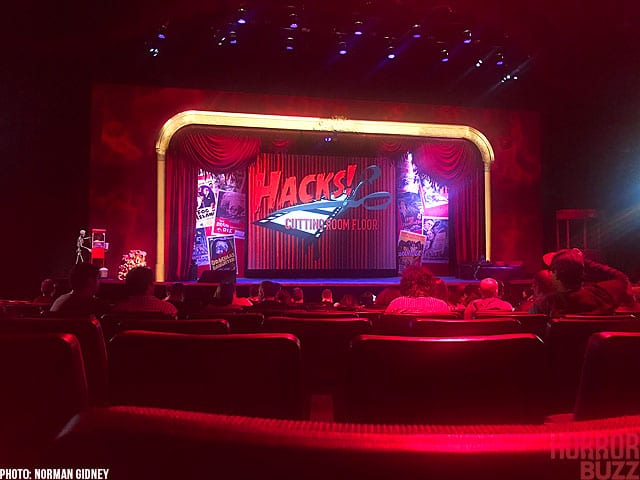 Beginning with an odd homage to Psycho, a film piece introduces us to our players: three improv comedians and one keyboardist who offers musical accompaniment. The show starts and it is at this moment that you can feel things sink or swim. Hacks lives on the energy and engagement of the audience. It is unfortunate to report that, even with the raked seats in the cavernous theatre roped off, only patches of people were present at the show we attended. This makes engagement difficult, to say the least.
My verdict is; Fine show, wrong venue. So wrong, in fact, that it hurts the performance.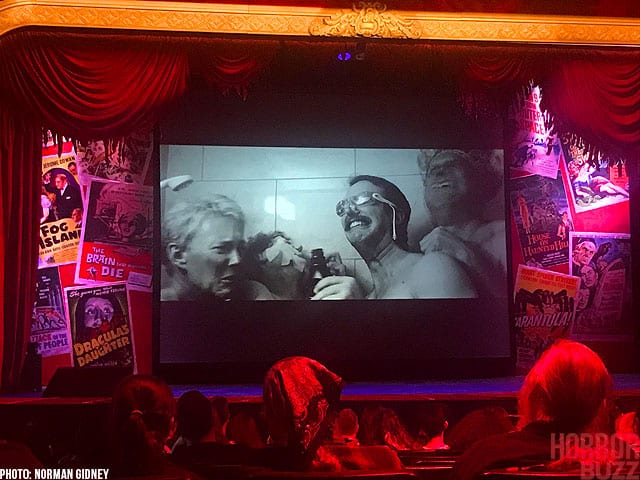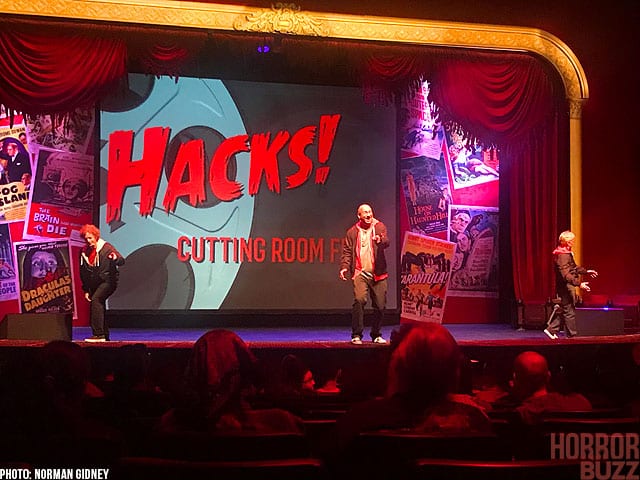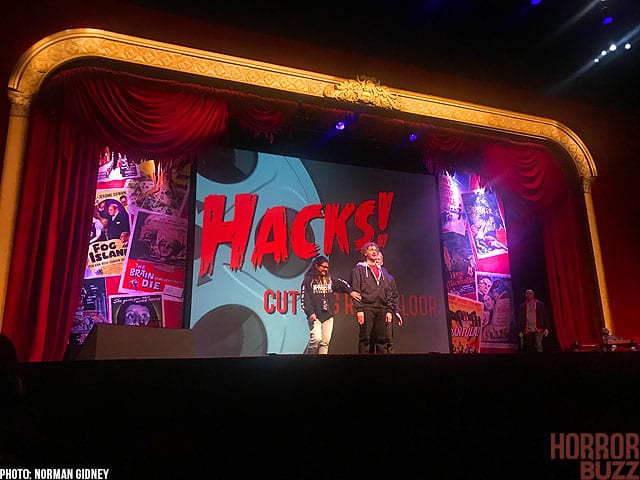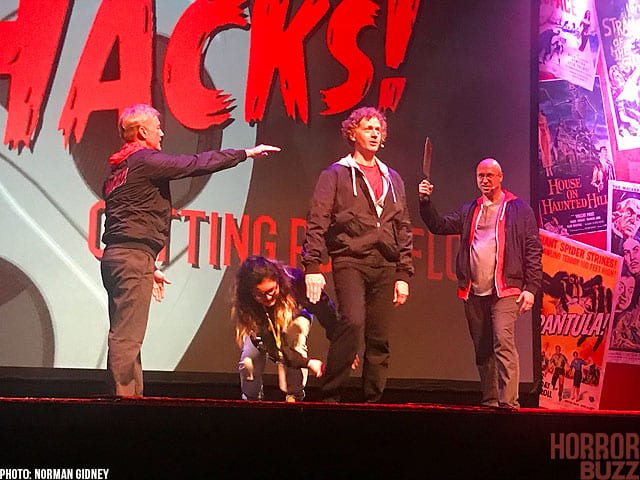 The Hanging: Shhhhh! It Happens
The Hanging has never ever been accused of being high-brow. What began as a solemn and frightening tradition in Calico Square that depicted a woman accused of being a witch being hung has, over the years, evolved into a pop culture parade of references and potty humor. Who says Idiocracy wasn't a cautionary tale? This isn't really a bad thing as it was a response to the less enlightened understanding of witchcraft and paganism. Knott's did away with the persecution of the misunderstood, and now hangs the causes of supposed bad taste and evil year after year.
Similarly, it was in response to the ribald and political jokes of The Hanging 2017 that our through-line for this year's Hanging begins. U.R.A.N.U.S., an organization against offensive things, has taken over Calico and is threatening the town with destruction demerits. If the town loses all of their chances they will be destroyed. Not a bad concept, not at all. So what the hell happened?
This is hardly as bad as 2016, but Shhhhh! It Happens is a broad, bland collection of references to things that have happened over the past year that only occasionally surprises you with a clever sucker punch here and there. The Hanging is supposed to be offensive and idiotic. Without that edge, we are merely subjected to a painfully humorless collection of moments that talk, in very loud fashion, about everything from Black Panther to Disney's Incredicoaster.
That being said, they do end up hanging a person that fully deserves to dangle.
[Best_Wordpress_Gallery id="122″]
Conjurers: Magic and Mirth at the Birdcage Theatre
We FINALLY have haunt entertainment back in The Birdcage Theatre folks and it is the bright spot in an otherwise pallid collection of shows. Conjurers is a rotating roster of magicians, each offering an intimate, funny and engaging way to get off of your aching feet and laugh a bit.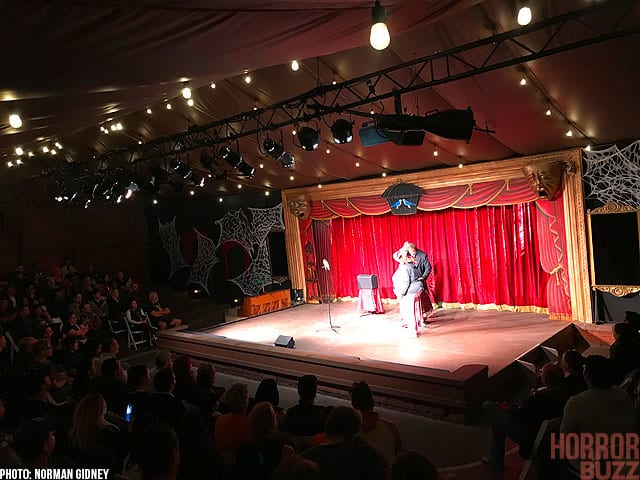 The performance we caught featured Dana Daniels who used his psychic bird and slight of hand to wow the audience. Daniels was hilariously entertaining in a way that I have not seen at Haunt in ages. It really warmed my heart to see young and old in rapt attention, laughing riotously, and goofy magic. MORE OF THIS PLEASE!!!
If you see one show at Haunt, see Conjurers: Magic and Mirth at the Birdcage Theatre.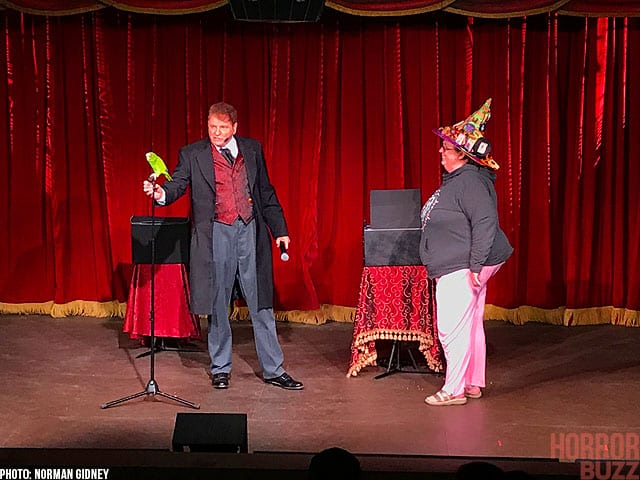 HALLOWEEN HOOTENANNY
The Timber Mountain Log Ride returns for 2018 as the Halloween Hootenanny. Featuring music from Krazy Kirk and the Hillbillies, this charming mishmash of Halloween havoc is a wonderful way to break from the scares and enjoy a more charming version of all Hallows Eve. Unfortunately, there is a very distinct lack of live actors in the Scary Farm version of this flume ride that really set it apart as a spooky ride with an edge.
MAZES
Knott's Scary Farm kills it, once again, with a wickedly strong collection of original haunted houses/mazes that are all consistently entertaining and worth the wait.
Red Barn
Red Barn returns for its third year of slaughtering guests. The weakest in the line-up, Red Barn tells the tale of a cannibalistic clan of country folk that is luring townsfolk into their meat grinder. It seems like the clever Senior trip storyline has been abandoned and we are back to the same gross-out scares, few of which land. The new opening has us exploring the homestead, where bland and dilapidated walls give way to the superior chase through the barn from last year. Start here first.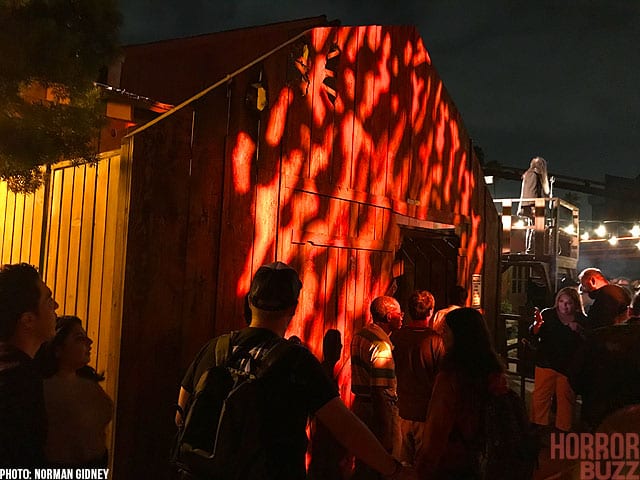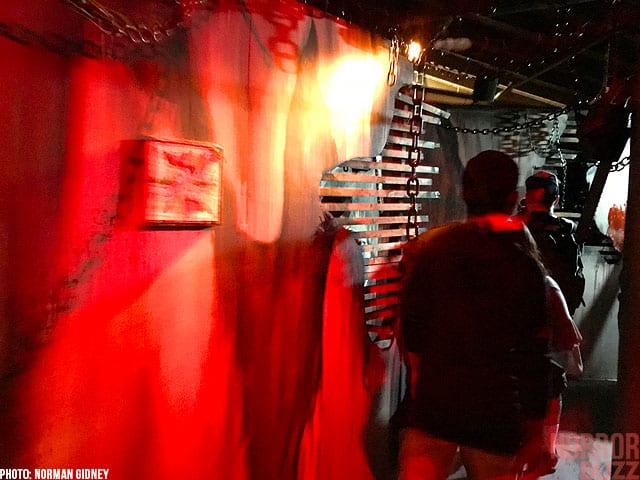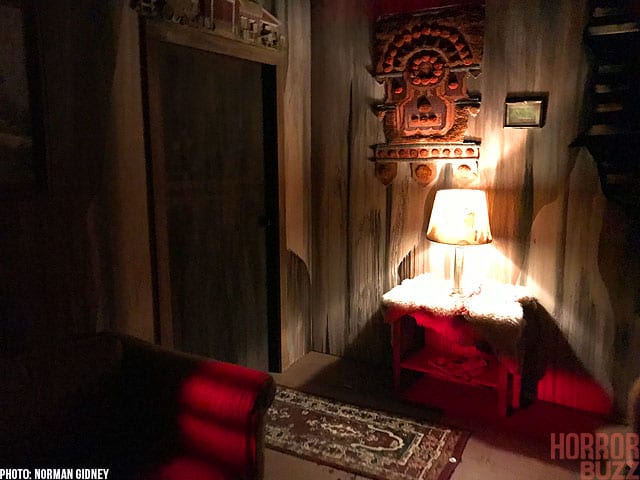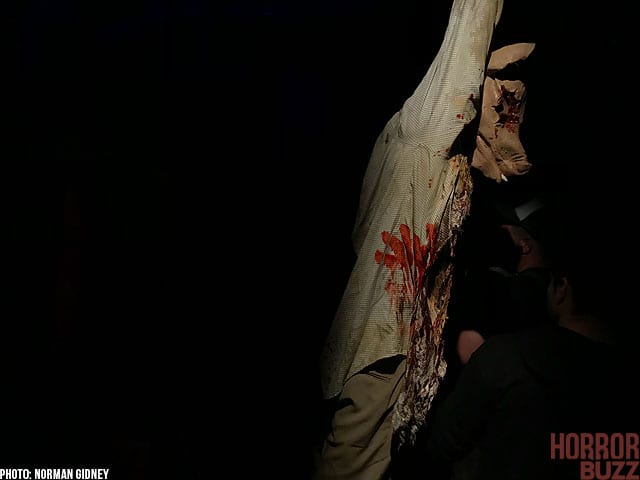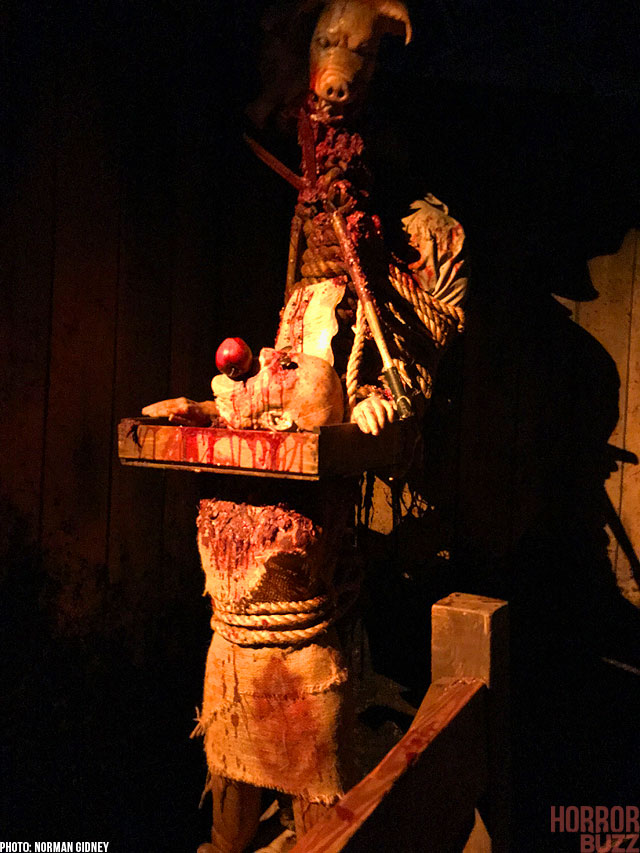 Special OPS: Infected
Yep, this one is still just as good as it was before. Donning a rapid-fire gun, groups of ten are led through a treacherous cityscape of flesh-eating zombies. They have the pacing and pulsing down with this maze that keeps the experience immediate, intimate, and thrilling. Plus, a new final boss battle! Nicely done once again.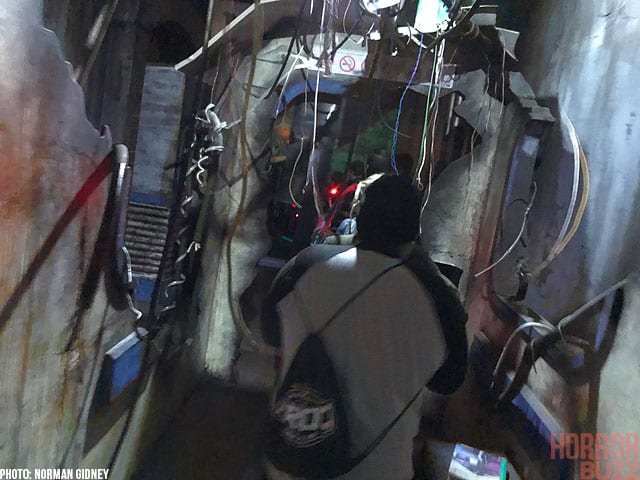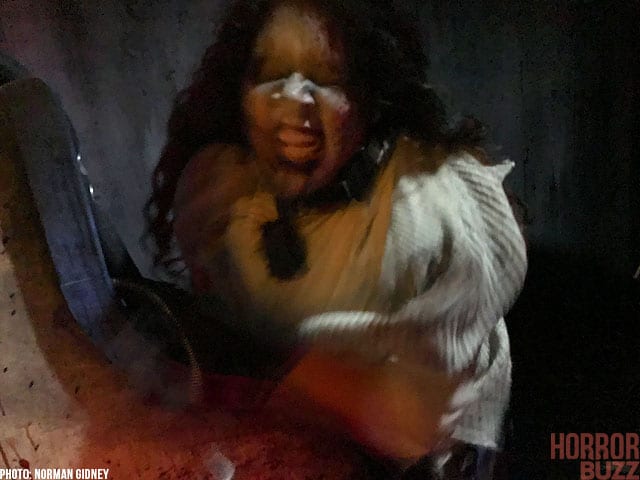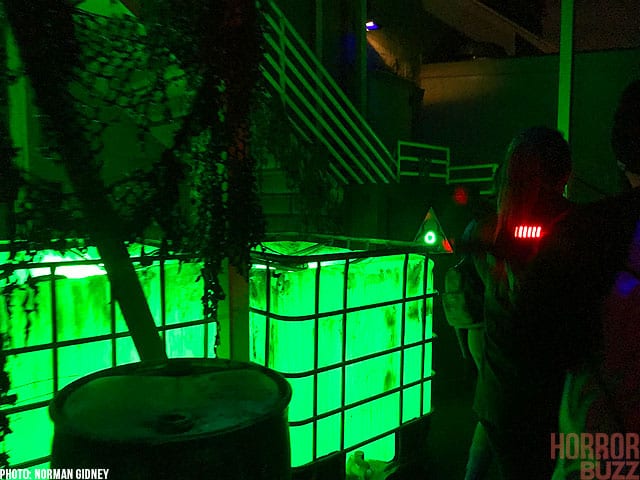 Dark Ride
We return to the abandoned carnival attraction now overrun with clowns and carnies in Dark Ride. Identical to what was here last year, Dark Ride rides on its successful debut to offer the same polished look and atmosphere. While still a total winner, I would have liked to see the scares amped up a bit for year two. Yes, clowns are terrifying, yes, the artifice of fun and happiness giving way to a dark and seedy side is clever, but there is a sophomore slump happening here. It would be phenomenal to see the finale room reworked and turned into a bigger, scarier, more fitting ending to a great maze. Knott's, you have the power! You can do it!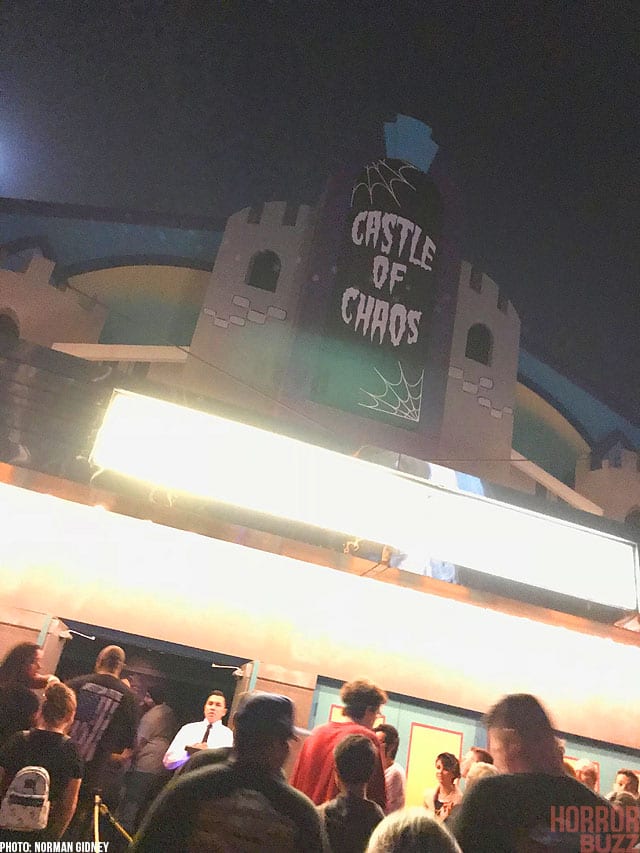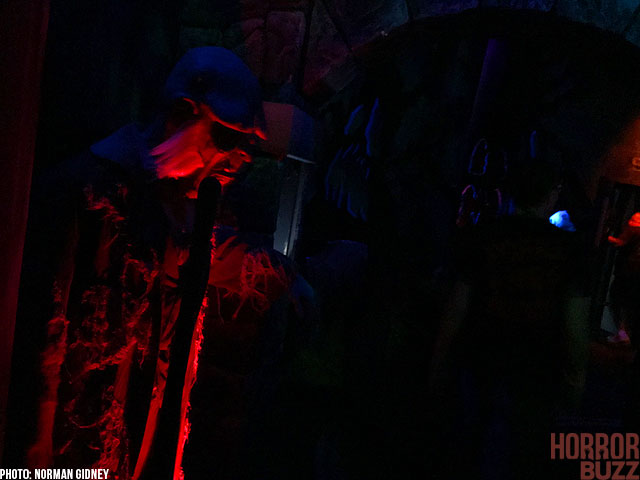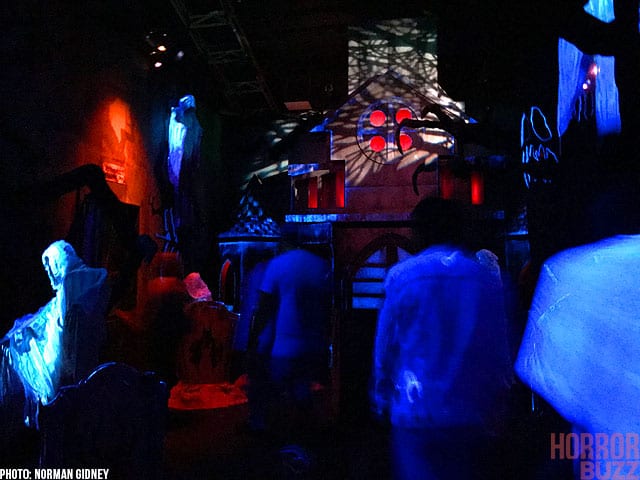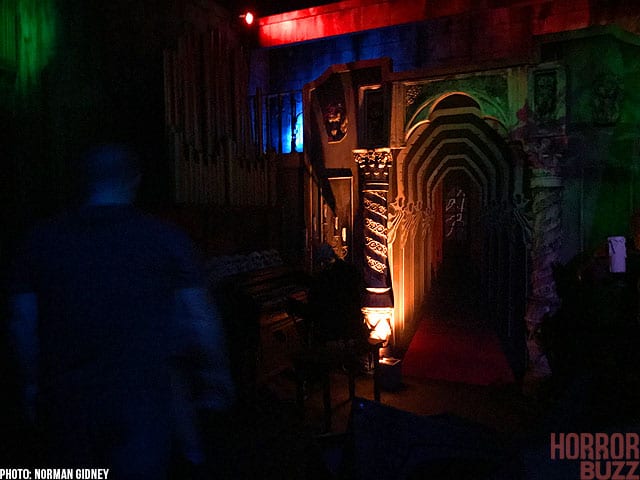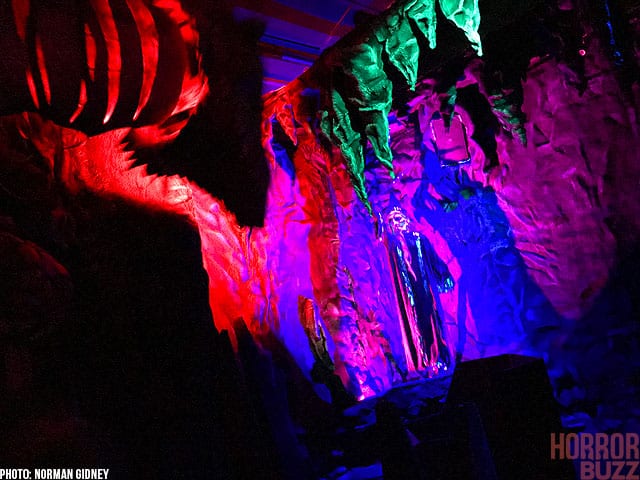 Shadowlands
Back with nearly no changes whatsoever, this Jon Cooke masterpiece still scares and entertains. What's different? They have removed the opening scene where a Samurai kills another soldier and the experience simply starts as all 0ther mazes do. No show scene, just the forest, and magical scenery. While the opener always struggled to convey the setup of a disgraced Samurai wandering in a spiritual wasteland, it was still a classy way to kick off the experience. Still strong, Shadowlands continues to work.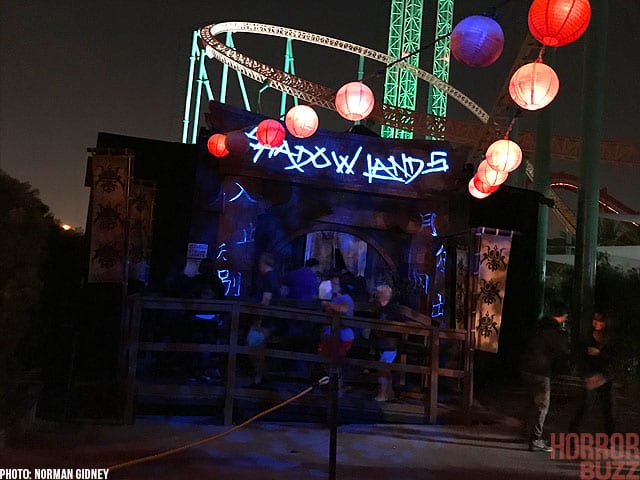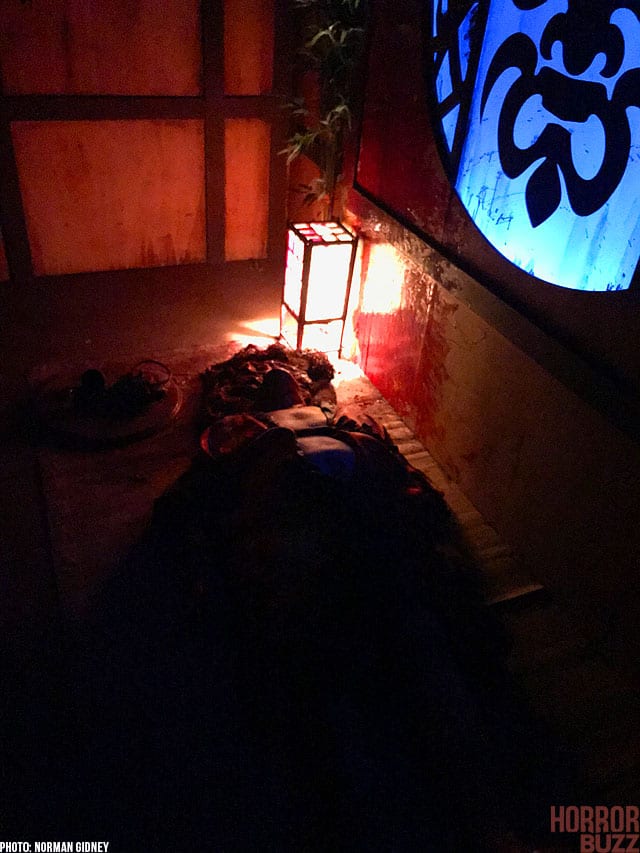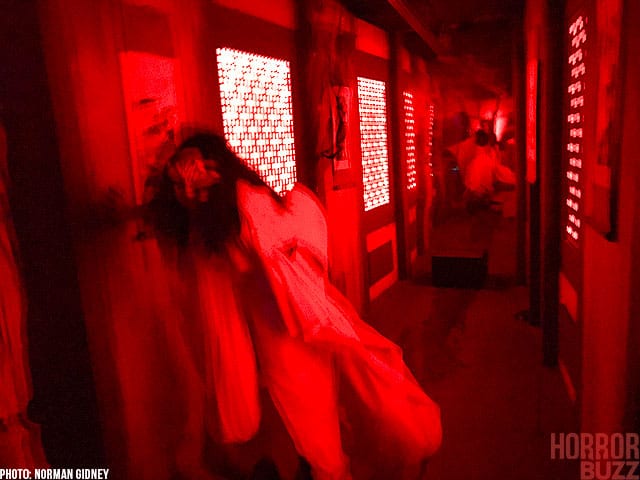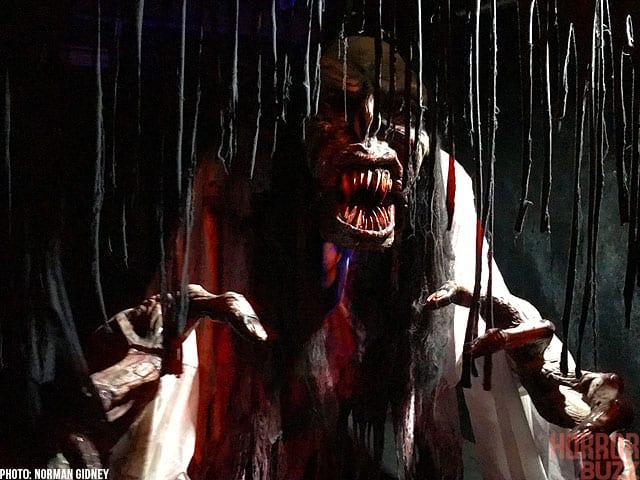 Pumpkin Eater
Arguably the best new maze from last year's Scary Farm, Pumpkin Eater delivered story, atmosphere, inventive scares, and nasty, nasty imagery. This year we get the same disturbing experience with a few enhancements. It seems, for instance, that the pumpkin is wetter as we walk through it. The lighting is fine tuned, and the talent kill it once again. Still one of the best mazes at the event.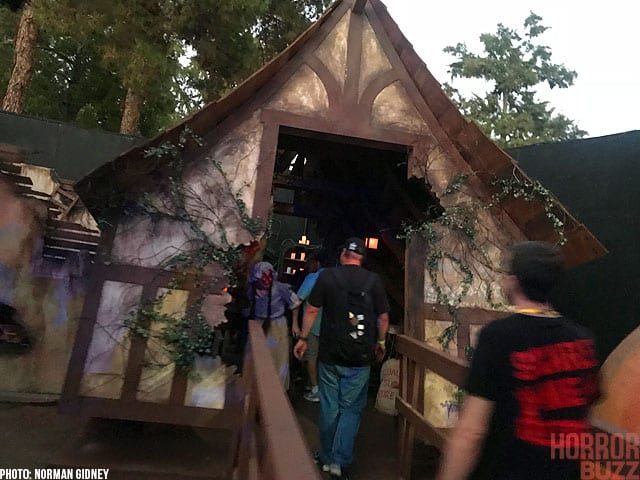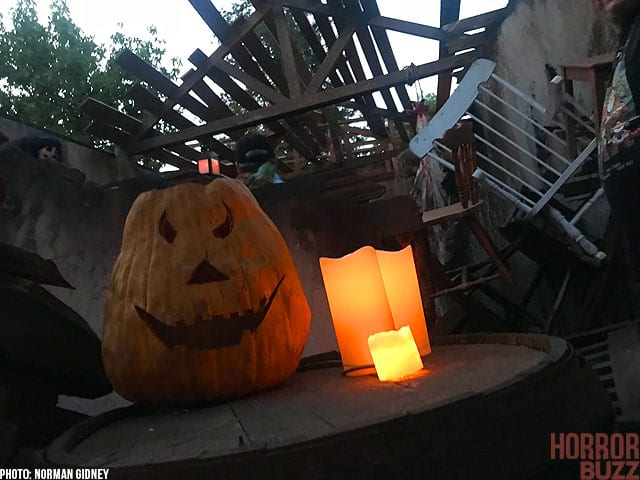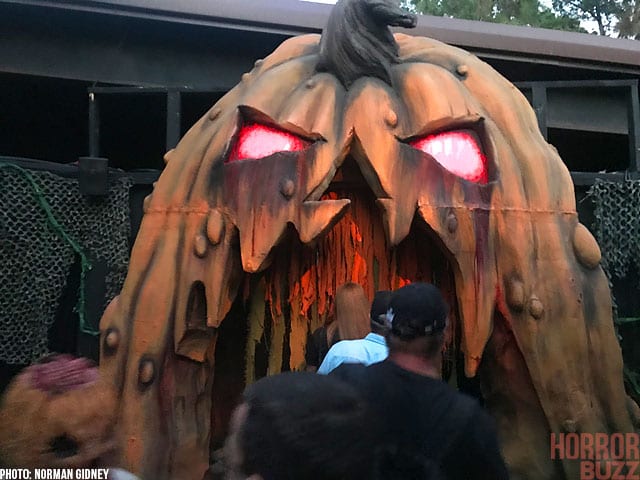 Trick Or Treat: Lights Out
Dammit, this is a fun maze. Handed a tiny, itty bitty flashlight, we enter the home of the Green Witch in search of candy. Of course, we find a lot more and it is a gloriously harrowing experience. I expect that this maze will at least be around for another year as it is still effective in delivering intimate, sudden scares to a mass audience.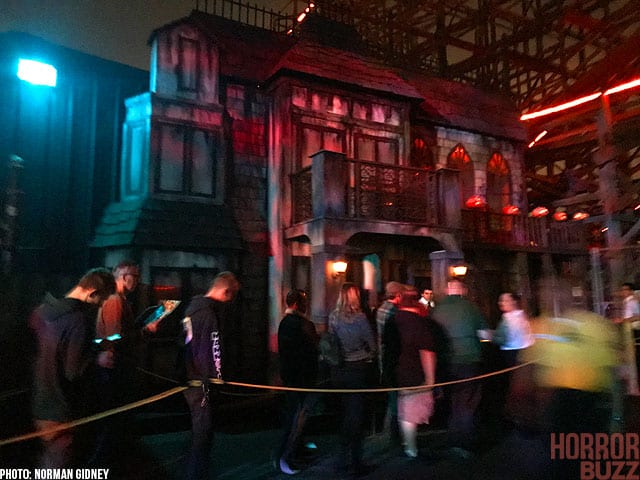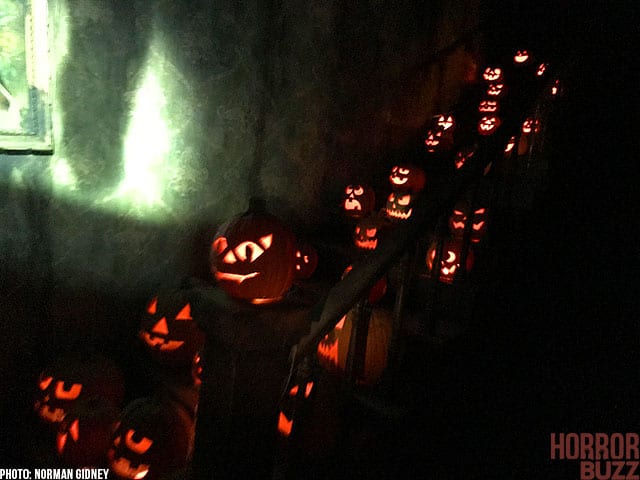 Paranormal Inc.
I will just say it: when it was announced that there would be a brand new ending tacked on to my favorite maze at the event, I was skeptical. Even knowing that the maze's original designer Jon Cooke, developed the new ending, I was hesitant. After experiencing this year's Paranormal Inc., I was shocked to find I loved it more. Easily one of the most technically perfect walkthroughs ever created, Paranormal Inc. puts visitors in the middle of a paranormal outbreak inside an asylum. As last year ended, we crossed over to the other side into a cobalt world of energy and monsters. This year, the ending stays with you long after you escape the asylum. Beautiful and disturbing, Paranormal Inc. is still a do not miss maze.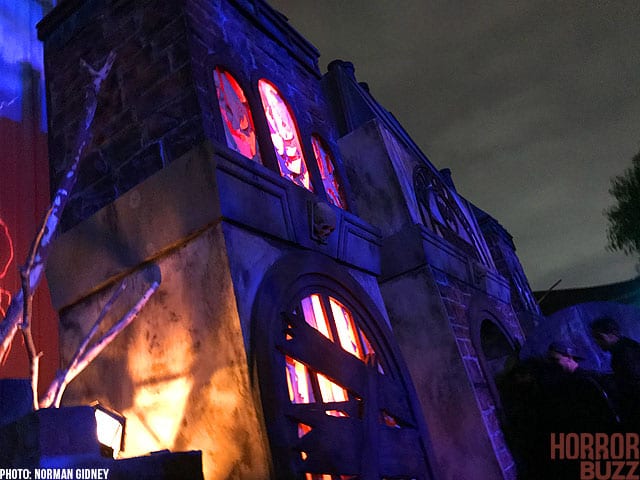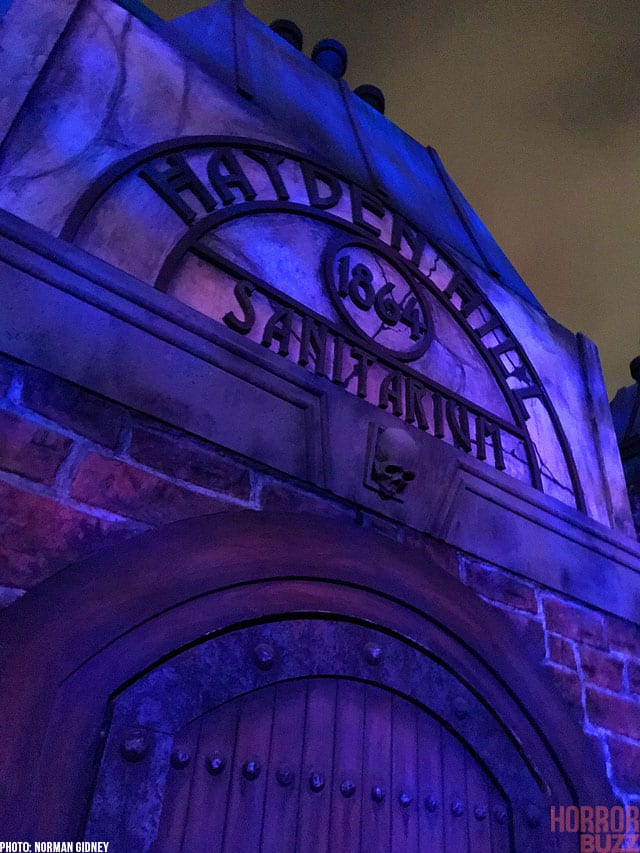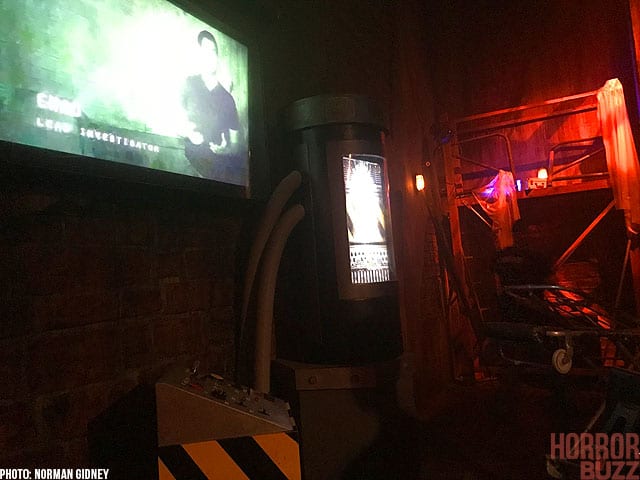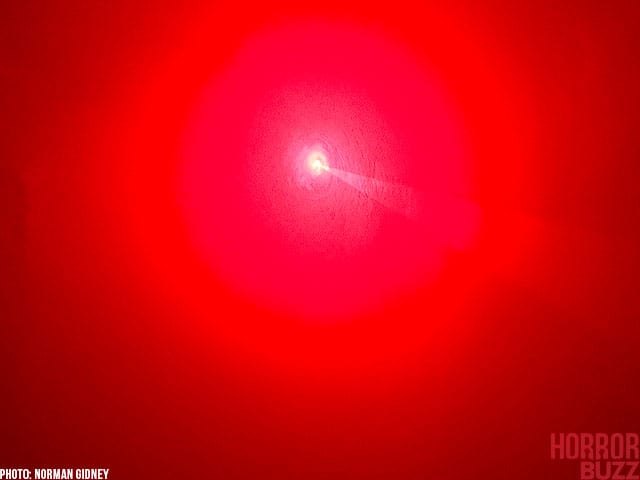 Dark Entities
Maze Designer Gus Krueger is back, ladies and gentlemen. So are his signature touches of cynical wit and abrupt violence. Think Tarantino with less dialogue, more blood, and far more suspense. We arrive at a space travel terminal and are ushered quickly, suspiciously so, through a teleportation portal and onto a ship that has suddenly become "Quiet".  Of course, a malevolent creature has taken over the crew ala The Thing and we are running through the foggy metal corridors to find a way out.
Truly ambitious, Krueger delivers a technically intricate, fully detailed, if not truly terrifying maze. Steam spurts up through metal grates in the floor, lights chase down hallways, and sound comes from every corner. There is even a laser cage. This is a stunning maze, and a fun experience.
The Depths
We go from the far reaches of space to the murky caverns of a mysterious shoreline in Jon Cooke's latest maze, The Depths. The caverns along the shore in this coastal town have been off limits for years. Still, miners are tempted by the apparent treasure that lies within. As the maze begins we enter one of the mine shafts and meet the treasure hunters inside.  We wander deeper and arrive at the Submarine wreckage peppered with mines. Using a brilliant laser effect, we slowly make our way through waist-high water and into the ruins of an ancient civilization.
[Best_Wordpress_Gallery id="124″]
As with other Cooke mazes, we are treated to immersive scenery and exquisite detail. Unfortunately, with this level of ambition, we end up with a fuzzy narrative and an even more bizarre ending. No question, this maze is great, but things really kind of just go off the rails toward the finale. It's no matter though. At that point, you are so dazzled with the spectacle and the sheer audacity of what is being attempted, you give in. Nicely done Knott's.
---
Overall, Knott's owns Halloween again this year. This event has an unparalleled collection of highly detailed and immersive haunted houses/mazes alongside world-class attractions that is unmatched. One note; Knott's needs to reconsider allowing guests into the four mazes backstage before the sun goes down. The Depths, Paranormal Inc., Dark Entities, and most of all, Trick or Treat Lights Out, are all fully dependent on the lack of light for their effects, and more importantly, their scares. Unfortunately, these buildings all have skylights that allow light in. So, please Knott's, either limit access into these mazes or invest in some simple blackout curtains to drape over the skylights for the season. Not hard.
That aside, Knott's is still the king of Halloween. Grab a Knott's Scary Farm pass, get out there, and enjoy. This is easily one of the best times you will have this Halloween Season.