Elvira, Mistress of the Dark, (Cassandra Peterson) popped up on our TV screens here in southern California in 1981, quickly becoming one of the most popular horror movie hosts on the west coast, and, eventually, nationwide (as her show became syndicated).  As her popularity grew, she caught the eye of TV executive Brandon Tartikoff, who quickly became a fan and began offering her ideas for shows and television appearances. Peterson, however, didn't want to have a TV show before she tried her hand at the movies.  She had minor roles (both in and out of character), but really wanted to make a splash with an Elvira movie. Tartikoff agreed and, even though NBC wasn't really in the movie business, they got it greenlit.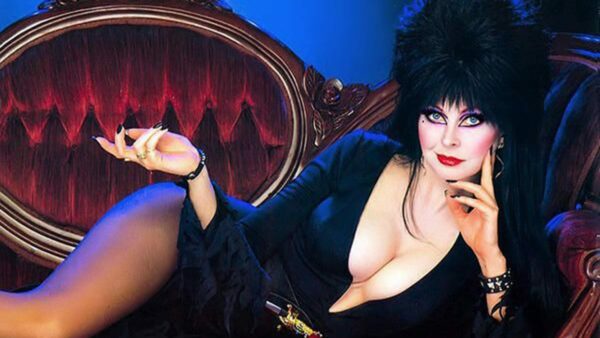 If only it were always this easy.
On September 30, 1988, Elvira, Mistress of the Dark was unleashed upon an unsuspecting world. I saw this movie in the theaters during its original theatrical run, as I'd been a fan of hers since day one. I also had the cardboard standee ad from the movie (Elvira burning at the stake) in my bedroom for years. I bought her calendars, watched her live shows at Knott's Scary Farm's Halloween Haunt, and even built the model of the Macabre Mobile from the movie.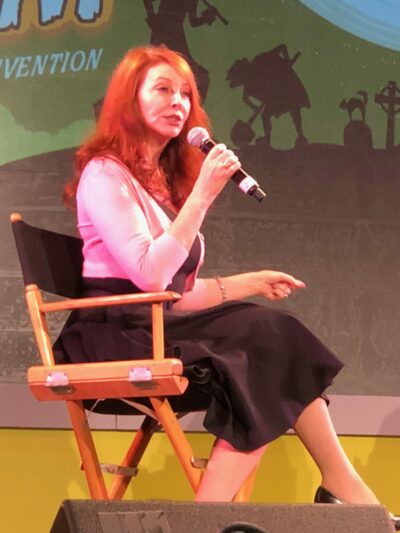 And now here we are, three decades later, celebrating the movie's 30th anniversary with a special presentation at Midsummer Scream, the Halloween and Horror Convention in Long Beach, CA. Hosted by Knott's Berry/Scary Farm's Jeff Tucker, this was a delightful trip down mammory–er, memory lane with the one and only Elvira AKA Cassandra Peterson.
Cassandra and Jeff went back and forth in a thorough Q and A format, showing clips from the movie as well as interviews with some of the costars. Among the tidbits related were:
Brad Pitt auditioned to be one of the teenagers, but Cassandra imagined Elvira would not be able to keep her hands off him. Too handsome. Cassandra actually wrote "Yum yum" on the casting sheet after his name.
Edie McClurg's part was written expressly for her, since she and Cassandra worked in The Groundlings improv group together. Edie was a bit of a prude in real life and would make little comments about Cassandra's outfits like, "You're going onstage dressed like that?"
Susan Kellerman (Patty) had a large bosom and the had to hire a stand-in for the scene where her top is ripped off, showing that she's really flat-chested.
The Macabre Mobile (which is currently on display in Sweet candy store in L.A.) never worked and, any time you see it being driven in the movie, it's either being pulled from the front or pushed from behind.
There were three different dogs playing Algonquin, and the main one, Binny, bit everybody.
The finale, with the Vegas show, wasn't originally filmed for the movie, because of budget issues. She begged and begged, and about 3 months later, finally got the go-ahead for one more day of filming to get Cassandra's desired finale. Unfortunately, she had a temperature of 103 on that day.
The villain of the movie, Uncle Vincent, was originally offered to Vincent Price, but he turned it down, considering it a bit too "bawdy" for his reputation.
Cassandra learned how to twirl tassels when she was a gogo dancer at the age of 14.
Cassandra was in great spirits throughout the presentation, and seemed genuinely surprised and touched to see so many people. There was very little said about her work at Knott's, or about any other upcoming appearances or projects she's working on, so all of us fans will just have to be patient and see what the Mistress of the Dark has in store for us.
Unpleasant dreams…