What a difference a fortnight makes! In just two short weeks we now have three announced mazes with The First Purge, Trick R Treat, and Stranger Things. A pretty solid list of announcements thus far. Today we bring you video pictures and commentary from the park on what is coming for Halloween Horror Nights at Universal Studios Hollywood while mixing in the tireless Twitter feed of Creative Director John Murdy.
Now we're at that phase in the project where everything starts to happen at once. Today I'm looking at the first make up sculpts and putting together the creative intent docs for all the video elements we have to create for the mazes and Terror Tram…which is A LOT!!!!

— Horror Nights (@HorrorNights) July 10, 2018
MAZES
With three mazes announced and still plenty of unnamed construction sites in the usual spots, there is plenty to salivate and speculate over.
I know you all are patiently waiting for the next maze announcement…I am too. Check my inbox all the time to see if we've gotten the green light (its complicated). I don't want to jinx it before its 100% so no predictions…I've jinxed it before.

— Horror Nights (@HorrorNights) July 10, 2018
Waterworld Extended Queue
Construction for the maze in the Waterworld queue has ramped up. Set pieces are peeking over the walls and we have yet to find out what this one is. One year, I would LOVE to see a Waterworld maze happen. Just to mess with us. I mean the signage is already there.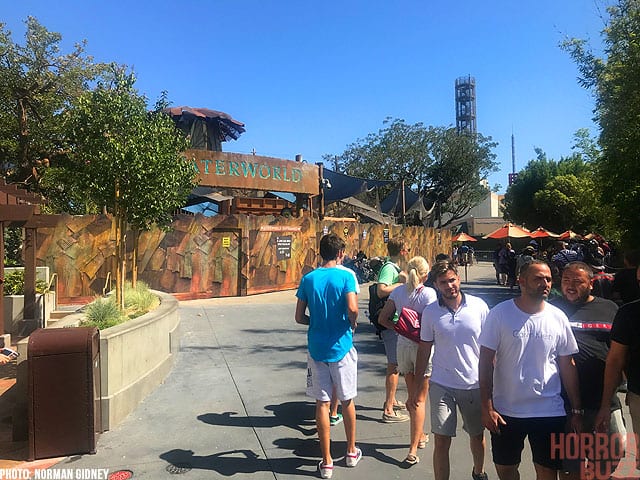 Parisian Courtyard
Murdy has been mum on this particular location. The Fez-looking structure has given way to a decaying stone tower. This looks a LOT like a classic Universal Monster Movie set. PLEASE BE TRUE!!!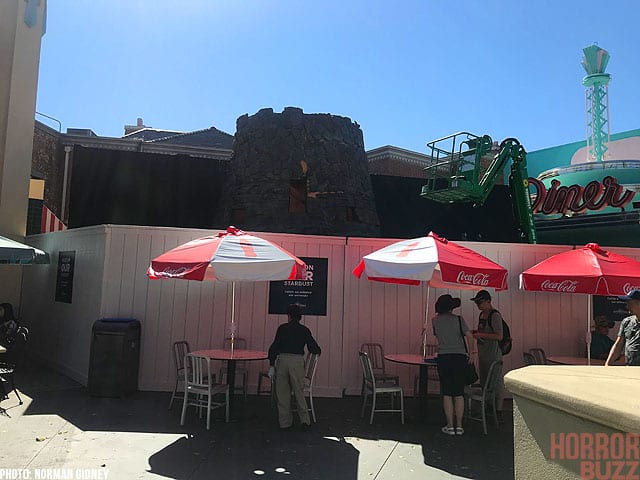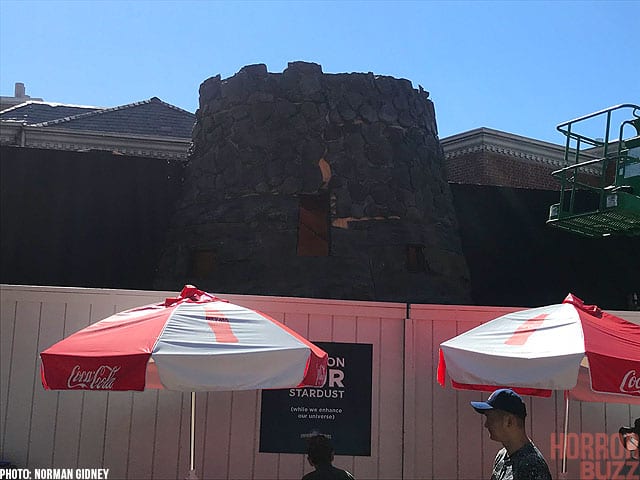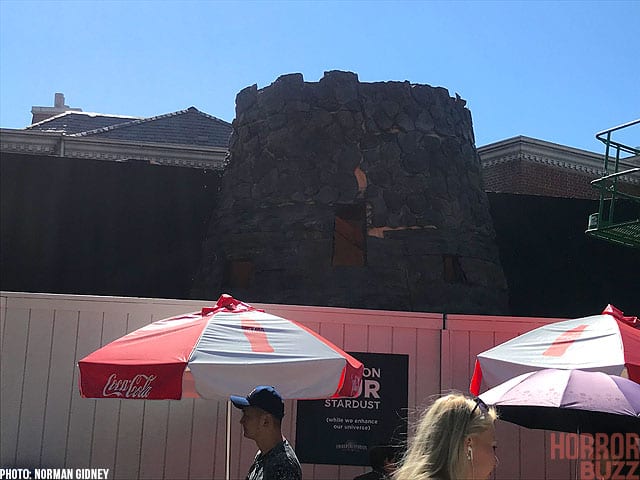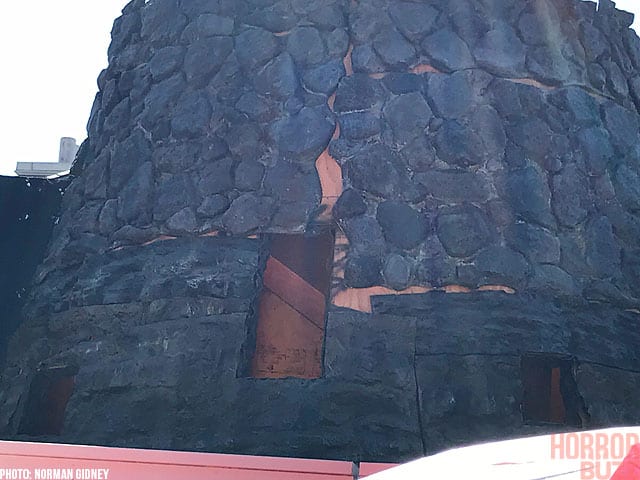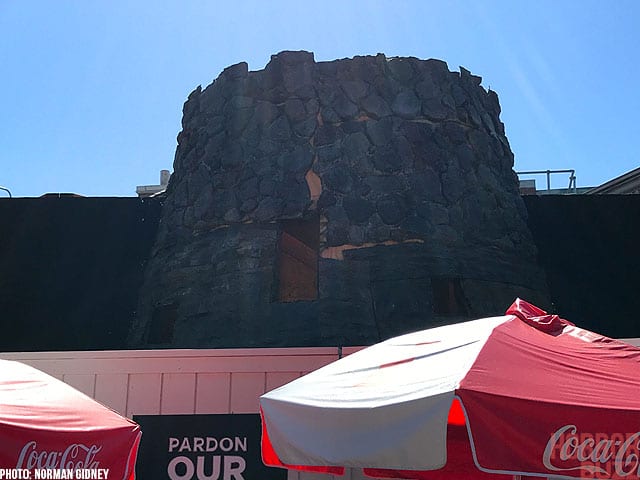 Trick R Treat – Mummy Extended Queue
Still, this is the one that I am personally looking forward to the most. This is one of the best Halloween films ever made. Could we possibly get one of the best Mazes ever made?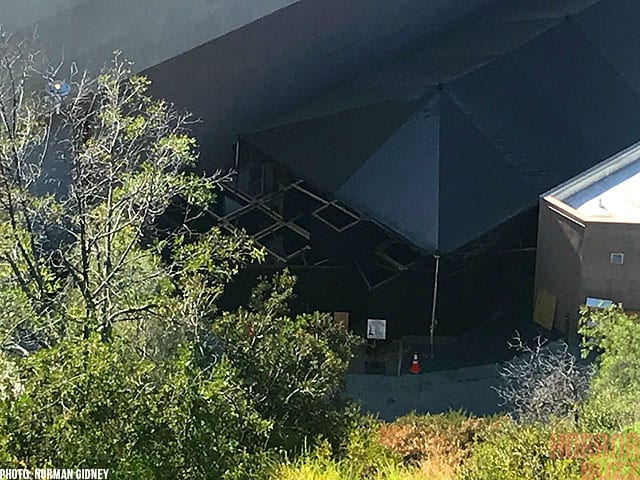 Stranger Things – Stage 29
Of course, WAAAAY back in April we got this news. Little can be followed from a construction standpoint as all of it is inside Stage 29, behind Transformers. We have but to go on Murdy's Twitter feed.
I just received pictures of our make up artists sculpt of The Demogorgon! Its so amazing!!! I'd show you but I have to go pick up my daughters from Sports Camp (its 5:30 PM in Ireland where I'm at). They're playing some little kid version of Rugby today…could be ugly! See ya!

— Horror Nights (@HorrorNights) July 10, 2018
Below are pics from Thursday. More can be seen regarding adjacent construction than anything else.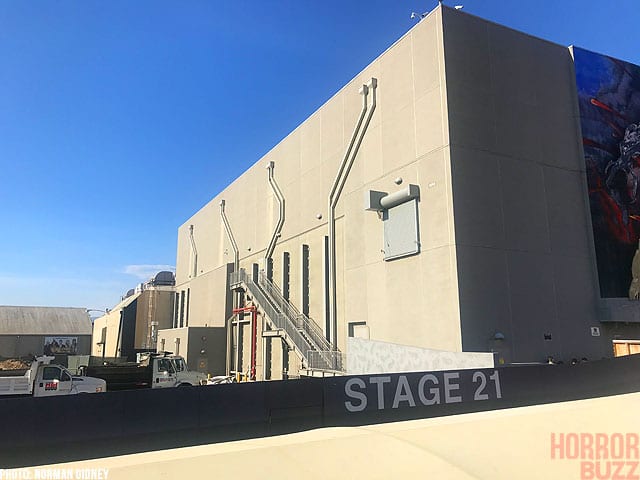 The First Purge – Metro Sets
The First Purge was announced, oddly enough yesterday, on Thursday the 12th. The franchise this time goes back to the origins of how The Purge came to be and gives us another chance to wander through an environment filled with aggressive assailants.
I got involved with this one very early on when Blumhouse sent me the early drafts of the script. It had a wealth of new characters and environments (which are 2 of the 3 things we look for in a maze), none of which had been featured in the franchise before.

— Horror Nights (@HorrorNights) July 12, 2018
And of course it's a very popular franchise, with a TV series coming from USA this Fall. It's always been one of the highest rated/requested properties by people who attend HHN (as far as surveys go), so we decided it was time for it to be a standalone maze.

— Horror Nights (@HorrorNights) July 12, 2018
The location of this maze is in the Metro set area of the Universal backlot, where Ash Vs Evil Dead was in HHN 2017. This is also going to be the maze associated with The Twitter Password that I do every year. I'll give you more info on that when the time comes…

— Horror Nights (@HorrorNights) July 12, 2018
In some countries in the world, The Purge is known by a different name…"American Nightmare" and that's the inspiration behind this maze. How would it feel to navigate a hellish urban environment where everyone is out to get YOU!

— Horror Nights (@HorrorNights) July 12, 2018
I think a maze has a much different feeling than a scarezone or even the outdoor section of Purge we did for Horrors of Blumhouse last year. It's much more intense, claustrophobic…and hopefully…more frightening.

— Horror Nights (@HorrorNights) July 12, 2018
Terror Tram
Not too much to share on Terror Tram this week. Aside from notes on the video production things have been light.
Also putting together all the dialog we have to record for the event, looking at location scouts for Terror Tram filming and starting to prep the HHN presentation for @MidsummerScream

— Horror Nights (@HorrorNights) July 10, 2018
Other News
There is a lot of park news to share this week. New bench planters have been added to Universal Plaza, giving adults a place to sit and watch their kids playing in the fountains.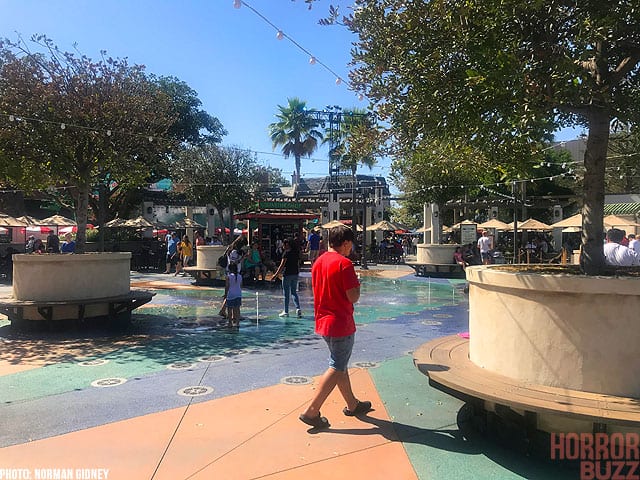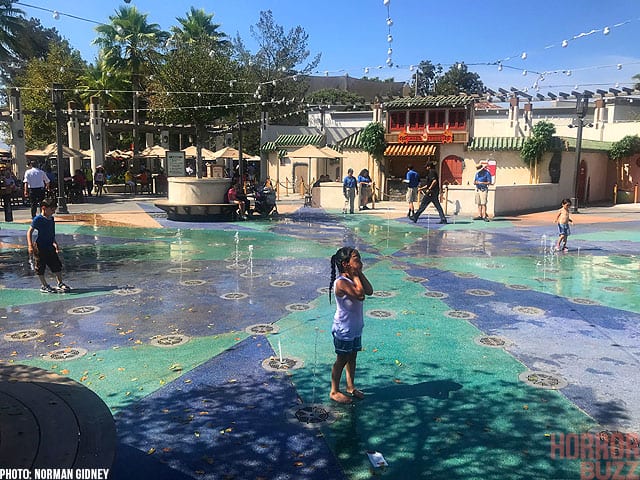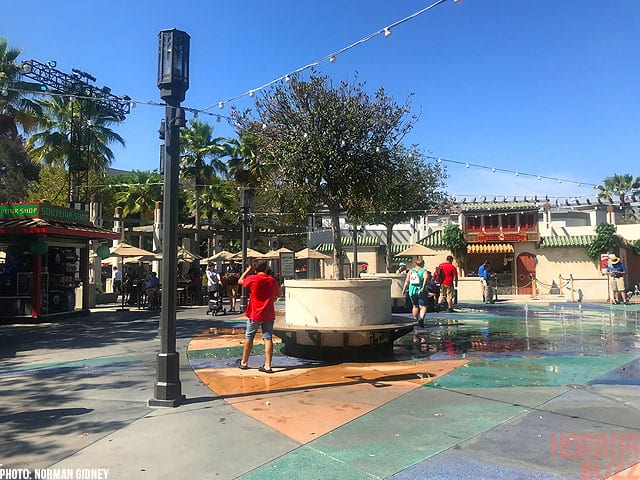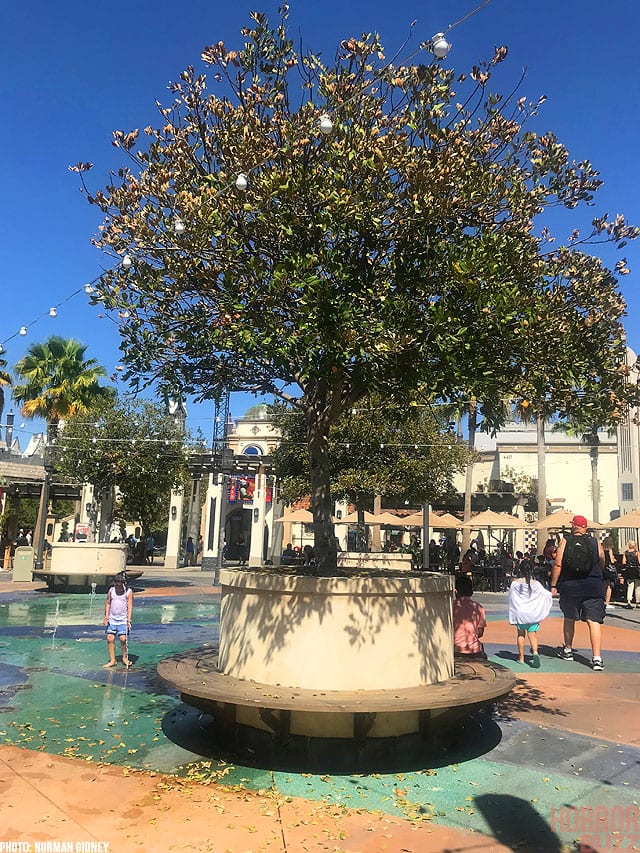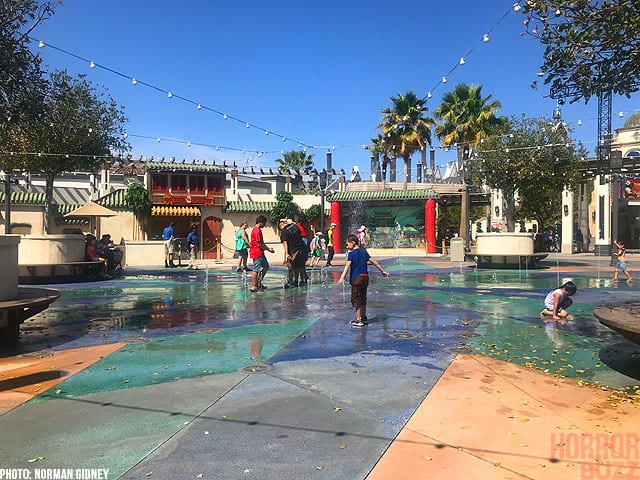 Globe Theatre
Demolition has begun at the Globe Theatre building to make way for something new. There are plenty of rumors out there about lives and secret pets and things. We have nothing confirmed as of yet. What we DO know is that The Walking Dead attraction remains open, and HHN is going to have to deal with this project from an operational standpoint.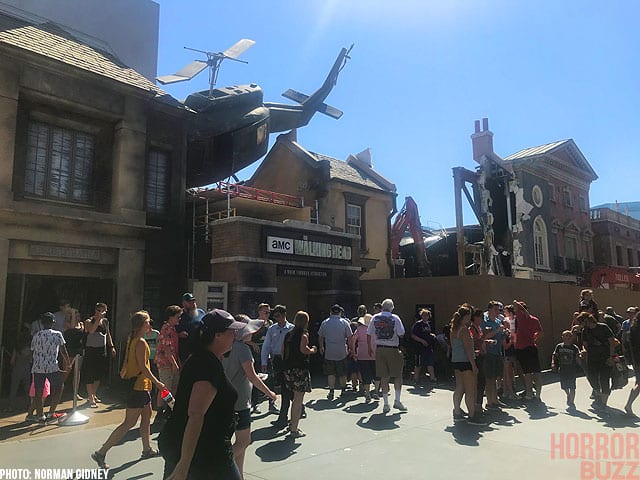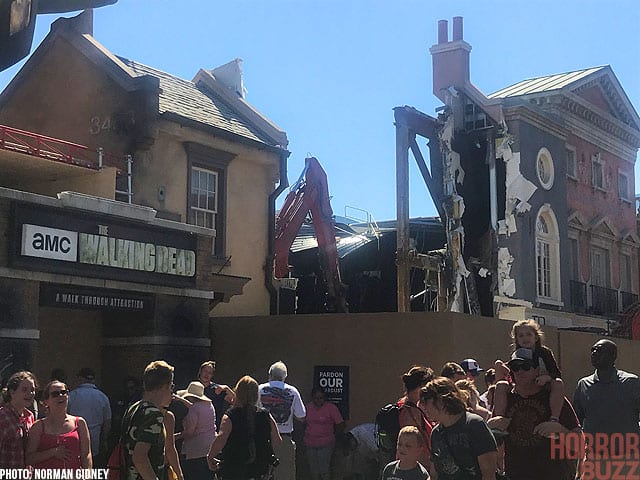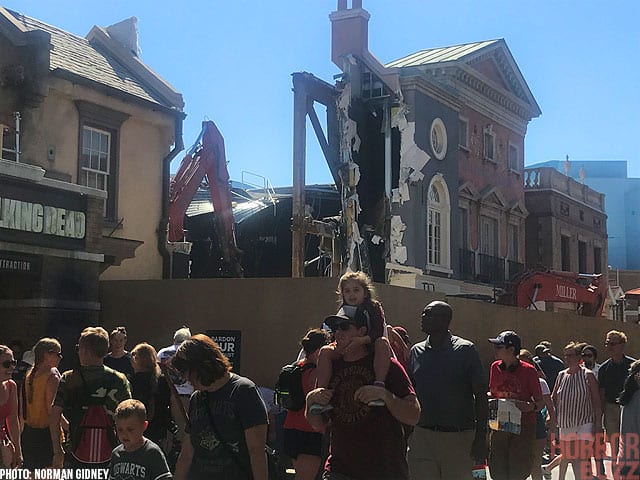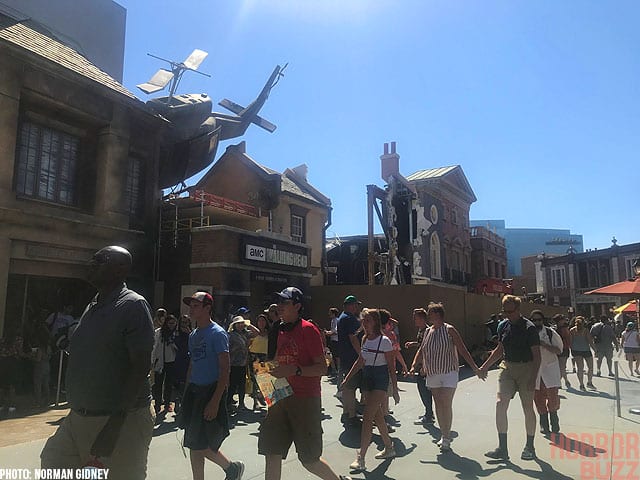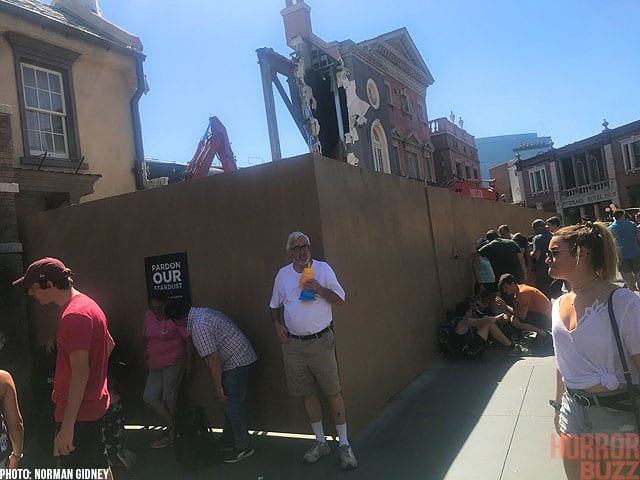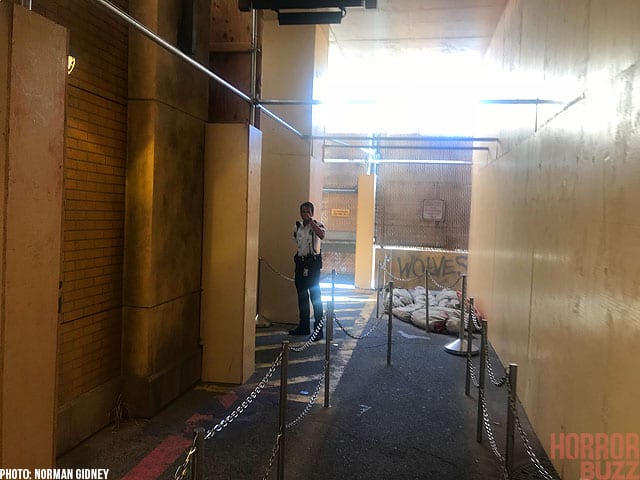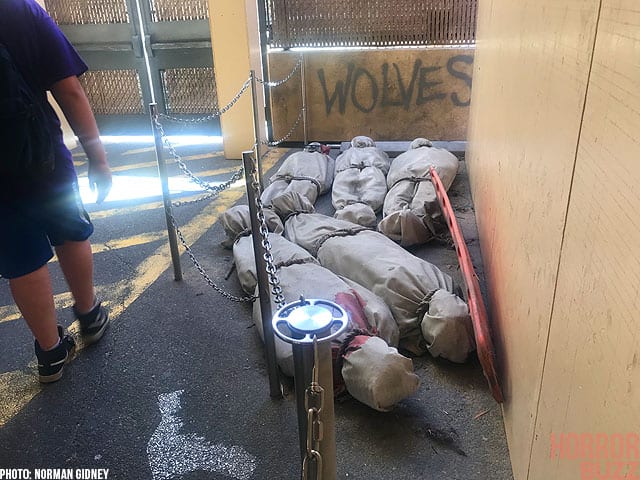 MIDSUMMER SCREAM NEWS!
Mike, Chris and I share the stage for a special HHN panel @MidsummerScream Hope you can join us https://t.co/KRng2A1ID5

— Horror Nights (@HorrorNights) July 12, 2018
d
There are many different sides to Horror. I think this year's event offers many different flavors. Stranger Things, Trick R Treat, The First Purge…and…??? There's a lot more to come. Stay tuned Boils & Ghouls. And thanks for supporting HHN! Now back to my mini vacation.

— Horror Nights (@HorrorNights) July 12, 2018
ddd