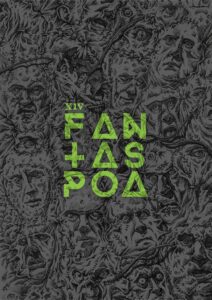 Brazil's FANTASPOA is one of the largest genre film festivals in Latin America and it has announced its first wave of films selected for their upcoming fourteenth edition. The festival will take place from May 17th through June 3rd. The annual genre film fest takes place in Porto Alegre. The full-line up of films will soon be announced.
The 2018 edition festival poster pays tribute to the many cinematic renditions of Mary Shelley's immortal literary classic Frankenstein, which is celebrating its 200th anniversary this year. FANTASPOA will also have an art exhibit to honor the tale's most misunderstood monster, conceived by Brazilian artist Léo Dias. Alongside numerous other events and activities. The festival will also herald in its first film production market promoting the connection and collaboration between Latin American producers and filmmakers.
There are fifteen features that have been announced, in addition to the previously-announced opening night film, Rodrigo Aragão's Brazilian feature A MATA NEGRA, and closing night film, A PEDRA DA SERPENTE, the first feature from award-winning Brazilian filmmaker Fernando Sanches, co-produced by the festival's own FANTASPOA Produções.
Fantaspoa 2018 have honored guest which include "Masters of Horror" creator Mick Garris, renowned for his cinematic adaptations of Stephen King novels; and Romanian actress Elina Löwensohn, famous for starring in features from Hal Hartley, Michael Almereyda, and many others.
Filmmakers that will be in attendance include Marc Carreté, Owen Egerton, Justin Benson and Aaron Moorhead, Bertrand Mandico, Ted Geoghegan, Mike McCutchen, JJ Weber, Jenn Wexler, and Issa López with many more to be announced.
FIRST ROUND OF FANTASTIC FEATURES FOR 2018

:
AFTER THE LETHARGY

(

Marc Carreté, Spain

): World Premiere

BLOOD FEST

(

Owen Egerton, U.S.

): International Premiere

THE DARK

(

Justin P. Lange, Austria/Canada

): Latin American Premiere

EDERLEZI RISING (Lazar Bodroza, Serbia): Latin American Premiere

THE ENDLESS (Justin Benson and Aaron Moorhead, U.S.): Brazilian Premiere

LES GARÇONS SAUVAGES (Bertrand Mandico, France): Latin American Premiere

INUYASHIKI (Shinsuke Sato, Japan): Latin American Premiere

MOHAWK (Ted Geoghegan, U.S.): Brazilian Premiere

THE NEXT KILL (Mike McCutchen, U.S.): World Premiere

PUPPET MASTER: THE LITTLE REICH (Sonny Laguna and Tommy Wiklund, U.K./U.S.):  International Premiere

THE RANGER (Jenn Wexler, U.S.): Latin American Premiere

ROCK STEADY ROW (Trevor Stevens, U.S.): International Premiere

THE SCYTHE (Rustam Mosafir, Russia): Latin American Premiere

TIGERS ARE NOT AFRAID  (Issa López, Mexico): Brazilian Premiere

THE WITCH FILES (Kyle Rankin, U.S.): World Premiere